Nowadays, all industries are implementing the environmental protection concept that everyone has a responsibility to protect the environment. Many kinds of waste have been recycled and turned into treasures.
A briquetting machine, also called a briquette press machine or briquette-making machine, is mainly applied to press all kinds of powdery and granular waste materials into a ball shape or other shapes using extrusion.
According to materials, there are 5 most popular briquette machines at present: charcoal briquette machine, coal briquette machine, metal powder briquette machine, lime briquette machine, and gypsum briquette machine. They are popular for their unique properties, applications, and reasonable price.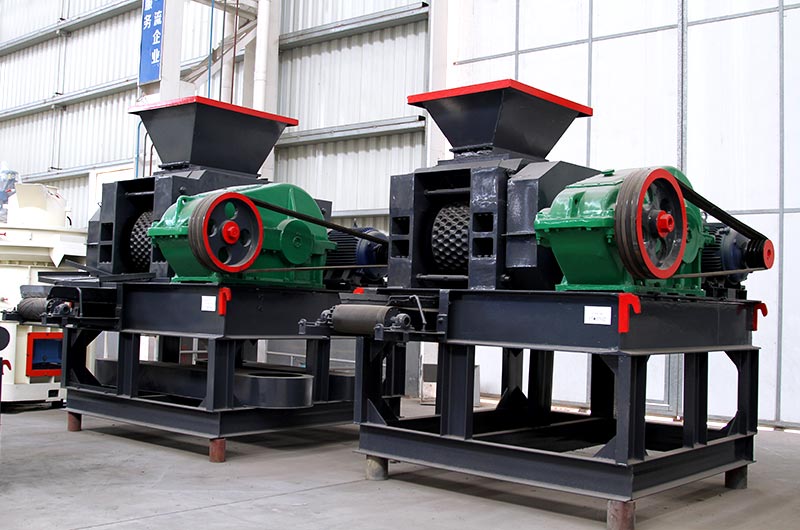 Charcoal briquette machine
Charcoal powder is one of the products of wood that is incompletely burned or pyrolyzed under air-insulated conditions.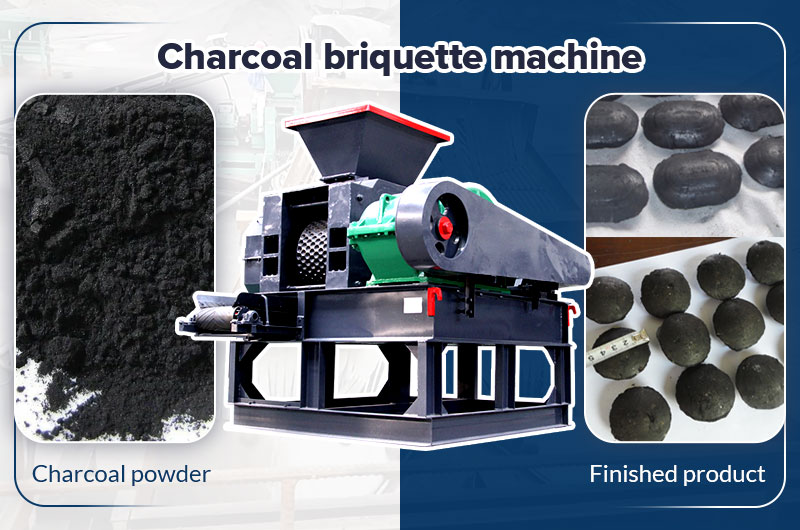 It is produced by carbonized biomass materials, such as carbonized coconut shells, rice husks, sawdust, wood chips, tree chips, branches, shavings, bamboo chips, corn stalks, bagasse, and other agricultural wastes.
How is charcoal briquette produced?
To press carbonized biomass material into briquettes, the following process can be used:
1

Preparing: The biomass material needs to be carbonized before it can be pressed into briquettes. You can be done using a carbonization furnace.

2

Crushing: The carbonized material is crushed into small pieces using a jaw crusher or a hammer crusher.

3

Mixing: A binder is mixed with the carbonized material using a mixer. The binder can improve the binding properties of the material.

4

Pressing: The mixture of carbonized material and binder is pressed into briquettes using a charcoal briquetting machine.

5

Drying: The briquettes are then dried in an oven or under the sun to remove any moisture.
Note that the carbonization work must be done by yourself. Then Ftmmachinery can help you crush and press the carbonized material into charcoal briquettes.
Advantages of charcoal briquetting
The finished charcoal briquette has the characteristics of being smokeless, odorless, non-toxic, and environment-friendly.
Charcoal contains more than 80% carbon, with high calorific value and a long burning time.
Charcoal briquette is easier to handle and burns more evenly.
Besides, it is cheaper than other fuels and more popular than coal.
Applications of charcoal briquette
Heating: For most countries, choosing a charcoal briquette is an economical method of keeping warm. It is often used as a substitute for traditional wood.
Cooking and barbecue: Charcoal briquette is used for cooking. It is the best choice whether it is a large commercial or a home barbecue (BBQ).
Industrial fuel: Charcoal briquette can be used as stove fuel in silicon plants. In the smelting process, it is used for continuous heating.
Activated carbon: It can be further processed to produce activated carbon, which is used in water treatment, air purification, and other industrial processes.
Agriculture: Charcoal briquette is used in agriculture as a soil amendment to improve soil quality and fertility.
Coal briquette machine
When coal is mined and transported, large amounts of coal dust are produced. About 20 percent of the coal that coal plants get is small particles. Coal briquette is a good way to deal with this dust.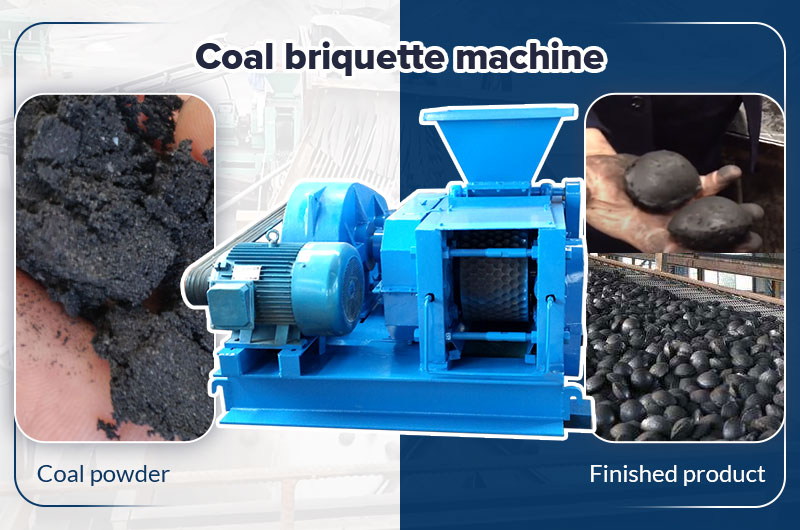 A coal briquette machine is a briquetting equipment used to press coal powder. It uses coal powder (coking coal, lignite, coal gangue), coal slime, carbon powder, activated carbon, coke powder, etc. as raw materials.
It can also press coal ash or fly ash material. Coal ash refers to the dust and tailings collected from the coal-fired smoke generated in the production process of the thermal power plant.
How is coal briquette produced?
To use coal powder to press into briquettes, the following processing flow can be used:
1

Coal crushing: The raw coal is first crushed into small particles by a crusher to reduce the particle size.

2

Coal drying: After crushing, the coal needs to be dried to remove any moisture content. They can expose the coal to air or by using a drying machine.

3

Mixing: A binder, such as starch, clay, or molasses, is mixed with the coal powder using a mixer or blender.

4

Briquetting: The mixture material is then pressed into briquettes using a coal briquetting machine.

5

Packing: After the briquettes are formed, they are cooled and then packed for storage and transportation.
Advantages of coal briquetting
Coal briquette has a higher calorific value than traditional coal, making it a more efficient fuel source.
Coal briquetting reduces coal waste produced during mining and processing, which helps to reduce the environmental impact of coal production.
Applications of coal briquette
Industrial uses: Coal briquette is used in various industrial applications, such as smelting and foundry operations. It can be used as fuel for industrial boilers and furnaces, as well as for power generation.
Domestic uses: Households can use coal briquettes as a source of energy for cooking, heating, and lighting.
Building materials industry: Ceramic factories, glass factories, or gas factories use coal powder to make blocks, which can save costs.
Chemical production: It can be used in the production of various chemicals, such as carbon disulfide, coal tar, and ammonium sulfate.
Metal powder briquette machine
Metal powder refers to the powder produced during the crushing and beneficiation of metal ore. The sources of mineral powder mainly include blast furnace iron slag, by-products of high-temperature smelting ore, and tailings after ore mining.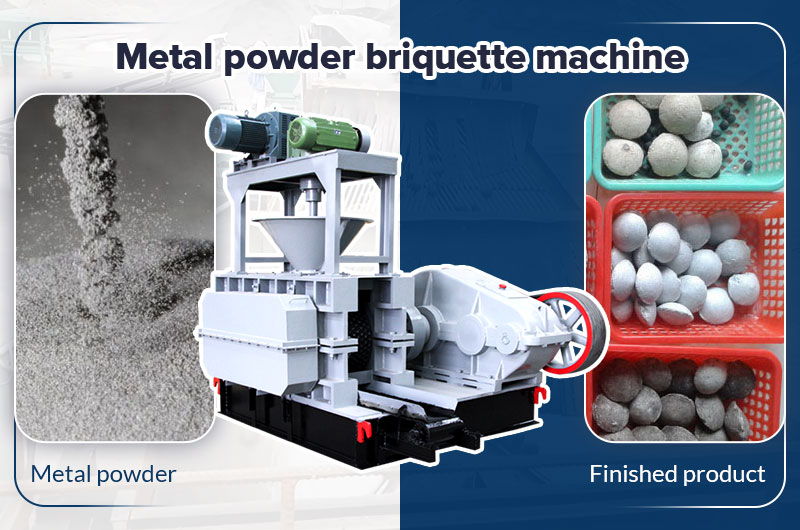 The main processing materials of the metal powder briquetting machine are metallurgical powder or tailings, such as iron powder, iron chips, aluminum powder, aluminum chips, scale, chromium powder, manganese powder, lithium powder, magnesite powder, steel slag, slag, refractory materials, etc.
Advantages of metal briquetting
Heavy metal pollution is reduced from the source by processing metallurgical ore powder, and at the same time, raw materials can be completely utilized.
Metal powder briquetting machine is convenient to recycle and reuse tailings. It has made great contributions to improving resource utilization and protecting the environment.
Applications of metal briquette
In the metallurgical industry, mineral powder briquetting machines are used for making briquettes of non-ferrous metals, ferrous metals, and metallurgical auxiliary materials.
The finished products are mainly used in the smelting process of blast furnace iron-making, steel-making, and other metal materials.
Lime briquette machine
The rate of raw material consumption is staggering in the metallurgical process. As the plant operates, lime powder is continuously produced and piled up.
Because lime has the characteristics of not mixing with water, being ultra-fine, fluffy, etc., it is difficult for general briquette making machines to press it into balls. Now, Ftmmachinery lime briquetting machines can solve this problem.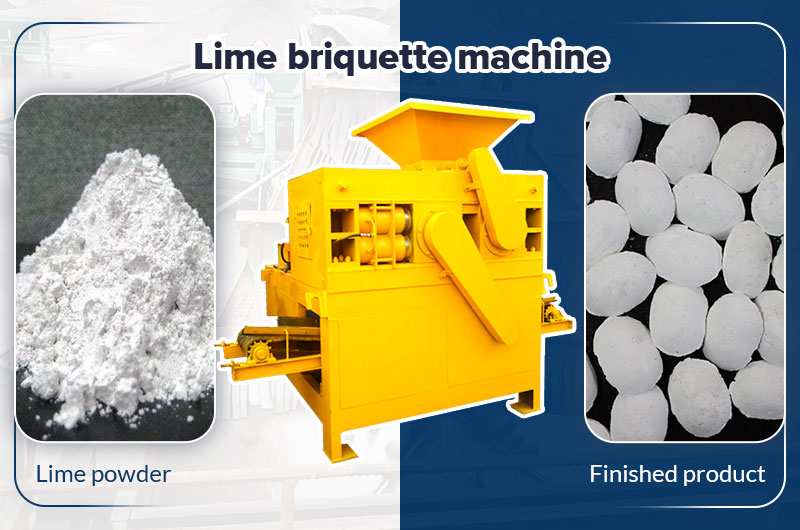 A lime briquette machine is specially developed for lime, quicklime, limestone, and kaolin powder. The main component of quicklime is calcium oxide (CaO), and the main component of limestone is calcium carbonate (CaCO3). They mainly come from metallurgical industry waste.
Advantages of lime briquetting
Lime briquette is easier to transport than loose powder or granules.
Lime briquetting can reduce the volume of waste by up to 90%, making it easier to store.
Lime briquetting allows for efficient use of resources by converting waste into a valuable product.
It reduces the environmental impact of waste disposal and reduces the need for landfill space.
Applications of lime briquette
Lime briquette, also known as calcium oxide briquette, is widely used in metal smelting, metallurgy, and chemical industries.
Quicklime briquette can be used to replace the lime block to smelt the calcium carbide in the production of calcium carbide.
Lime briquette is used in steel manufacturing as a fluxing agent to remove impurities from the iron ore.
It can be used as a good desulfurized material during steel-making production.
Gypsum briquette machine
Gypsum briquetting machine mainly presses gypsum powder and desulfurized gypsum materials. Desulfurization gypsum, also known as flue gas desulfurization gypsum, sulfur gypsum, or FGD gypsum, is an industrial by-product obtained by desulfurization of flue gas generated after the combustion of sulfur-containing fuel (coal, oil, etc.).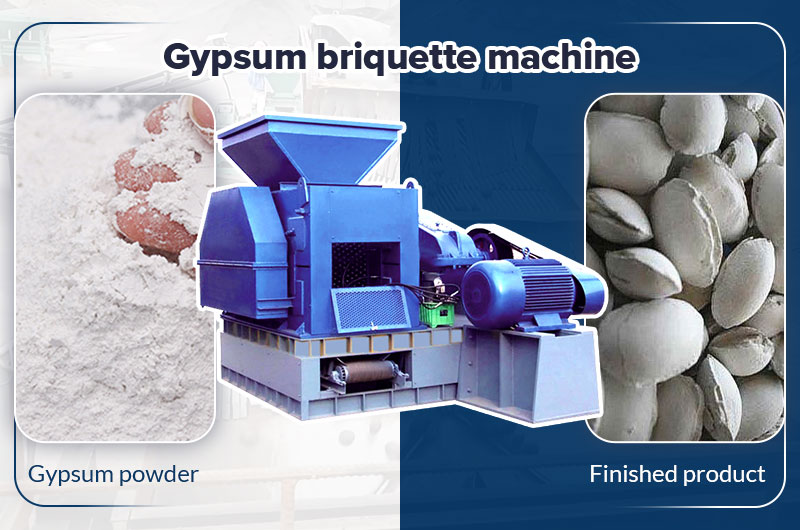 They mainly come from the flue gas desulfurization process of thermal power plants. Most power plants use the limestone-gypsum desulfurization process.
Advantages of gypsum briquetting
Compared to natural gypsum, desulfurized gypsum is renewable. The purity is higher and the composition is more stable.
The price of desulfurization gypsum briquette is low. Material utilization can be maximized.
People can make full use of gypsum while reducing air pollution and dust pollution.
Applications of desulfurized gypsum briquette
Gypsum briquette can be used as a construction material for making walls, ceilings, and partitions. It provides good insulation properties and is fire-resistant.
Gypsum briquette can be used in the production of cement, replacing natural cement. It can be a setting retarder of cement.
It can be used in various industrial processes, such as paper production, wallboard production, water treatment, and chemical production.
Ftmmachinery briquette machines for sale
Ftmmachinery manufacturer has much briquette equipment for sale all over the world, successfully sold to South Africa, the Philippines, Indonesia, Kenya, Western Europe, West Asia, Southeast Asia, and other countries.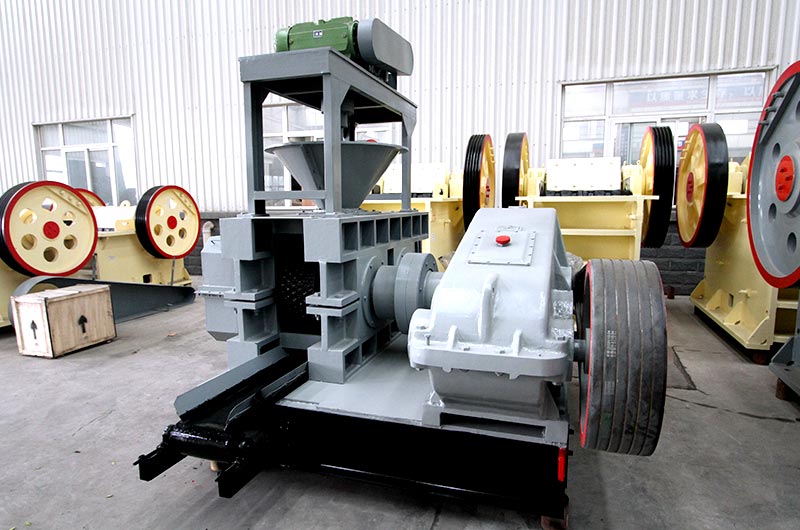 To ensure the good quality of the final briquettes, pay attention to:
Raw material granularity: The particle size fed into the machine is kept below 3 mm.
Moisture: The moisture content of the material should be controlled at 8-10%.
Size: Adjustable size of finished products is 18 mm-80 mm.
Capacity: The output of the briquetting machine is 1-50 t/h.
Shape: Round, pillow-shaped, oval, or square. It can be made according to customer requirements.
Consult an engineer to customize your briquette machine at a good price!