Copper Mine Equipment and Production Process
The copper mine exists in nature with many forms. The well-earned values include chalcopyrite, chalcocite, bornite, etc. Henan Fote Heavy Machinery Co.,Ltd combines the characteristics of copper to design and produce a full set of copper beneficiation equipment such as ball mill, flotation machine, dryer, jaw crusher, spiral classifier, mixing drum, thickener, a full range of high quality.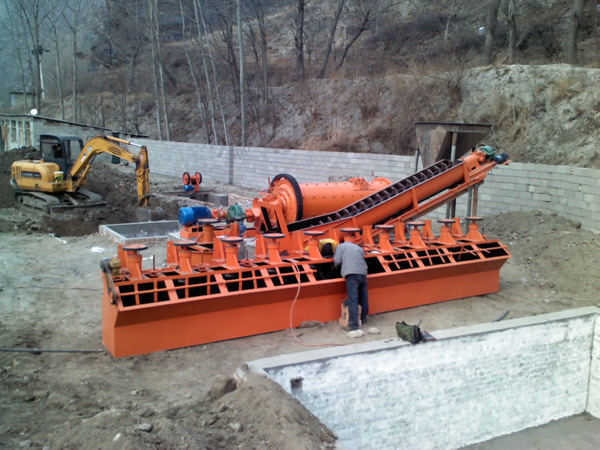 Production Process of Copper Ore Beneficiation Production Line
For the copper-selection process, flotation is generally used to extract higher quality copper concentrates. How to choose copper mine? The specific production line process flow is as follows:
1

Crushing: The jaw crusher is used to crush the ore to a suitable size. Some copper mines will be crushed secondly. And then adding the impact crusher for further crushing.

2

Grinding: The broken copper ore gravel is evenly sent into the ball mill for
further grinding into smaller copper ore fines to complete dissociation of the ore. And then the copper ore is graded by a spiral classifier, the nonstandard ore will be returned to the ball mill for further grinding.

3

Flotation: The qualified copper ore powder (slurry)is sent into churn to mix with the chemicals. And then the copper ore powder with chemicals enters into the flotation machine to produce chemical reactions to obtain a good separation of copper concentrates.

4

Dehydration: The copper concentrate slurry is floated into the thickener to fully precipitate, which is dehydrated and dried by the dryer, and high-grade copper concentrate powder can basically be obtained.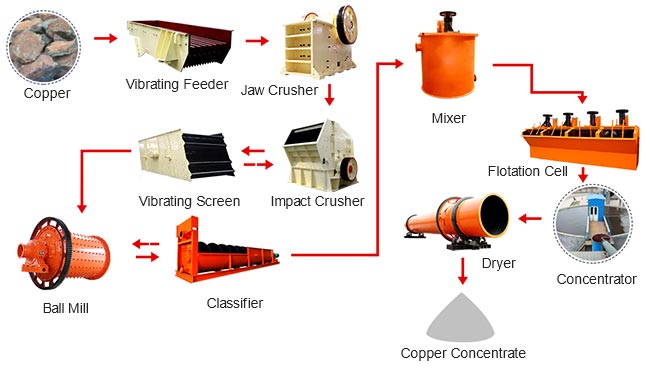 Outstanding Advantages of Copper Processing Plant:
1

The production line is well equipped; the space layout is compact; investment is reduced; operation is simple.

2

High efficiency, high productivity, good flotation, and improved concentrate grade.

3

The production is unpolluted by recycling ore; the tailings are handled properly without environmental polution.

4

Reducing investment; improving production efficiency.