What is an impact crusher?
According to different way of crushing, there are two types of impact crushes, one is Horizontal shaft impact crusher (HSI) and vertical shaft impact crusher (VSI). Their available configurations are stationary, portable, and track-mount.
An impact crusher features that high inertia rotor maintains proper penetration; large reduction ratio is achieved with maximum performance rotor. It is widely used in the primary, secondary and tertiary crushing process, and produces even and cubic products.
Working principle of an impact crusher
Horizontal shaft impact crusher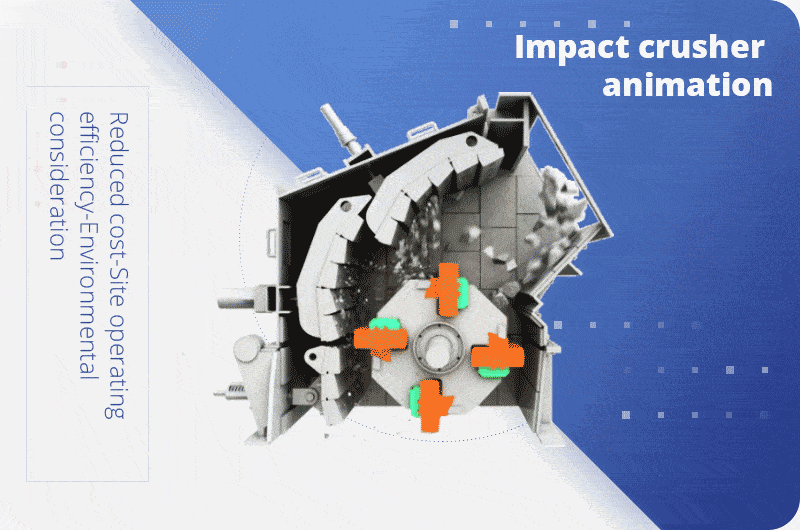 Horizontal shaft impact crusher parts are composed of hopper, two or three aprons, rotor, blow-bars, shaft and bearings. Rock material enters the crushing chamber, then being crushed by the high-speed rotating hammers into smaller pieces.
Larger material will be rebounded back to the rotating hammers for another round of crushing until it is discharged from the discharging port.
Get Latest Price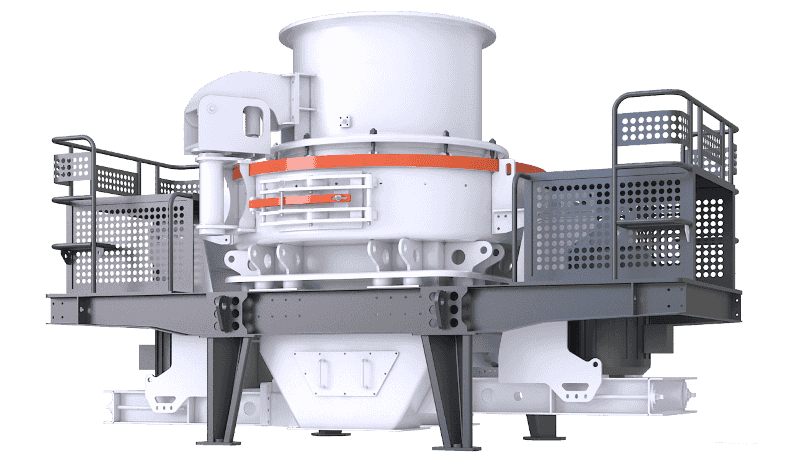 Vertical Shaft Impactors which also called sand making machine contains hopper, tip liner, rotor, body liner, rotor guard, oil tank, stationary anvils and rock shelves. It follows the crushing way of rock-on-steel (ROS). When the rock material is fed into the center of the crusher and directed through accelerator, the accelerator slings material and generates kinetic energy.
Then, material strikes impact area, which can release this energy to shatter rocks. A vertical shaft impactor is traditional tertiary or finishing crushing equipment.
Get Latest Price
Outstanding features of impact crushers
1. Hydraulic apron adjustment and overload protection system
It can keep track of the machine's running status, greatly improving production efficiency, saving a lot of costs.
2. Symmetrical design here is actually been engineered to be asymmetrical
When you get an elongated piece of concrete or asphalt or rock that is coming down the feed channel with the feed hopper, if the hopper is asymmetrical, the rock or the concrete hits first turns that piece and then it goes through the crusher without jamming up.
That's something unique to well solve the problems of bridging and jamming in these feed hoppers.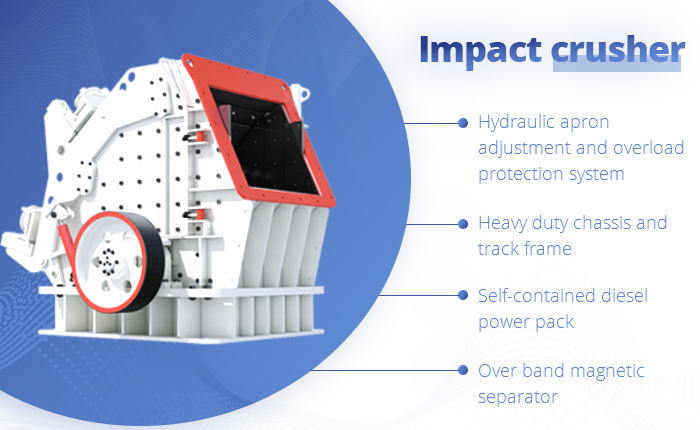 3. Heavy-duty blow bar is resistant to low temperatures
Each blow bar is made of high chromium, which enhances the capability of anti-impact and anti-wear.
The normal blow bars are at the range of 160kg-180kg while those engineered by Fote Company are 230kg, which increase the rotor efficiency by 80%. Besides, it also can run smoothly during at minus 20-30 ℃.
4. Entire frame of the conveyor belt is made from stainless steel
The reason we do this is that stainless steel is not magnetic so it does not take away from the magnetic forces of the over band magnet.
Track also manufacturers this section of the frame from stainless steel as well and that is also to not take away from the power of your band magnet.
So, you find that the magnets on these machines are extremely effective on pulling out almost hundred percent of the steel that comes in the outfeed material.
5. High-quality materials for the hammer
The choice of the plate hammer is particularly critical. The impact crusher is made of high chromium bimetal Cr26 which has good tensile strength and wear resistance, thus prolonging the service life.
6. Hydra arm lift
eliminates need for off-plant equipment to raise lid
allows for safe and unobstructed access to crushing chamber for maintenance
7. Direct drive system
It uses what we call a hydrodynamic clutch or a turbo clutch, so, there's actually a direct power transfer from the engine to the rotor. There's very little loss of power like there would be the through a hydraulic drive system from a maintenance standpoint.
Wide a range of applications of impact crushers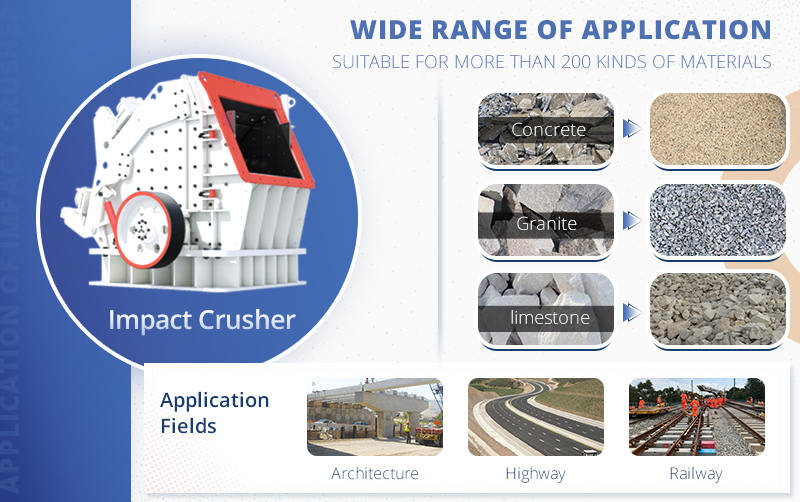 It can process vaious of materials
What's your material?
It is used in concrete asphalt recycling
Horizontal shaft impact crusher is primarily used in concrete asphalt recycling. The waste asphalt recycling material is loaded by the loader to an impact crusher. After the material is pre-screened, the larger material enters the impact crusher for crushing.
A return material screening system is installed under the main conveyor belt of the impact crusher, which makes oversize materials to be directly returned to the impact crusher for another crushing process.
Heavy-duty rotor structure design with high speed, large output and good grain shape greatly improves the crushing efficiency and reduces cost. The equipment has 3 layers of screen boxes, each layer has a screening area of 9㎡. The angle, amplitude, and vibration intensity of the screen box can be flexibly adjusted, which can make high screening accuracy.
Primary apron: 80 mm
Secondary apron: 40 mm
Rotating speed of motor: 2000 rpm
Engine load: 30%
Average fuel consumption: 22 L/h
Service life of main wearing parts: About 300h (hammer)
The production line can produce 4 kinds of standard specifications of finished materials: 0-7mm, 7-15mm, 15-20mm, 20-40mm, and with production capacity 120-150 t/h.
Applied in mining process
Impact crusher are also used for the crushing of large ores in the mining process. Generally, the raw ore after mountain blasting need to be processed into a desirable product for ore beneficiation process. According to the specific demands, the impact crusher can be used in coarse, medium and fine crushing.
The impact crusher is higher than other crushers, and can fully utilize the high-speed impact energy of the entire rotor. The ore is crushed by counter-attack, and the output can well meet the feed size of the ball mill, so that the next step of grinding can be carried out.
The use of aggregates production
The impact crusher is also prominent in crushing natural materials because the discharging granularity is uniform, cubic shape with less fine powder and dust.
In addition, the impact crusher can effectively process materials with large moisture content while ideally preventing the blockage of the crusher. Apart from keeping large proccing capacity, it can not only ensure even output granularity but minimize the power and liner consumption.
Successful cases - Fote impact crusher for customers
Impact crusher crushing construction waste in Australia
Many construction wastes can be reused. If being processed by landfill, it will destroy the environment.
This Australian company is committed to recycling construction waste, and it does successfully get reused sand and aggregate from concrete waste. Last year the company leader Aric contact us to purchase impact crushing plant. After discussion about their project, Fote engineers make a solution for them.
100 TPH stone production line
Raw material: Waste concrete, bricks
Feeding size: ≦400 mm
Configuration type: Stationary
Estimated investment: USD 35,000 to USD 63,000
The equipment has been in use for more than a year. According to customer feedback, the impact crusher still runs well, which brings them huge benefits.
Recently, the company plans to continue to purchase construction waste shredders from Fote, and specific issues are being discussed in detail.
Contact FTM engineer
Asphalt concrete recycling in Indonesia
Raw materials: Cement, asphalt concrete, and construction waste is about 25%
Feeding size: 0-600 mm
Final product size: 0-10 mm, 10-31.5 mm
Processing capacity: 200 t/h
Customer feedback:
"The advanced PLC system monitors, controls and adjusts the speed of the VGF for maintaining a stable material feeding in the impact chamber. It shows large capacity and I am very satisfied with the final product."
180-200 t/h limestone impact crusher in India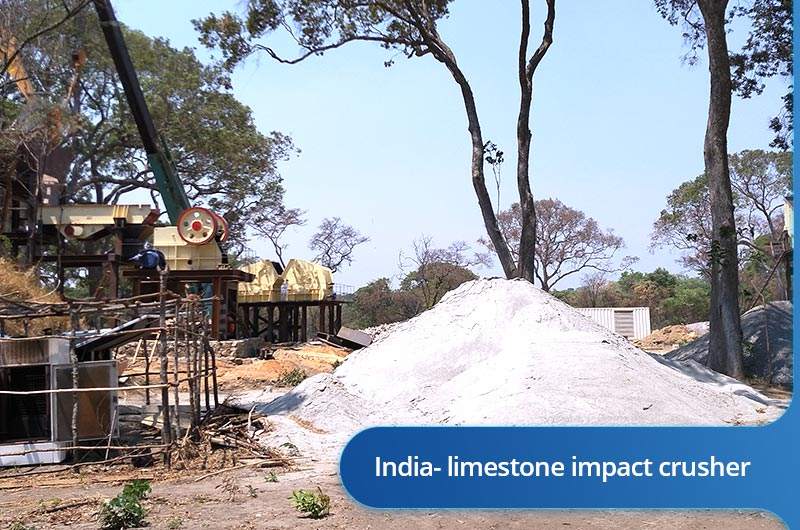 Raw material: Limestone
Final product: 0-44 mm
Production demands: 180-120 t/h
Primary apron: 175 mm (7")
Secondary apron: 125 mm (5")
Conveyor length: 22.9 mm (75')
Feeder speed regulated by monitoring engine load
Hopper capacity: 2.6 m³(3.4yd3)
Belt width: 500 mm (20")
Discharge height: 2.4 m (7' 10")
Screenbox
Single deck: 2.44m×1.2m (8'×4')
Total screening area: 2.93 ㎡(32ft2)
Customer feedback:
"The impact crusher improves 20-30% more fuel efficient than a standard gear pump, which means much less hydraulic oil capacity in the machines. So, my hydraulic oil reservoirs are literally about 50-60% smaller than other machines in this category.
Besides, its unique housing design allows me to complete all routine inspections of the blow bars, rotor and hammer within 2-3 minutes."
Fote Company - a supplier of impact crushers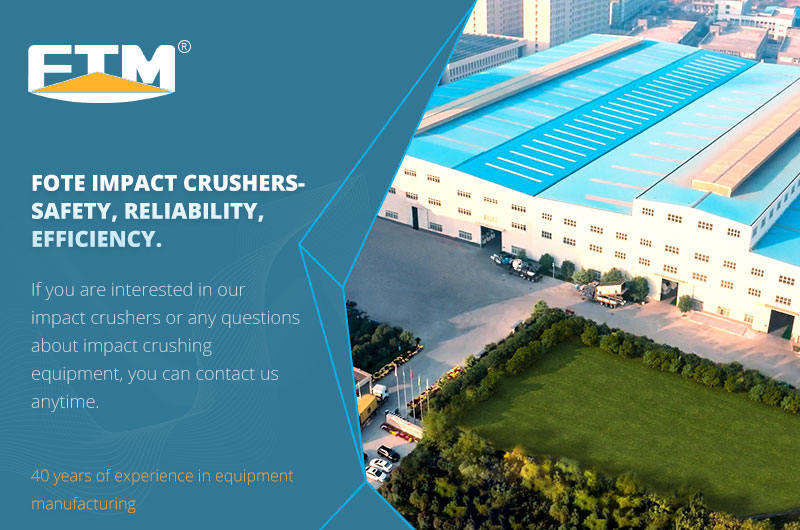 As an impact crushers' manufacturer, Fote always follows the three principles: safety, reliability, and effectiveness. Our products and the solutions can minimize costs, and not only improve the effectiveness of operations, but also ensure no harm to people and the surrounding environment.
The unique design of the equipment makes inspection, maintenance and replacement of parts extremely convenient.
The company has nearly 40 years of equipment manufacturing experience. With high product quality and long service life, all crushers sale well all over the world. If you are interested in impact crusher or want to consult some information about crushing equipment, please contact us anytime you want.
Parameter
PF Series Impact Crusher
CI Series Impact Crusher
Model
Specification
(mm)
Feed
opening
(mm)
The Maximum
Feeding Size
(mm)
Capacity
(t/h)
Power
(kw)
Overall
dimension
(L×W×H)
(mm)
Total
weight
(t)
PF-1007
Φ1000×700
400×730
300
30-70
4P 37-45
2330×1660×2300
12
PF-1010
Φ1000×1050
400×1080
350
50-90
4P 45-55
2370×1700×2390
15
PF-1210
Φ1250×1050
400×1080
350
70-130
6P 110
2680×2160×2800
17.7
PF-1214
Φ1250×1400
400×1430
350
80-180
6P 132
2650×2460×2800
22.4
PF-1315
Φ1320×1500
860×1520
500
100-280
6P 200
3180×2720×3120
27
PF-1320
Φ1300×2000
993×2000
500
140-380
6P 250
3220×3100×3120
34
PF-1520
Φ1500×2000
830×2040
700
200-550
4P 315-400
3959×3564×3330
50.6
PF-1820
Φ1800×2000
1260×2040
800
400-800
4P 630-710
4400×3866×4009
83.21
Model
Feed
opening
(mm)
The Maximum
Feeding Size
(mm)
Capacity
(t/h)
Φ1000×700
400×730
300
30-70
Φ1000×1050
400×1080
350
50-90
Φ1250×1050
400×1080
350
70-130
Φ1250×1400
400×1430
350
80-180
Φ1320×1500
860×1520
500
100-280
Φ1300×2000
993×20000
500
140-380
Φ1500×2000
830×2040
700
200-550
Φ1800×2000
1260×2040
800
400-800
Model
Maximum Feeding Size
(mm)
Main Motor Power
(kw)
Productive Capacity
(t/h)
Dimensions
(L ×W ×H)(mm)
CI1110
250
160
60-210
2826×2087×2285
CI1213
300
200
80-280
2903×2530×2411
CI1315
300
250
150-350
3320×2770×2535
CI1520
350
2×(200-250)
250-600
3450×3620×2770
CI1313
600
200
200-480
2972×2560×2937
CI1415
600
250
250-600
2985×2790×3068
CI1620
800
2×(200-250)
380-900
4261×3480×3780
CI2023
800
2×250
800-2000
5151×4424×4712
Model
Maximum Feeding Size
(mm)
Productive Capacity
(t/h)
CI1110
250
60-210
CI1213
300
80-280
CI1315
300
150-350
CI1520
350
250-600
CI1313
600
200-480
CI1415
600
250-600
CI1620
800
380-900
CI2023
800
800-2000