Description and Applications of Gypsum Briquetting Machine:
Gypsum Briquetting Machine together with its corollary equipment can compress desulfurization gypsum powder into one-time ball products without any help of adhesives. It is put into production and makes good effect in many power plants and cement plants all over the nation for its features of high yield, good hardness.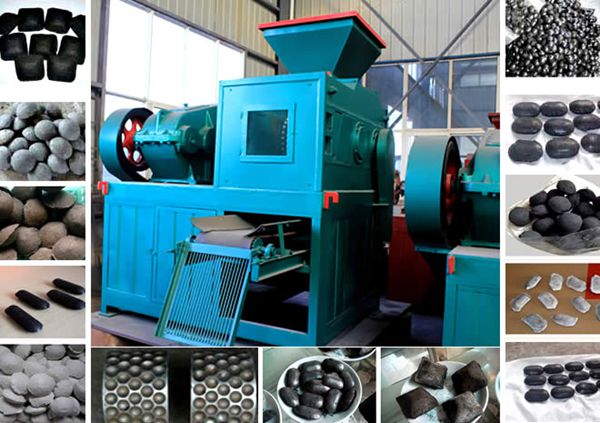 The Inner Structure of Gypsum Briquetting Machine:
Gypsum Briquetting Machine is made up of two parts: the feeding part and driving part. The feeding part mainly guarantees the materials to enter the twin rollers evenly through quantitative feeding, while driving device is equipped with a hydraulic device in the back of it.
The hydraulic protection device depends on the oil hydraulic pump to drive the high pressure, thus making piston do axial displacement. The front connecting end of the piston rod supports the bearing pedestal to meet requirement for production pressure.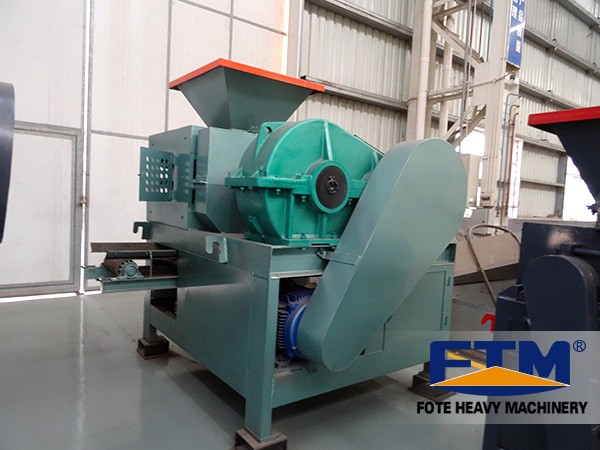 The gypsum ball press machine gets its system power from the oil hydraulic circuit, liquid control valve and energy accumulator. Materials generally enter the hopper of the make-up machine quantitatively through the storage bin and then enter the space between the twin rollers after adjustment shutter of the hopper changes. Constant speed reverse running roller presses materials as the forming pressure changes from low to high and gets to the highest pressure at the connecting line of the twin rollers. When passing the line, materials are in ball separation condition with the forming pressure and gett lower quickly, thus finishing the separation process.
Parameter
Model
Roll diamter
(mm)
Roll width
(mm)
Total pressure
(t)
Main motor power
(kw)
Output
(t)
Weight
(t)
GY520-150
520
196
150
55
2.2-3.5
13
GY650-220
650
200
220
110
4-6.5
19.2
GY750-300
750
280
300
185
6-8.5
34
GY1000-350
1000
440
350
250
10-15
50.8
GY1000-450
1000
504
450
280
14-17
58.5
GY1000-500
1000
504
500
315
15-20
58.5
GYS1000-500
1000
600
500
280
17-21
56.5
GY1000-540
1000
900
540
185Kw×2
30-35
60
GY1200-800
1200
900
800
280Kw×2
40
110
GY1400-1000
1400
1000
1000
400Kw×2
50
156
Model
Roll diamter
(mm)
Roll width
(mm)
Total pressure
(t)
GY520-150
520
196
150
GY650-220
650
200
220
GY750-300
750
280
300
GY1000-350
1000
440
350
GY1000-450
1000
504
450
GY1000-500
1000
504
500
GYS1000-500
1000
600
500
GY1000-540
1000
900
540
GY1200-800
1200
900
800
GY1400-1000
1400
1000
1000