Description of Coal Briquetting Machine
The coal briquette machine is used for pressing materials with little moisture including coal briquette, ores powder and refractory matter. It can process all kinds of powder materials for its features of high efficiency, energy saving and environmental protection.

Features of Coal Briquetting Machine:
The coal briquette machine has characteristics of energy saving, convenient transportation, stable ball forming rate and low power consumption which increases the usage of the wastes and brings good economic and social benefits.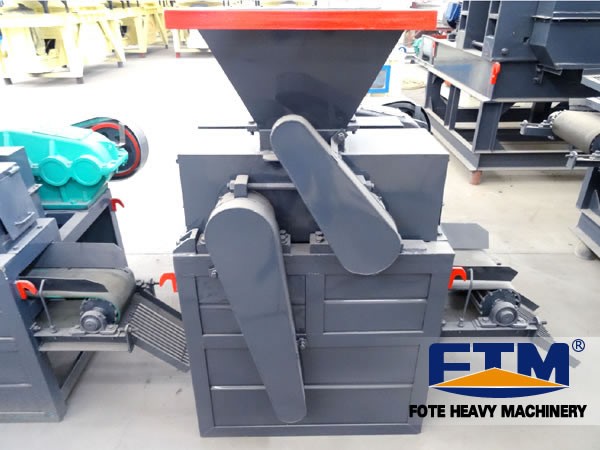 The performance of the coal briquette machine is up to the roller skin of the main engine which is forged with 65 type manganese and whose hardness can reach above 58 degrees after the heat treatment. It adopts combination assembly and can be changed after abrasion. The coal briquette press machine has a buffer device which can prevent the equipment from hard materials' impacting. It also has an adjustable ball bowl structure which will keep the ball bowl in the adjustable range without dislocation.
Parameter
Model
Roll diamter
(mm)
Roll width
(mm)
Total pressure
(t)
Main motor power
(kw)
Output
(t)
Weight
(t)
GY520-150
520
196
150
55
2.2-3.5
13
GY650-220
650
200
220
110
4-6.5
19.2
GY750-300
750
280
300
185
6-8.5
34
GY1000-350
1000
440
350
250
10-15
50.8
GY1000-450
1000
504
450
280
14-17
58.5
GY1000-500
1000
504
500
315
15-20
58.5
GYS1000-500
1000
600
500
280
17-21
56.5
GY1000-540
1000
900
540
185Kw×2
30-35
60
GY1200-800
1200
900
800
280Kw×2
40
110
GY1400-1000
1400
1000
1000
400Kw×2
50
156
Model
Roll diamter
(mm)
Roll width
(mm)
Total pressure
(t)
GY520-150
520
196
150
GY650-220
650
200
220
GY750-300
750
280
300
GY1000-350
1000
440
350
GY1000-450
1000
504
450
GY1000-500
1000
504
500
GYS1000-500
1000
600
500
GY1000-540
1000
900
540
GY1200-800
1200
900
800
GY1400-1000
1400
1000
1000