Introduction to Cable/Wire Recycling Machine
Copper wire Machine(which is also called scrap electric wire and cable recycling equipment) is a machine used in scrap copper wire, separating the copper from the plastic. Because the cooper after separated like rice grains, so it is called copper wire machine. It belongs one of the environmental protection machine.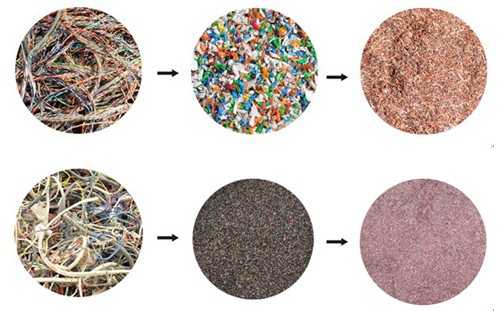 Application of Cable/Wire Recycling Machine:
It is specially for processing various of Automotive wire, communication cables and all kinds of waste and scrap electrical wire.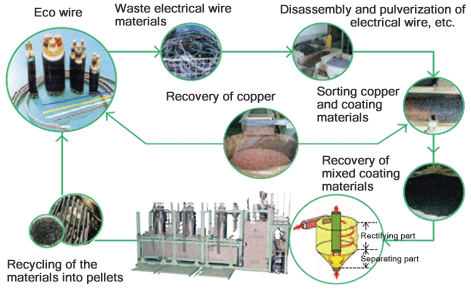 Advantages and Benefits of Cable/Wire Recycling Machine:
1. Not only can they process communication cables (single copper wire), but also can process waste and scrape wire.
2. We solve the problems of air pollution by burning method take copper, and enhanced the quality of recycled copper and recycling plastics, to achieve the aim of comprehensive utilization.
3.It adopts dust-extraction unit which is independent research and development by our company., it effectively solves the dust pollution problem.
4.It use dry-type broken,crush, makes the scrap cable and electric wire after breaking and crushing make the mixture of metal and non -mental(such as plastic and so on), then detached the metal and non-mental(such as plastic and so on) by way of separating.
5.The crushing are feeding at once with the structure of multi-machine unit,finished by multi-machine, equipped with automatic transportation, sound insulation technology, cooling system and so on, achieve the aim of separating metal from plastic.
Cable recycling machine is roughly divided into dry and wet type. Dry type copper wire machine uses gas separator, air shaker, static electricity, and other more environmentally and friendly method to separate copper wire.
Its main process is: crushing-airflow separation-(static electricity separation)-dust collecting. Wet type copper wire crusher mainly uses the gravity shaking table separation.
Its main process is: crushing (add water)-gravity shaking table (add water), which can effectively recycle trash wire, plug cord, fur wire and so on, so wet type cable recycling machine is with extensive application.
Parameter
| | | | |
| --- | --- | --- | --- |
| Model | Capacity (KG) | power(KW) | Covering area(m²) |
| FTM350 | 100-200 | 18.5-22 | 1.5 |
| FTM500 | 200-400 | 22-30 | 4 |
| FTM600 | 400-600 | 30-37 | 8 |
| FTM800 | 500-700 | 37-45 | 9 |
| FTM1000 | 800-1000 | 45-55 | 15 |
| | | | |
| --- | --- | --- | --- |
| Model | Capacity (KG) | power(KW) | Covering area(m²) |
| FTM350 | 100-200 | 18.5-22 | 1.5 |
| FTM500 | 200-400 | 22-30 | 4 |
| FTM600 | 400-600 | 30-37 | 8 |
| FTM800 | 500-700 | 37-45 | 9 |
| FTM1000 | 800-1000 | 45-55 | 15 |