The Handling Materials of Biomass Briquetting Machine:
The raw materials of this machine can be wood material like sawdust, wood branches, leaves, bamboo, and some agricultural waste such as sugarcane, bagasse, rice husk, corn stalk, corn cob, grain stems, and some fruit shells including peanut shell, coconut shell, coffee husk and so on.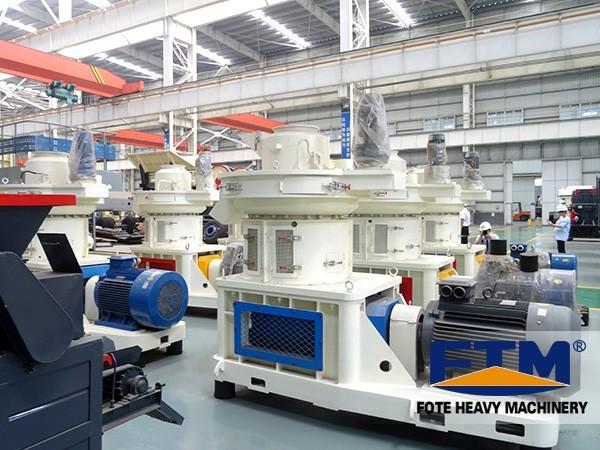 The Performance Characteristics of Biomass Briquetting Machine:
1. Feeder is with a variable speed controlled to meet different outputs requirements.
2. It is with magnet and over load protection system, which can protect machine well during production.
3. The feeder's especial structure makes materials conveyed evenly, and it is specially designed for pellet of light substance with the density of 0.3-0.6g/ cm3.
4. Production moisture is 8-12% , raw material size below 3-5mm.

The Working Principle of Biomass Briquetting Machine:
1. Briquetting is a process where some type of raw material is compressed under high pressure to form a round or square briquette that can be used for heating purpose.
2. The ligation content is liberated under this very high pressure thus binding the material into a briquette with high density if the raw material is wood waste or agro waste.
3. The temperatures rise is sufficient to make the raw material liberate various adhesives that will assist in keeping the particles together in the compressed shape during the compression of the material.
Parameter
Biomass Briquetting Machine
| | | | |
| --- | --- | --- | --- |
| Model | Power(Kw) | Pellet Specification(mm) | Capacity(t/h) |
| FKL55 | 75 | φ4-φ12 | 0.8-1.5 |
| FKL56 | 90 | φ4-φ12 | 1.2-1.8 |
| FKL58 | 160 | φ4-φ12 | 1.8-2.1 |
| FKL68 | 160 | φ4-φ12 | 2-2.5 |
| FKL85 | 220 | φ4-φ12 | 2.5-3.5 |
| FKL88 | 315 | φ4-φ12 | 3.5-4.5 |
| FKL105 | 360-450 | φ4-φ30 | 5-8 |
| FKL125 | 550-660 | φ4-φ30 | 8-12 |