The Handling Materials and Application of Mixer:
Mixing barrel is mainly used in all kinds of metal mining industries for mixing materials and medicines before flotation. It is can also be used for mixing non-metallic minerals.
It is suitable for the materials whose concentration is less than 30% and whose granularity is less than 1 mm. Besides, it looks like a flat barrel with helical runners, which can move and mix materials in it.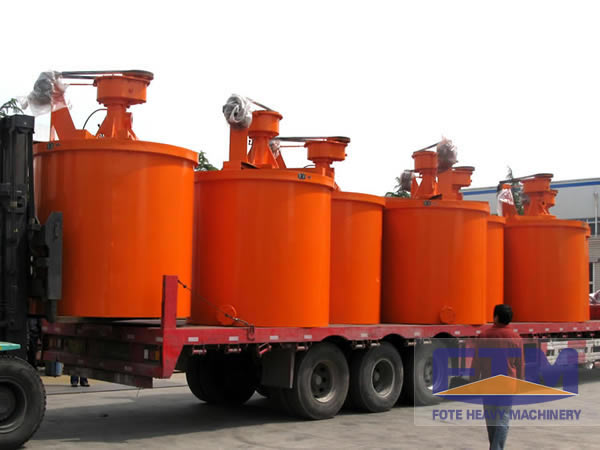 The Performance Characteristics of Mixer:
Compact structure and reliably sealing. Besides, there is an ash damper installed at the mouth of the discharging gate, which can prevent water and flog to enter in.
It has advantages of evenly mixing, sector shape of propeller and large contacting proportion.
There are many rows of nozzles, which can guarantee water to flow evenly.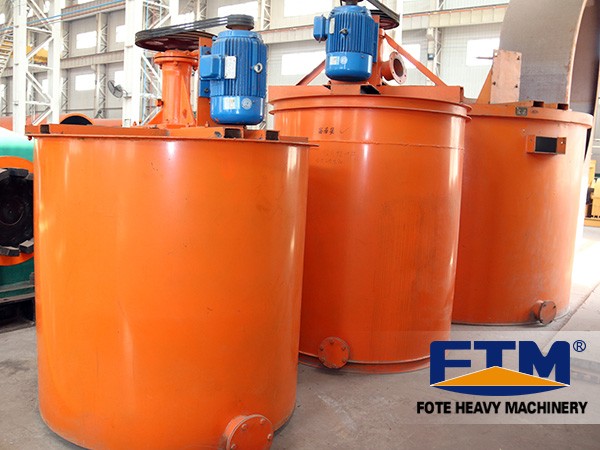 Features:
There is less ash left. Besides, there is a watershed set on the bottom. So the whole machine is very clean.
Advanced equipment performance. The quality of production is stable. The mixing is even. And the discharging is quick.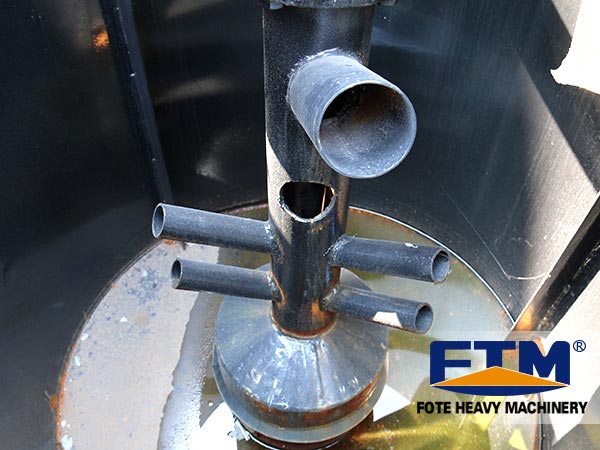 Working Process:
When the machine works, the pulp and pharmaceutical take circular motion by the rotation of the impeller to get mixed evenly in the whole tank, and then the mixed suspension liquid discharges from the overflow part.
Parameter
Category
Specification
Model
Dimensions
Effective
cubage(m³)
Rotate
speed(r/min)
Motor
power
(kw)
Dimensions
(L×W×H)
(mm)
Total
weight
(kg)
Diameter
(mm)
Height
(mm)
Agitating
tank
XB-10×10
1000
1000
0.58
390
1.5
1130×1130×1521
1050
XB-12×12
1200
1200
1.18
390
2.2
1130×1330×1721
1160
XB-15×15
1500
1500
2.2
280
3.0
1750×1640×2190
1270
XB-20×20
2000
2000
5.6
210
5.5
2380×2160×2850
1700
XB-25×25
2500
2500
11.2
190
7.5
2990×2720×3540
3500
XB-30×30
3000
3000
19
140
18.5
4030×3270×3010
5200
XB-35×35
3500
3500
29
230
30
3920×3740×4970
6630
XB-40×40
4000
4000
45
210
37
4520×4320×5570
7830
Lifting
type
XBT-10×15
1000
1500
1
510
2.2
1130×1130×2070
1250
XBT-15×20
1500
2000
2.9
400
4
1636×1768×2785
1677
XBT-20×20
2000
2000
5.6
312
11
2180×2220×3015
3100
High-
efficiency
leaching
tank
XF-20×20
2000
2000
7.07
82.5
1.5
2032×2032×3595
2400
XF-25×30
2500
3000
13.5
57.6
2.2
2532×2532×4152
3670
XF-30×30
3000
3000
22.97
50.0
2.2
3180×3180×4673
5340
XF-35×40
3500
4000
35.6
41.0
4.0
3685×3685×5314
7140
XF-40×45
4000
4500
52.78
33.5
4.0
4185×4185×5814
9300
XF-45×50
4500
5000
74.75
33.5
5.5
4685×4685×6466
10500
XF-50×56
5000
5600
102.1
30.6
5.5
5185×5185×6975
12300
XF-55×60
5500
6000
135.4
24.4
7.5
5670×5670×7569
13500
Category
Specification
Model
Effective
cubage(m³)
Rotate
speed(r/min)
Agitating
tank
XB-10×10
0.58
390
XB-12×12
1.18
390
XB-15×15
2.2
280
XB-20×20
5.6
210
XB-25×25
11.2
190
XB-30×30
19
140
XB-35×35
29
230
XB-40×40
45
210
Lifting
type
XBT-10×15
1
510
XBT-15×20
2.9
400
XBT-20×20
5.6
312
High-
efficiency
leaching
tank
XF-20×20
7.07
82.5
XF-25×30
13.5
57.6
XF-30×30
22.97
50.0
XF-35×40
35.6
41.0
XF-40×45
52.78
33.5
XF-45×50
74.75
33.5
XF-50×56
102.1
30.6
XF-55×60
135.4
24.4