The dryer machine aims to remove moisture from the material. Dryers should be carefully designed so that heat-sensitive or low melting point materials will not overheat and affect their quality.
Ftmmachinery is one of the professional dryer brands. Over the 30 years, we have developed various industrial dryers to meet all your drying needs.
What You Can Benefit from:
High-quality final product. The material moisture is dried below 12%, or even 0. Then it can be used for grinding, briquetting, etc.
Save your time! The drying time is short.
Low budget! Dryers start at $1, 000. And the wear-resistant parts serve you longer.
Environmentally friendly and energy-saving. Zero dust pollution and noise; save energy by 30% and reduce power consumption by 20%.
Can I Use a Dryer Machine?
If you want to dry materials quickly, a dryer is a good choice.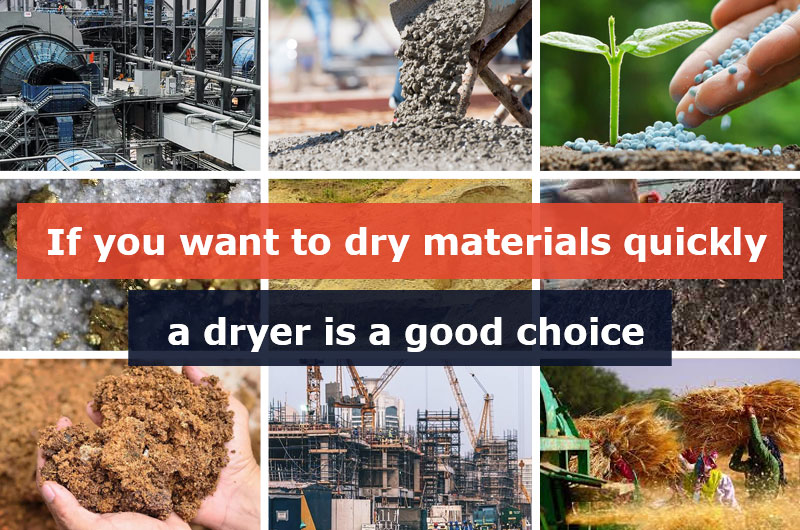 Whether it is mineral processing, cement, fertilizer, clay, building, or agriculture, we can help you customize an optimal industrial drying solution.
Which Dryer Is Right for Me?
According to different materials (such as gold ore, river sand, and chicken manure), you can choose one dryer that suits you.
The types of dryers include rotary dryers, river sand dryers, clay dryers, chicken manure dryers, sawdust dryers, slag dryers, etc.
Industrial Dryers for Sale
If you are looking for powder dryers, lignite dryers can be fine.It adopts a low-temperature four-class drying process to dry coking coal, lignite, activated carbon, coke, powder, etc.
Special features:
Easy to install and small footprint.
The output material is lower than 60℃. No need to be cooled after drying.
The rotary dryer is called as workhorse of chemical industry and are most popularly used.It is ideal for drying materials with high moisture content and viscosity.
It can dry minerals, fertilizers, sand, biomass feedstocks (sawdust, wood chips), corrosive materials, and other demanding industrial bulk solids.
Types of rotary dryers:
①Direct Rotary Dryers:Higher efficiency and greater adaptability. Used in fertilizer, minerals, specialty chemicals, etc.
②Indirect Rotary Dryers: Preferred for small or medium batches of fine materials, such as flammable materials, grains, pulp, and pigments.
Special features:
Large drying capacity: 1.9-76 t/h.
Controllable drying process.
Robust construction.
Effectively prevents material from sticking on the wall.
The chicken manure dryer is specially used for drying poultry manure, such as duck manure, quail manure, pigeon manure, chicken manure, cow manure, etc.
Special features:
Also kills pathogens to make better use of manure.
Strong production capacity: 1.9-76 t/h.
Automatic control.
The slag dryer can dry alkaline slag, acid slag, and other industrial raw materials, such as slag, fly ash, lignite, limestone, clay, river sand, quartz sand, gold ore, copper ore, iron ore, molybdenum ore, etc.
Special features:
Use wear-resistant and high-temperature resistant materials to improve drying efficiency by more than 60%.
No blockage, material returning, and uneven feeding.
Meet the needs of large-scale production.
The clay dryer can dry kaolin, Earthenware, Fire clay, Ball clay, Stoneware, bauxite, bentonite, quartz sand, and activated clay.
Special features:
Reduce the adhesion of the inner cylinder wall.
Good drying effect. The final moisture is below 0.5%-1%.
No dust overflows.
If you are looking for a cheap sand drum dryer or coal slurry dryer, a three-drum dryer is a good choice.
What you can dry:
Sand, minerals, metal powder, gypsum powder, clay, coal powder, sawdust, wood, fertilizer, animal manure, coconut shell, palm shell, etc.
Special features:
Output: 20-30 t/h.
Small footprint (only half of the single drum dryer).
Simple automatic control.
The gypsum dryer has the following advantages: cheap; automatic control; the gypsum will not stick to the inner surface of barrel.
The rotary drum dryer can dry fertilizer, coal, metal ore, river sand, clay, slag, animal manure, etc.
The fuels are anthracite bituminous coal, combustible gases (natural gas, biogas, etc.), and biomass fuel made of wood raw materials.
Special features:
Controllable particle size and moisture. When drying slime, the moisture is below 8%, and the particle size is below 8 mm.
Long service life. The wear resistance can be increased by 3-5 times and the service life extended by over 3 times.
Zero dust pollution.
The sawdust dryer is specially used for drying wood chips, sawdust, corn straw, soybean straw, cotton straw, wheat straw, sorghum straw, etc.
Special features:
High drying efficiency. After drying, the moisture is below 12%.
Optimized structure and small covering area.
Save energy. The coal consumption is reduced by 60%.
Automatic control.
The river sand dryer is used for drying bulk, particles, and powdered ore materials with a volume of 20-40 mm.
It is the first choice for various drying projects like river sand, quartz sand, cement, bauxite, clay, limestone, gypsum, cinder, talc, and kaolin production lines.
Special features:
Good drying effect. The drying temperature can reach 800°C to ensure the final moisture is 0.5-1% or less.
Short drying time (0.5-5 seconds). The dried material still retains its physical and chemical properties.
Strong wear-resistance, which is 3-4 times as that of ordinary steel plate.
What You May Like
14 Common Industrial Dryers Faults and Solutions
Rotary Drum Dryer for Drying Fertilizer