Rotary dryers are highly efficient industrial drying machines for bulk solids. They are often chosen for their large processing capacity, robust construction, and high adaptability to the raw materials. Therefore, whether you want to dry your fertilizer for effective granulation, dry sand for better quality, or dry limestone for higher grinding efficiency, or control the moisture content of biomass raw materials within a reasonable range for easier briquetting, a rotary dryer is your choice for all.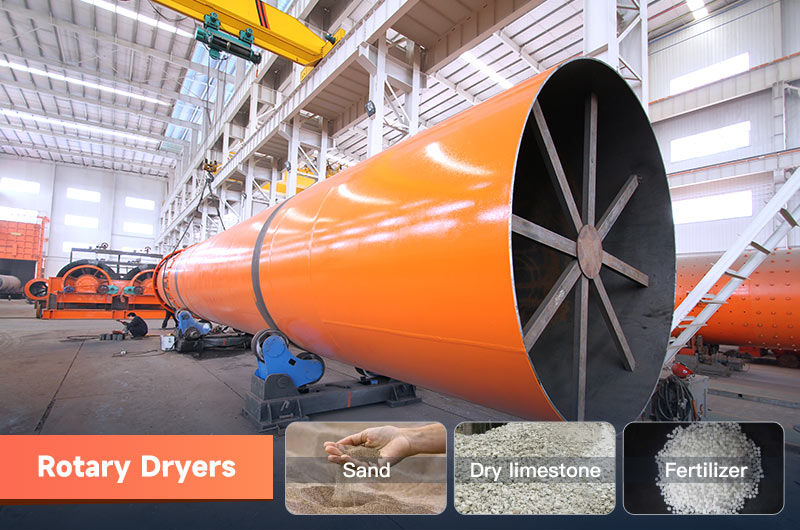 And you definitely want to take a good look at Ftmmachinery's rotary dryers. Ftmmachinery industrial rotary dryers have won the favor of many customers with the following advantages.
Features of Ftmmachinery Rotary Dryers
Large Processing Capacity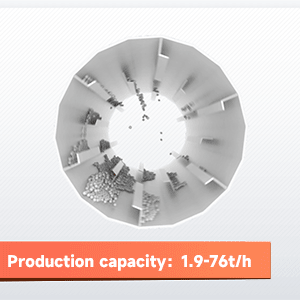 One of the reasons why rotary dryers are frequently chosen is their high processing capacity. Rotary dryers made by Ftmmachinery can process material between 1.9 and 76 tons per hour. This is essential in environments that require high throughput.
Controllable Drying Process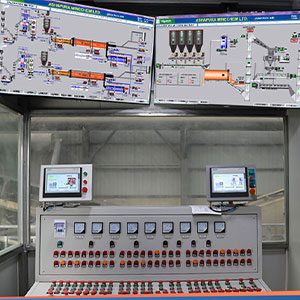 It adopts automation control system, and can configure different heating temperatures and heating times according to drying requirements to realize drying automation. The controllable drying process can effectively control the moisture content of the finished product.
Robust Construction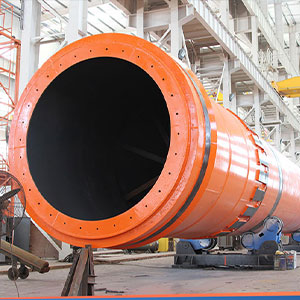 Rotary dryers are frequently used to dry minerals, ores, fertilizers, as well as other demanding industrial bulk solids. This requires the dryer to be robust and durable. The drum shell of rotary drying equipment is made by coil welding of 10mm thick 20g boiler steel plate, extending the service life.
High Drying Efficiency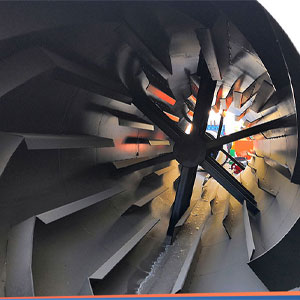 Ftmmachinery provides rotary dryers with various lifters options that work with the characteristics of the materials to create the optimal "curtain," or cascade of material across the drum's interior diameter, as this promotes maximum heat transfer.
Can I dry my raw material with a rotary dryer?
The rotary dryer has a very wide range of applications and can meet the drying requirements of various industrial materials.
Powder particle: Sand, silica sand, aggregates, limestone, clay, mineral filter cake, coal, iron sulfate, fly ash, gypsum, etc.
Damp and sticky material: Coal slime, sewage sludge, bentonite, Kaolin, etc.
Corrosive material: Distillers, grains, fertilizers, animal manure, slag, etc.
Biomass material: Sawdust, wood chips, etc.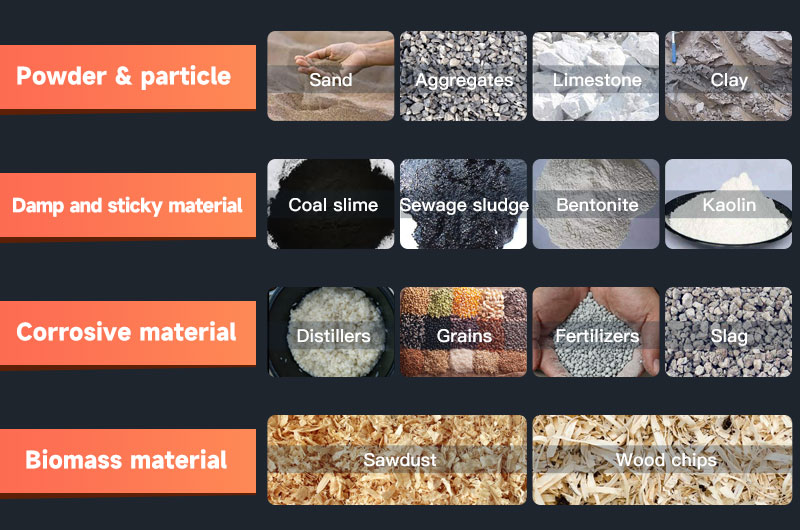 Should I choose a direct rotary dryer or an indirect rotary dryer?
Direct Rotary Dryers
Direct dryers rely on direct contact between the material and process gas to efficiently dry materials.
Direct rotary dryers are used in many industries, including fertilizer and agriculture, mining and minerals, specialty chemicals, and more, due to their higher efficiency and greater adaptability.
Indirect Rotary Dryers
Conversely, indirect dryers use heat emanating from the drum's shell to dry material via radiation and conduction, avoiding direct contact between the material and drying air.
The indirect rotary dryers are usually preferred for small or medium batches whose products risk contamination or degradation by exposure to the atmosphere or feature toxic and/or hazardous chemicals that should not be released into the environment. Choose an indirect rotary dryer if you are drying highly combustible materials, organics such as grain and pulp, and fine materials such as pigments.
Ftmmachinery manufactures and sells direct rotary dryers and indirect rotary dryers with excellent performance. If you are not sure which rotary dryer you should choose, contact our engineers.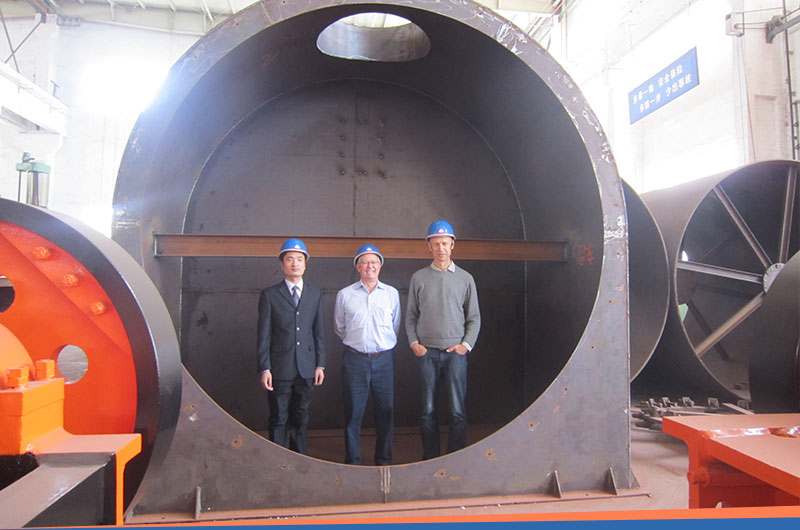 Which heating way should I choose: co-current flow or counter-current flow?
Co-current Air Flow
Rotary dryers are available in two types of air-flow configurations: co-current and counter-current. Co-current air flow means that the moving direction of the material is the same as the flow direction of the heating medium.
It has greater control over solid material temperature and avoidance of overheating. But it is slightly less thermally efficient than the that of the counter-current air flow.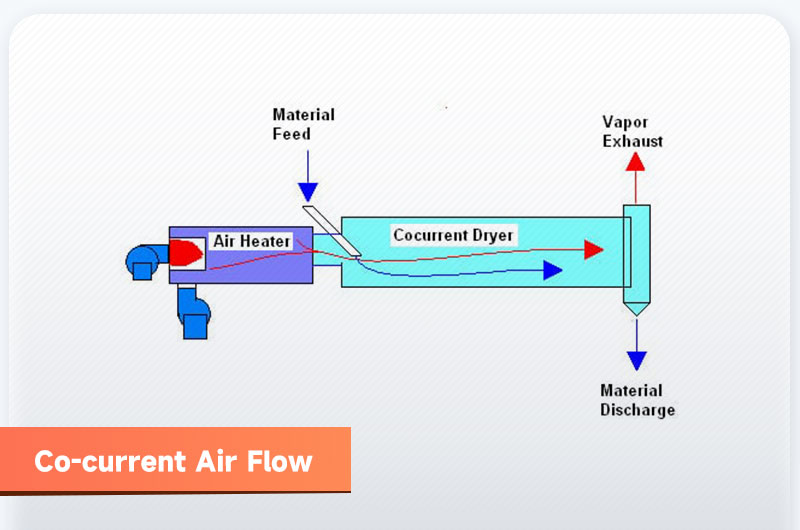 Counter-current Air Flow
Counter-current flow heating means that the moving direction of the material is opposite to that of the heating medium.
It is more efficient but it has less control over temperature, and greater potential for overheating.
Which heating way will best suit the process is based on the material's characteristics and the overall process requirement. If you are not sure how to choose, contact our engineers.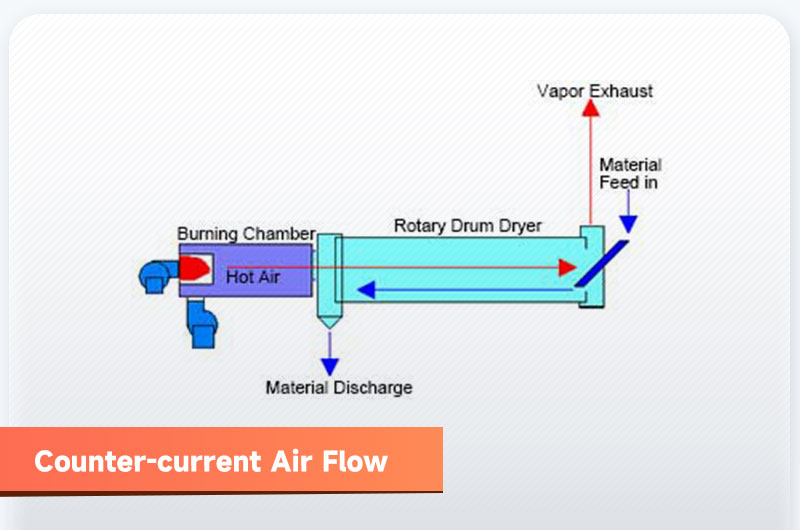 Customize the Dryer Design to the Process Requirements
The best-performing rotary dryers have one thing in common: they were designed around the unique requirements of their specified application. This requires our engineers to fully consider a series of factors that may affect the design of the dryer, such as material particle size, inlet and outlet temperature, inlet and outlet moisture, ambient air temperature, humidity and plant elevation.
Why not consult our engineers which dryer should you buy based on your process requirements? Contact our engineers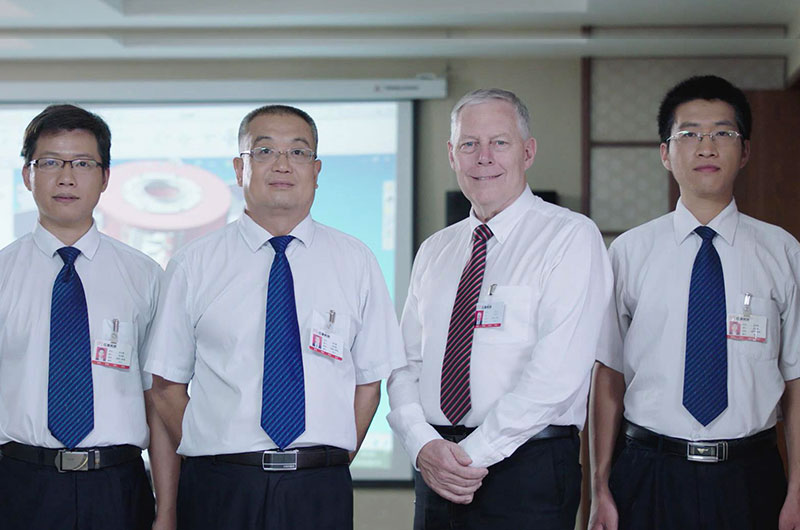 Customer case – Rotary dryer sold in Malaysia
Sawdust is also called wood chips. Being used to make biomass fuel, it can not only realize waste recycling but also reduce environmental pollution effectively. The wet wood chips can be reused after crushing-grinding-drying-granulating-packaging.
According to the survey, every 10,000 tons of wood chips can replace 80,000 tons of standard coal, which can reduce emissions of 160 tons SO2, 80 tons smoke and dust, and 14,400 tons CO2.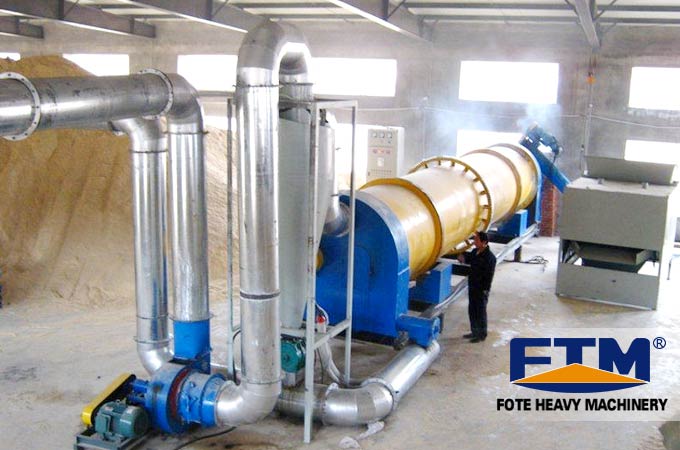 Rotary dryer in site in Malaysia
A customer from Malaysia visited our website in March 2019 to purchase complete equipment for wood chips drying. Fote engineers provided suitable equipment according to the project information provided. They are satisfied with the plan and quotation. After visiting our factory, they decided to buy the whole set.
Here is the project information:
Processing material: Sawdust
Initial humidity: 8%-10%
Final humidity: 1%
Production capacity: 15 t/h
Maximum temperature: 300 °C
Auxiliary equipment: Feeder, feed conveyor, discharge conveyor, induced draft fan, hot blast stove, and cyclone.
Parameter
Spec./m
(Dia.×Length)

Shell Cubage
(m³)

Capacity
(t/h)

Installation
Obliquity
(%)

Highest Inlet
Air Temperature
(℃)

Main Motor
(kw)

Weight
(t)

Φ1.2×8.0

9.0

1.9~2.4

3~5

700~800

7.5

9

Φ1.2×10

11.3

2.4~3.0

3~5

700~800

7.5

11

Φ1.5×12

21.2

4.5~5.7

3~5

700~800

15

18.5

Φ1.5×14

24.7

5.3~6.6

3~5

700~800

15

19.7

Φ1.5×15

26.5

5.7~7.1

3~5

700~800

15

20.5

Φ1.8×12

30.5

6.5~8.1

3~5

700~800

18.5

21.5

Φ1.8×14

35.6

7.6~9.5

3~5

700~800

18.5

23

Φ2.2×12

45.6

9.7~12.2

3~5

700~800

22

33.5

Φ2.2×14

53.2

11.4~14.2

3~5

700~800

22

36

Φ2.2×16

60.8

13.0~16.2

3~5

700~800

22

38

Φ2.4×14

63.3

13.5~16.9

3~5

700~800

37

45

Φ2.4×18

81.4

17.4~21.7

3~5

700~800

37

49

Φ2.4×20

90.4

19.3~24.1

3~5

700~800

45

54

Φ2.4×22

99.5

21.2~26.5

3~5

700~800

45

58

Φ2.6×24

127.4

27.2~34.0

3~5

700~800

55

73

Φ3.0×20

141.3

30.1~37.7

3~5

700~800

75

85

Φ3.0×25

176.6

37.7~47.1

3~5

700~800

75

95

Φ3.2×25

201

42.9~53.6

3~5

700~800

90

110

Φ3.6×28

285

60.8~76.0

3~5

700~800

160

135
Technical parameters of indirect heat dryer:
Shell
diameter
×shell
Length
Items
Inside
diameter
of outer
shell
(mm)
Inside
diameter
of inner
shell
(mm)
Shell
Length
(m)
Shell
cubage
(m³)
Shell
obliquity
Lifting
blade
form
Highest
inlet air
temperature
(℃)
Dimensions
(m)
Φ1.5×15m
1500
500
15
20.27
3-5%
Lifting form
850
16.2×2.7×2.7
Φ1.5×17m
17
22.97
18.2×2.7×2.7
Φ1.5×19m
19
25.68
20.0×2.9×2.9
Φ1.8×21m
1800
650
21
35.91
3-5%
Lifting form
850
22.5×2.7×2.7
Φ1.8×23m
23
39.33
24.5×2.9×2.9
Φ1.8×25m
25
42.75
26.5×2.9×2.9
Φ2.2×21m
2200
800
21
58.10
3-5%
Lifting form
850
----
Φ2.2×23m
23
63.61
Φ2.2×25m
25
69.15
Spec./m
(Dia.×Length)

Shell Cubage
(m³)

Capacity
(t/h)

Φ1.2×8.0

9.0

1.9~2.4

Φ1.2×10

11.3

2.4~3.0

Φ1.5×12

21.2

4.5~5.7

Φ1.5×14

24.7

5.3~6.6

Φ1.5×15

26.5

5.7~7.1

Φ1.8×12

30.5

6.5~8.1

Φ1.8×14

35.6

7.6~9.5

Φ2.2×12

45.6

9.7~12.2

Φ2.2×14

53.2

11.4~14.2

Φ2.2×16

60.8

13.0~16.2

Φ2.4×14

63.3

13.5~16.9

Φ2.4×18

81.4

17.4~21.7

Φ2.4×20

90.4

19.3~24.1

Φ2.4×22

99.5

21.2~26.5

Φ2.6×24

127.4

27.2~34.0

Φ3.0×20

141.3

30.1~37.7

Φ3.0×25

176.6

37.7~47.1

Φ3.2×25

201

42.9~53.6

Φ3.6×28

285

60.8~76.0
Technical parameters of indirect heat dryer:
Shell
diameter
×shell
Length
Items
Inside
diameter
of outer
shell
(mm)
Inside
diameter
of inner
shell
(mm)
Shell
cubage
(m³)
Φ1.5×15m
1500
500
20.27
Φ1.5×17m
22.97
Φ1.5×19m
25.68
Φ1.8×21m
1800
650
35.91
Φ1.8×23m
39.33
Φ1.8×25m
42.75
Φ2.2×21m
2200
800
58.10
Φ2.2×23m
63.61
Φ2.2×25m
69.15