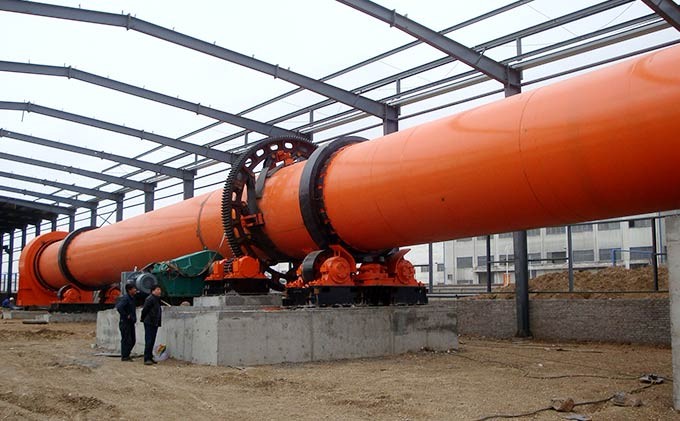 Rotary Dryer

Processing capacity: 10-30 t/h

Applied materials: slag, blast furnace slag, fly ash, cinder, slag, carbide slag, limestone, clay, sand, quartz sand.
Applied areas : metallurgy industry, chemical industry, building material, mining machinery etc.

The Detailed Description of Rotary Dryer:
The rotary dryer as a material heating and drying device realizes drying process by making materials inside the coaxial rotary drum move back and forth between the inner and external wall driven by the spiral vane and interrupted spiral raising plate.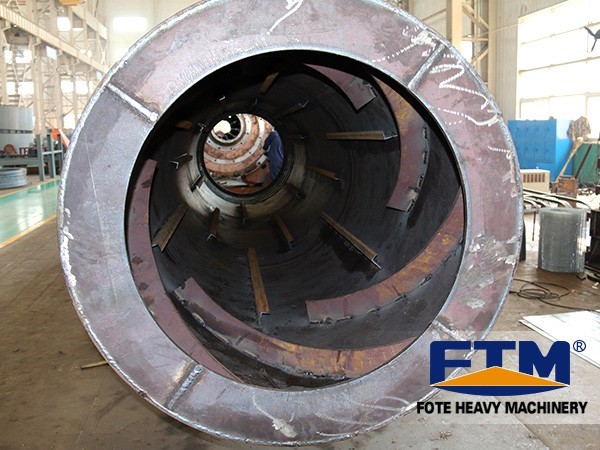 The Performance Characteristics of Rotary Dryer:
1. High mechanization, strong production capability, and continuous operation
2. Excellent and simple structure, the steady operating process under the resistance of the drum, easy operation
3. Little malfunction, low maintenance cost, and power consumption
4. Wide application range and good drying effect.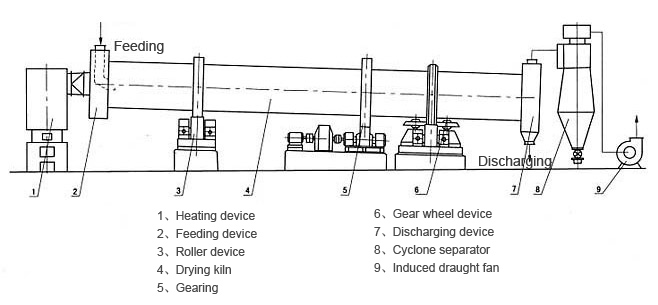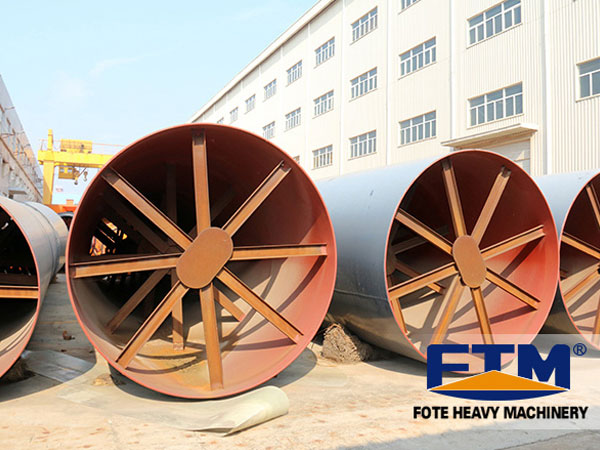 Working Process:
The sleeve column structure of the rotary dryer shortens the dryer length in multiple times. As the heat delivery area is greatly reduced, so is the heat consumption. However, the multiplication heat exchange area increases heat performance. For those untouchable materials, the multi-drum rotary dryer machine or rotary drying machine provides inner smoke tube and annular smoke tube in the inner drum and external drum respectively. These smoke tubes connect each other through radial tubes to increase high efficiency. The rotary dryer is also known as sleeve type rotary cooler.
Parameter
Spec./m
(Dia.×Length)

Shell Cubage
(m³)

Capacity
(t/h)

Φ1.2×8.0

9.0

1.9~2.4

Φ1.2×10

11.3

2.4~3.0

Φ1.5×12

21.2

4.5~5.7

Φ1.5×14

24.7

5.3~6.6

Φ1.5×15

26.5

5.7~7.1

Φ1.8×12

30.5

6.5~8.1

Φ1.8×14

35.6

7.6~9.5

Φ2.2×12

45.6

9.7~12.2

Φ2.2×14

53.2

11.4~14.2

Φ2.2×16

60.8

13.0~16.2

Φ2.4×14

63.3

13.5~16.9

Φ2.4×18

81.4

17.4~21.7

Φ2.4×20

90.4

19.3~24.1

Φ2.4×22

99.5

21.2~26.5

Φ2.6×24

127.4

27.2~34.0

Φ3.0×20

141.3

30.1~37.7

Φ3.0×25

176.6

37.7~47.1

Φ3.2×25

201

42.9~53.6

Φ3.6×28

285

60.8~76.0
Technical parameters of indirect heat dryer:
Shell
diameter
×shell
Length
Items
Inside
diameter
of outer
shell
(mm)
Inside
diameter
of inner
shell
(mm)
Shell
cubage
(m³)
Φ1.5×15m
1500
500
20.27
Φ1.5×17m
22.97
Φ1.5×19m
25.68
Φ1.8×21m
1800
650
35.91
Φ1.8×23m
39.33
Φ1.8×25m
42.75
Φ2.2×21m
2200
800
58.10
Φ2.2×23m
63.61
Φ2.2×25m
69.15