The Handling Materials and Applications of Rotary Drum Dryer
Drum dryer can be used in metallurgy industry, building material, chemical industry, coal washing industry, fertilizer industry, ores industry, gravel industry, clay industry, kaolin industry, sugar industry. The processing materials: river are sand, quartz sand, sand, sand mining, ore, slag, blast furnace slag, fly ash, cinder.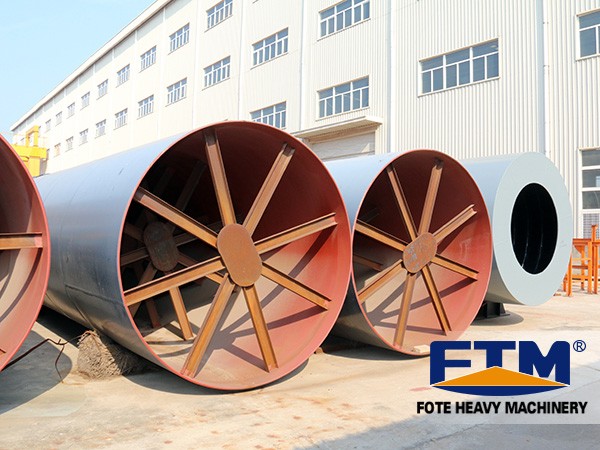 Rotary Drum Dryer
The Performance Characteristics of Rotary Drum Dryer
No air leakage phenomenon which completely solves the sealing difficulties and can be installed within two hours.
According to users' requirements, it can easily control the demand final moisture indicator.
The discharge temperature is below 50 degrees and can be directly fed into the cooling shed.
Low energy consumption, low investment, cost saving, energy saving and environmental protection.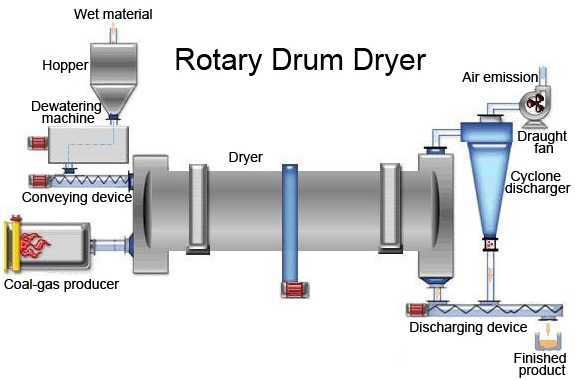 Structural schematic diagram
Working Process
Materials enter into the inner side of the drum through the feeding device to achieve current flow drying process. They get raised and scattered under the shoveling plate in a spiral advancing way to exchange heat. Then they enter the middle layer of the inner wall through the other end to achieve counter current drying process.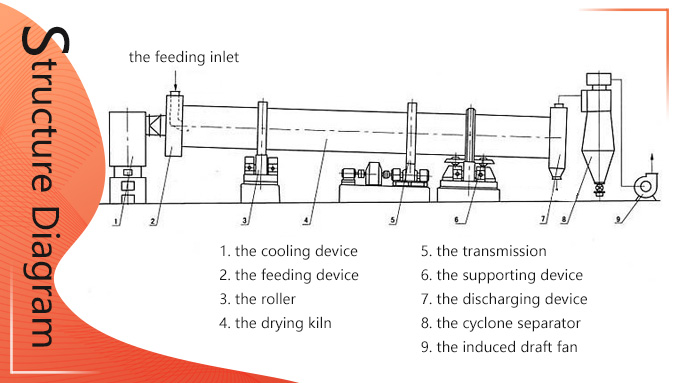 Parts of the rotary drum dryer
They absorb heat from both inner drum and middle drum and extend the drying time to realize the best drying condition. Finally, materials fall into the outer layer of the drum from the other end of the middle layer, processing in a rectangle multi-loop way.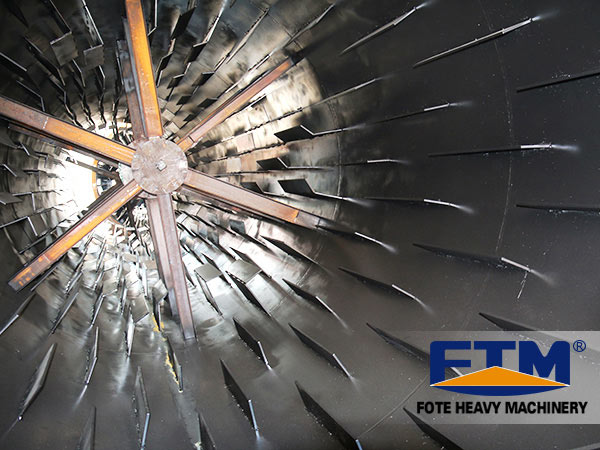 The inside of a rotary drum dryer
The dried materials move quickly out of the drum under the hot air, while the wet ones remain to stay in the drum because of their own weight. Materials are dried completely inside the rectangle shoveling plate and then cooled by the single drum cooler, thus, the whole drying process has been finished.
Parameter
Spec./m
(Dia.×Length)

Shell Cubage
(m³)

Capacity
(t/h)

Installation
Obliquity
(%)

Highest Inlet
Air Temperature
(℃)

Main Motor
(kw)

Weight
(t)

Φ1.2×8.0

9.0

1.9~2.4

3~5

700~800

7.5

9

Φ1.2×10

11.3

2.4~3.0

3~5

700~800

7.5

11

Φ1.5×12

21.2

4.5~5.7

3~5

700~800

15

18.5

Φ1.5×14

24.7

5.3~6.6

3~5

700~800

15

19.7

Φ1.5×15

26.5

5.7~7.1

3~5

700~800

15

20.5

Φ1.8×12

30.5

6.5~8.1

3~5

700~800

18.5

21.5

Φ1.8×14

35.6

7.6~9.5

3~5

700~800

18.5

23

Φ2.2×12

45.6

9.7~12.2

3~5

700~800

22

33.5

Φ2.2×14

53.2

11.4~14.2

3~5

700~800

22

36

Φ2.2×16

60.8

13.0~16.2

3~5

700~800

22

38

Φ2.4×14

63.3

13.5~16.9

3~5

700~800

37

45

Φ2.4×18

81.4

17.4~21.7

3~5

700~800

37

49

Φ2.4×20

90.4

19.3~24.1

3~5

700~800

45

54

Φ2.4×22

99.5

21.2~26.5

3~5

700~800

45

58

Φ2.6×24

127.4

27.2~34.0

3~5

700~800

55

73

Φ3.0×20

141.3

30.1~37.7

3~5

700~800

75

85

Φ3.0×25

176.6

37.7~47.1

3~5

700~800

75

95

Φ3.2×25

201

42.9~53.6

3~5

700~800

90

110

Φ3.6×28

285

60.8~76.0

3~5

700~800

160

135
Technical parameters of indirect heat dryer:
Shell
diameter
×shell
Length
Items
Inside
diameter
of outer
shell
(mm)
Inside
diameter
of inner
shell
(mm)
Shell
Length
(m)
Shell
cubage
(m³)
Shell
obliquity
Lifting
blade
form
Highest
inlet air
temperature
(℃)
Dimensions
(m)
Φ1.5×15m
1500
500
15
20.27
3-5%
Lifting form
850
16.2×2.7×2.7
Φ1.5×17m
17
22.97
18.2×2.7×2.7
Φ1.5×19m
19
25.68
20.0×2.9×2.9
Φ1.8×21m
1800
650
21
35.91
3-5%
Lifting form
850
22.5×2.7×2.7
Φ1.8×23m
23
39.33
24.5×2.9×2.9
Φ1.8×25m
25
42.75
26.5×2.9×2.9
Φ2.2×21m
2200
800
21
58.10
3-5%
Lifting form
850
----
Φ2.2×23m
23
63.61
Φ2.2×25m
25
69.15
Spec./m
(Dia.×Length)

Shell Cubage
(m³)

Capacity
(t/h)

Φ1.2×8.0

9.0

1.9~2.4

Φ1.2×10

11.3

2.4~3.0

Φ1.5×12

21.2

4.5~5.7

Φ1.5×14

24.7

5.3~6.6

Φ1.5×15

26.5

5.7~7.1

Φ1.8×12

30.5

6.5~8.1

Φ1.8×14

35.6

7.6~9.5

Φ2.2×12

45.6

9.7~12.2

Φ2.2×14

53.2

11.4~14.2

Φ2.2×16

60.8

13.0~16.2

Φ2.4×14

63.3

13.5~16.9

Φ2.4×18

81.4

17.4~21.7

Φ2.4×20

90.4

19.3~24.1

Φ2.4×22

99.5

21.2~26.5

Φ2.6×24

127.4

27.2~34.0

Φ3.0×20

141.3

30.1~37.7

Φ3.0×25

176.6

37.7~47.1

Φ3.2×25

201

42.9~53.6

Φ3.6×28

285

60.8~76.0
Technical parameters of indirect heat dryer:
Shell
diameter
×shell
Length
Items
Inside
diameter
of outer
shell
(mm)
Inside
diameter
of inner
shell
(mm)
Shell
cubage
(m³)
Φ1.5×15m
1500
500
20.27
Φ1.5×17m
22.97
Φ1.5×19m
25.68
Φ1.8×21m
1800
650
35.91
Φ1.8×23m
39.33
Φ1.8×25m
42.75
Φ2.2×21m
2200
800
58.10
Φ2.2×23m
63.61
Φ2.2×25m
69.15