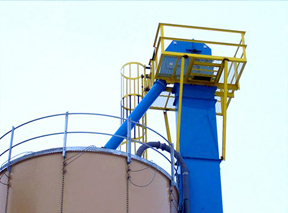 Bucket Elevator
Lift height:28-32.7 mThroughput:3-60m³/hApplied material:coal, cement, stone, sand, clay and oreApplied area:ore dressing, coal mining, the chemical industry, etc.
The Main Types and Description of Bucket Elevator:
The bucket elevator is fixed on the gratuitous use of uniform traction on a range of hopper components, vertical continuous conveyor machinery to enhance the material. The elevator bucket can be divided into chain, plate chain and belt three types.
The Working Process of Bucket Elevator:
Bucket elevator is suitable for upgrade from lower to higher, the supplied material are sent into the hopper through vibrostand, then the machine automatically and continuously operate and transport the materials up.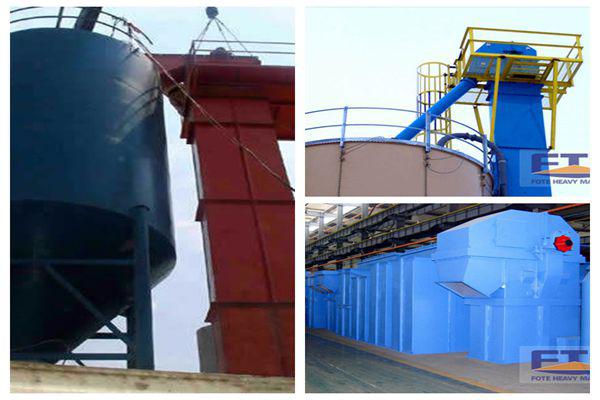 To adjust transmission speed according to transfer amount, lift height and choose according to need, all sizes are designed and manufactured in accordance with the actual needs for supporting vertical packing machine, computer measuring machine designed for the food, pharmaceutical, chemical industrial products, screws, nuts and so on to enhance the product's material, the machine can be controlled by the signal recognition of the packaging machine stops automatically start.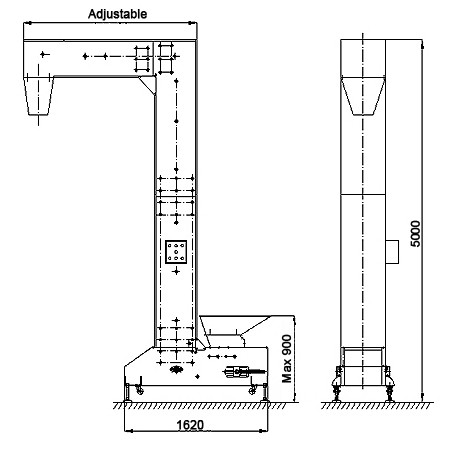 Why Choose Us?
1. Bucket elevator has small drive power, adopts flow type feeding, and the feeder, induction discharge, and hopper with large capacity are intensively arranged to enhance the material back and dig the material, with less reactive power.
2. Wide range of upgrade, such hoist on the types of materials, less performance requirements, not only can improve the general powdery, granular materials, but also enhance the larger abrasive materials, with sealing and less environmental pollution.
3. Good operational reliability, advanced design principles and processing methods to ensure the reliability of the machine operation, no down time more than 20,000 hours, with high lifting height and smooth hoist operation, so you can upgrade to a higher level.
4. Feeding long life, take the elevator inflow style, without using excavating bucket, squeeze and collision occurs between materials. The machine was designed to ensure that the few scattered in the feed material, unloading, reducing mechanical wear.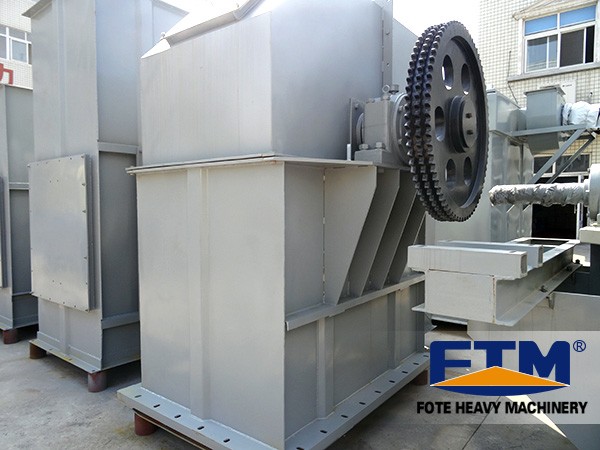 Working Process:
The hopper scoops up the material from the following storage and upgrades to top with belt and chain and turns downward bypassing the top wheel, bucket elevator pours materials into the tank. The belt of bucket elevator generally uses a rubber band, attached to lower or upper to drive rollers and turn drum. Bucket elevators with chain transmission are generally equipped with two parallel transmission chains, and there are a pair of transmission chain top or down and a pair of redirection sprocket down or top. Bucket elevator are generally equipped with chassis to prevent the dust will be blew in bucket elevator.
Bucket elevator is applicable for upgrading to top from the lower, after the supplied materials transported into the hopper by shaking table, the machine automatically and continuously operate to transfer the materials up.
Parameter
Technical parameters of ring chainbucket elevator
Specification
Max.lifting height
(m)
Conveying capacity
(m³/h)
Max.size
(mm)
Pitch of buckets
(mm)
Motor prower
(kw)
TH160
25
7-12
15-20
400
3-4
TH200
28
8-15
20-30
500
3-5.5
TH250
30
10-25
25-35
500
4-7.5
TH300
30
25-35
30-40
500
5.5-11
TH315
40
30-40
35-45
512
5.5-15
TH400
40
45-60
40-55
512
11-22
TH500
40
65-80
50-60
512
15-30
TH630
40
100-120
60-65
688
18.5-37
TH800
40
130-150
65-75
920
22-45
Technical parameters of wire belt bucket elevator
Specification
Max.lifting height
(m)
Conveying capacity
(m³/h)
Max.size
(mm)
Bucket Volume
(L)
Motor prower
(kw)
TDG160
80
34
0-20
2.6
2.2-11
TDG200
80
45
0-25
4.1
3-15
TDG250
80
71
0-30
6.5
5.5-22
TDG315
80
101
0-35
10
7.5-30
TDG400
80
158
0-40
16
15-45
TDG500
80
218
0-45
25
18.5-55
TDG630
80
345
0-50
40
30-90
TDG800
80
491
0-50
61
45-132
Plate chain bucket elevator
Specification
Max.lifting height
(m)
Max.lifting capacity
(m³/h)
Percentage
allowed(%)
Pitch
(mm)
Motor power
(kw)
10
25
50
75
100
Max.size(mm)
NE15
40
16
65
50
40
30
25
101.66
1.5-4
NE30
59
31
90
75
58
47
40
152.4
2.2-7.5
NE50
62
60
90
75
58
47
40
152.4
3-15
NE100
58
110
130
105
80
65
55
200
7.5-30
NE150
65
170
130
105
80
65
55
200
11-37
NE200
73
220
170
135
100
85
70
250
18.5-75
NE300
61
320
170
135
100
85
70
250
22-75
NE400
47
420
205
165
125
105
90
300
45-90
NE500
58
500
240
190
145
120
100
300
45-132