Introduction and Applications
The vibrating feeder can evenly feed materials for the crushing equipment in the sand production line, and screen materials roughly.
It can also serve materials for belt conveyors, bucket elevator, screening equipment, crushing equipment and grinding machines.
The vibrating feeder is also used for automatic blending, quantitative packing and automation in the automatic control production.
Main Features of Vibrating Feeder
Simple structure, even feeding, good continuous performance and adjustable exciting force.
The feeding can be changed and controlled anytime, and it is easy to operate.
The eccentric block of the vibrating feeder is the exciting source which features little noise, low power consumption, good adjustment and no material clashing phenomenon.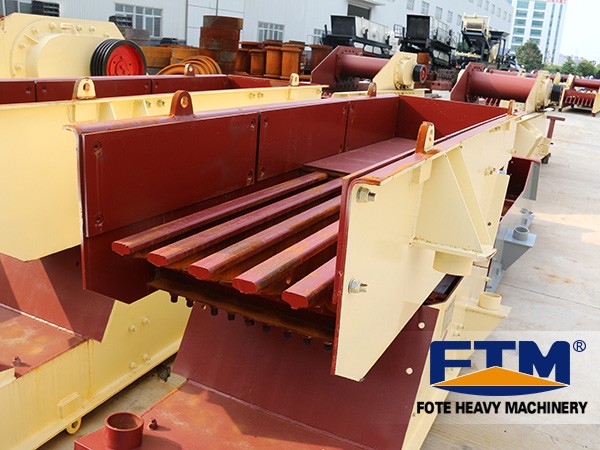 Vibrating feeder
Why Choose Us?
The exciting force and feeding can be changed and adjusted easily and reliably at any time; the vibrating motor is the exciting source with features of little noise, low power consumption, good adjustment and no material clashing phenomenon.
Simple structure, reliable operation, easy installation and arrangement, light in weight, small size and easy to maintain.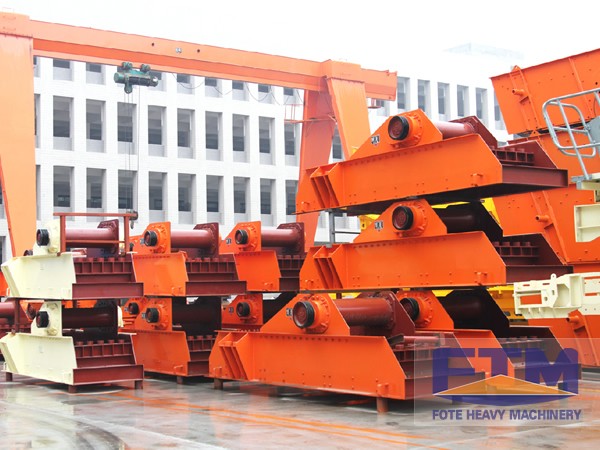 Vibrating feeder in stock
Working Process
The vibratory feeder runs like this:
The eccentric block in the vibrator spins and produces centrifugal force which makes movable parts like the screening box and vibrator move in circles or approximate circles.
The vibrating feeder is made up of feeding chute, exciter, spring bearing and transmission device.
The vibrating power of the feeding chute comes from the exciter which is made up of two eccentric shafts (driving and driven shafts) and gear pair.
The driving shaft is driven by the motor through the V-belt, rotated through the gear engagement. Then the two shafts rotate reversely at the same time to vibrate the feeding chute, thus making materials move continuously.
Parameter
Model
Max.
Feeding
Size
(mm)
Processing
Capacity
(t/h)
Motor
Power
(kw)
Obliquity
of material
trough
(°)
Trough
size
(mm)
Dimensions
(L×W×H)(mm)
GZD-650×2300
300
80-100
1.2×2
10-20
650×2300
2300×1360×780
GZD-750×2500
350
100-130
1.5×2
10-20
750×2500
2500×1460×780
GZD-850×3000
400
120-150
3×2
10-20
850×3000
3110×1800×1600
GZD-1000×3600
500
150-200
3.7×2
10-20
1000×3600
3850×1950×1630
GZD-1100×3600
580
240-300
3.7×2
10-20
1100×3600
3600×2050×1660
GZD-1300×3600
650
450-600
7.5×2
10-20
1300×3600
3900×2350×1750
GZD-1500×3600
1050
450-1000
7.5×2
10-20
1500×3600
3900×2000×1750
GZD-2000×3600
1200
550-1000
10×2
10-20
2000×3600
3600×2000×1750
GZD-2500×5000
1500
650-1500
18×2
10-20
2500×5000
5000×2500×1800
ZSW-380×95
500
100-180
11
0-10
3800×960
3920×1640×1320
ZSW-490×110
630
150-400
15
0-10
4900×1100
4980×1830×1320
ZSW-490×130
750
400-700
22
0-10
4900×1300
4980×2580×2083
ZSW-600×130
750
400-700
22
0-10
6000×1300
6082×2580×2083
ZSW-600×150
800
500-900
30
0-10
6000×1300
6086×2662×1912
ZSW-600×180
900
700-1300
45
0-10
6000×1500
6310×3262×2230
ZSW-600×200
1200
800-1500
55
0-10
6000×2000
6310×3462×2230
Model
Max.
Feeding
Size
(mm)
Processing
Capacity
(t/h)
GZD-650×2300
300
80-100
GZD-750×2500
350
100-130
GZD-850×3000
400
120-150
GZD-1000×3600
500
150-200
GZD-1100×3600
580
240-300
GZD-1300×3600
650
450-600
GZD-1500×3600
1050
450-1000
GZD-2000×3600
1200
550-1000
GZD-2500×5000
1500
650-1500
ZSW-380×95
500
100-180
ZSW-490×110
630
150-400
ZSW-490×130
750
400-700
ZSW-600×130
750
400-700
ZSW-600×150
800
500-900
ZSW-600×180
800
700-1300
ZSW-600×200
1200
800-1500