What is a jaw crusher machine?
Jaw crusher, invented by Whitney Blake in 1858, is a primary stone crushing machine for reducing minerals or stones into smaller sizes. It is a must-have machine in wide range of fields like mining, quarrying, and construction industries.
The most important parts are jaw plates made of high-manganese-steel, which makes jaw crusher suit for the rock materials with strong hardness.
jaw crushers working vedio
stone crushing plant: Get Latest Price
How many types of jaw crusher?
According to the different movement of the movable jaw, jaw crushers are divided into two types: one is a double-toggle-plate simple swing jaw crusher (simple pendulum jaw crusher), the other is single-toggle-plate compound swing jaw crusher (compound pendulum jaw crusher).
The simple pendulum jaw crusher belongs to large and medium-sized crushing equipment, with a crushing ratio of 3-6.
In the past, compound pendulum crushers were generally made into small and medium-sized equipment, but with the appearance of large impact-resistant rolling bearings, there are now large-scale equipment.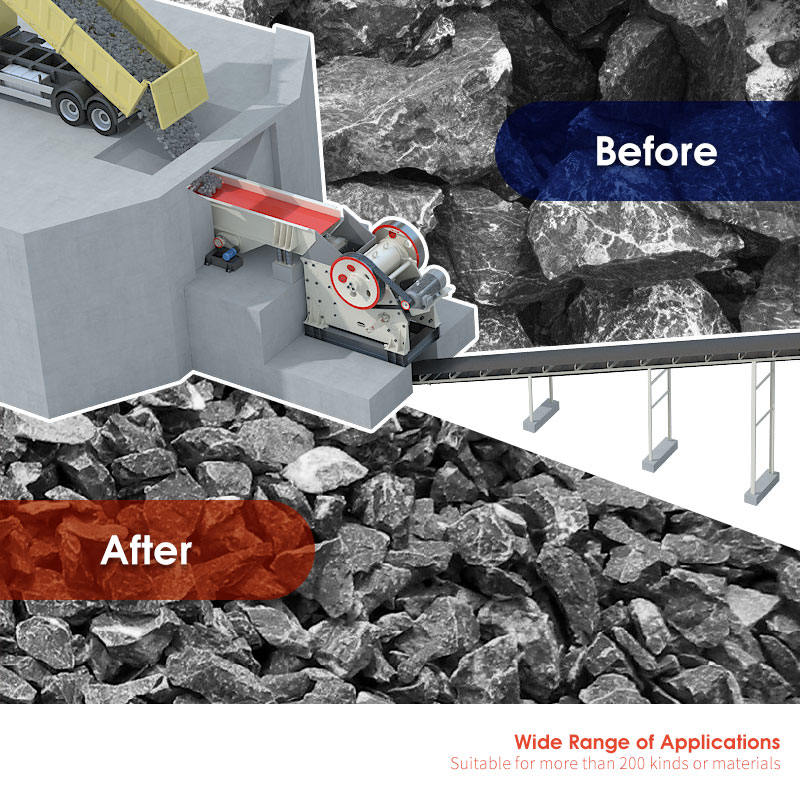 Limestone before and after being crushed by compound pendulum jaw crusher
The upper part of the compound pendulum movable jaw has a long horizontal stroke, which is suitable for crushing large pieces of rocks at the upper part. At the same time, its vertical stroke is also long, which has a good crushing effect on materials and is beneficial to discharge materials.
Therefore, the product size of the compound pendulum jaw crusher is fine, and the crushing ratio is large up to 10. With the same specification, the processing capacity of the compound pendulum jaw crusher is 20%-30% larger than that of the simple pendulum jaw crusher.
Due to obvious advantages of compound pendulum jaw crusher and the needs of most customers, Fote Machinery manufactures 4 kinds of jaw crushers are:PE jaw crusher, PEX jaw crusher, HD jaw crusher and CJ jaw crusher.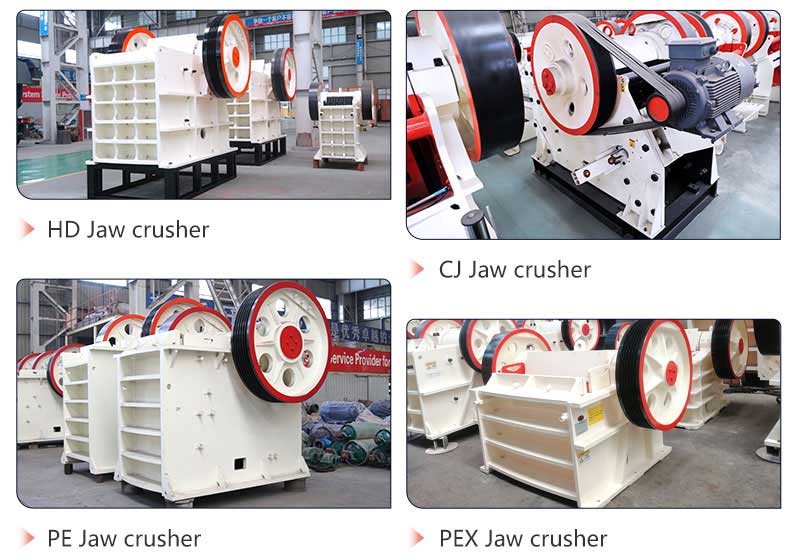 Different series of jaw crusher pictures
Main advantages and characters of jaw crusher in Fote Heavy Machinery:
Compared with jaw crushers of other manufacturers, jaw crusher produced by Fote Mahchinery has the following characters:
From the perspective of structure:
From the perspective of techniques:
Centralized lubrication system is applied to maintain machine.
Low noise and low dust systems adopted make producing process more environmentally friendly.
From the perspective of application:
Long lifespan of wearing parts reduces maintenance costs.
Stronger bearing capacity and higher stability.
Cheapest prices and highest quality.
Jaw crusher price: Get Latest Price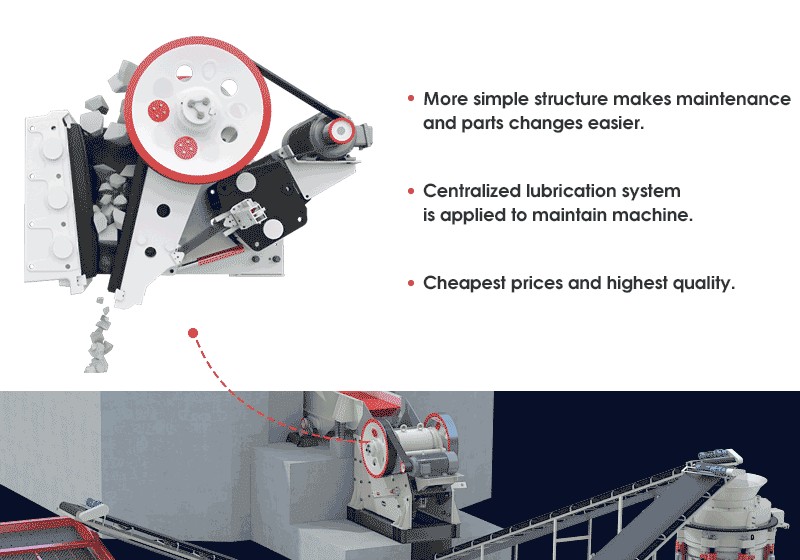 You can get final material with uniform particle size
Working process and the usage of the parts
how does a jaw crusher work?
The movable jaw moving from side to side is hung on the mandrel. When the eccentric shaft is turning, its connecting rod moves up and down, which also drives the two toggle plates to do the same movement. Then the moveable jaw moves from side to side to realize crushing and unloading.
Although the movable jaw bears great broken counter-force and the eccentric shaft and the connecting rod bears little stress, industrial enterprises usually make large and middle size machine to crush hard materials. Additionally, the moving track of the movable jaw is an arc with the mandrel as its center.
The circular arc radius equals the distance from the point to the axis with the upper arc being smaller and the lower arc bigger. The crushing efficiency of the jaw crusher is quite high and the crushing ratio is 3-6.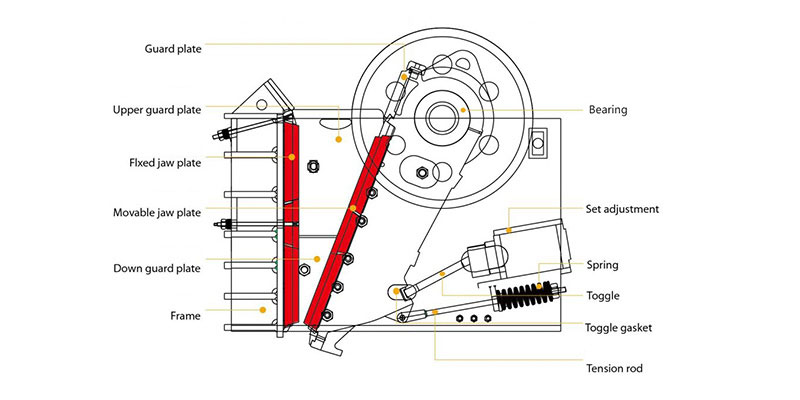 Structural diagram
The main parts and usage of jaw crusher
| | |
| --- | --- |
| Main parts | Practical applications |
| Frame | Keep the machine in place and protect it to reduce the abrasion. |
| Jaw plate | Be used to crush stone materials, fix and protect movable jaw and fixed jaw. |
| Cheek plate | Cheek plates for protection of side plates. |
| Wear plate | Protect the front frame end. |
| Movable system | Be composed of mobile jaw, eccentric shaft and belt pulley, etc. to drive the machine. |
We all know that jaw plate is the most easily worn parts among various of parts installed in jaw crusher. Therefore, in order to use the machine efficiently, the jaw plate should be checked and replaced regularly.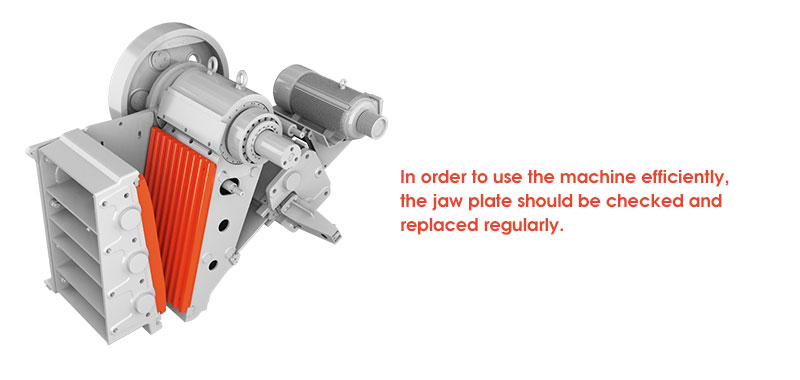 Regular ways of protecting jaw plates
Customer case - Jaw crusher for sale in the Philippines
The Philippines has a wealth of mining resources, with limestone reserves ranking second among non-metallic mineral resources. Therefore, limestone mining and crushing industry has broad prospects. Every year, Fote exports a lot of jaw crushers for limestone to the Philippines.
In June 2018, a customer from the Philippines had already learned that the jaw crusher produced by Fote was reliable, reasonable in price and in the leading position in the mining equipment industry.
Therefore, he contacted us through the website and hoped that we would provide a complete set of crushing equipment. Through provided data and specific requirements, our engineers quickly assigned a set of limestone crushing equipment for him.
The specific information is as follows:
| | |
| --- | --- |
| Capacity | 800 T/H (1m³=1.6T) |
| Material | Limestone |
| Raw material hardness | Soft |
| Feeding size | ≤1020 mm |
| Production line type | Fixed |
| Several finished products | 5 |
| Finished product specifications | 0-5 mm, 5-10 mm, 10-20 mm, 20-30 mm, 20-40 mm, 40-80 mm |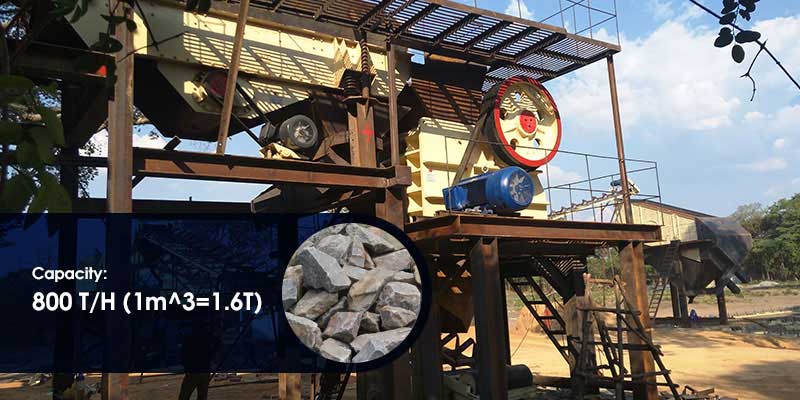 Jaw crusher wroking at the site of Philippines
FTM - Jaw crusher for sale
Powerful Manufacturer: Fote Heavy Machinery Co., Ltd. is a high-tech enterprise integrating R&D, production, sales and service.
Sold Worldwide: Our jaw crushers are exported to India, the Philippines and other countries in South and Southeast Asia, Africa and the Americas.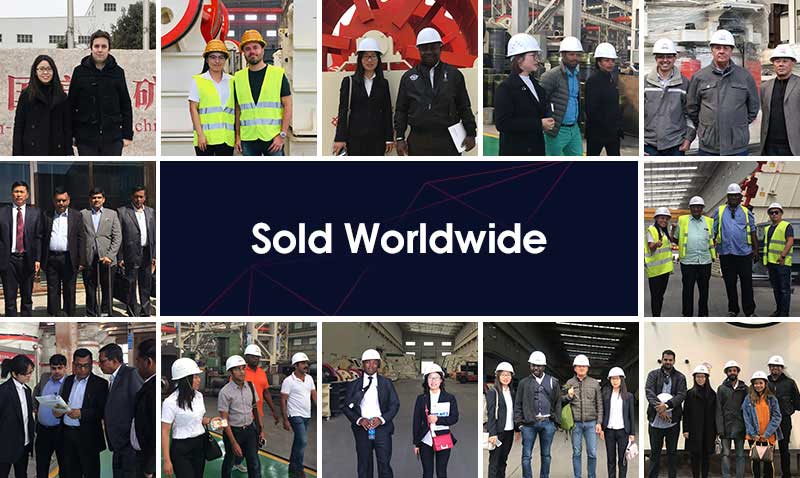 FTM has customers all over the world
Glorious History: In the past 37 years, the company has been committed to crushing equipment, beneficiation equipment, building materials equipment and industrial grinding equipment, providing high-grade sand and gravel solutions and high-end complete sets of equipment for large-scale projects such as highways, railways and hydropower.
Customers' satisfaction: The development of Fote always catches up with the development trend of the market, as a result, the quality of the crusher produced by Fote is guaranteed, and we always gain good feedback from the market.
High-quality Machine: This is mainly due to the crusher's characteristics of high reduction ratio, high productivity, simple structure and reliable performance. And maintenance is convenient and practical.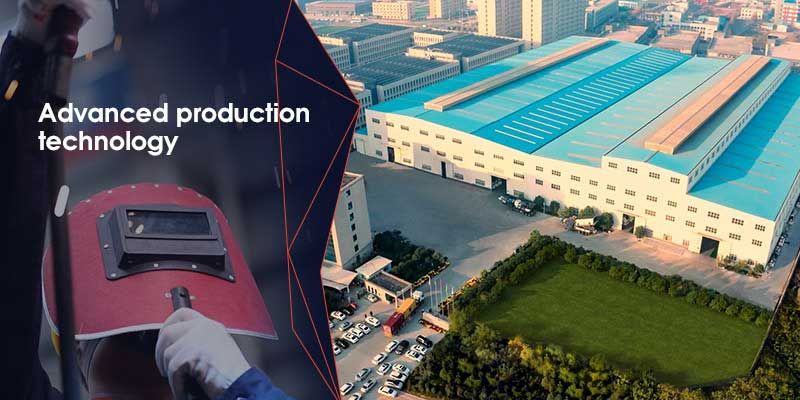 Fote Heavy Machinery(FTM)
Parameter
Model

Feed opening
(mm)

Max.feeding size
(mm)

Adjusting range of discharge opening
(mm)

Processing capacity
(t/h)

Rotation speed of eccentric shaft
(r/min)

Motor power
(kw)

Total weight
(t)

Dimensions
(L×W×H)
(mm)

PE-150×250
150×250
125
10-40
1-3
250
4P 5.5
0.8
720×660×850
PE-200×300
200×300
180
15-50
2-6
260
4P 7.5
1.2
910×750×990
PE-200×350
200×350
180
18-70
3-10
260
4P 11
1.5
1000×870×990
PE-250×400
250×400
210
20-60
5-21
300
6P 15
2.8
1300×1090×1270
PE-400×600
400×600
340
40-100
16-64
275
6P 30
7
1730×1730×1630
PE-500×750
500×750
425
50-100
40-110
275
6P 55
12
1980×2080×1870
PE-600×750
600×750
500
150-200
80-240
275
6P 55
15.8
2070×2000×1920
PE-600×900
600×900
500
65-160
50-160
250
6P 55
17
2190×2206×2300
PE-750×1060
750×1060
630
80-140
110-320
250
8P 110
29
2660×2430×2800
PE-800×1060
800×1060
640
130-190
130-330
250
8P 110
29.8
2710×2430×2800
PE-830×1060
830×1060
650
160-220
150-336
250
8P 110
30.7
2740×2430×2800
PE-870×1060
870×1060
660
200-260
190-336
250
8P 110
31.5
2810×2430×2800
PE-900×1060
900×1060
685
230-290
230-390
250
8P 110
33
2870×2420×2940
PE-900×1200
900×1200
750
95-165
220-380
200
8P 110
52
3380×2870×3330
PE-1000×1200
1000×1200
850
195-265
315-500
200
8P 110
55
3480×2876×3330
PE-1200×1500
1200×1500
1020
150-350
400-800
180
6P 160-220
100.9
4200×3300×3500
PE-1500×1800
1500×1800
1200
220-350
500-1000
180
8P 280-355
139
5160×3660×4248
PEX-150×750
150×750
120
18-48
8-25
320
4P 15
3.8
1200×1530×1060
PEX-250×750
250×750
210
25-60
13-35
330
6P 22
5.5
1380×1750×1540
PEX-250×1000
250×1000
210
25-60
16-52
330
6P 30
7
1560×1950×1390
PEX-250×1200
250×1200
210
25-60
20-61
330
6P 37
9.7
2140×1660×1500
PEX-300×1300
300×1300
250
20-90
16-105
300
6P 55
15.6
2720×1950×1600
Model

Max.feeding size
(mm)

Adjusting range of discharge opening
(mm)

Processing capacity
(t/h)

PE-150×250
125
10-40
1-3
PE-200×300
180
15-50
2-6
PE-200×350
180
18-70
3-10
PE-250×400
210
20-60
5-21
PE-400×600
340
40-100
16-64
PE-500×750
425
50-100
40-110
PE-600×750
500
150-200
80-240
PE-600×900
500
65-160
50-160
PE-750×1060
630
80-140
110-320
PE-800×1060
640
130-190
130-330
PE-830×1060
650
160-220
150-336
PE-870×1060
660
200-260
190-336
PE-900×1060
685
230-290
230-390
PE-900×1200
750
95-165
220-380
PE-1000×1200
850
195-265
315-500
PE-1200×1500
1020
150-350
400-800
PE-1500×1800
1200
220-350
500-1000
PEX-150×750
120
18-48
8-25
PEX-250×750
210
25-60
13-35
PEX-250×1000
210
25-60
16-52
PEX-250×1200
210
25-60
20-61
PEX-300×1300
250
20-90
16-105