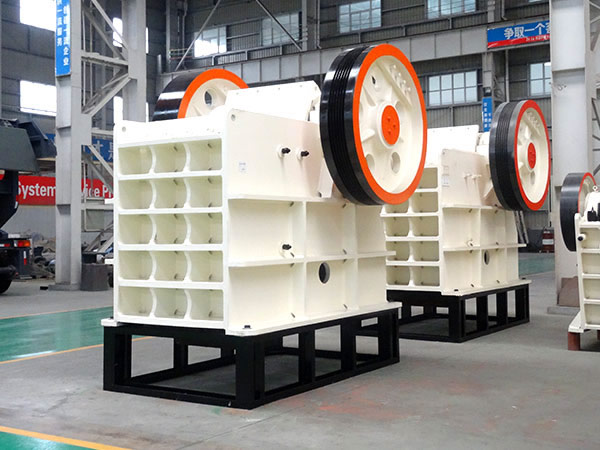 Jaw Crusher
Processing capacity:1-2200t/h Max. Feeding size:125-1500mm Applied material:sandstone, pebble, limestone, granite, quartz, iron ore, copper ore, gold ore, basalt,etc.
The Handling Materials of Jaw Crusher:
Pebble, calcite, granite, quartz, concrete, dolomite, bluestone, iron ore, limestone, coal gangue, construction waste, ferrosilicon, basalt, sandstone, rocks, ore, glass, cement clinker and some metal.
Why Choose Us?
1. Big crushing ratio, simple structure, reliable operation, simple repair, lower transportation cost.
2. Jaw crusher can be used in all kinds of material being applied for primary and secondary crushing.
3. Long lifespan of wearing parts, simple replacement, big capacity, lower maintenance cost, cost-effective.
4. Competitive price, best quality, big processing capacity, simple craftsmanship.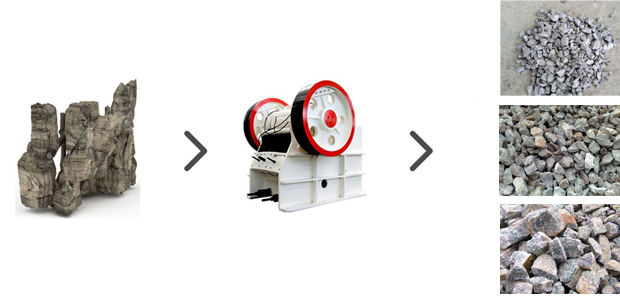 Jaw crusher can crush large stone to small grains (see the above picture), and different models have different discharging size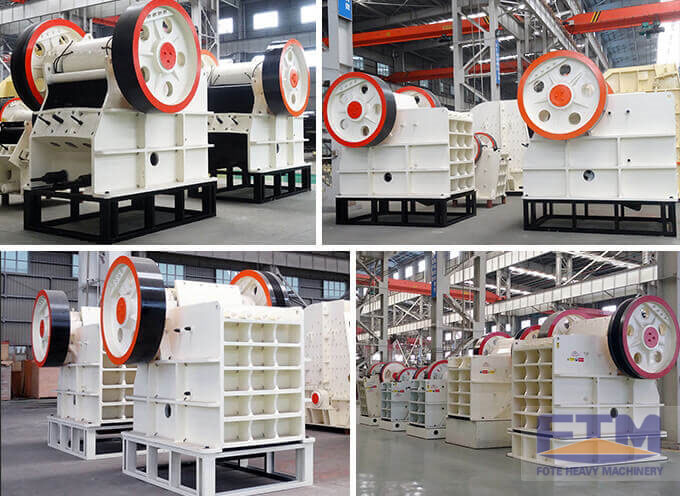 Jaw crushers with different models (large, middle and small)
Main Features:
1. Deep crushing cavity and energy efficiency.
2. Strong bearing capacity and stability.
3. Advanced technology and long service life.
4. Simple maintenance with the centralized lubrication system.
5. Simple structure and maintenance.
6. Wide range of the discharging adjustment and multi-purpose.
7. Little noise and dust.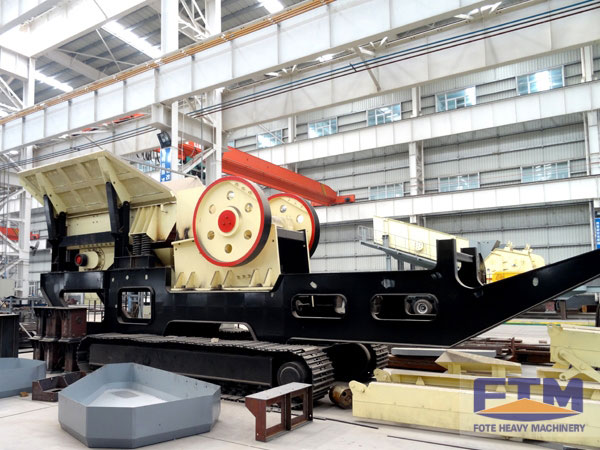 Crawler mobile jaw crusher
Working Process:
The dynamic jaw moving from side to side is hung on the mandrel. When the eccentric shaft is turning, its connecting rod moves up and down, which also drives the two thrust plates to do the same movement. Then the dynamic jaw moves from side to side to realize crushing and unloading. The jaw crusher adopts crank link mechanism.
Testing vadio of large jaw crusher
Although the dynamic jaw bears great broken counter-force and the eccentric shaft and the connecting rod bears little stress, industrial enterprises usually make large sized machine and middle sized to crush hard materials. Additionally, every moving track of the dynamic jaw is an arc with the mandrel as its center. The circular arc radius equals the distance from the point to the axis with the upper arc being smaller and the lower arc bigger. The crushing efficiency of the jaw crusher is quite high and the crushing ratio is 3-6.
Parameter
Model

Feed opening
(mm)

Max.feeding size
(mm)

Adjusting range of discharge opening
(mm)

Processing capacity
(t/h)

Rotation speed of eccentric shaft
(r/min)

Motor power
(kw)

Total weight
(t)

Dimensions
(L×W×H)
(mm)

PE-150×250
150×250
125
10-40
1-3
250
4P 5.5
0.8
720×660×850
PE-200×300
200×300
180
15-50
2-6
260
4P 7.5
1.2
910×750×990
PE-200×350
200×350
180
18-70
3-10
260
4P 11
1.5
1000×870×990
PE-250×400
250×400
210
20-60
5-21
300
6P 15
2.8
1300×1090×1270
PE-400×600
400×600
340
40-100
16-64
275
6P 30
7
1730×1730×1630
PE-500×750
500×750
425
50-100
40-110
275
6P 55
12
1980×2080×1870
PE-600×750
600×750
500
150-200
80-240
275
6P 55
15.8
2070×2000×1920
PE-600×900
600×900
500
65-160
50-160
250
6P 55
17
2190×2206×2300
PE-750×1060
750×1060
630
80-140
110-320
250
8P 110
29
2660×2430×2800
PE-800×1060
800×1060
640
130-190
130-330
250
8P 110
29.8
2710×2430×2800
PE-830×1060
830×1060
650
160-220
150-336
250
8P 110
30.7
2740×2430×2800
PE-870×1060
870×1060
660
200-260
190-336
250
8P 110
31.5
2810×2430×2800
PE-900×1060
900×1060
685
230-290
230-390
250
8P 110
33
2870×2420×2940
PE-900×1200
900×1200
750
95-165
220-380
200
8P 110
52
3380×2870×3330
PE-1000×1200
1000×1200
850
195-265
315-500
200
8P 110
55
3480×2876×3330
PE-1200×1500
1200×1500
1020
150-350
400-800
180
6P 160-220
100.9
4200×3300×3500
PE-1500×1800
1500×1800
1200
220-350
500-1000
180
8P 280-355
139
5160×3660×4248
PEX-150×750
150×750
120
18-48
8-25
320
4P 15
3.8
1200×1530×1060
PEX-250×750
250×750
210
25-60
13-35
330
6P 22
5.5
1380×1750×1540
PEX-250×1000
250×1000
210
25-60
16-52
330
6P 30
7
1560×1950×1390
PEX-250×1200
250×1200
210
25-60
20-61
330
6P 37
9.7
2140×1660×1500
PEX-300×1300
300×1300
250
20-90
16-105
300
6P 55
15.6
2720×1950×1600