What is a portable rock crusher?
A portable rock crusher also named wheeled mobile crusher, which can be freely move with mining process. The most outstanding feature of the portable crusher is that it doesn't need concrete foundation and can move flexibly from one site to another.
Portable rock crusher site: Get Latest Price
4 Important modules of portable crusher machine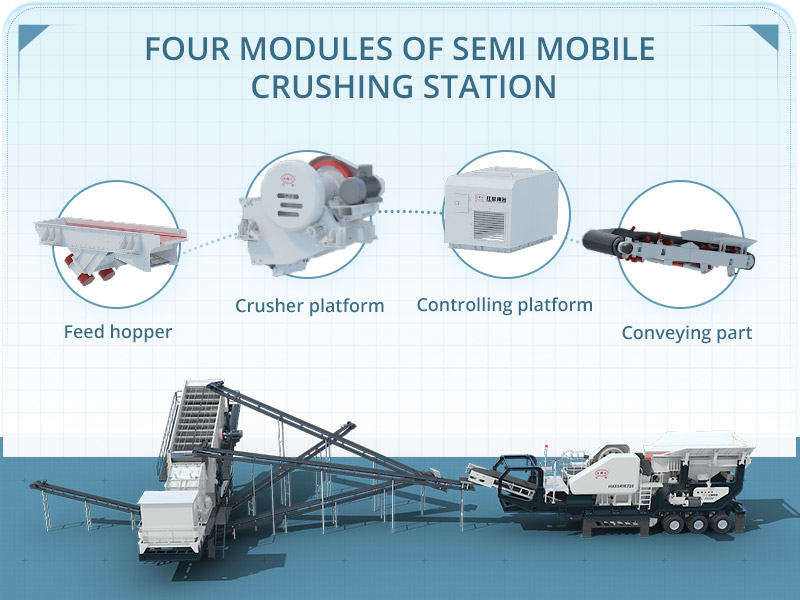 A portable rock is crusher is multi-functional
Feeding part
It is composed of hopper, feeder, drive unit of feeder, final material chute, steel ladder, etc.
Crushing part
This part includes the main steel structure of the crusher platform which is mainly for reducing the large-sized materials.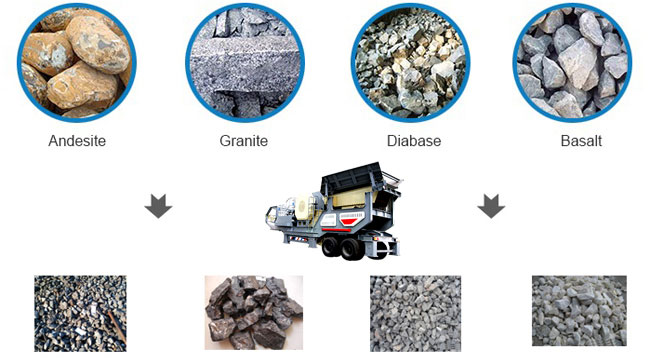 Many kinds of rock material can be crushed by the equipment
The core equipment in the crushing platform is the crusher machine,which is related to the processing capacity of the crushing system.
Controlling platform
In the control room, the operation of the crusher, feeder, and conveyor are controlled by PLC. Operators which can clearly know the operating voltage and current of each drive device.
Through the screen, operators can also timely oversight material crushing process to avoid material blockage caused by too much materials.
Conveying part
Conveying part is responsible for transmitting crushed material to the next crushing stage and hopper.
Advantages of modular design:
Every part is independent, which is easy to move.
Every part can be optimized separately to avoid repeated interference.
The installation progress can be flexibly controlled according to the delivered equipment, which reduces unnecessary waiting periods for each other.
Which machines can be installed on a portable rock crusher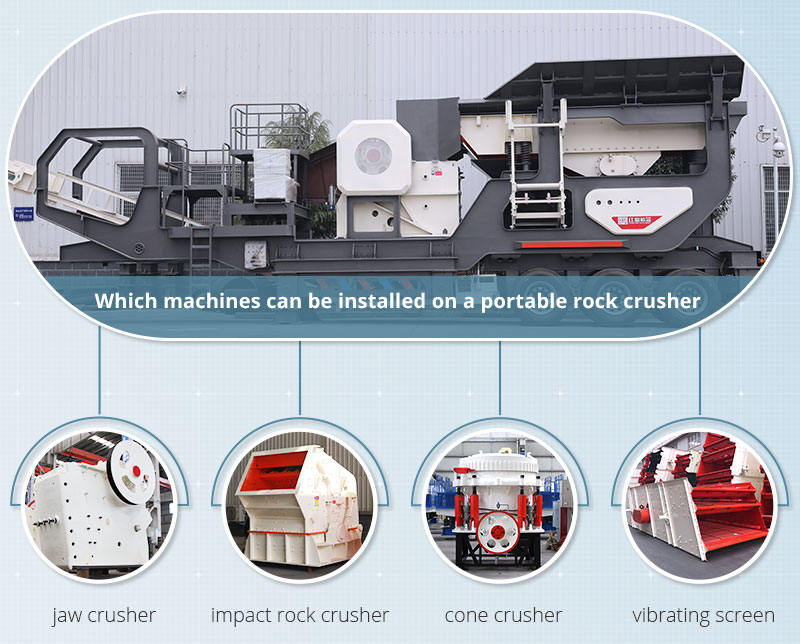 crushers, vibrating screen and sand makers all can be installed on the machine
Jaw rock crusher
Portable jaw crusher is mainly used to crush large rocks due to its large crushing ratio and deep crushing chamber.
Cone crusher
It suits to reducing material with smaller sizes and strong hardness. Generally, it is often used as a secondary crusher after jaw crusher.
Impact rock crusher
Just same as a cone crusher, it is also applied in the secondary crushing stage for material with small sizes but soft hardness.
Vibrating screen
It is an important machine for a portable rock crusher because it can classify materials of different sizes so as to save a lot of labor cost.
The advantages of a portable rock crusher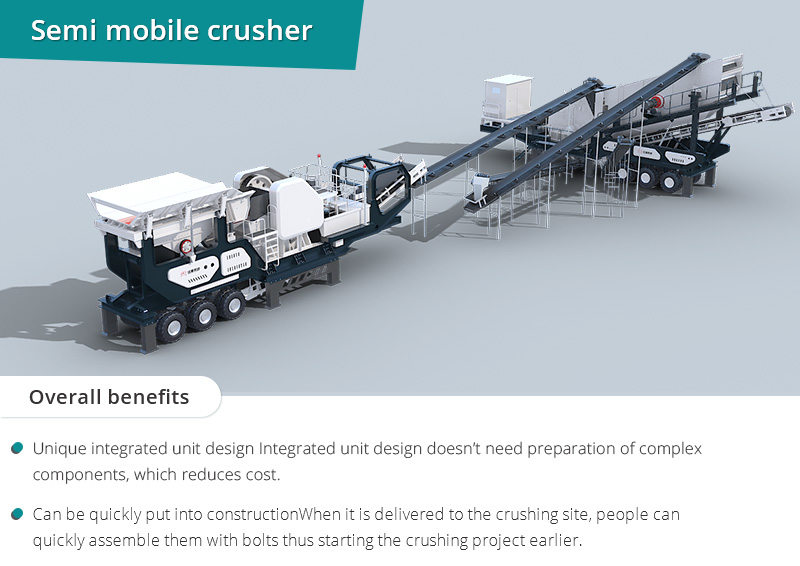 Unique integrated unit design
Integrated unit design doesn't need preparation of complex components, which reduces cost.
Can be quickly put into construction
Usually it is manufactured and pre-assembled in the factory for testing the machine running and removing trouble. So, when it is delivered to the crushing site, people can quickly assemble them with bolts thus starting the crushing project earlier.
Less investment
You don't need build large area of concrete foundation for the crushing process, which greatly reduces the labor forces. Besides, the steel framework may account for a large portion of your total investment, and the used steel material still has values after a long time.
No pollution to environment
Enhance the sealability
In order to ideally control the dust flying and noise, experts enhance the sealability to the parts which produce dust, and that's why a portable rock crusher can meet the international environmental standard.
Install dust collector device
A pulse dust removal device is installed to collect dust, which can reduce the fine dust rate higher by 99%.
spray atomization device
spray atomization device is added on the feeding port, discharging port and conveyor belt, which also contributes to protecting environment.
Dural drive mode
A portable rock crusher can use city electricity or diesel to generate the machine, which make the operation smoothly even in the case of power failure or no electricity in the suburbs.
What costs Fote Machinery can help you save?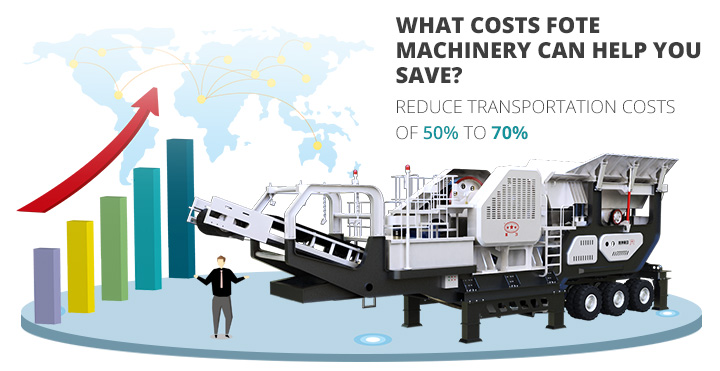 Reduce transportation costs of 50% to 70%
The material can be crushed on site and can be moved with the progress of the raw material mining progress, thereby greatly reducing the transportation cost of the material.
A portable rock crusher can freely enter the crushing site and move from one site to another according to the progress of the raw material mining progress, which can save transportation costs of 50% to 70%.
Reduce costs of spare parts
There is no need for piling, and build large-scale foundations, which greatly reduces the cost of spare parts.
Reduce labor costs
Small footprint, low labor intensity and intelligent control platform only need a few people in the project, thus greatly reducing labor costs.
Successful cases of Fote Machinery customers
80-100t/h portable limestone rock crusher worked in the Philippines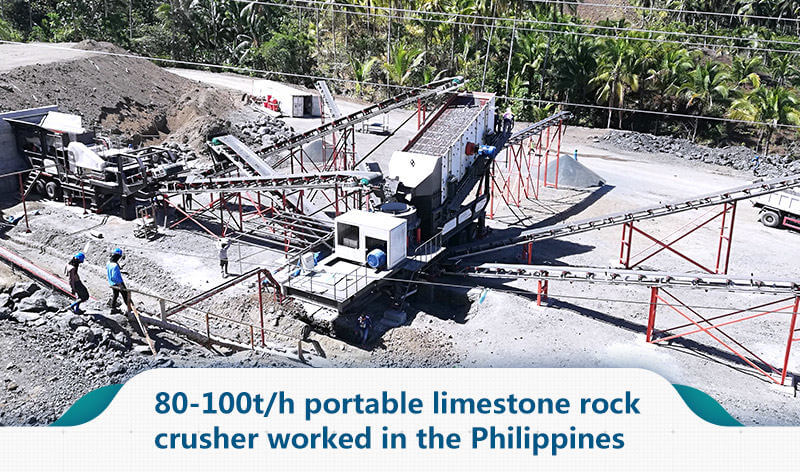 Model: FTM938F1210
Transportation Length (mm): 12000
Weight(t): 39
The Maximum Feeding Size(mm): 350
Production Capacity (t/h): 70-130
Purchased machines: portable cone crusher
Customer feedback
"The portable limestone rock crusher provided by Fote ensured production efficiency and continuously reduced operating costs."
"I was very glad to see that there was no dust during the production process of the entire production line. Because of its free movement, it also reduced cement consumption cost, which saved me a lot of money to for the whole production cost."
Portable rock crusher processed 500t/h gold ore in Australia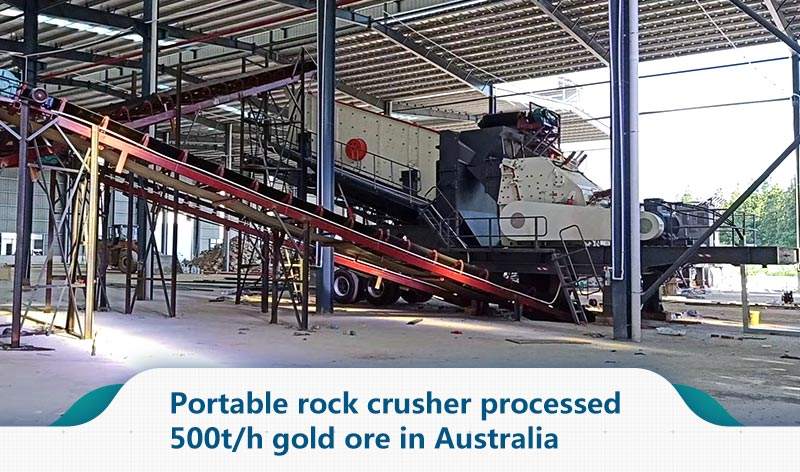 Model: FTM1349HD125
Transportation Length (mm): 15200
Weight(t): 65
The Maximum Feeding Size(mm): 800
Production Capacity (t/h): 280-650
Purchased machines: portable jaw crusher, portable impact crusher
Customer feedback
"Since I have bought these portable crushing machines designed by Fote Company with affordable price, I was very satisfied with their performance. It not only has reasonable configuration, high degree of automation, large output, but also very thoughtful after-sales service.
The important thing is that it allows me to obtain considerable profits. My original plan to recover the cost within two years, but now it seems that I can get the return only within one year."
Parameter
MOBLIE IMPACT CRUSHER TECHICAL PARAMETERS
| | | | | | |
| --- | --- | --- | --- | --- | --- |
| Model | FTM938F1210 | FTM938FW1214 | FTM1149F1315 | FTM1349HD1110 | FTM1349HD1315 |
| Transportation Length(mm) | 12000 | 12000 | 13900 | 15450 | 15450 |
| Transportation Width(mm) | 2550 | 2550 | 2900 | 2950 | 2950 |
| Transportation Height(mm) | 3900 | 3900 | 4450 | 4500 | 4500 |
| Maximum Length(mm) | 12500 | 12500 | 13900 | 15450 | 15450 |
| Maximum Width(mm) | 3250 | 3260 | 3250 | 3250 | 3250 |
| Maximum Height(mm) | 5100 | 5200 | 5200 | 5200 | 5200 |
| Weight(t) | 39 | 44 | 54 | 62 | 62 |
| Crusher Model | PF-1210 | PF-1214 | PF-1315 | HD1110 | HD1315 |
| The Maximum Feeding Size(mm) | 350 | 350 | 500 | 400 | 700 |
| Production Capacity(t/h) | 70-130 | 100-180 | 130-250 | 112 | 280 |
| Vibrating Feeder | ZSW950×3800 | ZSW950×3800 | ZSW110×4900 | ZSW130×4900 | ZSW130×4900 |
| Main Belt Conveyor | B800×8.5M | B800×8.5M | B1000×9.5M | B800×11M | B1200×11M |
| Side-opening Belt conveyor(Optional) | B500×3.2M | B500×3.2M | B650×4M | B650×4M | B650×4M |
| Genset(Optional) (kw) | 320 | 320 | 400 | 320 | 440 |
| Iron Separator (Optional)(kw) | RCYD(C)-8 | RCYD(C)-8 | RCYD(C)-10 | RCYD(C)-8 | RCYD(C)-12 |
MOBLIE JAW CRUSHER TECHNICAL PARAMETERS
| | | | | |
| --- | --- | --- | --- | --- |
| Model | FTM938HD80 | FTM1149HD98 | FTM1349HD110 | FTM1349HD125 |
| Transportation Length(mm) | 12600 | 13500 | 14500 | 15200 |
| Transportation Width(mm) | 2600 | 2700 | 2800 | 2900 |
| Transportation Height(mm) | 3870 | 4200 | 4450 | 4500 |
| Maximum Length(mm) | 12500 | 14000 | 16100 | 16700 |
| Maximum Width(mm) | 4100 | 4500 | 5100 | 5100 |
| Maximum Height(mm) | 4100 | 4900 | 5000 | 5300 |
| Weight(t) | 39 | 57 | 55 | 65 |
| Tire Configuration | Dual-axial | Dual-axial | Dual-axial | Dual-axial |
| Jaw Crusher | HD80 | HD98 | HD110 | HD125 |
| Maximum Feeding Size(mm) | 500 | 550 | 660 | 800 |
| Discharge Opening Size(mm) | 50-150 | 75-175 | 100-200 | 125-225 |
| Capacity(t/h) | 85-275 | 110-350 | 215-510 | 280-650 |
| Vibrating Model | ZSW380×95 | ZSW420×110 | ZSW490×130 | ZSW490×130 |
| Main Belt Conveyor | B800×8.5M | B1000×9.5M | B1000×11M | B1200×11M |
| Side-opening Belt conveyor(Optional) | B500×3M | B650×3.5M | B650×4M | B650×4M |
| Genset(Optional) (kw) | 200 | 250 | 270 | 400 |
| Iron Separator (Optional) | RCYD(C)-8 | RCYD(C)-10 | RCYD(C)-10 | RCYD(C)-12 |
MOBLIE IMPACT CRUSHER TECHNICAL PARAMETERS
Model
The Maximum
Feeding Size(mm)
Production Capacity
(t/h)
FTM938F1210
350
70-130
FTM938FW1214
350
100-180
FTM1149F1315
500
130-250
FTM1349HD1110
400
112
FTM1349HD1315
700
280
MOBLIE JAW CRUSHER TECHNICAL PARAMETERS
Model
Maximum Feeding
Size(mm)
Capacity(t/h)
FTM938HD80
500
85-275
FTM1149HD98
550
110-350
FTM1349HD110
660
215-510
FTM1349HD125
800
280-650