The Functions and Applications of Portable Crusher:
Portable Crusher is used for processing soft, medium- and super-hard stones and concrete construction waste. Portable Crusher produced by our company is a perfect combination of crushing and screening with high-quality high chrome hammer.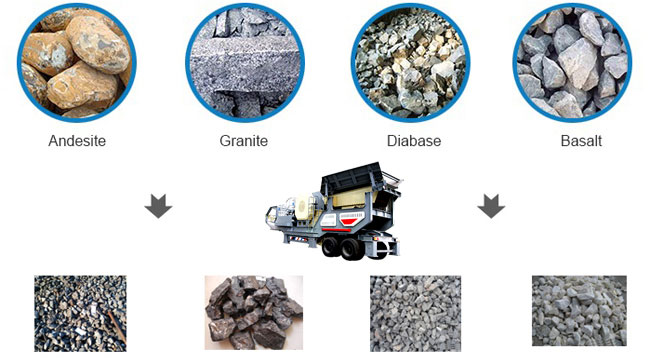 The Advantages and Benefits of Portable Crusher:
1. It has advantages of ship-shape steel structure, low vehicle chassis, light, small radius of turning circle, being suitable for the small crushing site.
2. Advanced touch control panel and PCL control system has the functions of failures and safety prompt.
3. The feeder has an automatic feeding function, which automatically controls the direction of material feeding.
4. The angle of conveyor is adjustable and can be flipped and folded.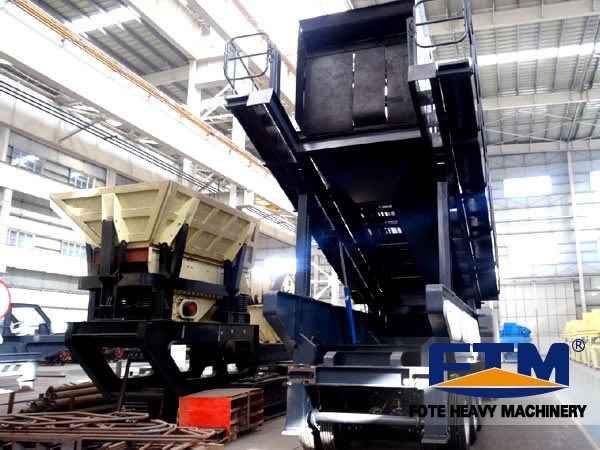 Materials are evenly transported into the crusher by conveyor belt, then they will be crushed by primary impact crusher to realize circle crushing through a closed system constituted by circular vibrating screen. Finished materials with specified size will be transported through the conveyors. The secondary wheel mobile impact crusher can be equipped with feeder according to the actual production needs, to achieve convenient and flexible usage.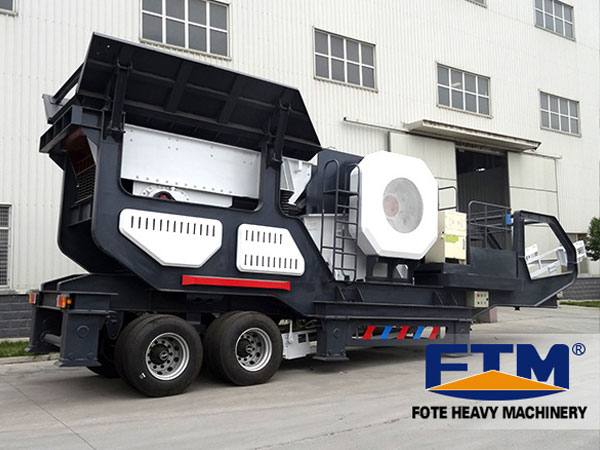 Parameter
MOBLIE IMPACT CRUSHER TECHICAL PARAMETERS
| | | | | | |
| --- | --- | --- | --- | --- | --- |
| Model | FTM938F1210 | FTM938FW1214 | FTM1149F1315 | FTM1349HD1110 | FTM1349HD1315 |
| Transportation Length(mm) | 12000 | 12000 | 13900 | 15450 | 15450 |
| Transportation Width(mm) | 2550 | 2550 | 2900 | 2950 | 2950 |
| Transportation Height(mm) | 3900 | 3900 | 4450 | 4500 | 4500 |
| Maximum Length(mm) | 12500 | 12500 | 13900 | 15450 | 15450 |
| Maximum Width(mm) | 3250 | 3260 | 3250 | 3250 | 3250 |
| Maximum Height(mm) | 5100 | 5200 | 5200 | 5200 | 5200 |
| Weight(t) | 39 | 44 | 54 | 62 | 62 |
| Crusher Model | PF-1210 | PF-1214 | PF-1315 | HD1110 | HD1315 |
| The Maximum Feeding Size(mm) | 350 | 350 | 500 | 400 | 700 |
| Production Capacity(t/h) | 70-130 | 100-180 | 130-250 | 112 | 280 |
| Vibrating Feeder | ZSW950×3800 | ZSW950×3800 | ZSW110×4900 | ZSW130×4900 | ZSW130×4900 |
| Main Belt Conveyor | B800×8.5M | B800×8.5M | B1000×9.5M | B800×11M | B1200×11M |
| Side-opening Belt conveyor(Optional) | B500×3.2M | B500×3.2M | B650×4M | B650×4M | B650×4M |
| Genset(Optional) (kw) | 320 | 320 | 400 | 320 | 440 |
| Iron Separator (Optional)(kw) | RCYD(C)-8 | RCYD(C)-8 | RCYD(C)-10 | RCYD(C)-8 | RCYD(C)-12 |
MOBLIE JAW CRUSHER TECHNICAL PARAMETERS
| | | | | |
| --- | --- | --- | --- | --- |
| Model | FTM938HD80 | FTM1149HD98 | FTM1349HD110 | FTM1349HD125 |
| Transportation Length(mm) | 12600 | 13500 | 14500 | 15200 |
| Transportation Width(mm) | 2600 | 2700 | 2800 | 2900 |
| Transportation Height(mm) | 3870 | 4200 | 4450 | 4500 |
| Maximum Length(mm) | 12500 | 14000 | 16100 | 16700 |
| Maximum Width(mm) | 4100 | 4500 | 5100 | 5100 |
| Maximum Height(mm) | 4100 | 4900 | 5000 | 5300 |
| Weight(t) | 39 | 57 | 55 | 65 |
| Tire Configuration | Dual-axial | Dual-axial | Dual-axial | Dual-axial |
| Jaw Crusher | HD80 | HD98 | HD110 | HD125 |
| Maximum Feeding Size(mm) | 500 | 550 | 660 | 800 |
| Discharge Opening Size(mm) | 50-150 | 75-175 | 100-200 | 125-225 |
| Capacity(t/h) | 85-275 | 110-350 | 215-510 | 280-650 |
| Vibrating Model | ZSW380×95 | ZSW420×110 | ZSW490×130 | ZSW490×130 |
| Main Belt Conveyor | B800×8.5M | B1000×9.5M | B1000×11M | B1200×11M |
| Side-opening Belt conveyor(Optional) | B500×3M | B650×3.5M | B650×4M | B650×4M |
| Genset(Optional) (kw) | 200 | 250 | 270 | 400 |
| Iron Separator (Optional) | RCYD(C)-8 | RCYD(C)-10 | RCYD(C)-10 | RCYD(C)-12 |
MOBLIE IMPACT CRUSHER TECHNICAL PARAMETERS
Model
The Maximum
Feeding Size(mm)
Production Capacity
(t/h)
FTM938F1210
350
70-130
FTM938FW1214
350
100-180
FTM1149F1315
500
130-250
FTM1349HD1110
400
112
FTM1349HD1315
700
280
MOBLIE JAW CRUSHER TECHNICAL PARAMETERS
Model
Maximum Feeding
Size(mm)
Capacity(t/h)
FTM938HD80
500
85-275
FTM1149HD98
550
110-350
FTM1349HD110
660
215-510
FTM1349HD125
800
280-650