Characteristics and Comparison of Four Types of Jaw Crushers
Author : Jordan
|
Last Updated :
As ideal primary or secondary crusher equipment, jaw crushers with different types are often used in various industries. Depending on different ways of moving, jaw crushers are divided into four types: Blake jaw crusher, Dodge jaw crusher, PE universal jaw crusher and mobile jaw crusher.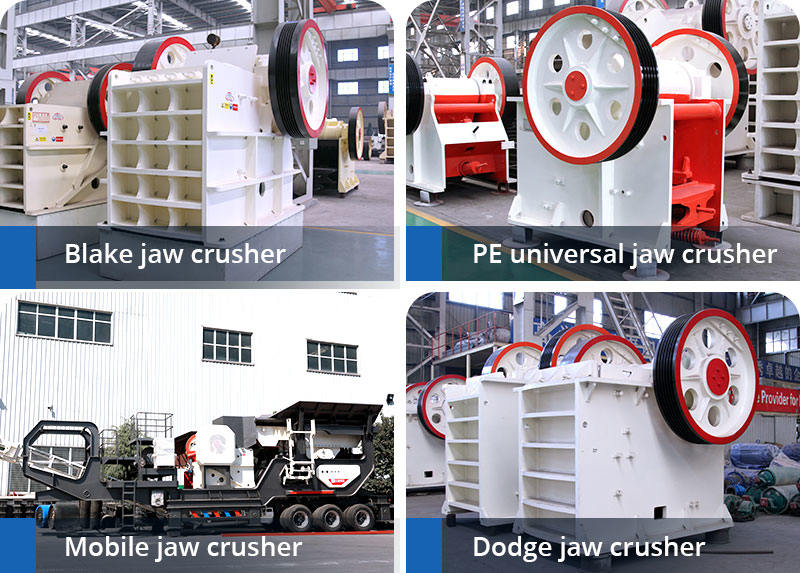 Four common types of jaw crushers
There are two jaws in a blake jaw crusher, one is stationary and vertical, the other is movable and swing. The swing jaw reciprocates in a horizontal plane, and generally the angle between fixed jaw and movable jaw is of 20 °to30°.
For blake-type crusher, its feeding area is fixed while discharging area is changeable. The greatest amount of motion is at the bottom of V which means that it has little tendency to chock.
As one of the most commonly used jaw crusher, blake jaw crusher has two types:
Single toggle jaw crusher
An eccentric shaft is positioned on the top of the crusher. The swing jaw plate hangs on the eccentric drive shaft and moves up and down in elliptical motion, which compresses rock material as it moves down from the feeding part.
Double toggle jaw crusher
Also, swing jaw is hinged at the top, and this support point is hand shift. The eccentric shaft and all jaw crushers of any style have some sort of eccentric motion.
As the eccentric rotates it pushed down on the pitman which in turn flattens the angle between the two toggles since the rear toggle is pivoting against the frame, the front toggle pushes on the swing jaw closing the gap between the two jaw plates.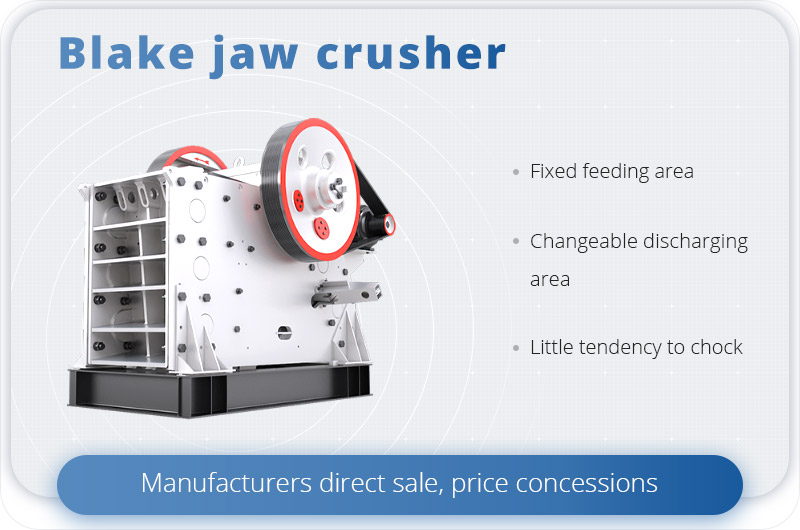 widely used in various areas
Single toggle jaw crusher VS double toggle jaw crusher
Both of them adopt way of compression: because the top of the toggles is mounted low in relation to the swing jaw and far from the hinge point it is virtually a straight-line motion. This type of motion gives a straight compressive force with low abrasion jaw plates
Single toggle jaw crusher has less toggle, and has two movements at the same time— law plate swing together with eccentric shaft moving up and down. Sometimes single toggle jaw crusher performs better than double toggle jaw crusher in productivity.
Get Latest Price
Dodge jaw crusher
In the dodge type jaw crushers, the jaws are farther apart at the top than at the bottom which form a tapered chute so that the material is crushed progressively smaller and smaller as it travels downward until it is small enough to escape from the bottom opening.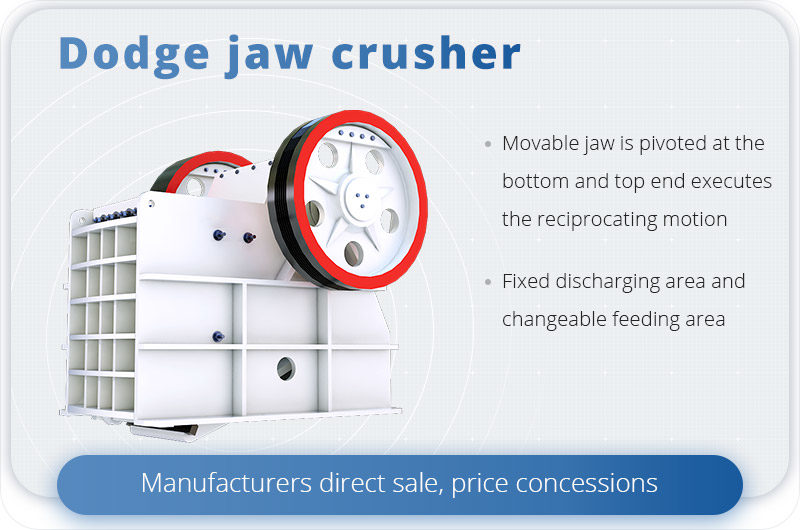 Features:
1

Movable jaw is pivoted at the bottom and top end executes the reciprocating motion

2

Large opening enables large feed and effects a large reduction

3

The width of discharge opening is practically constant, a more uniform and closely sized product can be obtained
PE universal Jaw crusher
The universal jaw crusher combines the principles of both Black and Dodge jaw crushers. The pivot is slightly above the bottom end of the movable jaw and therefore it provides two strokes per revolution. When stone material goes through the crushing chamber, with moving jaw compressing towards down and inside, it will generate aggressive force feed action to reduce the size of material.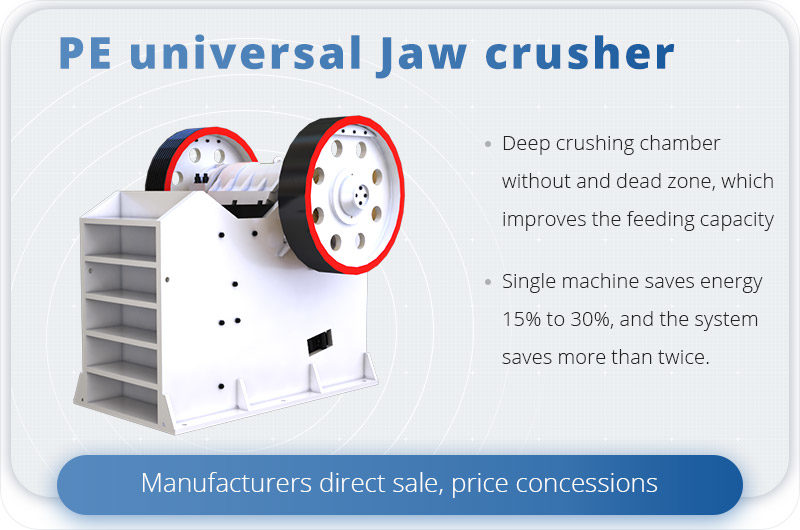 can crusher material with different hardness
Outstanding advantages and characteristics
Crushing chamber: Its crushing chamber is deep without any dead zone, which improves the feeding capacity;
Crushing ratio: It has a large crushing ratio which helps to produce uniform particle size;
Discharge port device: The gasket type adjusting device of the discharge port is reliable and convenient with large adjustment range, greatly increasing the flexibility of the machine;
Lubrication system: It is safe and reliable, making the wear parts easy to be replaced, thus reducing the maintenance time;
Structural design: Simple structure designed for reliable operation and low operating costs.
Energy-saving: Energy saving of the single machine is 15% to 30%, and the system is more than twice;
Adjustment range: Large discharge port adjustment range can meet the different requirements of the users;
Dust and noise proof: It has advantages of low noise and less dust.
The following are several common PE universal jaw crushers
PE jaw crusher 900*600
| | |
| --- | --- |
| Model | PE jaw crusher 900*600 |
| Capacity | 150 t/h |
| Feeding size | approx.500mm |
| Size of final grain | 65-160mm |
| Rotor speed | 250-275rpm |
| Required power | 75KW |
PE jaw crusher 400*600
| | |
| --- | --- |
| Model | PE jaw crusher 400*600 |
| Capacity | 16-64 t/h |
| Feeding size | approx.340mm |
| Size of final grain | 40-100mm |
| Rotor speed | 280-300 rpm |
| Required power | 30KW |
PE jaw crusher 900*75
| | |
| --- | --- |
| Model | PE jaw crusher 900*75 |
| Capacity | 80-240 t/h |
| Feeding size | approx.500mm |
| Size of final grain | 150-200mm |
| Rotor speed | 250-280rpm |
| Required power | 55KW |
PE Jaw crusher Price
The mobile crusher is also called the mobile crushing station, including tyre mobile crushing station and crawler mobile crushing station, which is a kind of rock crushing equipment newly developed by our company.
Unlike the traditional jaw crusher, this new type mobile crusher can be easily and flexibly moved to the crushing site, which eliminates the obstacles caused by the crushing sites and the conditions.
Therefore, it is widely applied in coal mining plants, infrastructure, road construction, and urban construction waste recycling which have more requirements on the mobility of the crushing sites.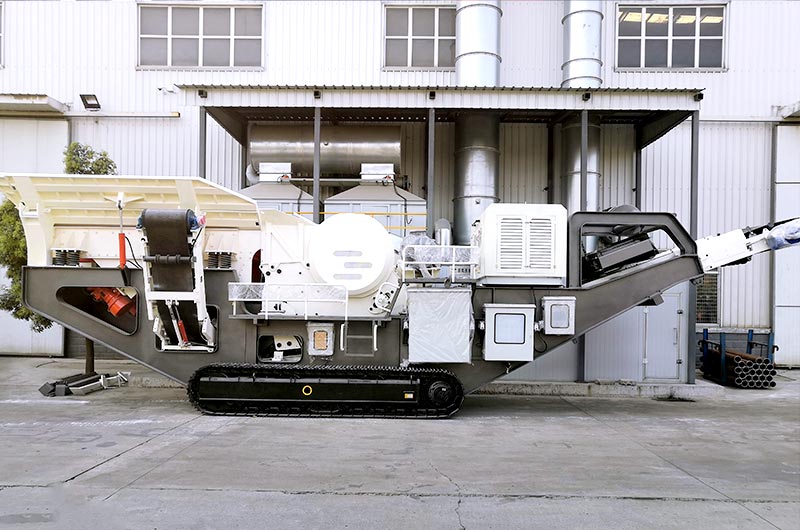 Portable jaw crusher
Outstanding advantages
Easy to move: Free walking, especially suitable for small sites with short construction period.
Saving transportation cost: The mobile jaw crusher is equipped with a driving device which can be directly used to carry out work on site, greatly reducing the transportation cost of materials;
Integrated set of units: Integrated unit installation form can eliminate the complicated site installation of separate components, and also reduce the consumption of materials and working hours, what's more, it occupies smaller space;
The configuration is flexible: This mobile jaw crusher can be operated independently by a single machine, or by a system-configured unit. Besides, it can be combined into other systems according to the site conditions for various demands of the users.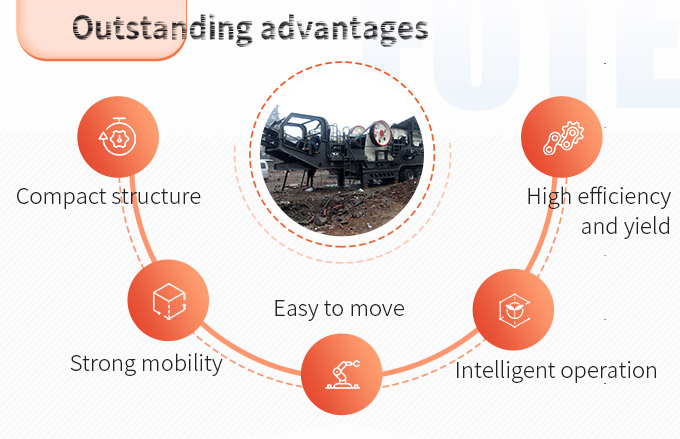 Outstanding advantages of mobile jaw crusher
Main types and parameters
| | | | | |
| --- | --- | --- | --- | --- |
| Model | FTM938HD86 | FTM1149HD98 | FTM1349HD110 | FTM1349HD125 |
| Transportation Length(mm) | 12600 | 13500 | 14500 | 15200 |
| Transportation Width(mm) | 2600 | 2700 | 2800 | 2900 |
| Transportation Height(mm) | 3870 | 4200 | 4450 | 4500 |
| Maximum Length(mm) | 12500 | 14000 | 16100 | 16700 |
| Maximum Width(mm) | 4100 | 4500 | 5100 | 5100 |
| Maximum Height(mm) | 4100 | 4900 | 5000 | 5300 |
| Weight(t) | 39 | 57 | 55 | 65 |
| Tire Configuration | Biax Fitted | Triaxial Fitted | Triaxial Fitted | Triaxial Fitted |
| Jaw Crusher | HD86 | HD98 | HD110 | HD125 |
| Maximum Feeding Size(mm) | 500 | 550 | 660 | 800 |
| Discharge Opening Size(mm) | 50-150 | 75-175 | 100-200 | 125-225 |
| Capacity(t/h) | 85-275 | 110-350 | 215-510 | 280-650 |
| Vibrating Model | ZSW380×95 | ZSW420×110 | ZSW490×130 | ZSW490×130 |
| Main Belt Conveyor | B800×8.5M | B1000×9.5M | B1000×11M | B1200×11M |
| Side-opening Belt conveyor(Optional) | B500×3M | B650×3.5M | B650×4M | B650×4M |
| Genset(Optional) (kw) | 200 | 250 | 270 | 400 |
| Iron Separator (Optional) | RCYD(C)-8 | RCYD(C)-10 | RCYD(C)-10 | RCYD(C)-12 |
Mobile jaw crusher: High mobility determines that it is suitable for frequent conversion of crushing sites (like road construction, urban construction waste disposal, etc). Thus, its price is higher than other kinds of jaw crushers.
Why Choose Fote Jaw Crusher manufacturer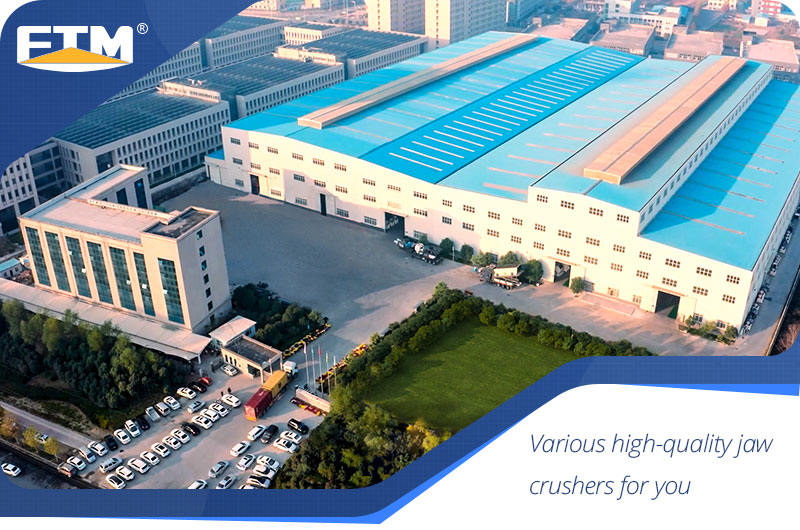 The various types of jaw crushers designed by Fote Company are widely used in many fields including heavy-duty mining, cement industry, agro-based industries, cement plants, ceramic plants, and salt plants. All jaw crusher products can be customized according to your demands on like productions and jaw plates.
If you have any questions during the purchase of a jaw crusher, or if you are not sure which type of jaw crusher is suitable for you, please leave us a message anytime to get a professional answer from our engineers.
Contact Jaw Crusher Supplier
Share: