When it comes to rock crushing machines, there are several different crushers available, each designed to meet unique needs. The two most popular pieces of rock crushing equipment in the market include cone crushers and jaw crushers.
let's get to know jaw crushers and cone crushers first.
Jaw crushers: The first choice for primary crushing
The jaw crusher is popular because it crushes big rocks into smaller sizes easily. Thus, it proves itself as an effective primary crusher in aggregate, mining, recycling, and concrete industries.
It can handle very soft to very hard materials and has no abrasion limit.
If you want to crush big rocks, but you do not need the rocks to be too small or in perfect cubicle shape, a jaw crusher will do the job.
Cone crushers: The popular choice for getting excellent cubicle product
The cone crusher is renowned for providing a very high content of cubic material in the finished product.
It is ideal for crushing mid-hard and above mid-hard ores and rocks into much smaller pieces.
Cone crushers are typically applied in secondary and tertiary crushing stages. Therefore, if you need your finished products to be much smaller in size and perfect in shape, use the cone crusher.
Cone crusher VS Jaw crusher: Key differences
Cone crushers and jaw crushers both perform well in quarries, aggregates plants, sand making plants, cement plants, etc. However, many still do not know which one to choose.
To help you decide, now let's dive into the differences between cone crushers and jaw crushers.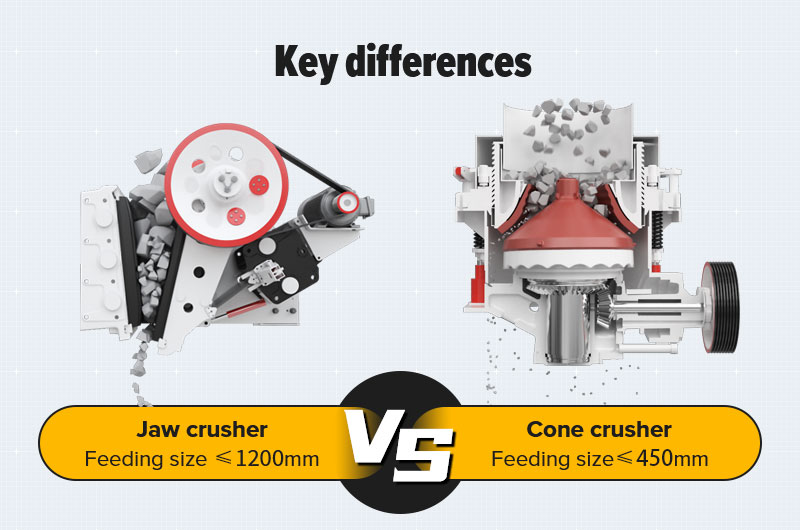 1. Different production characteristics
Feeding size: The jaw crusher has a relatively large feed size range, and can generally handle materials below 1, 200mm, while the cone crusher is relatively small, generally requiring less than 450mm (depending on the specific conditions of the product).
Discharging size: The Jaw crusher is normally used for primary crushing which will give you a big crushing capacity and the output size is bigger but suitable for secondary crushing. While cone crusher is for secondary and tertiary crushing stages, thus having a smaller discharging size.
Capacity: In terms of processing capacity, the output of the cone crusher can generally reach 2181t/h, which is more than double that of the jaw crusher.
Production characteristics
Cone crusher
Jaw crusher
Feeding size
≤ 450mm
≤1, 200mm
Discharging size
4-41mm
10-350mm
Capacity
≤2, 181t/h
≤

1, 000t/h
2. Prices for cone crushers and jaw crushers
Affected by wearing parts and structure, the price of a cone crusher is much more expensive than that of a jaw crusher.
The following are the prices of these two types of crushers produced by Ftmmachinery, for reference only.
Jaw crusher: $1, 000/ Set (the lowest price) Contact us
Cone crusher: $5, 000/ Set (the lowest price) Contact us
3. The overall structure of the machine
From the perspective of the overall structure, the cone crusher is 1.7-2 times heavier and 2-3 times higher than the jaw crusher with the same feeding opening size. A Larger machine means higher site costs.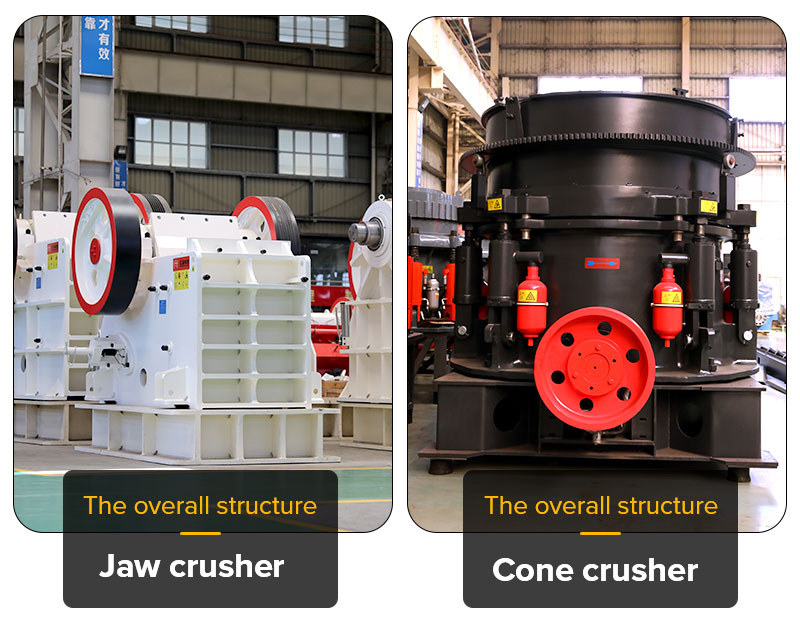 4. Material handling
The jaw crusher is suitable for a variety of materials with different hardness, such as talc, limestone, chalcocite, hematite, pebble, granite, etc.
While the cone crusher is more suitable for hard rocks and ores, such as iron ore, granite, pebble. Besides, a cone crusher is not suitable for crushing viscous materials that contain a lot of moisture.
5. Feeding requirements
With a cone crusher, the material can be fed directly into the machine until it's full and no silos and feeders are needed.
With a jaw crusher, the material must be evenly fed into the crusher by a feeder, and the amount of material inside the crusher cannot exceed 2/3rd of the crushing chamber height. Extra feeders and silos mean more investment in auxiliary equipment.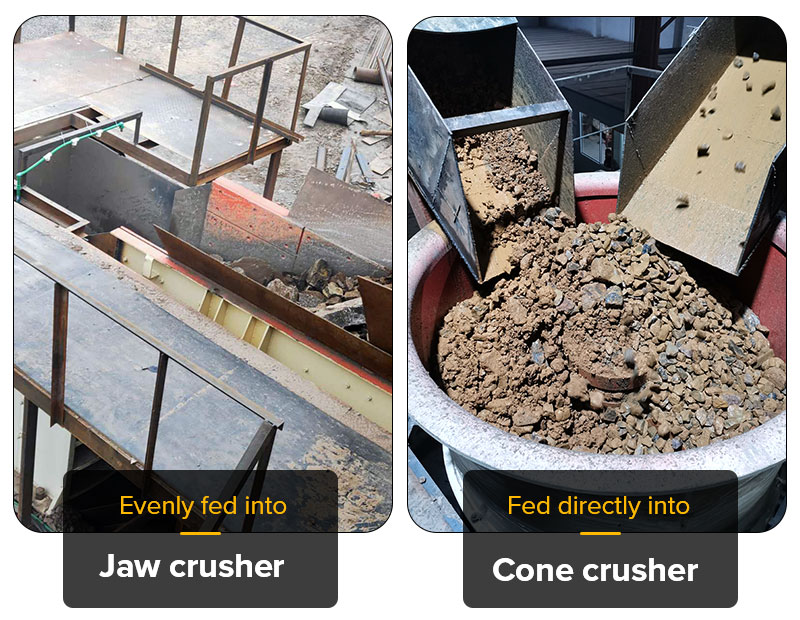 6. The shape of the finished product
Compared with the jaw crusher, the cone crusher generally has a high content of cubic material in the product.
Therefore, in situations where cubic particles are needed, for example, the anti-skid pavement of high-grade highway, the cone crusher can be used as the crushing equipment to produce concrete aggregates.
7. Maintenance cost
Any equipment requires regular maintenance while in use. Although the cone crusher is more expensive than the jaw crusher, the later maintenance cost is low thanks to the longer maintenance cycle prolonged by the wear-resistant parts and simple maintenance.
Conclusion
When choosing a stone crusher, knowing the seven differences between a cone crusher and a jaw crusher can help us make the right decision. But that is not enough. You also should know the following facts when choosing between cone crushers and jaw crushers.
Your project needs, budget, and location;
The type of material you want to crush—if crushing hard, abrasive rock, you might be better off with a jaw crusher; and,
The desired finished product—if you want evenly-shaped aggregate, gravel, concrete, opt for a cone crusher.
For help finding the right rock crusher for the job, or to have the pros take care of custom crushing for you, contact Ftmmachinery engineers. Contact us