Hard granite rock needs go through crushing to produce aggregates and sand of different sizes.
The six best-selling granite crusher machines are jaw crusher, cone crusher, impact crusher, sand making machine, mobile crusher, and portable crusher.
This article will share with you the pros and cons of these granite crusher machines to help you pick the right one.
The reason for the popularity of granite rock crushing equipment is the wide application of granite products. Granite products are often used as raw materials or combined with other aggregates for construction, including houses, apartments, commercial spaces and public buildings, bridges, roads.
Applications of granite sand and gravel aggregates in different sizes

Applications of granite sand and gravel
80-150 mm (gravel in over-large size): mainly used for large water conservancy and hydropower construction
40-80 mm (gravel in large size): mainly used for the construction of road, road base, and railway
20-40 mm (gravel in medium size): mainly used for civil construction
5-20 mm (gravel in small size): mainly used for large concrete buildings
Under 5 mm (sand): used for various building and road construction project
Jaw Crusher
Due to the large feeding inlet and strong crushing capacity, jaw crushers can crush bulky granite rocks (above 450mm) into smaller sizes. It is an efficient primary granite crusher.
The fine crushing jaw crusher developed by Ftmmachinery can carry out fine crushing of granite stones.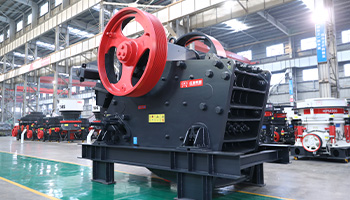 | | |
| --- | --- |
| Feeding size | ≤1, 200 mm |
| Discharging size | 10-350 mm |
| Capacity | ≤2, 200 t/h |
Video of granite jaw crusher
Advantages of Jaw Crusher
Having a deep crushing cavity with no dead zone improves the granite crushing efficiency. The large jaw crusher can crush 1,000 tons of granite stones per hour.
Due to its simple structure and small size, the price of jaw crusher is much cheaper than other rock crushing machine.
The granularity of granite products can be adjusted to meet the different production needs of users.
Stable operation and low failure rate reduce maintenance costs.
Disadvantages of Jaw Crusher
Granite is very hard and easy to wear the jaw plates and cheek plates.

Choose jaw and cheek plates made of high-quality manganese.

The granite gravel and aggregate produced by the jaw crusher have poor particle shape.
Cone Crusher
Granite rock has high hardness and is easy to wear the wear-resistant parts of the crusher. Therefore, the crusher machine adopted the lamination crushing principle should be selected as much as possible to reduce the loss of wear-resistant parts.
The cone crusher breaks granite rock by extrusion. The wear and tear of the equipment wear parts is relatively low, and the wear costs can be kept to a minimum.
Therefore, it has become a popular granite crusher with the advantages of wear resistance, large output and uniform cubical products, and is often used in the secondary crushing process. If the particle size is small, the granite can also be directly fed into the cone crusher.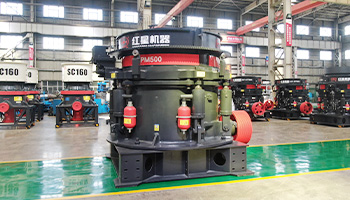 | | |
| --- | --- |
| Feeding size | ≤450 mm |
| Discharging size | 4-41mm |
| Capacity | ≤2, 181t/h |
Video of granite cone crusher
Advantages of Cone Crusher
The cone crusher has large output and stable production, and can be used in large-scale, high-output granite crushing plants.
More than 90% of the granite gravel is in perfect cubical shape, achieving low amount of needle and flake particles.
The modular design enables the conversion of primary, secondary and tertiary crushing by changing the cavity type.
The cone crusher is also equipped with a complete dust collection and dust reduction device and an advanced noise treatment device to solve dust and noise pollution.
Disadvantages of Cone Crusher
The price is relatively expensive.
Impact Crusher
The impact crusher has the dual performance of crushing and shaping. Its product shape is better than that of cone crusher.
In view of the serious wear of granite to the impact crusher, we do not use the impact crusher to coarsely crush the granite, but use its shaping function to obtain granite products with perfect grain shape. It is often placed after a jaw crusher or a cone crusher.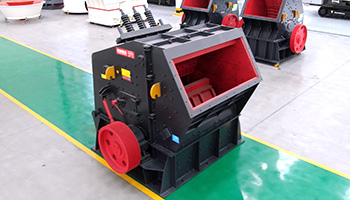 | | |
| --- | --- |
| Feeding size | ≤800mm |
| Discharging size | 10-80mm |
| Capacity | ≤800t/h |
Advantages of Impact Crusher
The impact crusher has a large feeding port, a deep crushing cavity and a large crushing ratio, which can effectively complete the fine crushing of granite.
The gap between the impact plate and the hammer can be easily adjusted, which can effectively control the granularity of the finished granite.
The high chrome blow hammer is resistant to impact and wear.
Disadvantages of Impact Crusher
Impact crusher is more suitable for crushing medium-hard and brittle materials such as limestone and dolomite. Hard granite rock can severely wear blow hammers and require periodic replacement of blow hammers.
The impact crusher produces more noise and dust.
Sand Making Machine
Granite sand making machine has dual functions of sand making and shaping.
The shaping effect of the sand making machine is better than that of the impact crusher. If your sand making line needs granite sand with excellent cubic shape, buy the sand making machine.
The granite sand produced by it has uniform particle size, high compressive strength, strong adhesion and long durability, and is widely used in highways, railways, bridges, airports, real estate and other fields.
The sand making machine is used in the last process of the granite sand making line.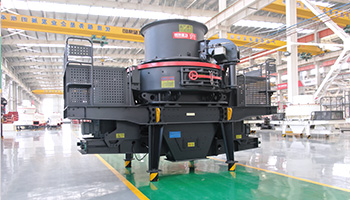 | | |
| --- | --- |
| Feeding size | ≤50mm |
| Discharging size | 2-20mm |
| Capacity | 120-650t/h |
Video of granite sand making machine
Advantages of Sand Making Machine
The advanced stone-on-stone or stone-on-iron crushing principle makes the granite sand with uniform particles and a shape comparable to natural sand. It is also possible to shape the sand with an unsatisfactory shape to make it into cubical shape to meet the high requirements of machine-made sand and gravel in some fields.
The design of the large discharge port ensures smooth discharge, prevents material blockage, avoids abnormal equipment damage, and improves crushing efficiency.
The wearing parts of the granite sand making machine are made of high-end wear-resistant materials, which can improve its wear resistance, compression resistance, corrosion resistance, etc. And the lighter weight is convenient for transportation and installation.
The adoption of water seal ensures good sealing performance of the system, preventing dust from overflowing and reducing environmental pollution.
It is equipped with a safety protection device. When any problem occurs in the equipment, it can automatically cut off the power and start the protection system to ensure the safety of the equipment and personal safety.
Disadvantages of Sand Making Machine
The output of is smaller than other granite rock crushers.
Mobile Crusher
Mobile crushers are track-mounted stone crushing machines that are easily movable on and between production sites. Thanks to complete mobility, mobile crushers can move to a new processing site and put into production as quickly as possible. Therefore, it is very suitable for large-scale open-pit granite quarries.
Based on the crusher installed, mobile crushers include mobile jaw crusher, mobile cone crusher, mobile impact crusher, mobile sand making machine, etc.
If you combine hopper, feeder, screener with these crushers, you will get a mobile crushing plant that integrates feeding, crushing, screening and conveying.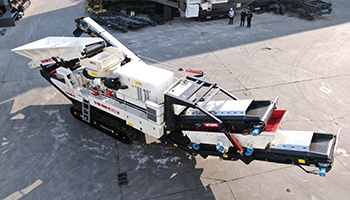 | | |
| --- | --- |
| Feeding size | ≤1, 000mm |
| Discharging size | 2-180mm |
| Capacity | 100-700t/h |
Video of granite mobile crusher
Advantages of Mobile Crusher
Based on self-propelled and compact value, mobile crushers can directly be stationed at the quarry or the aggregate site, thereby offsetting additional logistics costs in terms of conveyor belt or larger number of dump trucks support to the unit to haul the granite products.
It consumes less lead time than stationary crushers.
It leaves no civil works and wastage in plant structural and electricals.
Disadvantages of Mobile Crusher
It is compact in structure but have many components, making maintenance difficult.
It has limited space between the crusher discharge and the conveyor belt, and the feed opening is also slightly smaller, reducing the throughput of the mobile equipment.
Portable Crusher
Portable crushers are transportable and can be moved from one production site to another with a tractor. The time and labor required for the transfer is relatively higher than that of a self-propelled mobile crusher. It is often used in granite mines and granite quarries where raw materials are relatively concentrated, and usually there is no need to transfer production sites for a period of time.
Portable crushers can also be combined with hoppers, conveyor belts, screening machines to form a stone crushing plant integrating feeding, crushing, screening and conveying.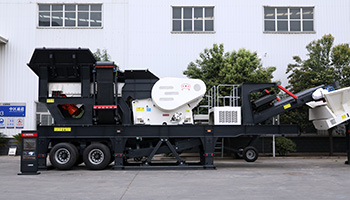 | | |
| --- | --- |
| Feeding size | ≤800mm |
| Discharging size | 2-150mm |
| Capacity | 100-580t/h |
Video of granite portable crusher
Advantages of Portable Crusher
It can move flexibly without having to build concrete infrastructure. Mobile operations are often completed within 48 hours, ensuring continuous production in the quarry.
Compared with mobile crushers of the same scale, portable crushers have lower price, larger output and better economic benefits.
Portable crushers feature an open design for easier maintenance and minimal downtime.
Disadvantages of Portable Crusher
Portable crushers are transported by a trailer and secured by a hydraulic support system at the production site. Therefore, the transfer requires more time and labor.
Tips: How to Choose the Right Granite Rock Crusher?
The above is a brief introduction of the 6 popular granite crushers on the market. To achieve efficient granite rock crushing, the following factors should be considered.
1. Wear-resistance
Granite rock has high hardness and high silicon content. It is difficult to crush or requires relatively high crushing costs. The wrong choice of granite crusher will speed up the damage of wear parts, and even need to be replaced in a few days, increasing the operating cost.
2. Grain shape
Since granite is a brittle, improper crusher will increase the content of needle-like and flake-like materials and increase the internal cracks of the finished product, thereby reducing the scope of application and revenue.
3. Production
In the process of granite crushing, two or more types of crushers are applied, so the combination of crushers is of great importance. A good granite rock crushing line ensures a smooth production, less manpower and larger output.
4. Dust
Granite crushing inevitably produces dust. The spread of dust pollutes the environment, or worse, cause downtime if you are not careful. Therefore, choose a granite crusher with a sealing system and dust control measures.
5. Noise
In the context of environmental protection, reducing noise is also an important measure to achieve that. Therefore, choose a granite crusher with noise-reducing accessories.
Granite rock crushing process
As a professional mining equipment manufacturer, Ftmmachinery can provide you with efficient and solid rock crushers and help design a reasonable granite stone crushing plant according to your needs (output, grain shape, particle size, working site).
Taking the granite sand making line as an example, the crushing process is as follows:
1.

Coarse (primary) crushing: Bulky granite rocks are evenly fed into the jaw crusher by the vibrating feeder.

2.

Secondary crushing: The coarsely crushed granite stones are sent to the cone crusher by the belt conveyor.

3.

Screening: The finely crushed granite stones are sent to the vibrating screen by the belt conveyor.

4.

Sand making: The fragments that meet the requirements of sand making are sent to the sand making machine, and those that do not meet the requirements are sent to the cone crusher for re-crushing.

5.

Screening of finished products: Screening out various specifications of granite finished products and granite powder.

6.

Sand washing: If there are many impurities in the sand, wash sand with a sand washing machine to improve the quality of the granite sand.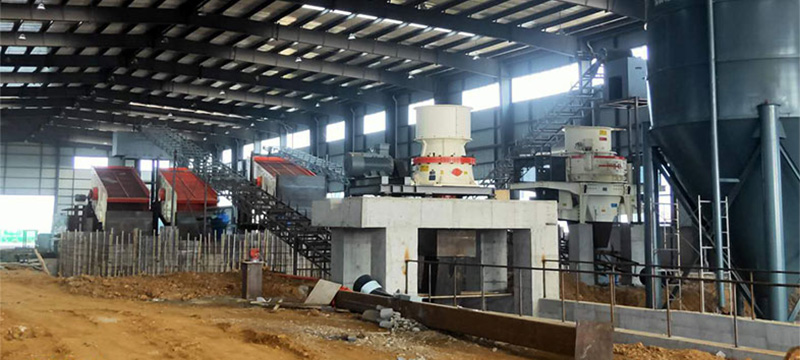 Granite rock crushing line with an output of 200 tons per hour (case)
Feeding size
Finished product specification
Device configuration
≤630mm
0-5mm
5-10mm
10-20mm
20-40mm
Silo
ZSW490*110 Vibrating Feeder
HD98 Jaw Crusher
HPM300 multi-cylinder hydraulic cone crusher
3YK1854 Vibrating screen
Several conveyors
Client feedback
Granite is hard, so I chose a cone crusher, which has an iron protection device inside. And it has a touch screen intelligent operating system that can adjust the output size. This makes it very convenient.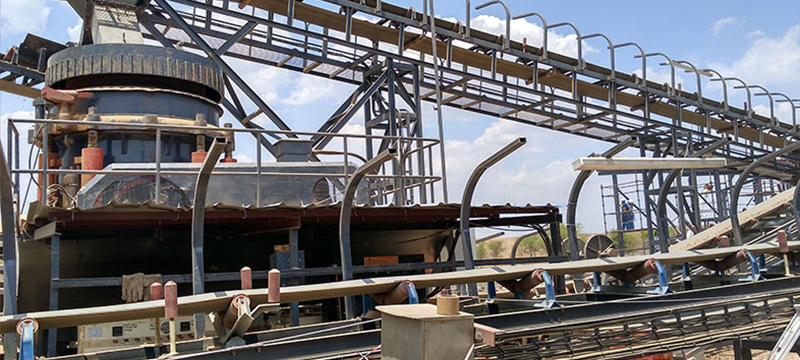 Granite rock crushing line with an output of 500 tons per hour (case)
Feeding size
Finished product specification
Device configuration
≤450mm
0-5mm
10-20mm
20-33mm
33-65mm
Silo
GZD1000*36000 Vibrating Feeder
CJ96 Jaw Crusher
SC560 Single Cylinder Hydraulic Cone Crusher
VSI6X sand making machine
3YK2160 Vibrating screen
Several conveyors
Client feedback
I need granite sand with uniform grain size and good grain shape. The finished product of Ftmmachinery's VSI sand making machine meets the material requirements of my downstream users in terms of output and grain shape. I am very satisfied with this cooperation with Ftmmachinery.