What is lightweight expanded clay aggregate?
LECA also called artificial aggregate, artificial stone, also known as expansive soil, foaming stone, firestone, radiant root, laka grain, etc. It includes ultra-light ceramsite, structural ceramic, and bioceramic.
The ceramsite is a kind of artificial light aggregate which is made by mixing the soil, shale and certain admixtures and then being expanded by a high temperature roasting in a double-tube rotary kiln. The inside is a honeycomb-like closed porous structure. And the outside is vitrified into a hard ceramic shell.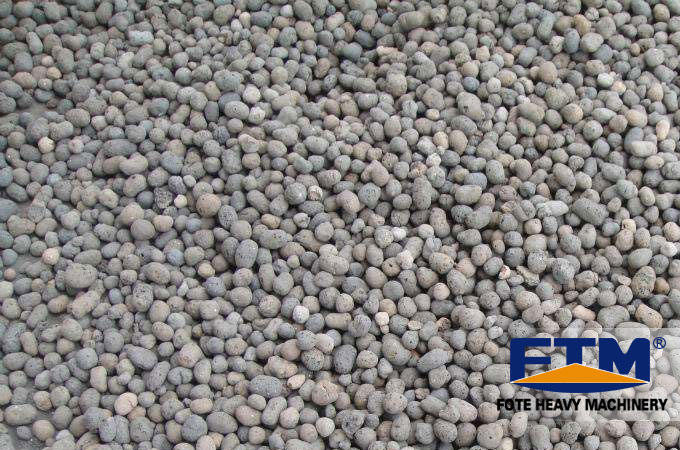 Lightweight expanded clay aggregate
The nature of lightweight expanded clay aggregate
Lightweight aggregates have a low relative density of particles due to their cellular pore system. When small, well-distributed, discontinuous pores are encapsulated in a continuous, crack-free vitreous state, they result in strong and durable lightweight aggregate.
The relative density of the individual particles depends on the relative density of the non-porous vitreous material and the pore volume within the particles, which generally decreases as the particle size increases.
The characteristics of lightweight expanded clay aggregate
Ceramsite has the characteristics of continuous gradation, low thermal conductivity, high strength, lightweight, high-temperature resistance, acid and alkali resistance; products made of ceramsite have good thermal insulation, heat insulation, sound insulation, fireproof, moisture proof, antifreeze and anti-free high-pressure strength, weathering resistance, energy-saving and environmental protection with a wide range of applications.
The major equipment of lightweight expanded clay aggregate production line
The flowchart of lightweight expanded clay aggregate production line: Crushing-grinding-granulating-drying-screening-calcining-cooling; and the main equipment include jaw crusher, mixer, ball mill, granulator, rotary dryer, drum screen, rotary kiln, cooler.
1. Jaw crusher
It is used for primary crushing for coarse, medium and fine crushing of various ores and rocks with a comprehensive strength between 147 and 245 MPa with diameter ≤1200 mm to small pieces of 10-350 mm which is easy to crush for the second stage.
Advantages: In recent years, FTM has specially developed a powerful jaw crusher to meet the needs of crushing high-strength and high-hardness micro-carbon ferrochrome in metallurgical, mining, construction and other industrial sectors.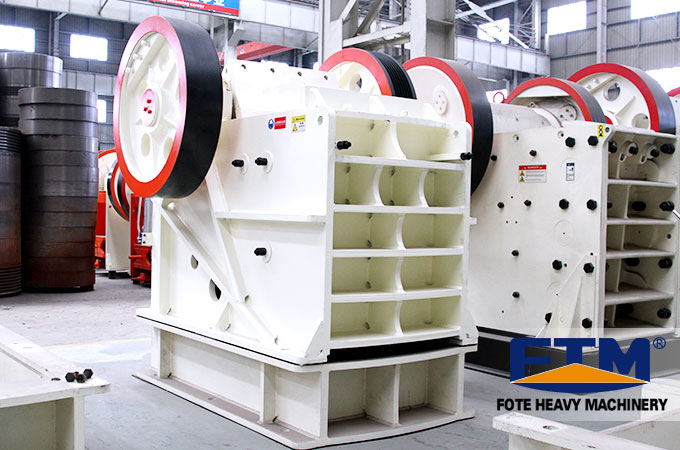 2. Ball mill
The ball mill is the key equipment for crushing the material after it has been crushed. Ball mill is widely used in the production of cement, silicate products, new building materials, refractory materials, fertilizers, black and non-ferrous metal dressings and glass ceramics, dry or wet grinding of various ores and other grindable materials.
Advantages: Energy saving, flexible design of the discharging part, large feeding amount in the feeding part, high grinding efficiency, good quality of the lining, and closed system to reduce dust.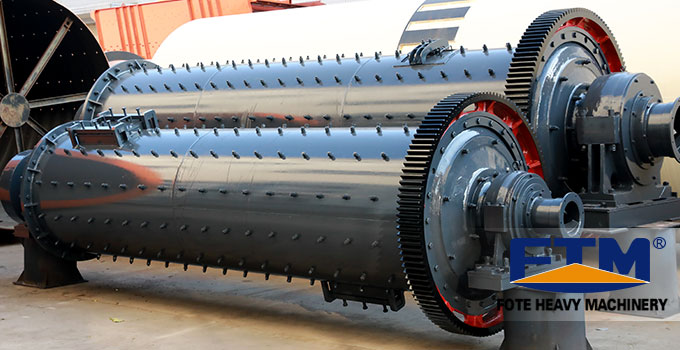 Ball mill
3. Disc Granulation machine
The granulation disc adopts an overall circular arc structure, and the granulation rate can reach 93 or more. The granulation tray has three discharge ports, which facilitates intermittent production operations, greatly reduces labor intensity and improves labor efficiency.
Advantages: High ball formation rate, large rounded particle strength, intuitive operation and easy maintenance.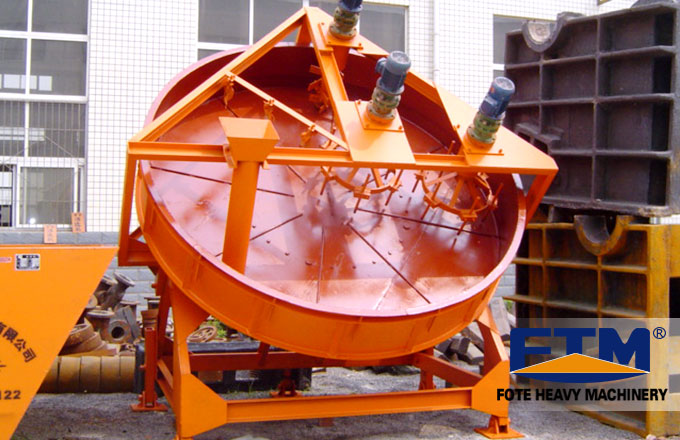 Disc Granulation machine
4. Dryer
The dryer is mainly used for drying certain moisture or particle size materials in the departments of mineral processing, building materials, metallurgy and chemical industry. The rotary dryer has strong adaptability to materials, can dry various materials, and the equipment operation is simple and reliable.
Advantages: Long life of parts, not easy to wear, high drying strength, high efficiency, simple operation, environmental protection and energy-saving, advanced structure and strong drying ability.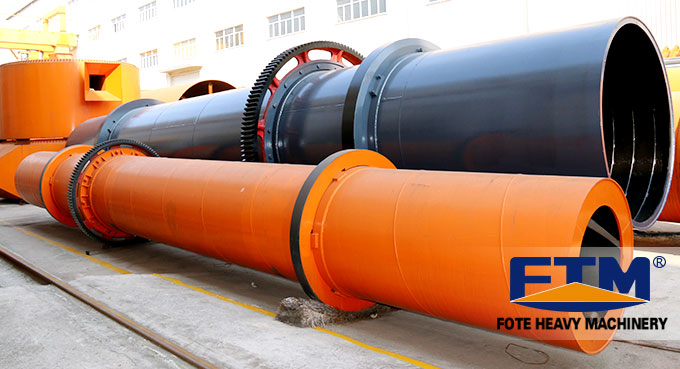 Dryer
5. Drum screen
Drum screen is often used for grading of powdery materials with good screening effect, no block screen holes, stable operation, low noise, simple structure, convenient maintenance, easy to seal dust, less one-time investment.
Advantages: Wide application range and equipment can be customized, low noise, high efficiency and environmental protection, advanced lubrication system, long service life, small installation inclination angle and good screening effect.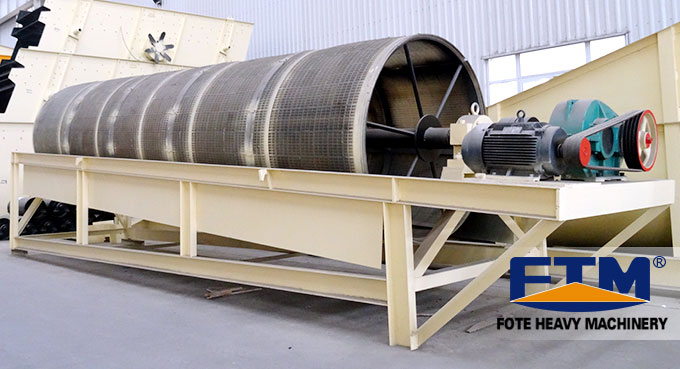 Drum screen
6. Rotary kiln
Rotary kiln can be divided into cement kiln, metallurgical chemical kiln and lime kiln according to different processing materials. The cement kiln is mainly used for calcining cement clinker in both wet and dry ways.
Advantages: The axial movement of the cylinder is controllable, the speed is flexible, the installation and maintenance are convenient, and the sealing performance is good.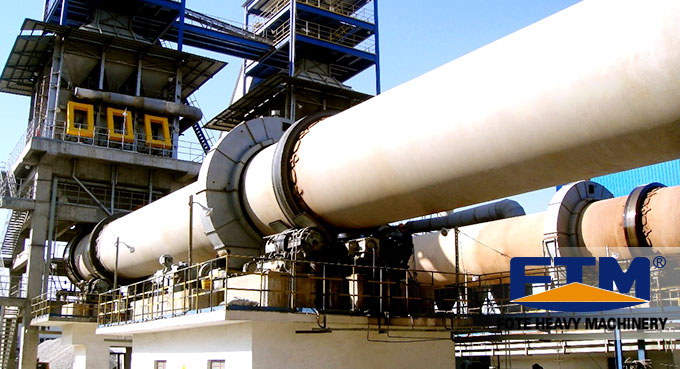 Rotary kiln
7. Cooler
The single-cylinder cooler is one of the important equipment in the rotary kiln system. The clinker from the rotary kiln (1000-1200 °C) is fully exchanged with the air through the cylinder rotating belt to cool the material to below 200 °C, at the same time improve clinker quality and grindability, with a simple structure, high operating rate, easy operation and maintenance.
Advantages: High thermal efficiency, high clinker quality, rapid cooling, and improved equipment operation rate.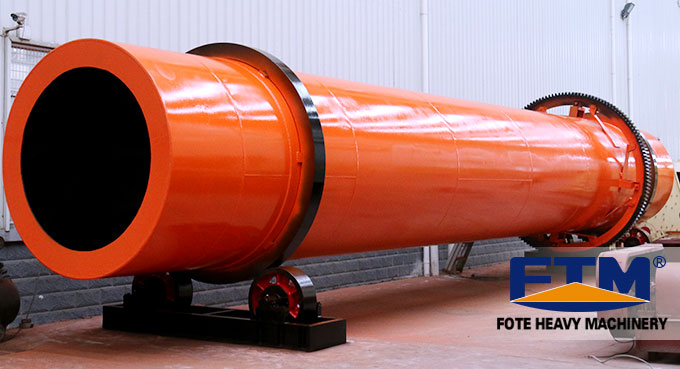 Cooler
Specification of final products of lightweight expanded clay aggregate production line
01 type: 0.45-0.9 mm (20-40 mesh) High strength with middle density
02 type: 0.9-1.25 mm (16-20 mesh) High strength with middle density
03 type: 1.0-1.70 mm (12-18 mesh) High strength with middle density
04 type: 0.224-0.65 mm (40-60 mesh) High strength with middle density
LECA machines Manufacturer - Fote Heavy Machinery
Fote is committed to building crushing, industrial grinding, ore processing and green building materials, and provides intelligent solutions and mature supporting products. Fote is deeply rooted in the global market and uses the craftsman spirit to build the great power of the country.
The company's mining machines have passed ISO9001, CE and GOST international quality system certification. The reliable and stable quality makes the company's production and sales volume and various comprehensive economic indicators rank among the top in the domestic industry. Tens of thousands of users are spread all over the world and the machines are exported to one hundred and sixty countries.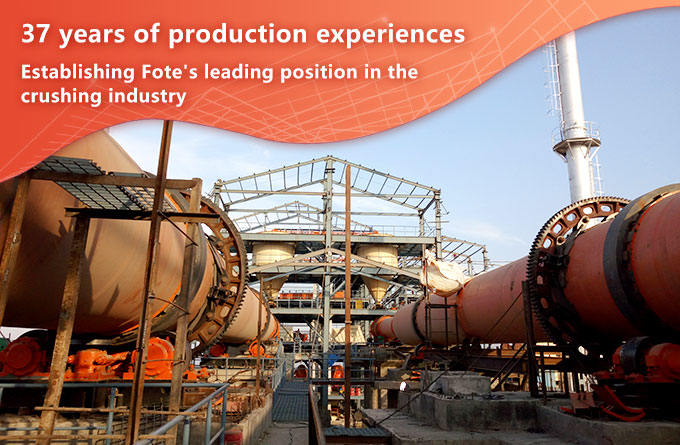 LECA machines on working site