What is the light expanded clay aggregate (LECA)?
Lightweight expanded clay aggregate or expanded clay aggregate (LECA or ECA), also known as ceramic pellets, is one of the most popular lightweight aggregates used in the construction and horticultural industries.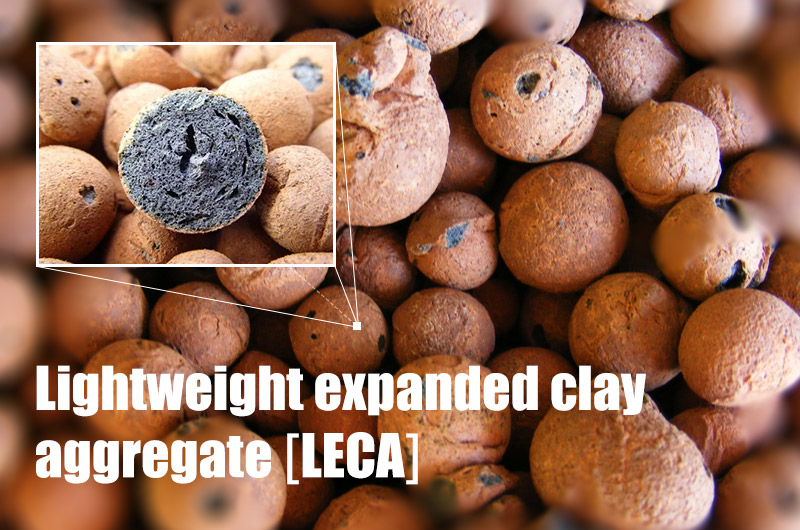 There are various types of LECA and the raw materials include clay, shale, slate, coal powder, tailings, etc.
LECA is primarily made of natural clay that is sintered in a rotary kiln to about 1200°C (2190°F), thereby expanding to form an approximately circular honeycomb structure.
Advantages and sizes of LECA
Compared with other aggregates, LECA aggregate has unique advantages and properties:
Lightweight, porous, low density, and high strength
Excellent sound and thermal insulation properties
100% inert, reusable multiple times
Natural, non-toxic, and environmentally friendly green material
Neutral pH, fungus-free, and frost tolerant, making it an ideal growing medium, topsoil and drainage system for plants
Used with cement to form non-structural lightweight concrete for use in fake rocks, theater props, and lightweight restorations
Added to soil to increase LECA's insulation, giving it a lifespan of over 100 years
An ultra-light, inert, and non-combustible aggregate, LECA balls are available in different sizes and densities, from 0.1 mm (0.004 in) to 25 mm (1.0 in).
| | | |
| --- | --- | --- |
| Grading (mm) | Density (kg/m3) | Applications |
| 0-4 | ≤710 | Lightweight concrete, lightweight bricks, prefabricated slab, lightweight tile, water purification system, and agriculture |
| 4-10 | ≤480 | Light soil, Lightweight concrete, light tile, prefabricated slab, aquaculture, and noise barrier |
| 10-20 | ≤380 | Lightweight concrete, Green roof, sewage system, gardening, and drainage system |
| 0-25 | ≤430 | Floor decoration, light padding, road construction, and aquaculture |
The Market prospect of LECA
Current data shows that the market direction of LECA has shifted from traditional construction, interior decoration, and green roofs to hydroponic gardening, water treatment, and filtration applications.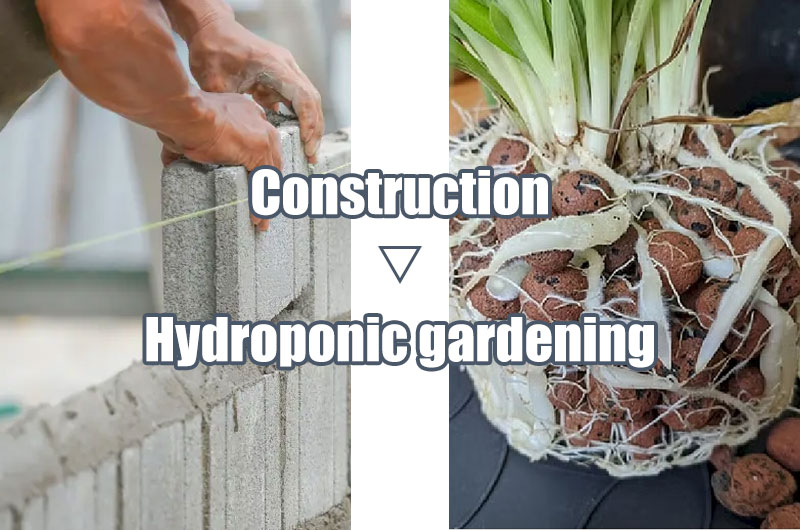 In horticulture, LECA is used as a hydroponic substrate to improve soil structure, provide aeration, and promote root growth. It helps plants repel pests and improves drainage, resistance to compaction, and moisture retention. If you have trouble with watering plants, LECA is right for you.
LECA is also employed in water treatment plants to filter and purify city wastewater, drinking water, and other filtration processes including those for treating industrial wastewater and fish farms.
Traditional production materials such as clay and shale have been replaced by industrial waste, silt, coal gangue, etc. The development trend of machinery has evolved into large-scale automation.
With the globalization trend of environmental protection, LECA suppliers will pay more attention to reducing pollution and resource waste in the future to ensure the rapid and stable development of production lines.
LECA manufacturing process
There are generally two types of LECA manufacturing techniques: sintering and sintering expansion. The difference between them is that during the sintering expansion process, the volume of aggregate expansion is larger.
1. Properties of Sintered LECA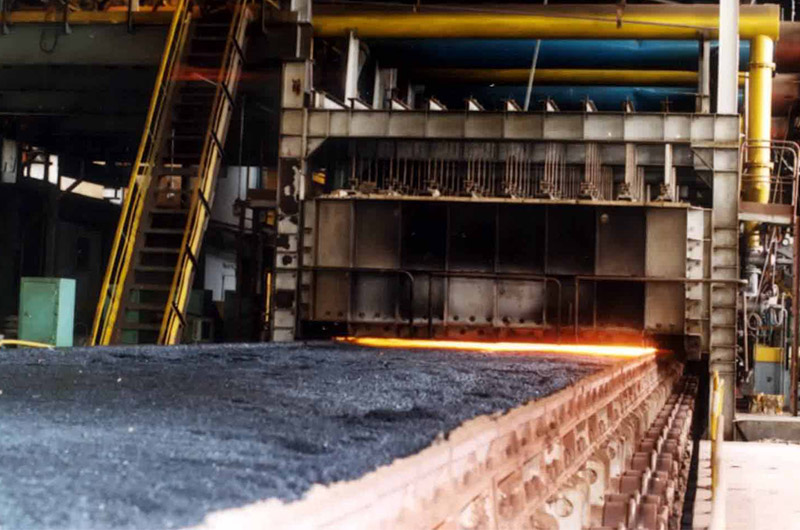 Compressive Strength: Sintered aggregate has high compressive strength, ranging from 3.0-7.0 MPa for regular and 25-40 MPa for high-sintered types.
Density: Sintered aggregate is dense, often exceeding 600 kg/m3 and sometimes over 900 kg/m3.
Water absorption: Ordinary sintered aggregate has slightly higher water absorption than sintered-expanded products, while high-strength products are similar to sintered-expanded ones.
Carbonation resistance: Sintered aggregate is highly resistant to carbonation, maintaining its compressive strength even in the presence of carbon dioxide.
2. Properties of sintered-expanded LECA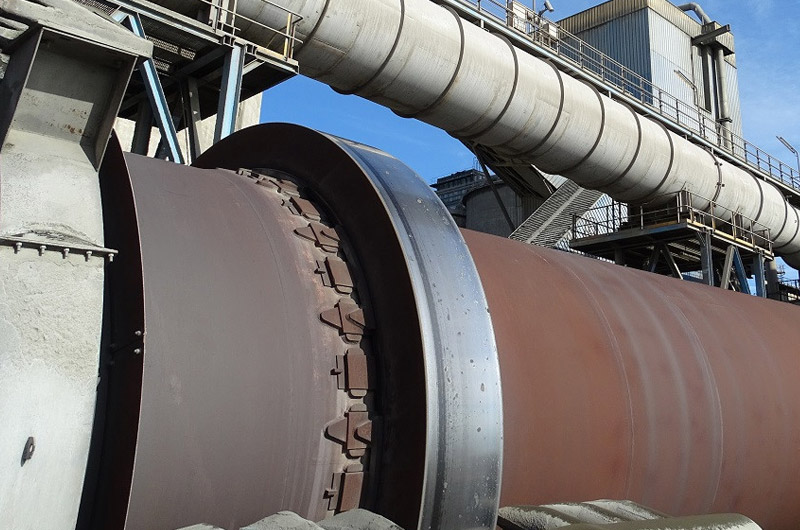 Compressive strength: Sintered-expanded aggregate usually has a compressive strength under 2.0 MPa. It is commonly used indoors for purposes like noise barriers and gardening.
Thermal insulation performance: This material's closed microporous structure yields high porosity (48%-70% of total volume). As a result, its thermal conductivity is low, measuring 0.08-0.15 w/(m.k).
Low density: Due to its porous nature, sintered-expanded material typically has a density of 300-500 kg/m3, half that of regular sintered aggregate. Its lightweight property makes it suitable for low-density construction and decoration industries.
Excellent sound absorption and insulation: The sound absorption and sound insulation performance of sintered-expanded aggregate is the most prominent among all aggregates. When sound passes through a material, a large amount of sound waves are absorbed by its pores, thereby reducing sound spread.
The different LECA processes require specific equipment: sintering machines for the sintering process, and rotary kilns for the sintering-expansion process. The rotary kiln is more efficient and more environmentally friendly, and it is the first choice of LECA suppliers.
LECA production line
The production of LECA generally requires 7 steps: crushing, mixing, grinding, granulating, sintering, cooling, and sieving.
Materials Needed for LECA:
Clay: Choose a high-quality, well-graded clay with minimal impurities.
Shale or Slate: These materials provide the necessary expansion when heated.
Water: Used for mixing and forming aggregates.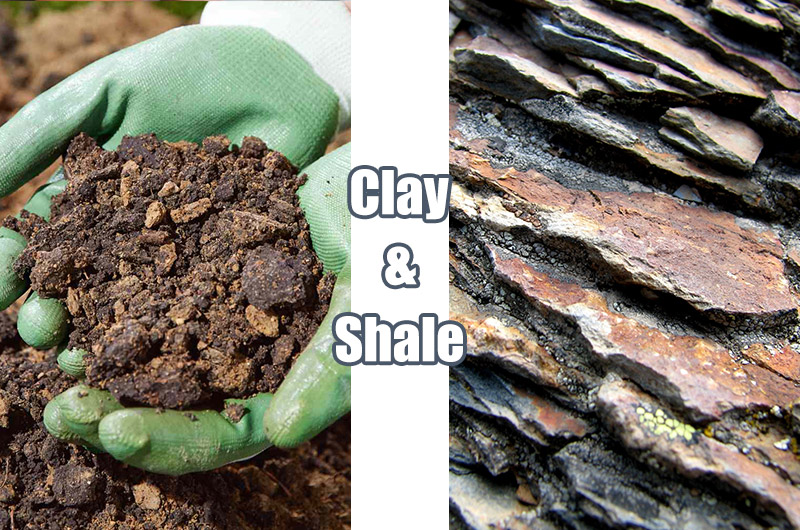 How to make lightweight expanded clay aggregate (LECA)?
1

Crushing and grinding: Start by selecting a suitable clay source. Crush and grind the shale or slate into small particles. This material will contribute to the expansion of the aggregates during firing.

2

Mixing: Mix clay and shale/slate particles in the desired proportion. Typically, a 1:1 ratio by volume works well. Add water gradually to form a uniform dough-like mixture.

3

Shaping: Use a granulator to shape the mixture into spherical or granular aggregates of the desired size. Sizes range from a few millimeters to a few centimeters, depending on the application.

4

Drying: Allow the shaped aggregates to air-dry for some time. This will reduce the moisture content and make them more durable during firing.

5

Firing: Preheat the rotary kiln to 1200°C (2192°F). Then the aggregate is heated uniformly for a few hours. The clay particles will vitrify, and the shale/slate particles will expand to form porous LECA balls.

6

Cooling and Grading: After the firing is completed, the aggregate is gradually cooled in the cooler. Then, use a trommel screen to grade LECA balls into different sizes according to different uses.

7

Packaging and Storage: Package the graded LECA aggregates in bags or containers and store them in a dry place until ready to use.
It is worth noting that the production process may vary depending on equipment and materials. Firing temperature and duration as well as the ratio of clay to shale/slate need to be adjusted according to the desired properties of the final product.
Equipment for LECA production line
1. Jaw crusher — primary crushing
The study found that the particle size of clay is an impacting factor. As particle size is reduced, expansion increases.
The FTM Machinery Jaw Crusher is mainly used to coarsely crush various ores and rocks with a comprehensive strength within 320 MPA, and process them into small pieces of 10-350 mm.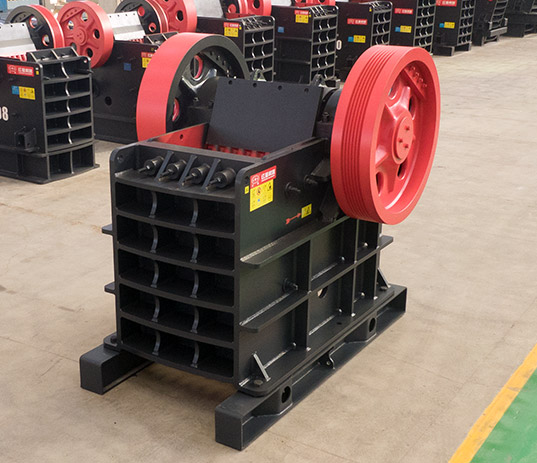 Max. feed size: 1,200 mm
Output: 1-1,435 t/h
Using deep cavity crushing to improve feeding capacity and crushing efficiency.
Large crushing ratio and uniform particle size.
Small footprint, simple structure, and easy maintenance.
2. Ball mill — further grinding
The FTM Machinery Ball Mill is the key equipment for grinding materials after crushing. It uses balls as the grinding medium for dry or wet grinding of grindable materials and can be widely used in the production of cement, chemical fertilizers, mineral processing, building materials, ceramics, glass, etc.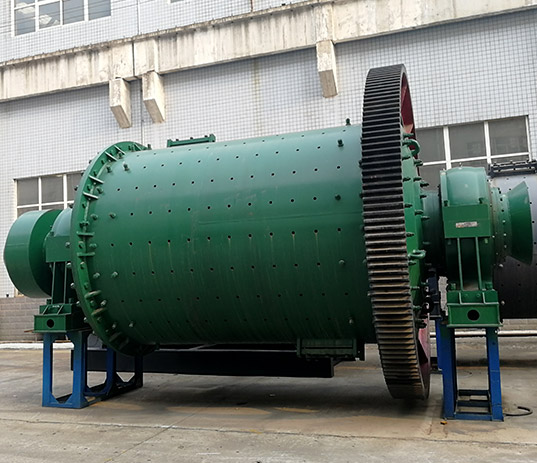 Max. feed size: Smaller than 25 mm
Output: 615 t/h
Advantages: High grinding efficiency, large feeding port, adjustable output size, energy saving, high-quality lining, and no dust spillage.
3. Disc Granulation machine — controlling the particle size
The FTM Machinery Disc Granulator, also known as disc pelletizer, or pan granulator, is the key machine that determines the particles of expanded clay aggregate. After granulation, the material is convenient for storage and transportation, and its quality can better meet production needs.
The disc granulation adopts an overall arc structure and 3 outlets. This is conducive to the convenience of intermittent production operations and greatly improves production efficiency.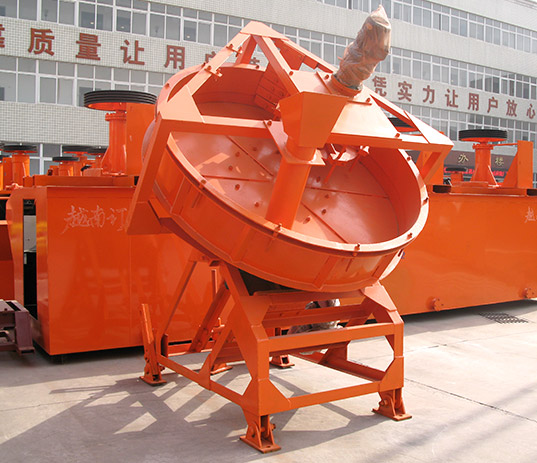 Granulation rate (ball formation rate): 93% or above
Capacity: 4-24 t/h
Automatically grading according to the particle size.
Obtaining high-strength round product particles.
Intuitive operation and easy maintenance.
4. Dryer — removing the water from LECA
The FTM Machienry Rotary Drum Dryer is mainly used for drying materials with certain moisture or particle size in the mineral processing, building materials, metallurgy, and chemical industry.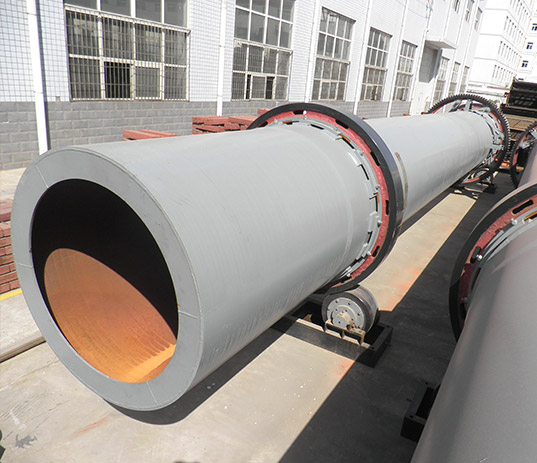 Max. productivity: 76 t/h
Max. intake air temperature: 850°C
High drying efficiency to control the product moisture within 8%.
Strong drying ability to eliminate the sticking on the inner wall of the cylinder.
Using the alloy steel plate drying cylinder to improve the wear resistance to 5 times.
5. Rotary kiln — sintering LECA
Sintering is crucial in the manufacture of expanded clay aggregates as it determines the properties of LECA. The expansion increases with increasing temperature until just below the melting point of the particular clay (melting point varies according to the clay type).
The FTM Machienry Rotary Kiln is the most necessary machinery for sintering. It is an environmentally friendly heat treatment furnace designed for particularly demanding applications.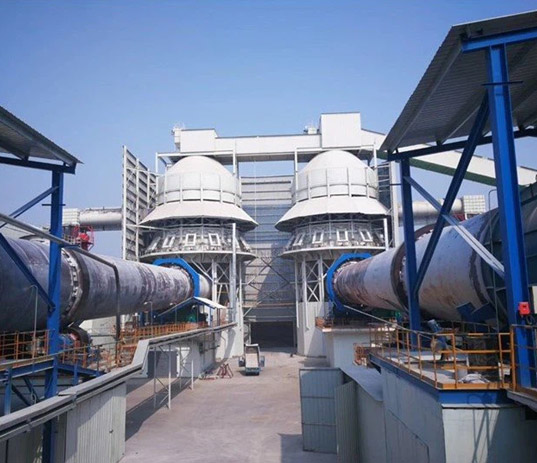 Output: 10,000 t/d
Even heat distribution and low heat consumption.
stable size, high strength, and easy processing.
Adjustable heating temperature and rotation speed.
Using 70% alumina grade refractory lining to extend the service life.
Combined scale seal, environmental protection, and safety.
6. Cooler — cooling LECA fastly
The FTM Machinery Cooler is an important equipment in the rotary kiln system. The clinker from the rotary kiln (1000°C-1200°C) is fully exchanged with the air through the cylinder rotating belt to cool the material to below 200°C, at the same time improving clinker quality and grindability.
Advantages: High thermal efficiency, high clinker quality, rapid cooling, and improved operation rate.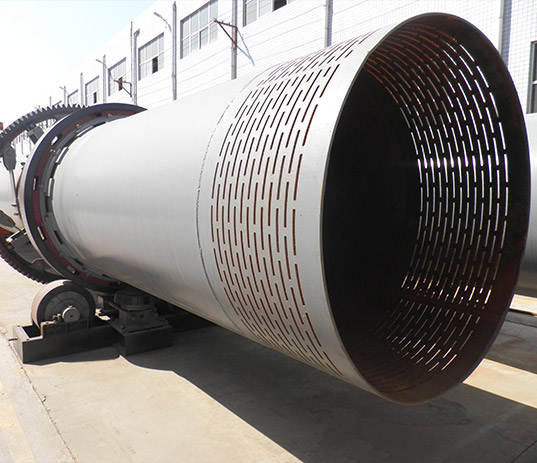 01 type: 0.45-0.9 mm (20-40 mesh) High strength with middle density
02 type: 0.9-1.25 mm (16-20 mesh) High strength with middle density
03 type: 1.0-1.70 mm (12-18 mesh) High strength with middle density
04 type: 0.224-0.65 mm (40-60 mesh) High strength with middle density
7. Trommel screen — separating unqualified LECA
The FTM Machinery Trommel Screen is a new type of self-cleaning screen, which can screen materials with a particle size of 50-150 mm. The output is related to the screen size: 2 mm sieve for 19.2-56 t/h and 30 mm screen for 280 t/h.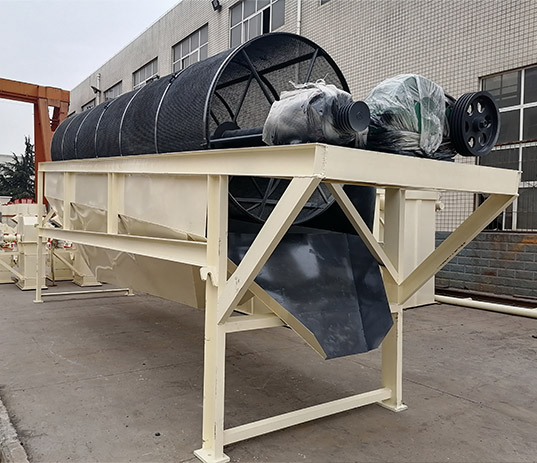 High screening efficiency to remove buildup and prevent clogging.
Various and smooth feeding methods.
Low energy consumption to make the material running time half of the other screen types.
Sealed with an isolation cover, no dust pollution.
Smooth operation and low noise.
LECA machine manufacturer recommended — FTM Machinery
FTM Machinery is a professional supplier of lightweight expanded clay aggregate machinery and equipment, with more than 30 years of experience. Through continuous exploration and research, we have achieved remarkable results on the LECA production line.
All the mining equipment is of high quality, with significant advantages, and at reasonable prices. If you have any demand for the LECA production line, welcome to consult us.