What is a rotary kiln?
Rotary kiln is a kind of thermal processing equipment for drying, calcining, sintering and pyrolyzing raw materials or wastes to reuse or reduce environmental pollution.
Rotary kilns can be divided into cement kilns and metallurgical chemical kilns according to different materials.
Cement kilns are mainly used for making cement clinker. There are two methods of manufacturing cement clinker: the wet process and the dry process.
Metallurgical chemical kilns are mainly used for the roasting of lean iron ore, chromium, nickel iron ore and hematite, etc.
Design and structures of rotary kiln
Main parts of rotary kiln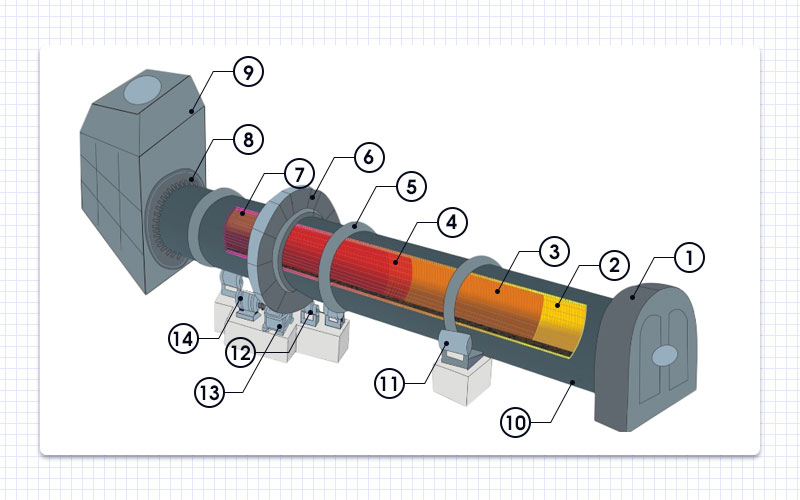 image from: http://www.cementmillequipment.com
1.kiln hood
2. cooler chute
3. cylinder
4.transmitter
5. tire
6.large ring gear
7. preheating part
8. back end seal
9. back end chamber
10.motor
11.reducer
12. pinion
13. thrust roller
14. kiln shell
Kiln shell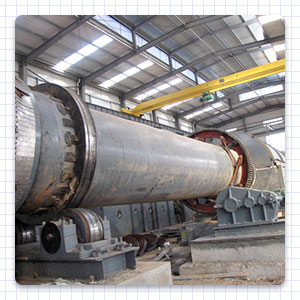 It is made of mild steel plate, and the longitudinal and circumferential gaps of the barrel are automatically welded.
As you can see, there are two solid tires on the shell, their function is to ensure the rigidity of the cross section and reduce the force on the supporting devices. Because when the rotary kiln runs, the thermal expansion will cause distortion of shell, and installation of the two solid tires ideally solve the problem.
Refractory lining
Refractory lining is important to prolong the longevity of the rotary kiln. Its main function is to prevent the whole body from corroding by chemical reaction between high temperature gas and material.
The refractory can be treated as thermal media because it can absorb part of the heat and transfer it to the material by different conduction and radiation ways. So, refractory material is capable of realizing thermal insulation to protect the whole machine.
After the repeated tests by Fote experts, they find that:
Aluminum-silicon refractory bricks are suitable for cylinder, transmitter, and the entire precalciner kiln firing system.
On the upper transition zone near the firing zone, the material of refractory lining must withstand the flame temperature up to 20000°C and material temperature of 1350~1400°C.
In addition, it also faces the challenge of corrosion caused by sulfur-alkali compounds and clinker liquid. Finally, they found that only alkaline refractory brick can meet the strict requirements.
Insulation and refractory materials
The remarkable characteristics insulating refractory material are high porosity with large diameter and thermal insulation performance. Because of its low volume density and light weight, it is usually applied as a lightweight refractory.
In addition, Fote rotary kiln is equipped with an infrared scanner, which is mainly used to warn of hot spots as early as possible to register whether the refractory material has failed.
The complete driving parts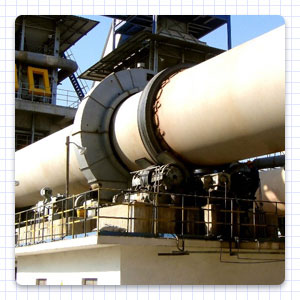 The complete drive parts consist of main drive and auxiliary drive. The main drive consists of drive reducing gear, open gearing, flexible coupling.
The auxiliary drive includes reducing gear, motor and brake which is used for rotary prevent the kiln body from reversing under the weight of materials and kiln skin after the motor stops.
The auxiliary motor is also equipped with a brake to prevent the kiln body from reversing caused by weight of materials and kiln cover.
The pinion gear engineered by the company experiences the fine process and high-frequency quenching, which enhances the hardness of the tooth up to HRC (40-50). Through this heat treatment, the service life of the pinion can be increased by nearly five times.
Working principle of a rotary kiln

1

The raw materials are fed into the kiln body from the high end of the feeder.

2

Due to the inclined rotary kiln and slow rotation, the material not only rolls in the circumferential direction, but also moves from the high end to the low end along the axial direction.

3

The raw materials are preheated and calcined in the kiln.

4

The burned materials are discharged from the lower end of the kiln barrel to enter the next process.
What is a rotary kiln used for?
Calcination
It is the process that heating a material to a certain temperature for chemical dissociation. The method is widely used to calcinating limestone, dolomite for making hydrated lime or cement clinker.
Thermal Desorption
This is another separation process which adopts heat to drive off a volatile component. The most common rotary kiln used in this process is an indirect rotary kiln which is designed according to physical and chemical properties and calcination curve of raw materials.
The most important feature of the indirect rotary kiln is supplying the heat desorption, and material has no contact with the flame.
Thermal desorption is best to process non-metallic minerals like Kaolin, as well as agricultural waste, mineral coatings, sewage sediments.
Organic combustion
When the waste is bulky and difficult to handle, it is processed in the furnace to become ashes which is much less in mass and volume than before. So, organic combustion allows the waste to be deposited more efficiently in the landfill.
Advantages of rotary kilns
The use of rotary kiln technology shows following advantages:
1

The kiln body uses three forms of heating which are calcining, sintering and pyrolyzing to make even heat distribution.

2

The equipment runs smoothly, with low failure rate and high operating rate.

3

It also can ensure high production efficiency, large output, stable product quality and excellent performance.

4

People can effectively and easily control the roasting process by manipulating the hydraulic push rod of the preheater in the lower part of the silo

5

It strictly meet the requirements of environmental protection due to installation of high-efficiency heat exchanger, dust collector, and world-leading seal system.
How much is a rotary kiln system?
The final price of a rotary kiln depends on the production requirements. Fote rotary kiln manufacturer provides you the most reasonable prices according to the follow three different production ranges, and the machine can also be customized according to customer specific requirements.
Small output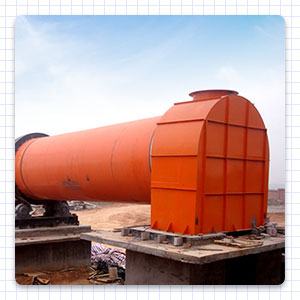 Capacity(t/d): 180-800
Diameter(m): Φ2.5×40-Φ3.0×60
Motor power(kw): 55-100
Total weight(t): 149.61-310
price range(usd): $5000-$95000
Middle- sized production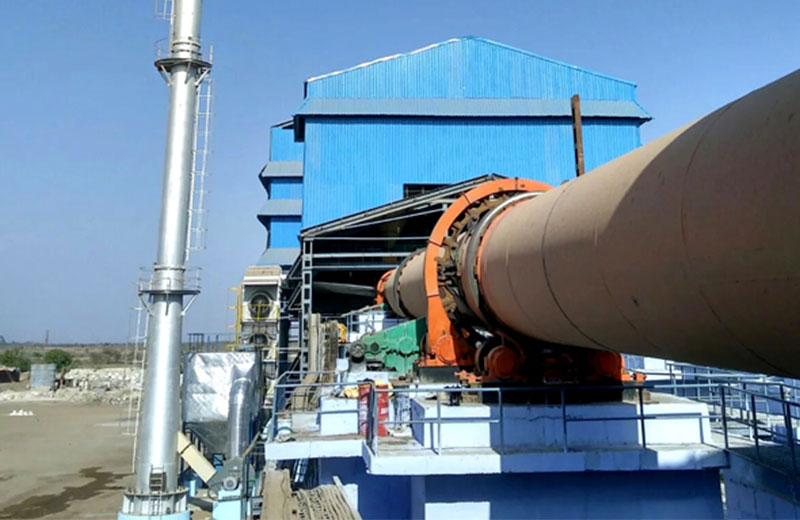 Capacity(t/d): 1000-3200
Diameter(m): Φ3.2×50-Φ4.3×60
Motor power(kw): 125-375
Total weight(t): 278-583
price range(usd): $100, 000-$130,000
Large output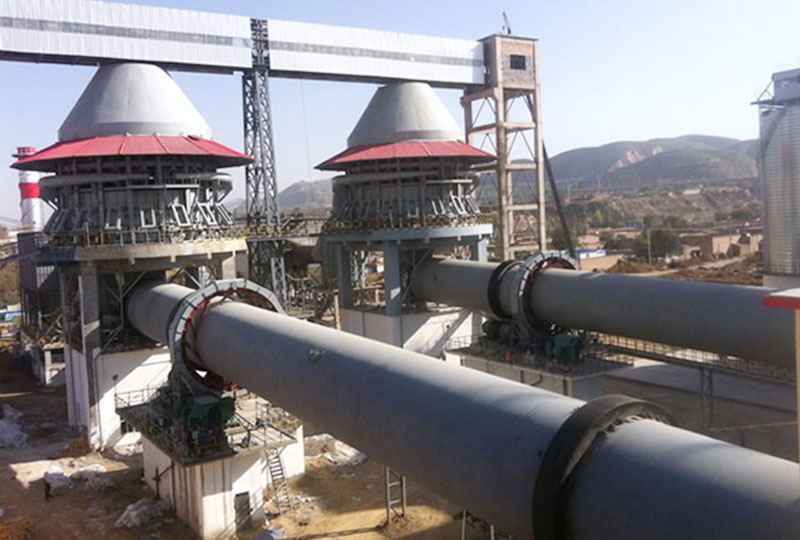 Capacity(t/d): 4000-10000
Diameter(t/d): Φ4.5×66-Φ6.0×95
Motor power(kw): 560-950*2
Total weight(t): 710.4-1659
price range(usd): $150,000-$300,000
Successful customers' cases
Indonesian customers purchased a cement rotary kilnYes! I'm interested.
Our Indonesia client Mr. Cokorda needs to process limestone with production 650 t/h. After on-site survey, and the customer's output requirements, we recommend him a cement rotary kiln with small diameter.
Diameter: Φ3.0×60
Preheater: Grate, Gas-Suspension
Heating types: direct rotary kiln
Heating method: counter current
Temperature range: 1050-1150℃
Indian customer purchased a metallurgical chemical rotary kiln
Another client is Mr. Makongi from India. He needs to iron ores with output requirement 1000t/h, so he wants to buy a metallurgical chemical kiln. We recommended him the middle-sized model Φ3.2×50.
The working principle of the rotary kiln is removing oxygen from the ore composition through carbon monoxide. Finally, this metallurgical chemical kiln ideally reduced and roasted of hematite-containing materials to produce magnetite.
Diameter: Φ3.2×50
Temperature range: 800-1200℃
Fuel: Crude gas
Coal ash melting point: > 1200°C,
Oxidation degree of crude gas: <15%,
Pressure: 0.1~4MPa
Fote rotary kiln price: Get Latest Price
Parameter
Product
Specification
(m)
Kiln dimensions
Motor
power
(kw)
Total
weight
(t)
note
Diameter
(m)
Length
(m)
Obliquity
(%)
Capacity
(t/d)
Rotation
speed
(r/min)
Φ2.5×40
2.5
40
3.5
180
0.44-2.44
55
149.61

-----

Φ2.5×50
2.5
50
3
200
0.62-1.86
55
187.37
-----
Φ2.5×54
2.5
54
3.5
280
0.48-1.45
55
196.29

outside

disassemble

kiln

Φ2.7×42
2.7
42
3.5
320
0.10-1.52
55
198.5
------
Φ2.8×44
2.8
44
3.5
450
0.437-2.18
55
201.58

outside

disassemble

kiln

Φ3.0×45
3
45
3.5
500
0.5-2.47
75
210.94
------
Φ3.0×48
3
48
3.5
700
0.6-3.48
100
237

outside

disassemble

klin

Φ3.0×60
3
60
3.5
800
0.3-2
100
310
------
Φ3.2×50
3.5
50
4
1000
0.6-3
125
278

disassemble

klin

Φ3.3×52
3.3
52
3.5
1300
0.266-2.66
125
283

kiln with

preheater

precalcine

Φ3.5×54
3.5
54
3.5
1500
0.55-3.4
220
363

kiln with

prehrater

precalcine

Φ3.6×70
3.6
70
3.5
1800
0.25-1.25
125
419

Generating

klin for

usimg ofterheat

Φ4.0×56
4
56
4
2300
0.41-4.07
315
456

klin with

prehrater

precalcine

Φ4.0×60
4
60
3.5
2500
0.396-3.96
315
510

klin with

prehrater

precalcine

Φ4.2×60
4.2
60
4
2750
0.41-4.07
375
633

klin with

prehrater

precalcine

Φ4.3×60
4.3
60
3.5
3200
0.396-3.96
375
583

klin with

prehrater

precalcine

Φ4.5×66
4.5
66
3.5
4000
0.41-4.1
560
710.4

klin with

prehrater

precalcine

Φ4.7×74
4.7
74
4
4500
0.35-4
630
849

klin with

prehrater

precalcine

Φ4.8×74
4.8
74
4
5000
0.396-3.96
630
899

klin with

prehrater

precalcine

Φ5.0×74
5
74
4
6000
0.35-4
710
944

klin with

prehrater

precalcine

Φ5.6×87
5.6
87
4
8000
Max4.23
800
1265

klin with

prehrater

precalcine

Φ6.0×95
6
95
4
10000
Max5
950×2
1659

klin with

prehrater

precalcine
Product
Specification
(m)
Capacity
(t/d)
Rotation
speed
(r/min)
Φ2.5×40
180
0.44-2.44
Φ2.5×50
200
0.62-1.86
Φ2.5×54
280
0.48-1.45
Φ2.7×42
320
0.10-1.52
Φ2.8×44
450
0.437-2.18
Φ3.0×45
500
0.5-2.47
Φ3.0×48
700
0.6-3.48
Φ3.0×60
800
0.3-2
Φ3.2×50
1000
0.6-3
Φ3.3×52
1300
0.266-2.66
Φ3.5×54
1500
0.55-3.4
Φ3.6×70
1800
0.25-1.25
Φ4.0×56
2300
0.41-4.07
Φ4.0×60
2500
0.396-3.96
Φ4.2×60
2750
0.41-4.07
Φ4.3×60
3200
0.396-3.96
Φ4.5×66
4000
0.41-4.1
Φ4.7×74
4500
0.35-4
Φ4.8×74
5000
0.396-3.96
Φ5.0×74
6000
0.35-4
Φ5.6×87
8000
Max4.23
Φ6.0×95
10000
Max5