The Category and Functions of Rotary Kiln:
Rotary kiln belongs to building material equipment, which can be divided into cement kiln, metallurgy chemical kiln and lime kiln according to different materials. It is mainly used for raising the materials to a high temperature in a continuous process.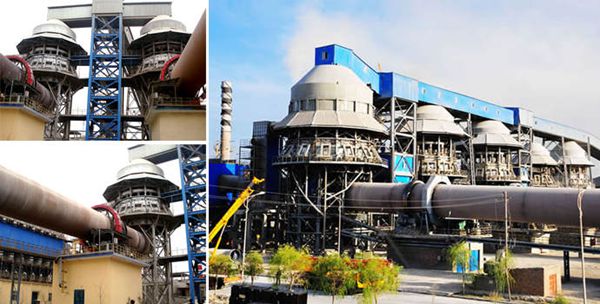 The Advantages and Benefits of Rotary Kiln:
Using energy-saving way of calcination.
Dust removal system makes flue gas and dust keep clever collocation, flue gas emissions meet standards.
Distributing equipment has unique structure and uniform distributing quantity.
Uniform wind supplying maintains good furnace condition.
Advanced control in furnace condition, short adjusting time.
Applications of Rotary kiln:
Rotary kiln is a kind of thermal equipment, it is widely used in the fields of cement, nonferrous metallurgy, ferrous metallurgy, refractory material, chemical materials, papermaking.
Parameter
Product
Specification
(m)
Kiln dimensions
Motor
power
(kw)
Total
weight
(t)
note
Diameter
(m)
Length
(m)
Obliquity
(%)
Capacity
(t/d)
Rotation
speed
(r/min)
Φ2.5×40
2.5
40
3.5
180
0.44-2.44
55
149.61

-----

Φ2.5×50
2.5
50
3
200
0.62-1.86
55
187.37
-----
Φ2.5×54
2.5
54
3.5
280
0.48-1.45
55
196.29

outside

disassemble

kiln

Φ2.7×42
2.7
42
3.5
320
0.10-1.52
55
198.5
------
Φ2.8×44
2.8
44
3.5
450
0.437-2.18
55
201.58

outside

disassemble

kiln

Φ3.0×45
3
45
3.5
500
0.5-2.47
75
210.94
------
Φ3.0×48
3
48
3.5
700
0.6-3.48
100
237

outside

disassemble

klin

Φ3.0×60
3
60
3.5
800
0.3-2
100
310
------
Φ3.2×50
3.5
50
4
1000
0.6-3
125
278

disassemble

klin

Φ3.3×52
3.3
52
3.5
1300
0.266-2.66
125
283

kiln with

preheater

precalcine

Φ3.5×54
3.5
54
3.5
1500
0.55-3.4
220
363

kiln with

prehrater

precalcine

Φ3.6×70
3.6
70
3.5
1800
0.25-1.25
125
419

Generating

klin for

usimg ofterheat

Φ4.0×56
4
56
4
2300
0.41-4.07
315
456

klin with

prehrater

precalcine

Φ4.0×60
4
60
3.5
2500
0.396-3.96
315
510

klin with

prehrater

precalcine

Φ4.2×60
4.2
60
4
2750
0.41-4.07
375
633

klin with

prehrater

precalcine

Φ4.3×60
4.3
60
3.5
3200
0.396-3.96
375
583

klin with

prehrater

precalcine

Φ4.5×66
4.5
66
3.5
4000
0.41-4.1
560
710.4

klin with

prehrater

precalcine

Φ4.7×74
4.7
74
4
4500
0.35-4
630
849

klin with

prehrater

precalcine

Φ4.8×74
4.8
74
4
5000
0.396-3.96
630
899

klin with

prehrater

precalcine

Φ5.0×74
5
74
4
6000
0.35-4
710
944

klin with

prehrater

precalcine

Φ5.6×87
5.6
87
4
8000
Max4.23
800
1265

klin with

prehrater

precalcine

Φ6.0×95
6
95
4
10000
Max5
950×2
1659

klin with

prehrater

precalcine
Product
Specification
(m)
Capacity
(t/d)
Rotation
speed
(r/min)
Φ2.5×40
180
0.44-2.44
Φ2.5×50
200
0.62-1.86
Φ2.5×54
280
0.48-1.45
Φ2.7×42
320
0.10-1.52
Φ2.8×44
450
0.437-2.18
Φ3.0×45
500
0.5-2.47
Φ3.0×48
700
0.6-3.48
Φ3.0×60
800
0.3-2
Φ3.2×50
1000
0.6-3
Φ3.3×52
1300
0.266-2.66
Φ3.5×54
1500
0.55-3.4
Φ3.6×70
1800
0.25-1.25
Φ4.0×56
2300
0.41-4.07
Φ4.0×60
2500
0.396-3.96
Φ4.2×60
2750
0.41-4.07
Φ4.3×60
3200
0.396-3.96
Φ4.5×66
4000
0.41-4.1
Φ4.7×74
4500
0.35-4
Φ4.8×74
5000
0.396-3.96
Φ5.0×74
6000
0.35-4
Φ5.6×87
8000
Max4.23
Φ6.0×95
10000
Max5