In which industry is limestone mainly used?
The answer is the cement industry.
Limestone plays two major roles in the cement manufacturing process, one is used as a raw material for cement clinker, and the other is used as a cement admixture.
Limestone is one of the key raw materials of cement clinker. Around 80-90% of the raw material for the kiln feed is limestone.

Limestone is also a favored mineral admixture in cement for sustainability.
Let's start with limestone as a raw material of cement.
1. What makes limestone a special raw material of cement?
Cement needs calcium, and limestone is made from calcium-rich shells and skeletons of prehistoric sea creatures. It is the calcium in cement that gives its properties to help form concrete.
2. How is limestone used to make cement?

Step 1. Limestone mining
Cement manufacturing starts from the mining of raw materials, mainly, limestone and clay. Generally, the mining method of limestone is open pit mining. There are some underground limestone mines, but most of them are pits on the surface.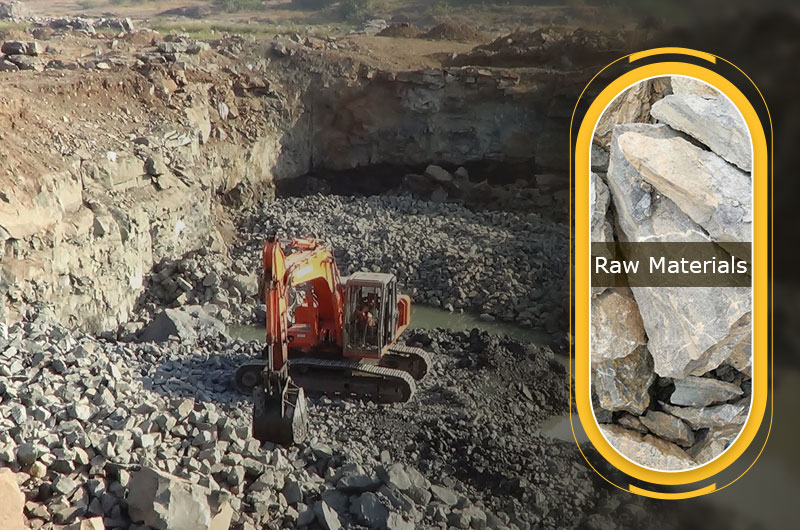 Step 2: Limestone crushing
Most of the limestone rocks mined from the mine by blasting have large particle sizes. Therefore, it is necessary to use limestone crushers to crush them into uniform small blocks or granules, which is convenient for homogenization and subsequent calcination and grinding.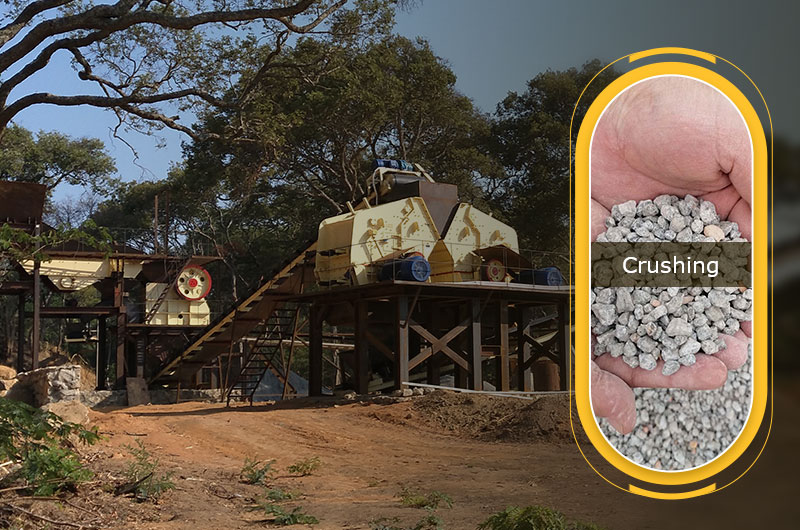 Most cement plants use jaw crushers for primary crushing, use hammer crushers and impact crushers for secondary crushing.
Step 3: Cement raw material homogenization and fine grinding
The cement raw materials (limestone, clay, etc.) are sent to the batching station for homogenization, and then the homogenized raw materials are sent to a ball mill for fine grinding according to a certain feeding amount to obtain raw meals.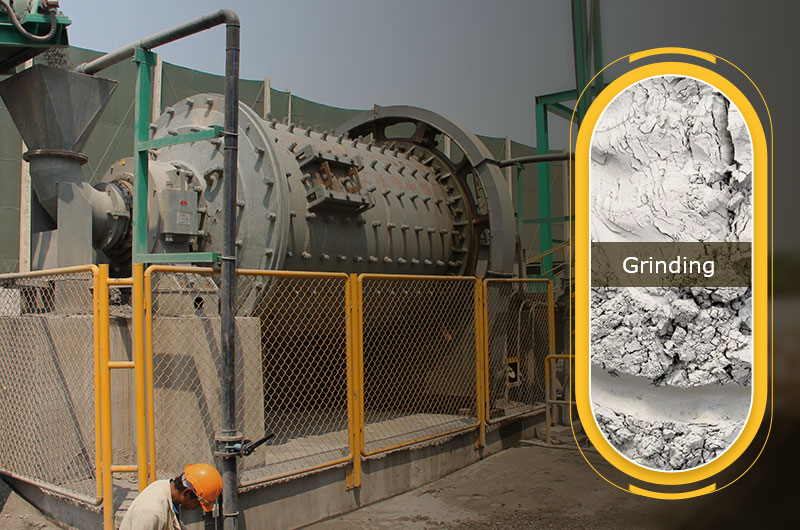 Step 4: Clinker calcination
The raw meal is fed into a cement kiln where it is heated to a sintering temperature of up to 1450 °C. In this process, the chemical bonds of the raw materials are broken down and then they are recombined into new compounds. The result is called clinker, which are rounded nodules between 1mm and 25mm across.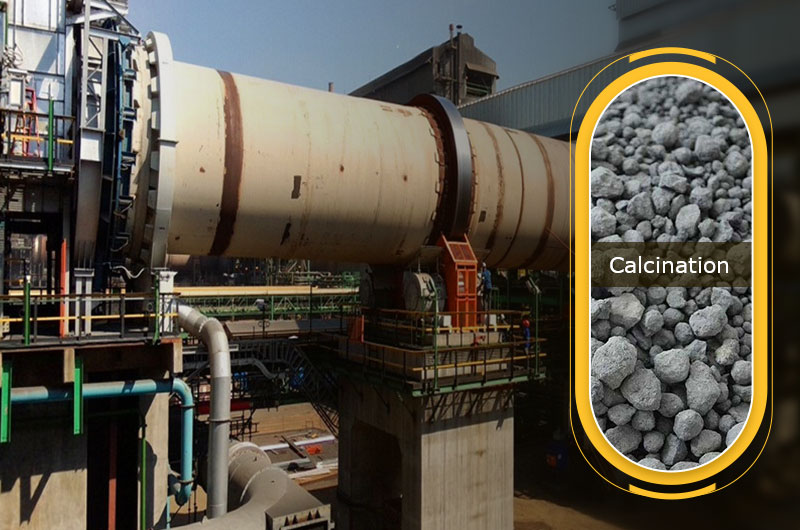 Step 5: Cement grinding
After mixing with gypsum and admixtures, the clinker is sent to a cement mill for grinding. Cement grinding can be carried out either in an integrated cement plant or in a stand-alone cement grinding station.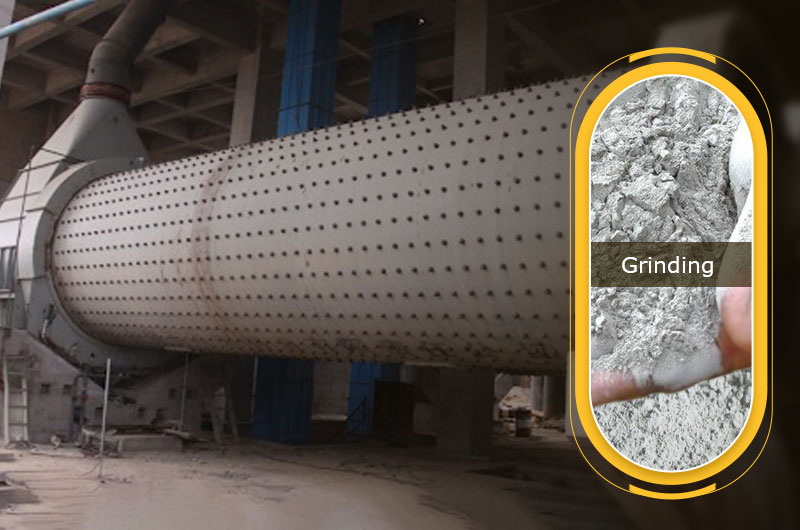 3. What should limestone be mixed with to make cement?
This needs to start with the cement composition. Cement is made through a tightly controlled chemical combination of calcium, silicon, aluminum, iron, and other components.
Lime or calcium oxide, CaO: from limestone, chalk, shells, shale, or calcareous rock;
Silica, SiO2: from sand, old bottles, clay, or argillaceous rock;
Alumina, Al2O3: from bauxite, recycled aluminum, or clay;
Iron, Fe2O3: from clay, iron ore, scrap iron and fly ash;
Gypsum, CaSO4.2H20: found together with limestone.
Now, let's dive into the utilization of limestone powder as a mineral admixture in cement.
4. Why is it popular to add limestone powder to cement?
The use of limestone powder to replace part of the cement clinker to produce Portland limestone cement (PLC) has become increasingly popular. Portland limestone cement is popular for three reasons.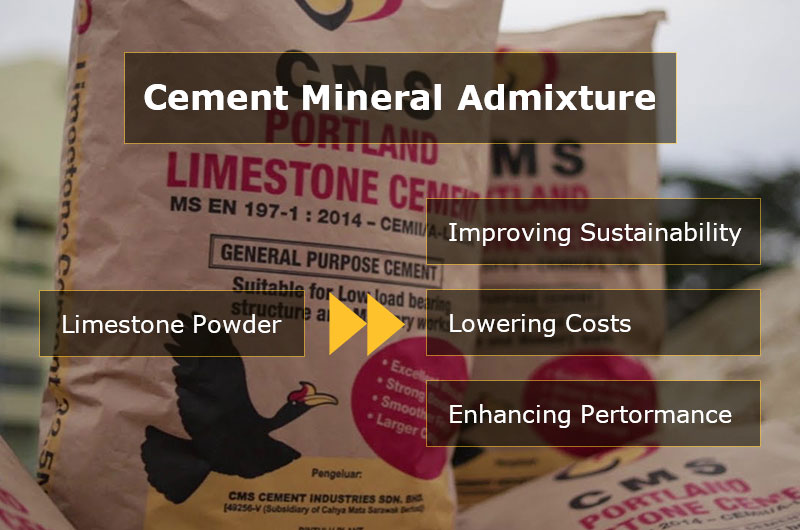 1) When burning to form cement clinker, it consumes a lot of energy and releases a lot of carbon dioxide. Replacing cement clinker with limestone powder reduces carbon footprint by 10%. This increased focus on sustainability is one of the reasons why it has grown in popularity.
2) Not only is Portland limestone cement more sustainable, but it can often be less expensive than traditional cement as well. Replacing some of the high-cost clinkers with cheap limestone can greatly reduce the cost of cement.
3) Portland limestone cement performs equally well. Extensive performance testing has been conducted by Holcim (US) and many other companies with generally good results. PLC performance is essentially equivalent to that of ordinary cement from the same plants in terms of shrinkage, permeability, freeze-thaw resistance, and resistance to salt scaling, with even slight enhancements in some cases.
5. When and how much limestone powder is mixed to make cement?
Add limestone powder after cooling the clinker. Then feed the mixture into a cement mill for fine grinding.
Portland-limestone cement (PLC) Type IL is governed by ASTM C595 or AASHTO M 240 Standard Specification for Blended Hydraulic Cements. It is a blended cement manufactured with a limestone content between 5% and 15%.

➢ Necessary matters about limestone grinding
Conclusion
As an important cement raw material and cement admixture, the importance of limestone to the cement industry is self-evident. Therefore, making full use of limestone resources can guarantee productivity and sustainability of cement plants.
If you own limestone rocks and want to process them into limestone chips or limestone powder for cement plants, contact us! As a professional manufacturer of building materials equipment, Ftmmachinery can provide robust limestone crushers, limestone grinders, cement mills, etc.
To learn about what we can do, please click here.