What is an impact crusher?
The impact crusher is a new generation product developed by Fote Heavy Machinery in the absorption of advanced technology at home and abroad, combined with the specific industrial and mining conditions of the sand and gravel industry.
It adopts new manufacturing technology with a unique structural design, and the finished product is cubic without tension and crack.
It can crush all kinds of coarse, medium and fine materials like granite, limestone, concrete, etc. with the feed particle size not exceeding 500 mm and the compressive strength not exceeding 350 MPa.
Applications of impact crusher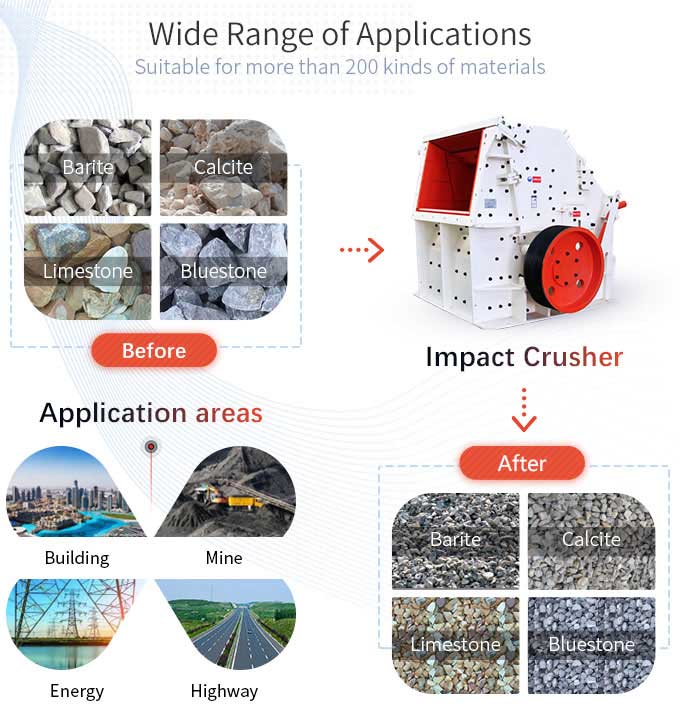 Applications of impact crusher
The impact crusher is widely used in railway, highway, energy, cement, chemical, construction and other industries. The size of the discharge material can be adjusted with diversified crushing specifications.
This series of impact crusher can process materials with side lengths of 100-500 mm.
It is suitable for crushing medium and hard materials, such as limestone from cement plants, with the advantages of large production capacity, small discharge particle size and well-shaped cubic products.
Outstanding advantages of impact crusher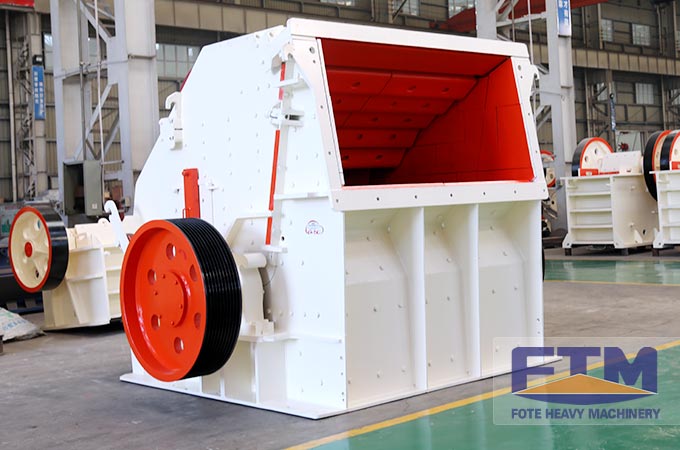 Outstanding advantages of impact crusher
1. High efficiency and energy-saving
It has a large feed port and high crushing chamber, which enables the machine to adapt hard and large materials with less product stone powder.
2. Good product size
The gap between the plate and the hammer can be conveniently adjusted, and the particle size of the discharge is effectively controlled with well-shaped size.
3. Unique structure
It has a compact and simple structure, strong machine rigidity, and large moment of inertia of the rotor with advantages of small volume, light, high production, low production cost, big feed port, the deep crushing cavity and is suitable for materials with good hardness.
4. High comprehensive efficiency
It adopts high chrome plate hammer which has functions of anti-impact and anti-wear. The minerals are crushed along the joint surface, thus realizing low power consumption and high efficiency.
Features of impact crusher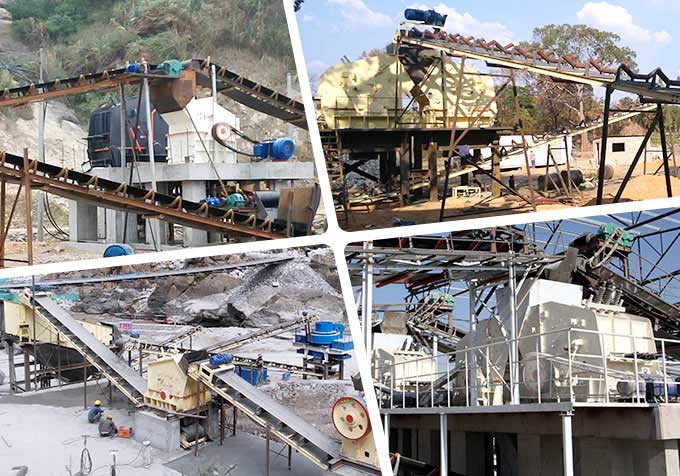 Features of impact crusher
1

The impact crusher has a high crushing ratio of 40, thus simplifying the crushing process from the three periods crushing to two or one-period crushing, which saves the equipment fee of the dressing plant.

2

It's simple to adjust the space between the impact plate and the plate hammer, so material size is easy to control and with good particle shape.

3

The chromium plate hammer is featured in shock resistance, abrasion resistance and great impacting force.

4

The whole impact crusher has realized a seamless connection which makes it easy to maintain and economical and durable to apply.

5

The impact crusher has a complete function and high production. It produces little machine parts abrasion and high overall efficiency.
The development of the crusher industry has been quite mature, but due to the increasing market demand, various types of crushing equipment with different functions appear one after another.
Among them, the emergence of jaw crusher is relatively early, has been favored by the mining industry, and the impact crusher is also widely used because of its multiple functions. So, what are the differences between the two stone crushers?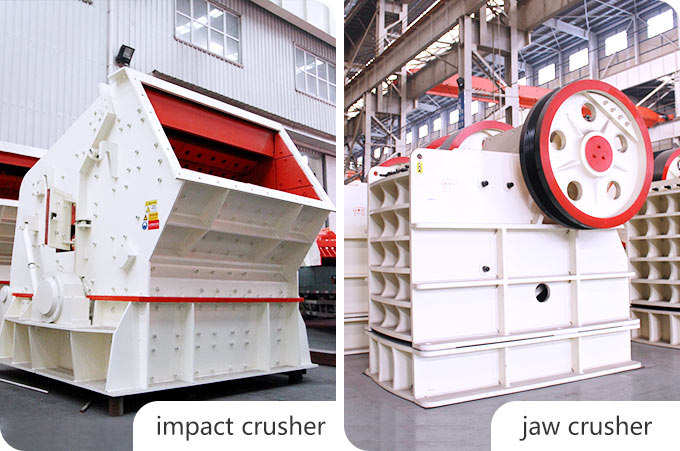 The comparison between jaw crusher and impact crusher
Impact crusher vs jaw crusher
1. The aspect of usages
Jaw crusher is generally used for primary crushing to crush large materials into small one which is suitable for secondary crush equipment, such as cone crusher, impact crusher, etc.
Impact crusher is generally not suitable for crushing marble, granite, and other too hard materials, which will greatly damage the wearing parts.
2. The aspect of working ranges
Jaw crusher is mainly used for medium-sized crushing of various ores and bulk materials, and can crush materials with compressive strength of not more than 320 Mpa, which are divided into coarse and fine broken. And as the primary crushing equipment, its feeding size is 125 mm to 750 mm.
The finished product of the impact crusher is cubic, no tension and crack, and the grain shape is quite good. It can crush all kinds of coarse, medium and fine materials (limestone, concrete, etc.) with a feed particle size not exceeding 500 mm.
3. The aspect of characteristics
Jaw crusher is mainly used as coarse and medium crusher in mines, building materials, infrastructure and other departments.
According to the width of the feed port, it is divided into three types: large, medium and small types. The feed port larger than 600 mm is large machines, 300-600 mm is medium-sized machines, and less than 300 mm is small-sized machines.
Jaw crusher has a simple structure, which is easy to manufacture, reliable in operation, and convenient to use and maintain.
Impact crusher is a new type of high-efficiency crushing equipment. It is characterized by small volume, simple structure, large crushing ratio (up to 40), low energy consumption, large production capacity, uniform product size and selective crushing functions. It is a promising stone crushing machine.
How an impact crusher works
Impact crusher on site
Stone materials fall from the upper end of the impact crusher directly into the high-speed revolution rotary table. Under the high-speed centrifugal action, these materials have a high-velocity impact with those flying stones at high speed spreading all around the turntable in an umbrella shape and get crushed in high density.
When the materials impact with each other, they will move in eddy current between the turntable and the main case of the impact crusher and then they have multiple striking, rubbing and crushing until they are discharged from the bottom tank.
The impact crusher adopts closed circuit manifold cycles and makes sure the particle size of the materials is controlled by the screening equipment.
Impact crusher for sale-purchasing tips
There are many kinds of impact crushers in the market, so what are the tips for purchasing?
1. The quality and manufacturers
Quality is the foundation and guarantee of everything, and it has an important impact on the follow-up operations. Therefore, we need to consider quality when purchasing impact crusher. At the same time, we should select the products produced by well-known manufacturers whose quality is guaranteed.
2. The models and performance
Depending on the applications, the model and performance of impact crusher are slightly different. If uniform standards are used, they will not achieve the desired products and cause resource-wasting.
For example, the impact crushers produced by Fote are divided into two series: PF and CI series. Different crushers have different processing capabilities and crushing stages. When customers choose, they need to judge according to their requirements.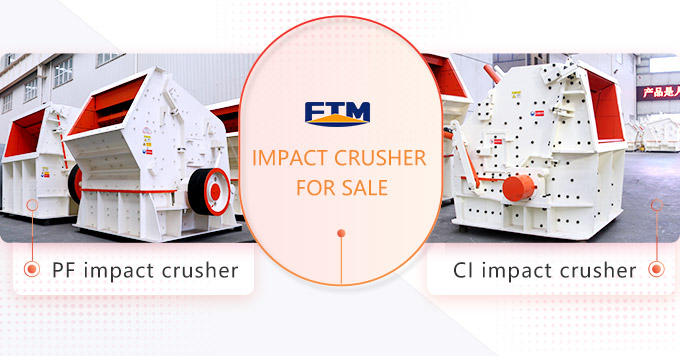 PF and CI series impact crusher
Impact crusher manufacturer
Fote Heavy Machinery originated in 1982 and has developed a sound R&D, production, sales and service system in the mining machine field. It has become a leader in the global mining machinery manufacturing industry, competing with internationally renowned companies and competing for the world market.
Mining equipment produced by Fote mainly include stone crushers like jaw crusher, impact crusher, cone crusher, etc., also contains grinding mills, beneficiation and building materials stone crusher plants. Besides, there are sand making machines, mobile crushers with various types and complete models.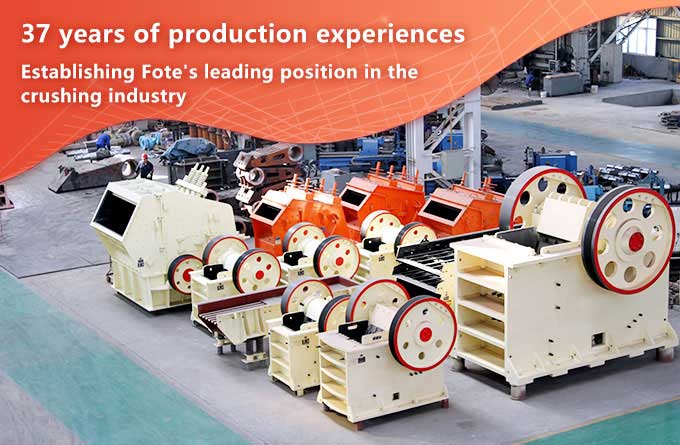 Crushers produced by FTM
Customer case-impact crusher for sale Australia
There are many resources in the wastes that can be recycled. If it is simply landfilled, it may pollute the environment.
Australia transports 4 million tons of waste each year overseas, but since China stopped receiving foreign waste, how to deal with it has become a problem for the Australian government.
An Australian company has successfully acquired resources such as sand and gravel from construction waste, and has also injected business opportunities into the local waste treatment industry.
In 2018, an Australian construction waste treatment company contacted us and hoped that we would provide an impact crusher with accessories used in construction waste crushing line. After understanding the customer's needs, Fote engineers quickly developed a crushing plan for them.
The specific information is as follows:
Project Name: 100 TPH Stone Production Line
Production capacity: 100 T/H
Raw material: Construction waste, the building block
Raw material hardness: Soft
Feeding size: ≦400 mm
Production line type: Fixed
Finished products: 4
Estimated investment: $35,000 to $63,000
The equipment has been in use for more than a year. According to the feedback from customers, the impact crusher has been running well and has brought huge benefits to them. Recently, the company has plans to continue to purchase construction waste crushers from Fote, the specific issues are being discussed in detail.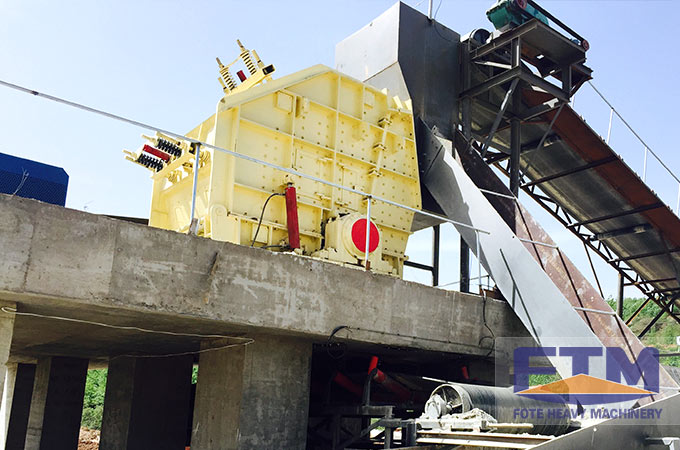 Impact crusher on working site
Parameter
PF Series Impact Crusher
CI Series Impact Crusher
Model
Specification
(mm)
Feed
opening
(mm)
The Maximum
Feeding Size
(mm)
Capacity
(t/h)
Power
(kw)
Overall
dimension
(L×W×H)
(mm)
Total
weight
(t)
PF-1007
Φ1000×700
400×730
300
30-70
4P 37-45
2330×1660×2300
12
PF-1010
Φ1000×1050
400×1080
350
50-90
4P 45-55
2370×1700×2390
15
PF-1210
Φ1250×1050
400×1080
350
70-130
6P 110
2680×2160×2800
17.7
PF-1214
Φ1250×1400
400×1430
350
80-180
6P 132
2650×2460×2800
22.4
PF-1315
Φ1320×1500
860×1520
500
100-280
6P 200
3180×2720×3120
27
PF-1320
Φ1300×2000
993×2000
500
140-380
6P 250
3220×3100×3120
34
PF-1520
Φ1500×2000
830×2040
700
200-550
4P 315-400
3959×3564×3330
50.6
PF-1820
Φ1800×2000
1260×2040
800
400-800
4P 630-710
4400×3866×4009
83.21
Model
Feed
opening
(mm)
The Maximum
Feeding Size
(mm)
Capacity
(t/h)
Φ1000×700
400×730
300
30-70
Φ1000×1050
400×1080
350
50-90
Φ1250×1050
400×1080
350
70-130
Φ1250×1400
400×1430
350
80-180
Φ1320×1500
860×1520
500
100-280
Φ1300×2000
993×20000
500
140-380
Φ1500×2000
830×2040
700
200-550
Φ1800×2000
1260×2040
800
400-800
Model
Maximum Feeding Size
(mm)
Main Motor Power
(kw)
Productive Capacity
(t/h)
Dimensions
(L ×W ×H)(mm)
CI1110
250
160
60-210
2826×2087×2285
CI1213
300
200
80-280
2903×2530×2411
CI1315
300
250
150-350
3320×2770×2535
CI1520
350
2×(200-250)
250-600
3450×3620×2770
CI1313
600
200
200-480
2972×2560×2937
CI1415
600
250
250-600
2985×2790×3068
CI1620
800
2×(200-250)
380-900
4261×3480×3780
CI2023
800
2×250
800-2000
5151×4424×4712
Model
Maximum Feeding Size
(mm)
Productive Capacity
(t/h)
CI1110
250
60-210
CI1213
300
80-280
CI1315
300
150-350
CI1520
350
250-600
CI1313
600
200-480
CI1415
600
250-600
CI1620
800
380-900
CI2023
800
800-2000