What Are the Differences Between The 7 Types of Crushers?
Author : Jordan
|
Last Updated :
All types of crushers are widely used in gravel and aggregate fields, and they are often put in use after the excavation and blasting processes.
Although their common and basic function is reducing large size of rock into small size, they are applied to different crushing stages like primary, secondary, tertiary, quaternary stages.
It is necessary to clarify what are the differences between all crusher types because any of them can maximize their value only in an optimal environment.
In the following article, I will show you the differences between the 7 types of crushers to help you choose the correct crushing equipment for your project.
Jaw rock crusher VS gyratory crusher
Different crushing principles
Jaw crusher is a compression type of crushing machine. The flywheel works together with eccentric shaft and toggle plate provides a motion which pushing moveable jaw plate towards stationary jaw dies, and during the process, a compressive force squeezes raw material.
When the size of the material is crushed smaller than the discharging size, it will be discharged from the bottom. Jaw crusher crushes on half-cycle and favors arrested crushing. The fixed jaw crusher foundation needs to be rugged to overcome the working stress.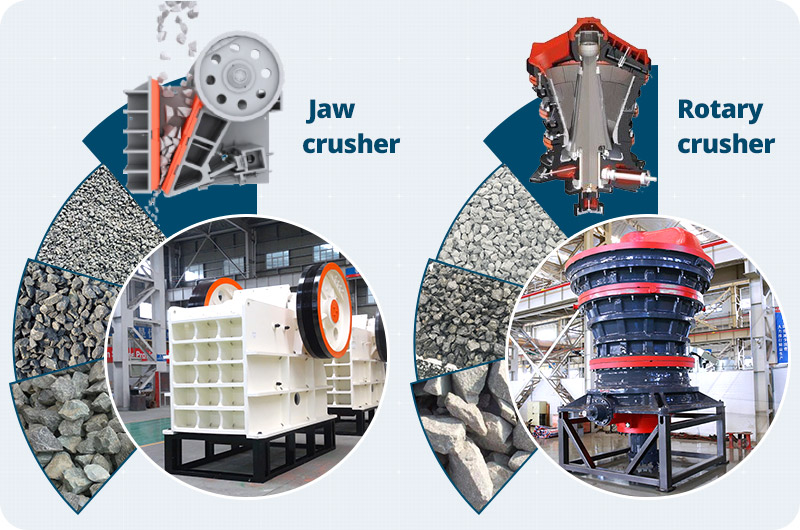 For gyratory crusher, the outer circle represents the stationary bowl covered by the concave and the inner circle represents the main shaft covered by the mantle. The main shaft rests in the eccentric bushing at the base of the crusher. As the eccentric rotates, the base of the main shaft moves in a circular path around the crusher centerline.
Viewed from the side, you can see the motion of main shaft is like that of a pendulum as the gap closes the ore is nipped and broken.
When the gap between the mantle and the concave increases, the ore material is released and falls into the crusher cavity. As the material is getting smaller, it will pass the narrower gap at the bottom and fall through the crusher. Then the discharged material is usually picked up by a feeder or conveyor belt.
In which applications do the two crushers perform best?
Both of them are used in primary crushing process and they do have common points which include that crushing speed is 100 to 200 revolutions per minute, and the crushing is completed by compression force, but they still have their unique features.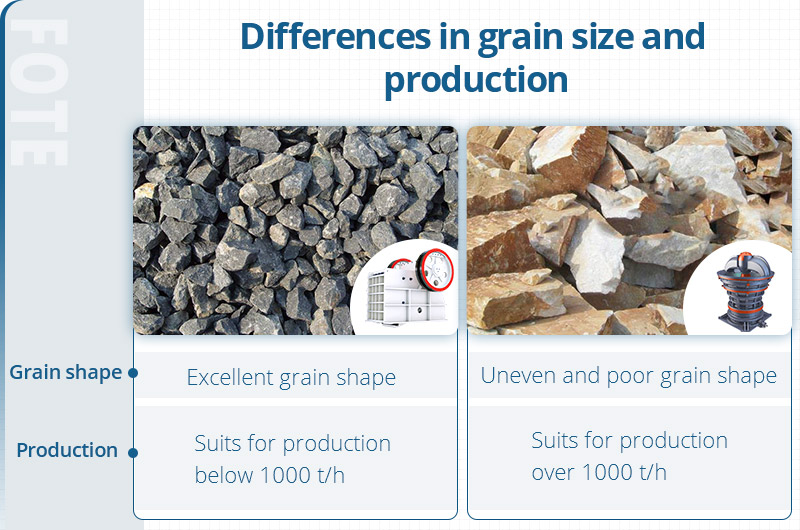 1. Differences in final product shape
The particle shape produced by gyratory crusher is not as well as that produced by jaw crusher. But the production of gyratory crusher is much higher than jaw crushers'.
Therefore, if you require a large production and no focus on particle shape, you can choose gyratory crusher, Vice versa.
If your production demands below 1000 t/h, jaw crusher is the best choice and performs better when being applied underground.
If you only want to crush more raw material with more than 1000t/h and no special demands on final particle shape, you can choose gyratory crusher. Because it can be fed with two sides, which greatly reduces crushing time and improve crushing ratio thus saving lots of energy cost.
Note:
If ton/hr<161.7(gape in meters)∧2, use a jaw crusher.
If ton/hr>161.7(gape in meters)∧2, use a gyratory crusher.
2. Differences in installation and maintenance
A jaw crusher can be sectionalized, therefore it is advantageous to install jaw crusher in remote locations, underground. Jaw crusher machine installation cost is relatively higher than gyratory crusher while its investment and maintenance cost is much lower than that of gyratory crusher.
Jaw crusher and gyratory crusher process granite (with videos)
Granite one of the stones that is hard, abrasive and with high compressive strength, and it needs jaw crusher or gyratory crusher to make a primary process.
Gyratory crusher crushes granite in China
Just like the video shows to us that gyratory crusher is often installed in the hole to make loader trucks directly feed without vibrating feeder. Raw material is fed into the feed opening by two sides, which produces more granite products in short time.
Jaw crusher crushes granite in the Philippines
Jaw crusher needs to work together with feeding equipment to complement the crushing process. You can see that the granite material is reduced by the compressive force generated by two jaw dies.
When the size of the material is smaller than that of discharging port, the final product will fall out of the bottom and be sent by the conveyor belt for further crushing. The ultimate mission of primary crusher is done.
Horizontal shaft impact crusher (HSI) VS cone crusher
Horizontal shaft impact crusher adopts impact force created by high-speed rotating hammer to strike and throw material. Then the crushed material will hit aprons again in the crushing chamber, which is "stone on stone" crushing way.
The outstanding feature of impact rock crusher is that it can fully utilize natural cleavage of material to produce a wonderful cubic product which is desirable for many of today's specifications.
As a secondary crusher, HSI crusher can process material with a little hardness and abrasive. It is sometimes be used in primary crushing process, but only can process soft material like limestone, gypsum.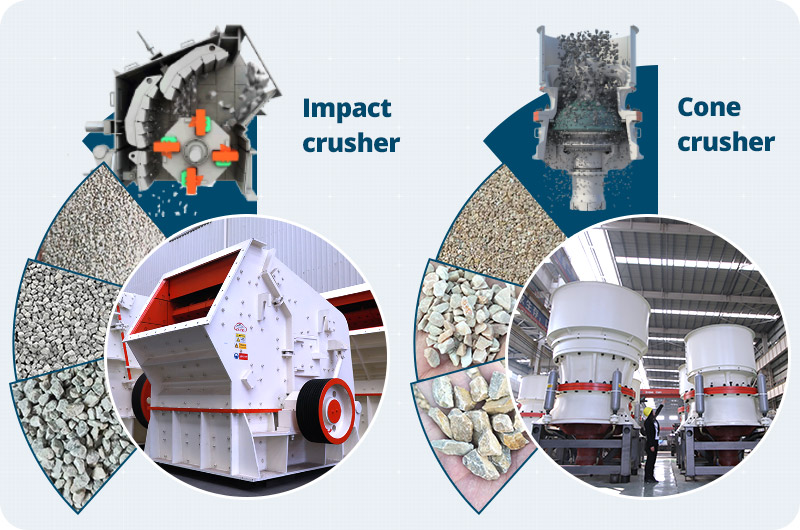 Cone crusher looks like gyratory crusher but without a steep crushing chamber. Just like jaw crusher, it is also a compression type crusher whose reduction ratio is 4:1 to 6:1.
When cone crusher works, it uses the force between moveable mantle and stationary bowl liner to crush material. As the material is getting smaller, it keeps moving down along the crushing cavity until being discharged from the discharge opening.
The final size of material is depended on the gap settings between the parts at the bottom.
How to choose the proper one for your project?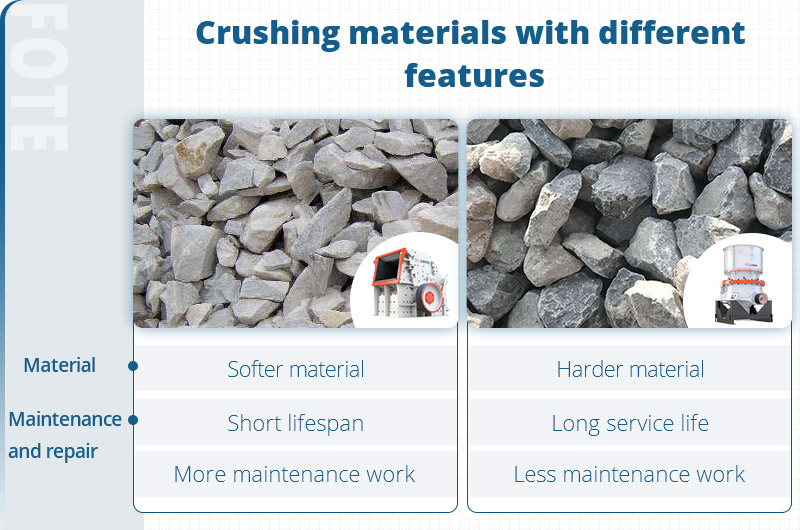 To different material
HIS crusher performs best to crush soft material like limestone, and its even and cubic- shape of the product is favored by concrete and asphalt manufacturers.
Cone crusher shows us its great value when crushing granite, pebble, marble, quartz, etc. Crushed material is widely used in installing driveways and high-speed railways.
Granite can also be applied as medium in the drainage area of a sewage system and as a base material for foundations and building boards.
Purchase and Maintenance
In the beginning, you spend more money on cone crusher than that of impact crusher. But cone crusher does not need maintenance so much because it has hydraulic system to protect the whole machine and has a longer life span.
The wear parts of impact crusher are hammer and aprons. If the machine always processes hard and abrasive material, the crucial parts wear quickly and need maintenance in a short period thus resulting in more money cost on a repair.
Therefore, choosing correct crusher machine can make your whole production smooth and effective.
Comparison of actual crushing cases of two crusher types
Cone crusher for pebble processing site in India
The classical size of pebble is 63mm-12mm. The material is very hard to process, leading to piling and land-occupied problems. The customer chose cone crusher which not only solves the problems of land waste but improves productivity by 25%. The success is due to:
Tight closed side setting (CSS)
Very high clamp pressure
Robustness of the crusher
Ability to handle variable feed
Horizontal shaft impact crusher crushing limestone
The mobile crushing equipment in Video is another type of HSI crusher, and it is very hot in the nowadays market.
This customer knows the physical characteristics of limestone (soft and less abrasive) and his crushing site situation, so he chose a mobile HSI crusher. It can not only produce the ideal cubic finished product but also reduce the closed-loop to finish the product into the final size.
Besides HSI crusher, other crusher machines also have mobile and portable types, which can greatly shorten the distance between raw material piling site and crushing site.
Roll crushers vs hammer crushers
Both are used in the secondary or tertiary crushing process but still have many differences. Roll crushers reduce material by force generated from two relatively rotating drums.
First, the material enters the feed opening along with the high-speed rotating roller drums, then it got crushed by strong compressive forces in the crushing chamber, and ultimately being discharged until its size smaller than the gap between two drums.
Roll crusher is usually used in small scale production and applied to crush abrasive ores or rocks. It can produce fine-sized product like manufactured sand and without dust spreading.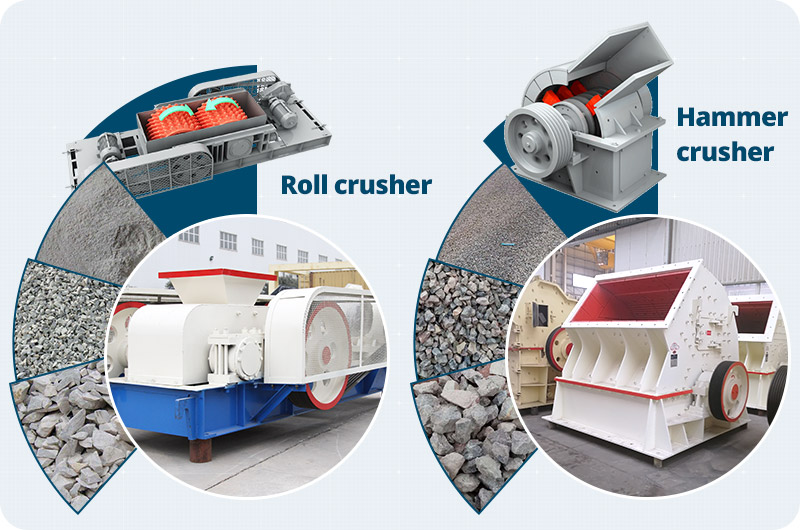 Hammer crusher is composed of high-speed rotating rotor plates where install a couple of hammers to strike the material. Its capacity is depended on the screen size that you put in the bottom.
A high-quality hammer crusher can keep final material 100% passing a twenty mesh, fifty to sixty percent passing a fifty-mesh screen. Crusher hammers are high chrome content.
The hammer service life depends on the material you process. If you're running abrasive quartz, they'll last somewhere between one to two weeks. The hammers are reversible so you can replace them easily.
When to choose roll crushers and hammer crushers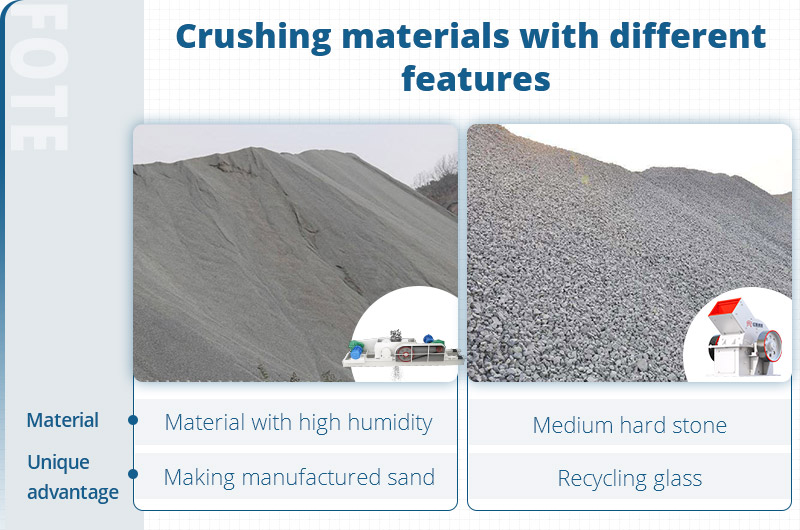 You need to consider what material to process
Roll crusher relies on its unique advantages such as less fine rate, low headroom, low horsepower, can handle materials like clay and marl with high humidity and viscosity.
In addition to crushing soft to medium hardness stones such as limestone and gypsum, a hammer crusher has unparalleled advantages in breaking glass.
Maintenance
Depending on the physical characteristics of raw material, one of the roll crusher types---double roll crusher can provide a reduction ratio with 3:1 in some applications while another type-triple roll crusher 3:1. That makes roll crusher performs also well on hard and abrasive material.
The surface of roller drum is smooth, which greatly minimizes the repair cost.
Due to hammer are parts involved in crushing and striking material, it needs careful protection and maintenance.
Rotor speed, hammer type and grate configuration can be converted to different applications. They can be used in a variety of applications, including primary and secondary reduction of aggregates and many industrial applications.
Crushing cases of the two crushers
Manufactured sand made by roll crusher in Indonesia
The video shows the double roller crusher is turning small-sized stones into manufactured sand. There is a certain gap between the two counter-rotating rollers.
Changing the gap can control the product size, shapes, and fineness modulus. Because it can produce high-fineness materials well and cost little, a lot of customers choose roll crusher to make sand.
If there are uncrushable objects, it'll be automatically removed under the action of hydraulic cylinders or springs by increasing the gap between the rollers. The hydraulic system can protect the rollers from damage.
Hammer crusher process glass in the USA
The video is offered by Mbmmllc
Glass products are common products in our lives, and its recycling rate is 100%. Of the approximately 10 million tons of glass abandoned by Americans, only one-third is recycled, and the rest ends up in landfills.
To change this phenomenon, more and more people are turning their attention to glass recycling, and the best choice for glass recycling is a hammer crusher.
Hammer crusher can crush glass products like beer bottles, waste television into glass sand which can mix and melt together with sand and other starting materials to make another use.
The infinite recycling of glass enables manufacturers, the environment, and consumers to benefit from it.
Vertical shaft impact crusher
VSI crusher is generally used for the third or fourth stage crushing after the first and second crushers, which is the final link of aggregate production. It is the best machine to produce manufactured sand even better than a roll crusher.
The final product of the VSI crusher is cubic in wonderful shape even can replace natural sand.
When raw material falls into the feed hopper, it enters rotor through the central entrance hole and then throwing high-speed rotor at the speed of 60-75m/s. When hitting anvil, it is crushed and comes downwards though the outlet.
VSI crusher or roll crusher, which is best for you?
Although the roller crusher can also be used for M sand making, the final product is not as fine as VSI and has an excellent grain shape.
Artificial sand made by VSI crusher is often used as a substitute for natural sand.
The final product crushed by the roll crusher is only suitable for aggregate manufacturers when the fineness of the sand is not high.
The final product prices of the two crushers are also different. The VSI crusher making sand is much higher than the latter.
VSI crushers make limestone into Manufactured sand in India
M sand is widely used in the Indian market, mainly due to its unique advantages.
For example, good classification according to the required ratio, no organic and soluble compounds that affect the setting time and performance of cement, and it can maintain strength when applied to concrete and asphalt.
Manufactured sand can also improve its quality and durability.
Conclusion
Different crushing equipment have its their unique advantages, and they all play the best value in their specific environment.
To choose the best equipment, you need to do a comprehensive analysis of your projects, such as material characteristics (hardness, strength, humidity), worksite (in the city center or on the mountain, or other places), cost analysis, etc.
Different conditions will result in various solutions. If you need a more detailed analysis tailored to your crushing operation, please contact Fote Company's experts. The company has more than 35 years of design and practical experience, and it helps you to make the best choice.
Share: