Nowadays, natural sand is running out by the huge demand. The natural sand resources formed by hundreds of thousands of years in many countries and regions are almost exhausted.
As a result, natural sand costs are getting higher and higher and cannot meet the increasing market demand. In this case, the artificial sand came into being.
In this article, we will introduce:
What is artificial sand?
Artificial sand, also called crushed sand, mechanical sand, or manufactured sand (M-sand), refers to rocks, mine tailings, or industrial waste granules with a particle size of less than 4.75 mm. It is processed by mechanical crushing and sieving.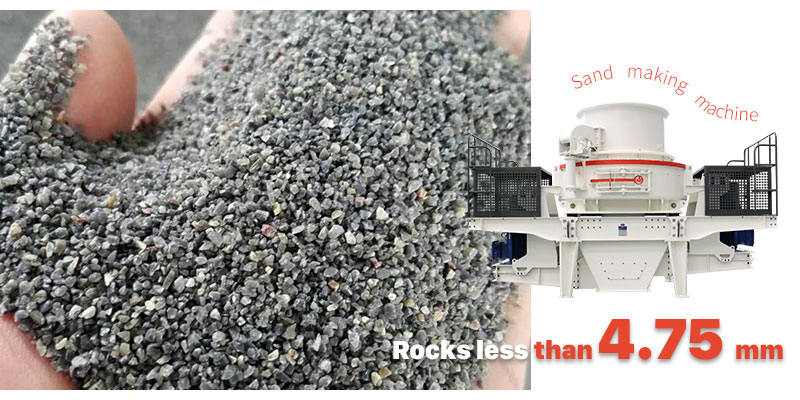 The raw materials of manufactured sand are very wide, such as river pebbles, quartz stone, granite, limestone, dolomite, basalt, construction waste, tailings, etc.
Crushed sand has high compressive strength and cohesive force, and mining river sand will adversely affect the environment. Many countries have issued laws to use crushed sand in infrastructure construction, which will greatly stimulate the demand for artificial sand.
How is the global sand aggregate market performing?
As the demand for aggregates from Asia, Africa, Latin America, Europe, etc. will continue to rise, the price of artificial sand will also increase. The outlook for the global sand and gravel aggregate market for sand and gravel is worth looking forward to.
1. Forecast of sand aggregate market around the world
According to the Aggregates Market Report, the global aggregate market size is US $507.46 billion in 2021 and is expected to reach around US $837.3 billion by 2030. The CAGR from 2022 to 2030 is 5.72%.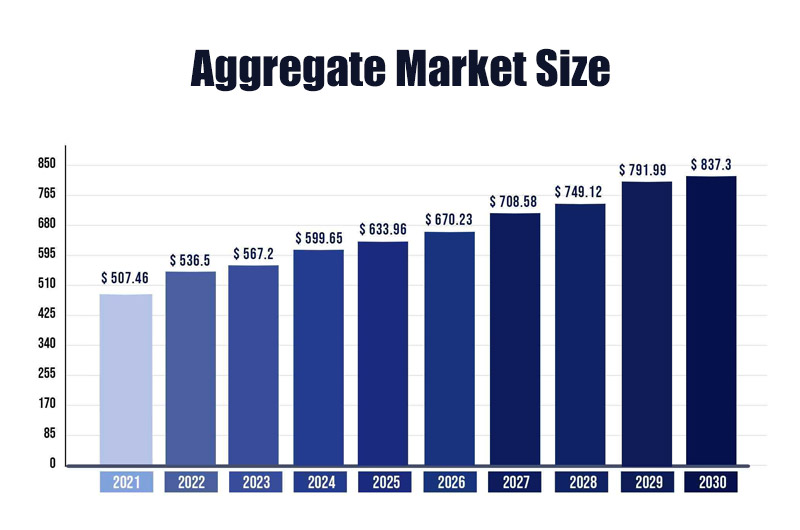 The global sand and gravel aggregate market has a bright prospect:
Asia: Many countries have experienced urbanization and infrastructure development, leading to high demand for construction materials;
Africa: Demand for aggregates will grow faster than the global average;
Latin America: Government-supported affordable housing projects boost the construction industry and gravel aggregate demand in the region;
North America: The upgrade of the construction industry will be beneficial to the sales of local aggregates;
Europe: The sand industry will usher in a new round of growth after a long period of decline, which is good news for sand and gravel suppliers.
2. China is still the country with the largest demand
The demand for aggregates of sand and gravel in the Asia-Pacific region increases the fastest in the world, and the growth rate of China, India, Vietnam, Malaysia, Indonesia, and other regions will be among the best.

Due to the economic transformation, the demand for sand and gravel aggregates in China will slow down. However, China will still be the world's largest aggregate demander, accounting for almost half of the world's total aggregate.
3. The price of artificial sand and recycled aggregate will increase
In the coming period, the use of recycled aggregates and artificial sand derived from waste concrete and slag will increase at twice the rate of natural sand.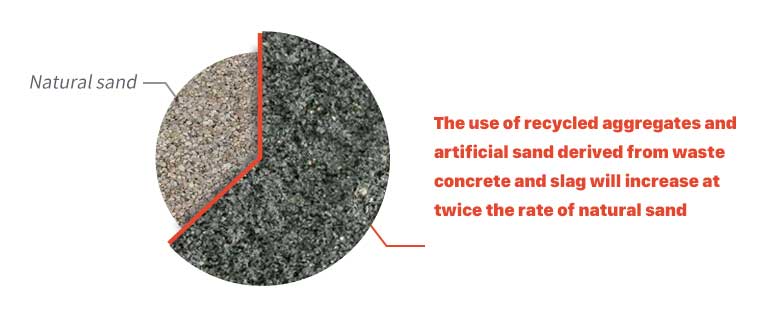 The depletion of natural sand resources will lead to a sharp increase in the price of aggregates and artificial sand. It can be seen that the profit margin of artificial sand is very large.
Artificial sand production process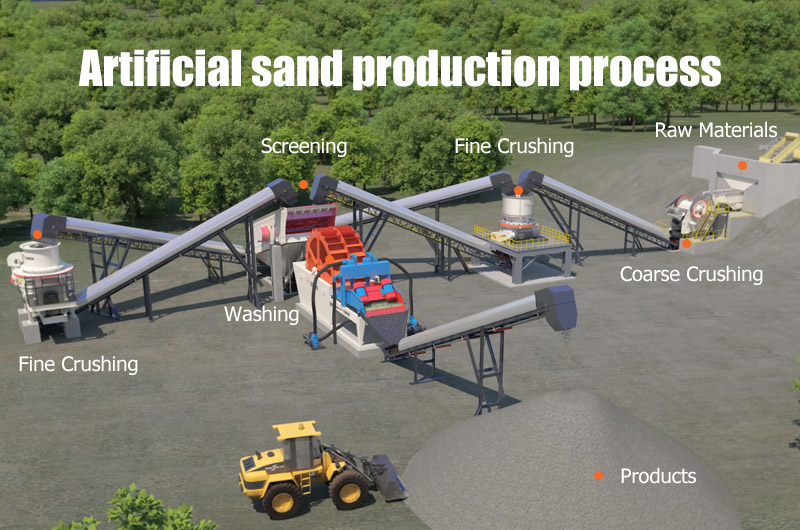 The production process of artificial sand and gravel aggregate can generally be divided into the following stages: raw materials → coarse crushing → fine crushing → screening → washing → products.
1. Feeding material
The rocks are mined from the mountain and large stones are fed into a vibrating feeder by dump trucks.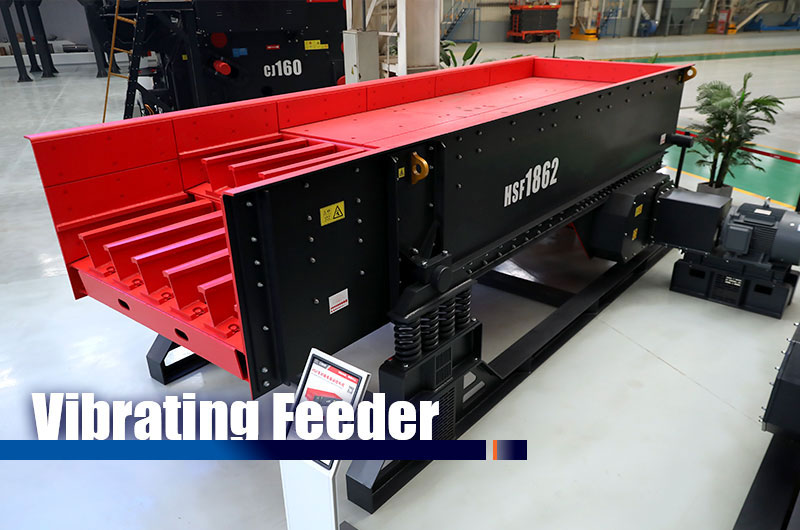 FTM Machinery vibrating feeder Get a Quote
The material in the feed trough is continuously tossed during the feeding process and has little wear.
The resonance principle of mechanical vibration is applied with excitation force up to 4.5 G.
The material flow can be changed, opened, and closed instantaneously, with high feeding accuracy.
Designed for heavy-duty working conditions, the processing capacity is up to 2,000 t/h.
2. Coarse crushing
The vibrating feeder feeds the stone evenly into the coarse crushing machines for the primary crushing of the stone.
A jaw crusher is an ideal choice for primary crushing equipment, and it is mostly used in small and medium-sized stone material factories. If the production capacity requirement is too high, greater than 2,000 t/h, it is recommended to use a gyratory crusher.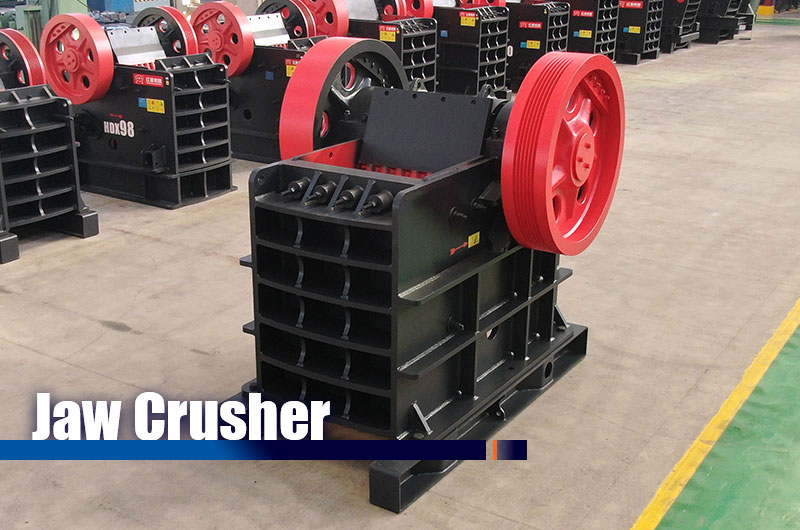 FTM Machinery jaw crusher Get a Quote
With large bearings, the crushing force is superior.
The jaw crusher has a low failure rate and reliable operation.
The maintenance cost is reduced by using the wear-resistant liner and steel toggle plate.
Standalone energy saving 15%-30% and system energy saving more than double.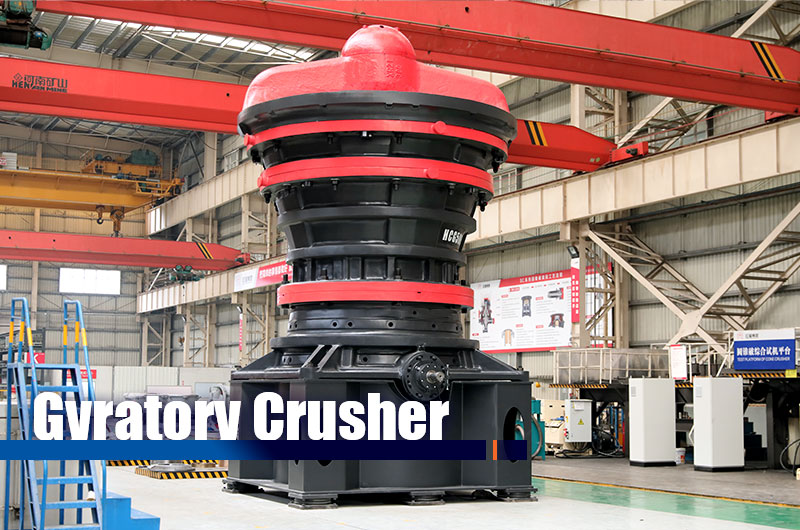 FTM Machinery gyratory crusher Get a Quote
Higher capacity crushing with a processing capacity of 2,000-10,000 t/h.
It can handle materials with larger feeding sizes (900-1,300 mm).
It can produce coarse aggregates to achieve cubical particle shapes.
But it has higher initial and operational costs compared to jaw crushers.
3. Fine crushing
The crushed stone from the coarse crushing equipment is transported through the belt conveyor to the fine crushing machines for secondary crushing.
The secondary crushing equipment mainly includes an impact crusher and a cone crusher, which are responsible for the middle and fine crushing in the stone crushing process.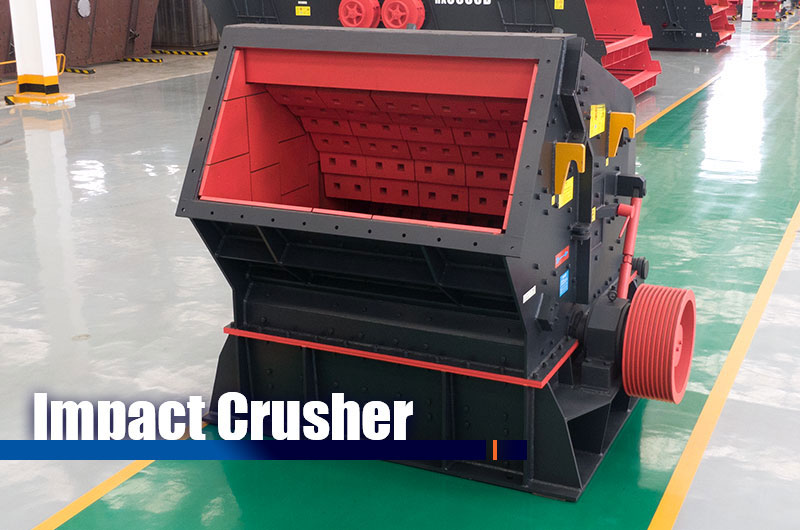 FTM Machinery impact crusher Get a Quote
Uniform discharging granularity and good grain shape with low fine powder and dust content.
The granularity of the finished product can be adjusted only by adjusting the gap between the impact plate and the hammer.
Equipped with the hydraulic cover device to reduce the difficulty of machine maintenance and labor time.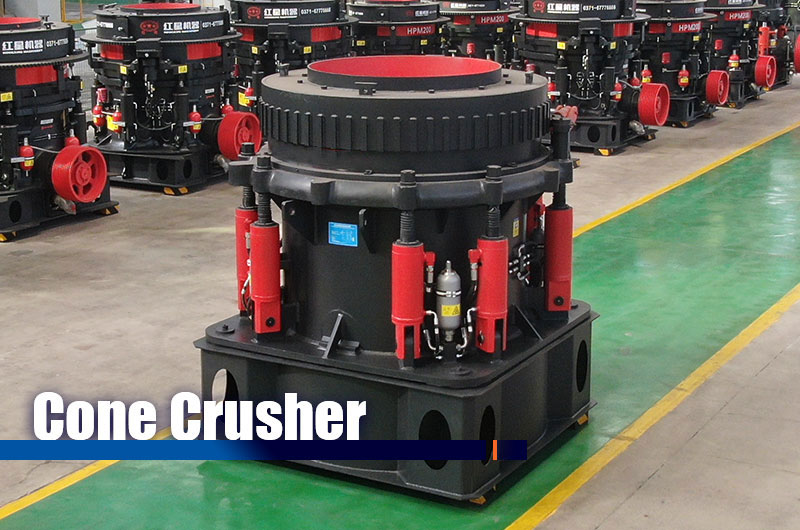 FTM Machinery cone crusher Get a Quote
Fully automatic control system is easy for remote and side-by-side control.
The hydraulic cylinder can adjust its discharge port size to ensure the safe operation of the plant effectively.
The crushing cavity has different specifications, which can best meet the special requirements of customers.
4. Sand making
The crushed material is transported by the belt conveyor to a sand making machine (vertical shaft impact crusher) for making sand.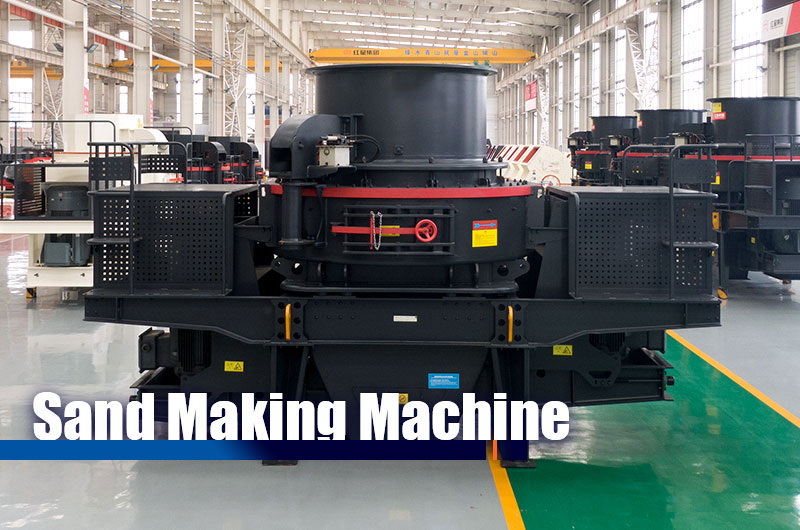 FTM Machinery sand making machine Get a Quote
At present, the more popular sand making machines are VSI sand making machines and HVI sand making machines.
VSI sand maker is called high cost-effective sand making equipment with low initial investment cost and good use effect. It is high in operation efficiency with the "PLST" crushing cavity.
HVI sand maker is more advanced in technology with sand making and shaping effects. Its butt ends and lubrication scheme are modular in design. The peripheral guard plate can be turned up and down to extend its life cycle.
5. Sand screening
After sand making, the material is then screened through a vibrating screen for coarse sand, medium sand, fine sand, and other specifications.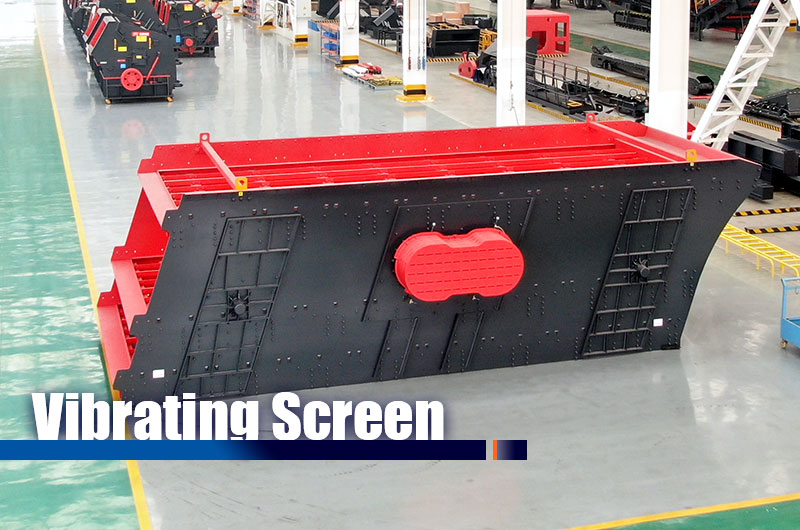 FTM Machinery vibrating screen Get a Quote
The finished products of different particle sizes can be screened one by one, and it can also form a closed-loop operation with the artificial sand making machine.
The equipment is generally equipped with three to four layers of screens according to the needs of customers.
It is easy to use and maintain with almost no wearing parts except for the screen.
6. Sand washing and recycling
For those with strict requirements on the sand powder content, a sand washing machine can be installed behind the sand manufacturing machine. The sewage discharged from the sand washer can be recycled by the fine sand recovery plant.
On the one hand, it reduces environmental pollution; on the other hand, it can increase the sand production output.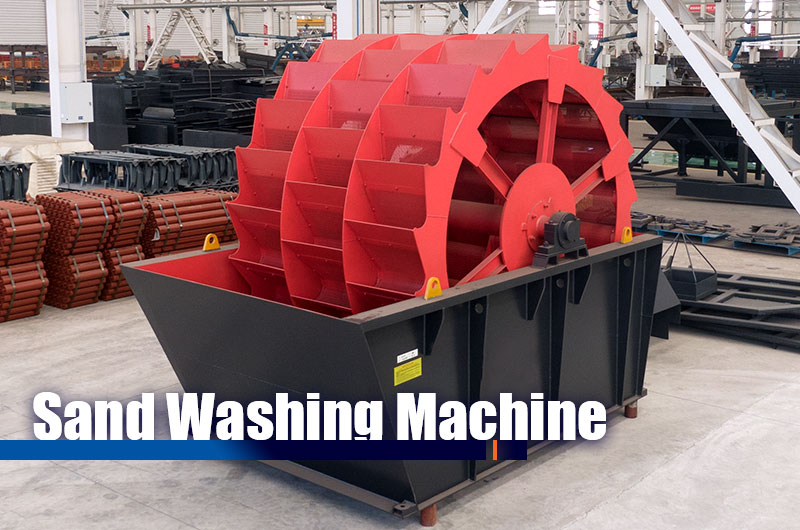 FTM Machinery sand washing machine Get a Quote
The sand washer combines a special rotary design to effectively control the feeding system, improving production capacity and quality.
The adjustable overflow weir plate ensures durability, good cleaning, and dehydration effects of the sand washer.
The drive bearing of the impeller is isolated from water and water-receiving materials, which avoids damage to the bearing caused by water, sand, and pollutants.
The following is the on-site video of the artificial sand making line in Kyrgyzstan. The crusher machines manufactured by supplier FTM Machinery play an important role in the line.
Comparison of artificial sand and natural sand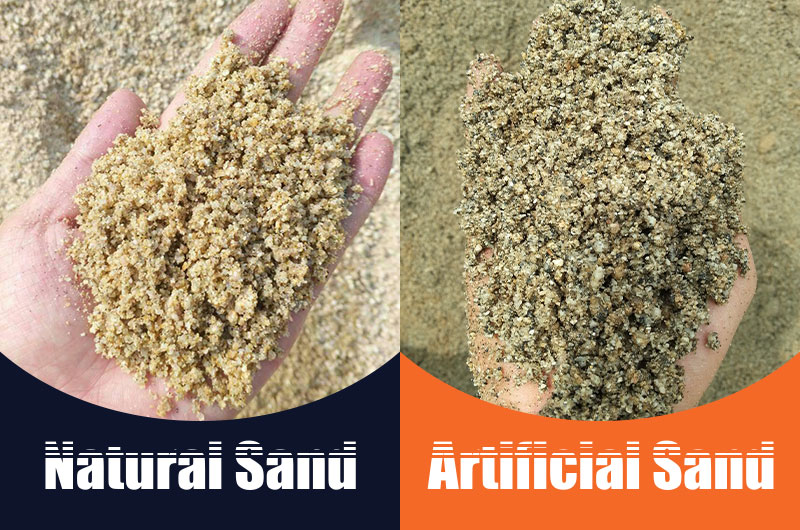 Compared with natural sand, artificial sand has more advantages:
1

Quality advantages: The source of sand resources is stable; mechanized production mode ensures an adjustable and controllable quality.

2

Grade advantages: artificial sand has high surface energy and hydrophilicity; it has complete gradation; the particles gradation is stable and adjustable; the grain shape can be improved.

3

Management advantages: There are stable legal entities, mining licenses, fixed business locations, which is easy to trace.

4

Resource advantages: In addition to mines, various waste resources such as tailings and construction waste can be utilized.
Properties of artificial sand vs river sand
| | | |
| --- | --- | --- |
| Types | Artificial sand | River sand |
| Shape | Cubical | Spherical |
| Ability to hold surface moisture | 10% | 7% |
| Compressive strength | Higher | Lower |
| Flexural strength | Higher | Lower |
| Impurity | Less | More (seaweed, bones, shells, mica and silt, etc.) |
| Grade | Can be controlled | Cannot be controlled |
The following video shows clearly the difference between crushed sand and river sand from the aspects of source, wastage, setting time, shape, silt content, and so on.
The table below shows the mix ratio of M15 M55 and M55 M55 concrete designed for artificial sand and river sand. The results show that in the same Concrete Mix Design, the strength of concrete by artificial sand is higher.
Types
M15 M55 Concrete
M55 M55 Concrete
Artificial sand
River sand
Artificial sand
River sand
Cement one bag
50 kg
50 kg
50 kg
50 kg
Sand
125 kg
135 kg
70 kg
75 kg
Agg. 20 mm
137 kg
135 kg
80 kg
75 kg
Agg. 12 mm
75 kg
67.5 kg
35 kg
37.5 kg
Water
27.5 Ltrs
27.5 Ltrs
19 ltrs
19 ltrs
Strength after 7 days curing
186.67 kg per Sq.cm
174.81 kg per Sq.cm
468.14 kg per Sq.cm
441 kg per Sq.cm
The factors that promote the development of artificial sand
There are both natural and human factors in the increasing demand for artificial sand. The former is that the natural sand is about to run out, while human factors include people's requirements for environmental protection and the need for high-quality concrete.
1. The depletion of natural sand
The Global Sandstone Aggregate report shows that the reserves of natural sand are gradually decreasing globally, and illegal sand mining has happened frequently. By 2023, the reserves of natural sand resources in some countries were quickly depleted.
With the development of infrastructure, the natural sand resources formed for hundreds of thousands of years in many countries and regions have been almost exhausted, which has affected the further development of construction projects.
2. The need for energy saving and environmental protection
Reason 1: River sand mining causes river pollution.
Driven by huge interests, natural sand has been indiscriminately mined, which changes the river course, affects the safety of river embankments, and destroys the living environment of fish. The crushed stone sand is an important alternative resource to change this phenomenon.
Reason 2: River sand mining causes tailings.
In the process of mining river sand, it often produces a large amount of tailings which is not used reasonably. Especially in small mines, the tailings are piled up at random, occupying land and polluting the environment.
Reason 3: A lot of construction waste is wasted.
Besides, in urban planning and construction, a lot of construction waste is generated. It actually can be crushed by the crushers to produce artificial sand for promoting resource utilization.
3. The development of high-performance concrete technology
With the rapid development of concrete technology, high-performance concrete has higher requirements for the quality of aggregates. It requires stable quality, gradation, and good shape, while less and less natural sand meets the requirements. Therefore, people are turning their focus to man-made sand.
Artificial sand and mixed sand are mainly used in building construction, municipal construction, transportation, and other projects whose concrete strength grade is below C60. When meeting the corresponding technical requirements, they can also be used for projects such as ports and water conservancy.
Application requirements of mixed sand
C60: The fineness modulus of the mixed sand shall not be less than 2.3, and the fineness modulus of the ultra-fine sand shall not be less than 1.1.
C45-C55: The mixed sand fineness modulus is not less than 1.8, and the ultra-fine sand fineness modulus is not less than 0.9.
C60 or more: The mixed sand should pass the test to obtain reliable data and can be used after it has been demonstrated that the performance requirements are met the requirement.
FTM Machinery sand making cases of various materials
As a professional manufacturer, FTM Machinery has rich experience in the design of mechanical sand production equipment and a perfect service system. Here are some examples of artificial sand production lines.
The limestone, widely distributed in nature, is easy to obtain. It is the main raw material for manufacturing cement, lime and calcium carbide. After being processed, limestone is used in large quantities as building materials. Generally, simple processing process is through the limestone sand production line.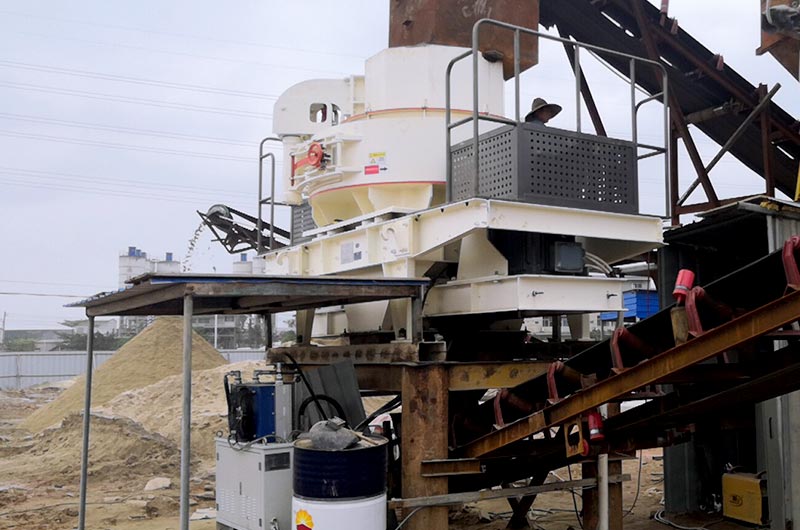 Capacity
20 TPH
Raw material
Limestone
Mohs hardness
3.5-4
Feeding size
≤ 300 mm
Limestone sand making machines
1. Silo
2. GZD650×2300 Vibrating feeder
3. PE400×600 Jaw crusher
4. PEX250×750 Jaw crusher
5. VSI7611 Sand making machine
6. 2YK1545 Vibrating screen
7. Belt conveyor (Some)

Finished product specifications
0-5 mm
Estimated cost
$ 48,000-$ 52,000
Quartz is a hard, wear-resistant, chemically stable silicate mineral mainly composed of silicon dioxide. It is an important industrial mineral raw material generally used in glass, building materials, ceramics, high-tech electronics industry, etc. after crushing and sand making.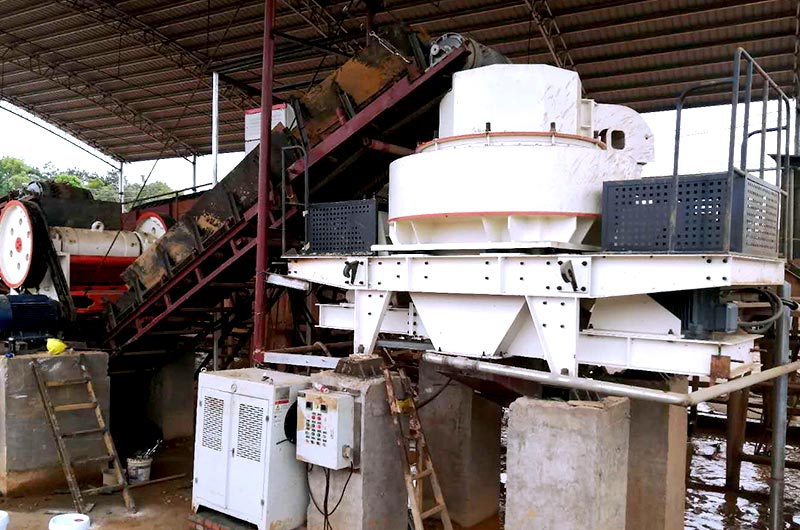 Capacity
50 TPH
Raw material
Quartz
Mohs hardness
5-6
Feeding size
≤ 210 mm
Quartz sand making machines
1. GYS300 Cone crusher
2. VSI8518 Sand making machine
3. 2YK2160 Vibrating screen
4. XS2900 Sand washing machine
5. Belt conveyor (Some)

Finished product specifications
0-5 mm
Estimated cost
$ 100,000-$ 120,000
The granite has the characteristics of hard texture, high strength, abrasion resistance and weathering resistance. It has the title of "The King of Rocks" and is a good building material. It is rich in resources with low mining costs but high product value. Granite is a popular choice when the product needs to be weather-resistant or durable.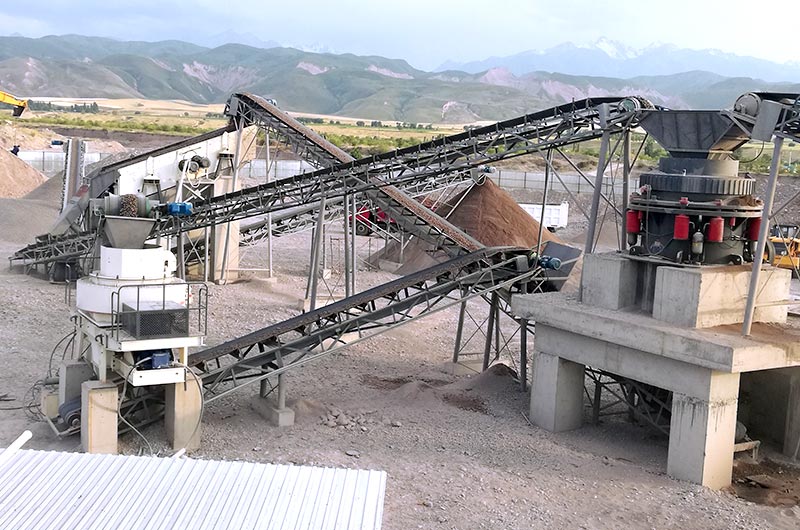 Capacity
100 TPH
Raw material
Granite
Mohs hardness
7-8
Feeding size
≤ 40 mm
Granite sand making machines
1. Silo
2. 2YI2460 Vibrating screen
3. VSI8518 Sand making machine
4. XS3020 Sand washing machine
5. Belt conveyor (Some)

Finished product specifications
0-5 mm, 5-10 mm
Estimated cost
$ 79,000-$ 82,000
The river pebble resources are rich with low collection costs and high application value. After making sand from river pebble, it is widely used in water conservancy and hydropower, expressways, high-speed railways, passenger dedicated lines, bridges, airport runways, municipal engineering and high-rise buildings in the engineering field.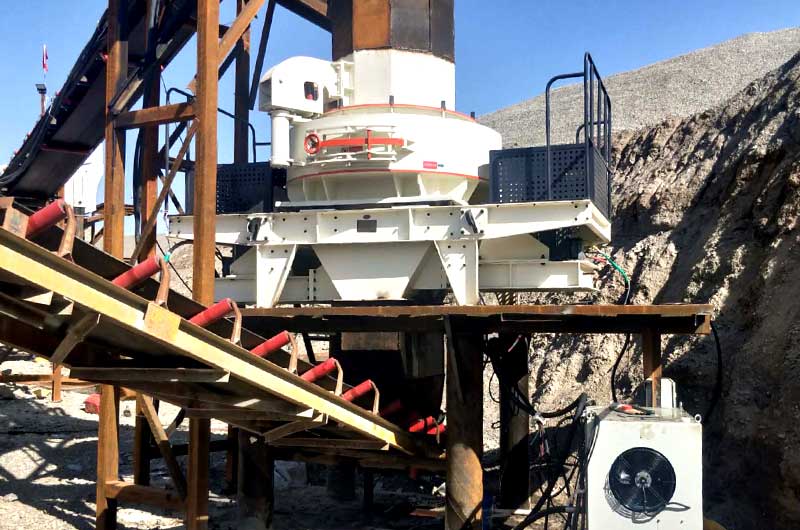 Capacity
200 TPH
Raw material
Pebble
Mohs hardness
7-8
Feeding size
≤ 60 mm
Pebble sand making machines
1. Silo
2. VSI1140 Sand making machine (Two sets)
3. 2YK2870 Vibrating screen (Two sets)
4. XS350 Sand washing machine (Two sets)
5. Belt conveyor (Some)

Finished product specifications
0-5 mm
Estimated cost
$ 190,000-$ 210,000
Basalt is the best material used for repairing roads, railways and airport runways. With the characteristics of strong compressive resistance, low crushing value and strong corrosion-resistance, it is the best cornerstone for the development of railway transport and road transport.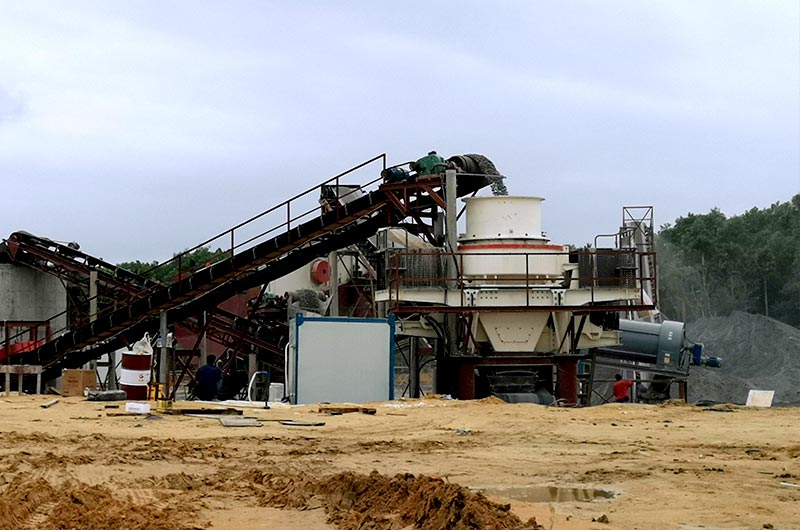 Capacity
350 TPH
Raw material
Basalt
Mohs hardness
5-6
Feeding size
≤ 60 mm
Pebble sand making machines
1. Silo
2. ZSW600x130 Vibrating feeder
3. HD110 Jaw crusher
4. PF1520 Impact crusher
5. 4YK2460 Vibrating screen (Two sets)
6. VSI1140 Sand making machine
7. 2YK2460 Vibrating screen
8. Belt conveyor (Some)

Finished product specifications
0-5, 5-10, 10-20 mm
Estimated cost
$ 250,000-$ 290,000
Conclusion
Artificial sand has become an inevitable trend to replace natural river sand, and the key links of production are crushing, sand making and sand washing. Machine-made sand has unlimited development space and broad investment prospects, which can bring huge benefits to investors.
FTM Machinery is committed to providing customers with cost-effective sand making equipment and quality services. Do you want to know more about artificial sand or artificial sand making machines? Contact us