Why is a vibrating screen important to the crushing and grinding circuits?
A vibrating screen is a necessary machine for mining and quarrying industries. In the quarrying field, the screening process always follows the primary and secondary crushing stages to divide rock material into more than three sizes from coarse to fine.
Actually, how many sizes of material do you want to get depends on how many screen decks you adding to the machine, which greatly improves the value of raw material. Besides, the vibrating screen also plays a key role in the ore mining industry where ore beneficiation process has strict requirements on the size of ore. For example, before entering a ball grinding mill, ores must get their size meet a ball mill opening size, and be not containing impurities with the help of a vibrating screen.
How does a vibrating screen work?
The working principle of a vibratory screen is quite simple, which makes it easy to operate. The crucial parts of the machine include vibrating screens, exciter, motor, screen decks, liners, and side plates.
Vibrating source comes from an exciter that transmits vibration to the screen deck by the V-belt, which makes material shaking and distributing evenly on the screen. During the process, the large size of material will stay on the top while the small and fine size material can go throughout the screen mesh to the bottom, then you'll get different sizes of materials.
Vibrating screen parts design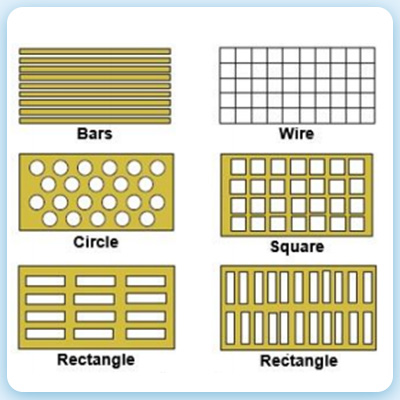 Different types of screen media: The screen (steel wire cloth, nylon wire mesh, bars, a perforated plate with circle, square, rectangle) depends on your product application, granularity, abrasiveness, adhesion, temperature, etc. The picture is from https://practicalmaintenance.net/.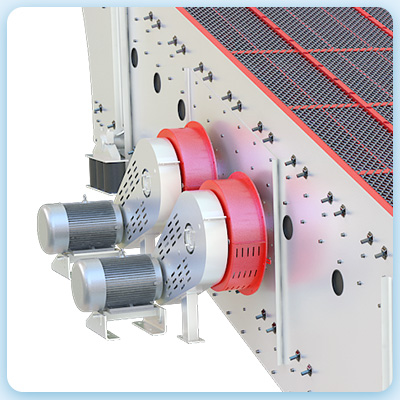 Exciter: The vibration of screen is generated by an exciter that consists of housing, bearing, shaft and an eccentric mass. The screening and frequency can be adjusted by changing the ratio of V-belt sheaves. High-quality exciter can perform a force output of 1000 KN, keeping excellent economic efficiency.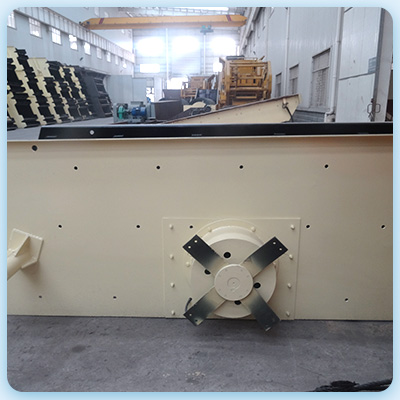 The driven sheave and balance wheels: The driven sheave and balance wheels are the two most important parts being on the centerline of shaft. The task of balance wheel is to ensure centrifugal forces evenly distributing around the axis of rotation, otherwise the unbalanced cause the pulley to vibrate thus leading to premature or even catastrophic failure.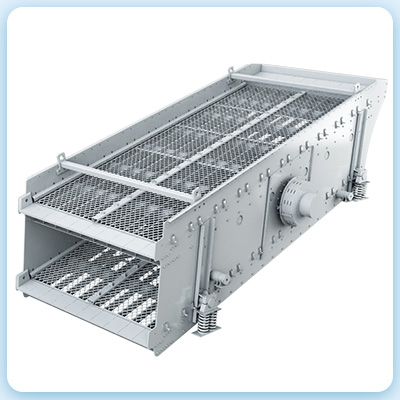 Side plates and liners: Side plates are to resistant vibration and keep the machine body durable and stable. Side plates and liners are assembled by bolts, which not only makes the machine running smoothly but parts replacement, maintenance, cleaning more convenient.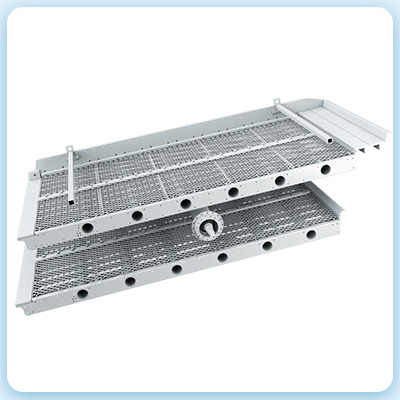 Screen deck: There are single and multiple deck units for floor mounting and suspension. It is easy to add an additional deck or decks on the top or bottom of original deck because the side plates are equipped with flanges containing precision punched bolt holes.
Different types of industrial vibrating screens
1. Inclined vibrating screens/Circular motion vibrating screen
An inclined vibrating screen is one of the most popular screening machines. The inclination of this type of screen is at the range of 15 to 30 degrees. Screening stroke can be adjusted by remove or add eccentric mass and is generally at 8mm to 12mm.
The inclined screen utilizes gravity to help material move downward. Besides, the circular motion also helps to separate coarse and fine material. This type of vibrating screen is often applied in stone crushing, sand making, ore processing, construction waste recycling, wet screening, and chemical fields.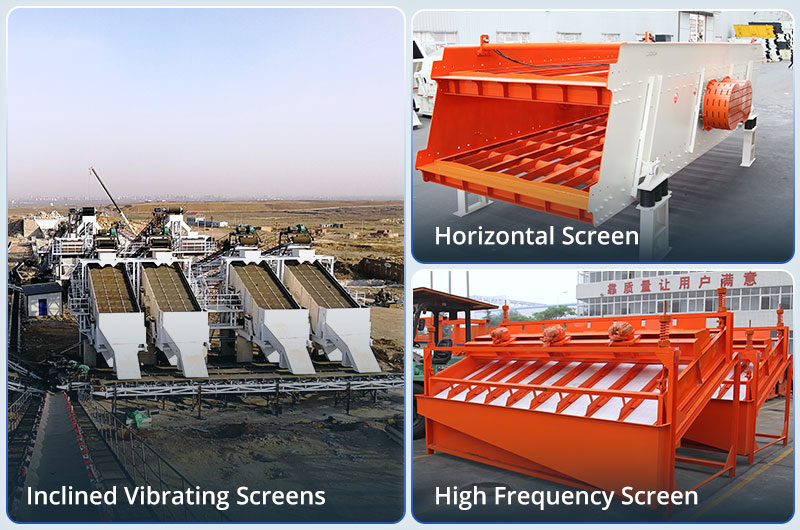 2. Horizontal screen
The inclination angle of the horizontal vibrating screen is between 0 degrees and 5 degrees, almost parallel to the ground. It is equipped with a triple drive mechanism that combines advantages of linear and circular vibration types in elliptic vibration.
The triple drive mechanism can keep material moving horizontally under the help of linear vibration while avoid them plunging because of the circular vibration. A horizontal screen has a simple structure, reliable performance, and large capacity, and can overcome any condition. So, it is the most practical vibrating screen in the quarrying field.
3. High-frequency screen
The outstanding feature of a high-frequency screen is high frequency and low amplitude, which ensures a faster material speed thus greatly improving screening efficiency. It is perfect for screening feeds containing solid and crushed ores down to approximately 200μm in size.
It is mostly used in dehydration wet screening in which a filtering layer on the screen surface can block the passage of fine material thus reducing the loss of solid materials in water and improving the recovery rate of solid. It is applied for screening and separating iron ore, tin ore, tungsten, tantalum, and niobium, etc.
Advantages of Fote vibrating screens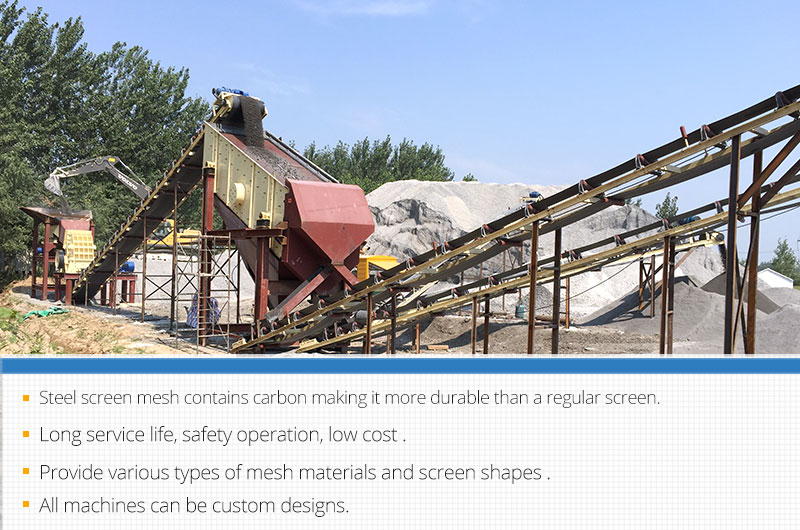 Steel screen mesh contains carbon making it more durable than a regular screen.
Long service life, safety operation, low cost
Provide various types of mesh materials and screen shapes
Available in the online sales and quick ship
All machines can be custom designs
Detachable inlet and outlet chutes enable a fast installation and dismantling
Adjustable counterweights and screening stroke improve screening efficiency
Fote is one of the leading manufacturers of high-quality vibrating screens. It mainly produces circular motion vibrating screens/inclined vibrating screens, horizontal vibrating screens, high-frequency vibrating screens, drum screens. If you have any needs, please consult our experienced screen engineers to obtain solutions and other information and suggestions.
Vibration screen production cases
1. Vibrating screen for limestone in India

Model:2YK1225
Layer: 2
Material: limestone
Production: 55 m³/h
Price(USD): 9,000
Warrancy:1 year for machinery warrancy
Product type: automatic
Width(mm):1860
Length(mm):2930
Sieving precision: 4-50mm
Power(KW): 6P 5.5KW
Annual profit:US$70,000
2. Granite screening process in Indonesia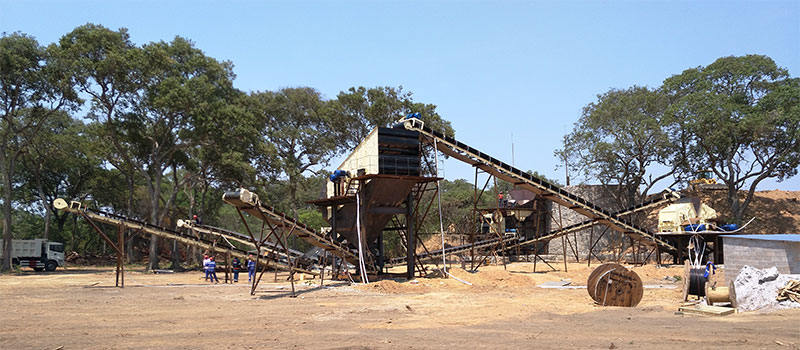 Model:3YK1535
Layer: 3
Material: granite
Production: 120 m³/h
Price(USD):12,000
Warrancy:1 year for machinery warrancy
Product type: automatic
Width(mm): 2210
Length(mm): 4360
Power(KW): 6P 11KW
Annual profit: US$ 120,000
3. Linear vibrating screen in South Africa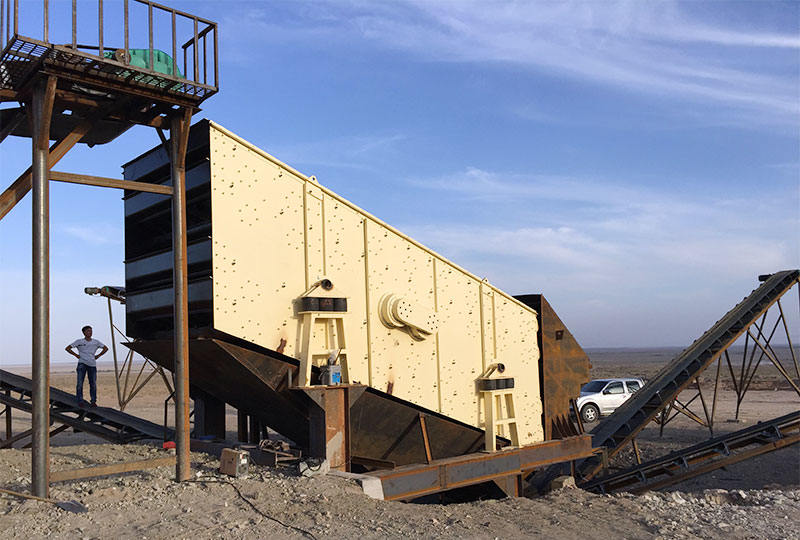 Model:4YK1548
Layer: 4
Material: concrete
Production: 900 m³/h
Price(USD):16 ,000
Warrancy:1 year for machinery warrancy
Product type: automatic
Width(mm): 2210
Length(mm): 6230
Sieving precision: 5-50mm
Power(KW): 6P 18.5 KW

Annual profit:

US$120,000
FAQs about circular vibrating screen and linear vibrating screen
What to do if the vibrating screen bearing becomes abnormally hot or damaged? (Cause and solution)
Unreasonable bearing selection: use special bearings
Commonly used vibrating screen bearings generally are cylindrical roller bearings and spherical roller bearings.
What is the difference between a circular vibrating screen and a linear vibrating screen?
The material on the circular vibrating screen moves circularly, and the material on the linear screen moves linearly forward.
How to do if the screen frame is broken?
Sieve frame breakage is generally caused by the seriously shaking of the vibrating screen frame.
The side panels can be thickened to enhance the rigidity of the entire screen frame.
How to deal with clogged of screen mesh?
The screen mesh of the vibrating screen is blocked mainly because the high mud and water content and make materials stick and block to the screen mesh.
Solution: First clean the sieve holes, and then adjust the water spray amount and the inclination of the screen surface appropriately.
Parameter
Model
Sieve
layer
Sieve
area
(m²)
Mesh
size
(mm)
Max.
feeding
size
(mm)
>Processing
capacity
(m³/h)
Vibrating
Frequency
(r/min)
Double
amplitude
(mm)
Motor
power
(kw)
Sieve
obliquity
(°)
Sieve
specification
(mm)
>Dimensions
(L×W×H)
(mm)
2YK1225
2
6
4-50
200
8-60
800-970
8
6P 5.5KW
20
1200×2500
2930×1860×870
3YK1225
3
9
4-50
200
10-70
800-970
8
6P 5.5KW
20
1200×2500
3070×1860×1210
2YK1230
2
7.2
4-50
200
12-78
800-970
8
6P 7.5KW
20
1200×3000
3430×1860×870
3YK1230
3
10.8
4-50
200
13-80
800-970
8
6P 7.5KW
20
1200×3000
3570×1860×1210
2YK1237
2
8.88
4-50
200
15-86
800-970
8
6P 7.5KW
20
1200×3700
4050×1860×870
3YK1237
3
13.32
4-50
200
16-90
800-970
8
6P 7.5KW
20
1200×3700
4270×1860×1210
2YK1535
2
10.5
5-50
200
20-125
800-970
8
6P 11KW
20
1500×3500
4120×2210×1230
3YK1535
3
15.75
5-50
200
21-125
800-970
8
6P 11KW
20
1500×3500
4360×2210×1610
2YK1545
2
13.5
5-50
200
22-150
800-970
8
6P 11KW
20
1500×4500
5120×2210×1230
3YK1545
3
20.25
5-50
200
22-150
800-970
8
6P 15KW
20
1500×4500
5360×2210×1610
4YK1545
4
27
5-50
200
22-155
800-970
8
6P 15KW
20
1500×4500
5930×2210×2060
2YK1548
2
14.4
5-50
200
22.5-162
800-970
8
6P 11KW
20
1500×4800
5420×2210×1230
3YK1548
3
21.6
5-50
200
22.5-162
800-970
11
6P 15KW
20
1500×4800
5660×2210×1610
4YK1548
4
28.8
5-50
200
22.5-162
800-970
8
6P 18.5KW
20
1500×4800
6230×2210×2060
2YK1848
2
17.28
5-80
200
25-206
750
8
6P 18.5KW
20
1800×4800
5420×2550×1420
3YK1848
3
25.92
5-80
200
32-276
750
8
6P 18.5KW
20
1800×4800
5660×2550×1780
4YK1848
4
34.56
5-80
200
32-285
750
8
6P 22KW
20
1800×4800
6290×2550×2160
2YK1854
2
19.44
5-80
200
32-312
800-970
8
6P 22KW
20
1800×5400
5960×2550×1420
3YK1854
3
29.16
5-80
200
32-312
800-970
8
6P 22KW
20
1800×5400
6260×2550×1780
4YK1854
4
38.88
5-80
200
32-336
800-970
8
6P 22KW
20
1800×5400
6830×2550×2160
2YK2160
2
25.2
5-100
200
50-475
970
8
6P 30KW
20
2100×6000
6720×2840×1530
3YK2160
3
37.8
5-100
200
50-475
970
8
6P 30KW
20
2100×6000
7030×2840×1910
4YK2160
4
50.4
5-100
200
50-497
970
8
6P 37KW
20
2100×6000
7300×2840×2380
2YK2460
2
28.8
5-100
200
65-550
970
8
6P 30KW
20
2400×6000
7020×3140×1530
3YK2460
3
43.2
5-100
200
70-620
970
8
6P 37KW
20
2400×6000
7300×3140×1910
4YK2460
4
57.6
5-100
200
80-680
970
8
6P 45KW
20
2400×6000
7600×3140×2380
2YK2870
2
39.2
5-100
200
120-680
750
8
8P 22×2KW
20
2800×7000
7600×4320×1620
3YK2870
3
58.8
5-100
200
180-720
750
8
8P 22×2KW
20
2800×7000
7800×4320×2120
2YK3072
2
43.2
5-100
200
200-700
750
8
8P 22×2KW
20
3000×7200
7800×4520×1750
3YK3072
3
64.8
5-100
200
230-800
750
8
8P 22×2KW
20
3000×7200
8000×4520×2300
Model
Sieve
area
(㎡)
Processing
capacity
(m³/h)
2YK1225
6
8-60
3YK1225
9
10-70
2YK1230
7.2
12-78
3YK1230
10.8
13-80
2YK1237
8.88
15-86
3YK1237
13.32
16-90
2YK1535
10.5
20-125
3YK1535
15.75
21-125
2YK1545
13.5
22-150
3YK1545
20.25
22-150
4YK1545
27
22-155
2YK1548
14.4
22.5-162
3YK1548
21.6
22.5-162
4YK1548
28.8
22.5-162
2YK1848
17.28
25-206
3YK1848
25.92
32-276
4YK1848
34.56
32-285
2YK1854
19.44
32-312
3YK1854
29.16
32-312
4YK1854
38.88
32-336
2YK2160
25.2
50-475
3YK2160
37.8
50-475
4YK2160
50.4
50-497
2YK2460
28.8
65-550
3YK2460
43.2
70-620
4YK2460
57.6
80-680
2YK2870
39.2
120-680
3YK2870
58.8
180-720
2YK3072
43.2
200-700
3YK3072
64.8
230-800