The inner structure and advantages of high-frequency screen
High-frequency screen is made up of the vibrator, pulp distributor, screen frame, chassis, suspension springs, screens, and other components. Mineral high-frequency screen has the following merits: high efficiency, low amplitude, high-frequency screening.
The principle of the high-frequency screen is different from the general ones. It adopts the technology of high frequency.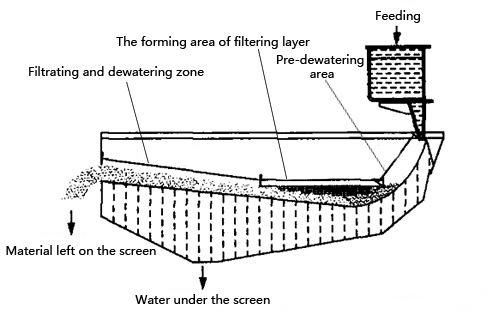 The performance characteristics of high-frequency screen
Laminated mesh increases monolayer aperture, which not only increases the useful life of the screen but also can prevent jamming and wearing.
The rubber spring of high-frequency screen supports the screen frame, which can reduce noise and set vibrating.
It is low amplitude, which makes for the classification of fine and heavy materials.
Strong production capacity, low energy consumption.
Working process
High efficiency breaks the tension on pulp, which means the fine grains vibrate strongly on the surface of the screen to help the heavy useful grains separate out. As a result, the fine grains contact with screen frequently and the fine grains which are smaller than the need fall down from the screen pore and leave the grain we need.
Parameter
Specification
Model
Processing
capacity(t/h)
Power
(kw)
GPS-4
15-25
0.72
GPS-5
20-30
1.1
GPS-6
24-36
1.5
GPS-8
32-48
2.2
Specification
Model
Processing
capacity(t/h)

Power
(kw)

GPS-4
15-25
0.72
GPS-5
20-30
1.1
GPS-6
24-36
1.5
GPS-8
32-48
2.2