The Advanced Technology Applied in Mobile Screening Station:
The design and manufacture of mobile screening station use German technology, which has reached the international advanced level, can fully meet the mobile screening requirements of customers.
In addition, the mobile screening station can reach any location of work site under any terrain. Wheel mobile crushing and screening station has high production efficiency and uniform particle size of the final product.
The Advantages and Benefits of Mobile Screening Station:
Equipped with high-performance screening box;
Automated screening and adjustment to maximize screening efficiency;
Strict management of all operating unit to improve product life and reliability;
Low noise and low emissions.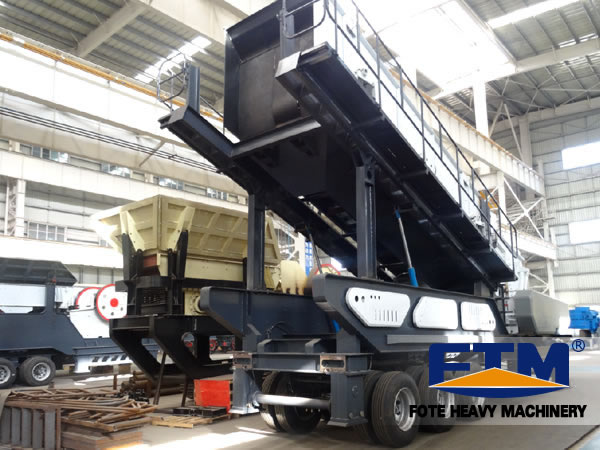 Mobile crushing and screening station has a high production capacity and adaptability, which can be used together with primary jaw crusher, can also be used alone as crushing and screening machine for producing aggregates with three kinds of particle sizes.
The mobile crushing and screening station can feed materials with wheel load machine, excavator or conveyor of crusher. The screening capacity is 55 ~ 105t/h depending on different materials.
Parameter
| | | | |
| --- | --- | --- | --- |
| Model | FTM3S1848 | FTM3S1860 | FTM3S2160 |
| Transportation Length(mm) | 10280 | 11480 | 11480 |
| Transportation Width(mm) | 2830 | 2830 | 3150 |
| Transportation Height(mm) | 4350 | 4350 | 4350 |
| Maximum Length(mm) | 11100 | 11800 | 11800 |
| Maximum Width(mm) | 3600 | 3600 | 3970 |
| Maximum Height(mm) | 6000 | 6000 | 6500 |
| Weight(t) | 16 | 18 | 19 |
| Tire Configuration | biax fitted | biax fitted | biax fitted |
| Vibrating Screen | 3YZS1848 | 3YZS1860 | 3YZS2160 |
| | | | |
| --- | --- | --- | --- |
| Model | FTM3S1848 | FTM3S1860 | FTM3S2160 |
| Transportation Length(mm) | 10280 | 11480 | 11480 |
| Transportation Width(mm) | 2830 | 2830 | 3150 |
| Transportation Height(mm) | 4350 | 4350 | 4350 |
| Maximum Length(mm) | 11100 | 11800 | 11800 |
| Maximum Width(mm) | 3600 | 3600 | 3970 |
| Maximum Height(mm) | 6000 | 6000 | 6500 |
| Weight(t) | 16 | 18 | 19 |
| Tire Configuration | biax fitted | biax fitted | biax fitted |
| Vibrating Screen | 3YZS1848 | 3YZS1860 | 3YZS2160 |