A mobile screening plant is widely used for screening and recycling all kinds of ores and stones, and it unites the driving system, hydraulic system, feeding, and screening part, conveying system altogether. Every module can be operated and adjusted by a hydraulic way, which greatly improves efficiency and production.
4 Advantages of mobile screening plant
1.Powerful screening function
1

It has triple decks screening four sizes of end products.

2

Hydraulic adjustment for angles of feeding hopper and screener deck to improve screen efficiency.
2. Intelligent control
Each module of the mobile screening equipment adopts intelligent control, which greatly saves labor costs and installation time. Besides, transportation and installation can be completed within 12 hours.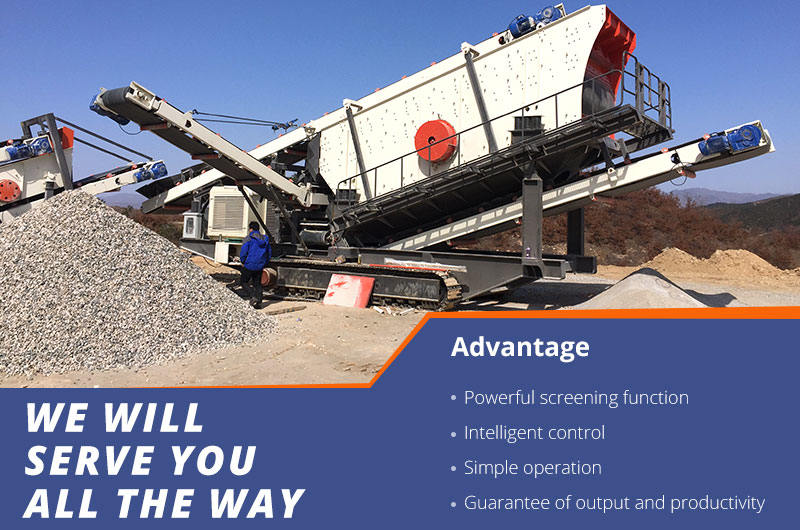 3. Simple operation
1

Each deck of the mobile vibrating screen plant is an independent unit, so by hydraulic adjustment they can work with different power, frequency and amplitude to improve the screening efficiency and production.

2

With the aid of the optimized hydraulic system, the engine can improve fuel efficiency and convenience to maintenance.

3

Extended hopper can also be adjusted hydraulically to effectively avoid the entry of oversized material.

4

Huge discharging conveyor belt can fold through hydraulic way to make transport easily.
4. Guarantee in output and productivity
A mobile screening plant is designed to well adapt various sites while complementing coarse, fine screening. Because of high frequency, low amplitude, and large sieving inclination, it meets the needs of high output and efficiency.
Get Latest Price
What are the important components of the mobile vibrating screening plant?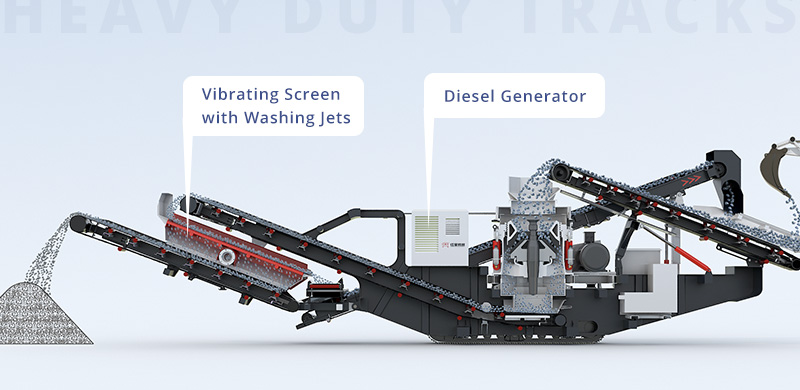 Diesel generator
When there is no power supply, there is a diesel engine to generate electricity, which makes the whole screening plant run smooth and reliable.
Hopper
The hopper of the plant installs screen with mesh 75mm, which can prescreen the over-sized material.
Vibrating Screen with Washing Jets
All three decks of 6.1m×1.5m can achieve large-area screening.
At the top of the deck, there is a high density and pressure washing jet with groove on its top.
The washing jet can wash material from top deck to bottom deck when screening, which also improve the water utility.
Finally, the washed materials in three sizes including 5-10mm, 10-20mm, 20-75mm would be discharged by the conveyor belt.
Folding type feeding and stock conveyor belts
The angle of the super-large conveyor can be adjusted hydraulically within the range of 15º to 24º.
By dog lead remote control, operator can safely adjust the conveyor belt to the best angle.
Mobile Chassis with axles and tires
The heavy-duty tracks can mount and adapt to various harsh environments. Besides, it also creates the most safety environment for operators and workers.
150-200t/h Fote Mobile screening plant in South Africa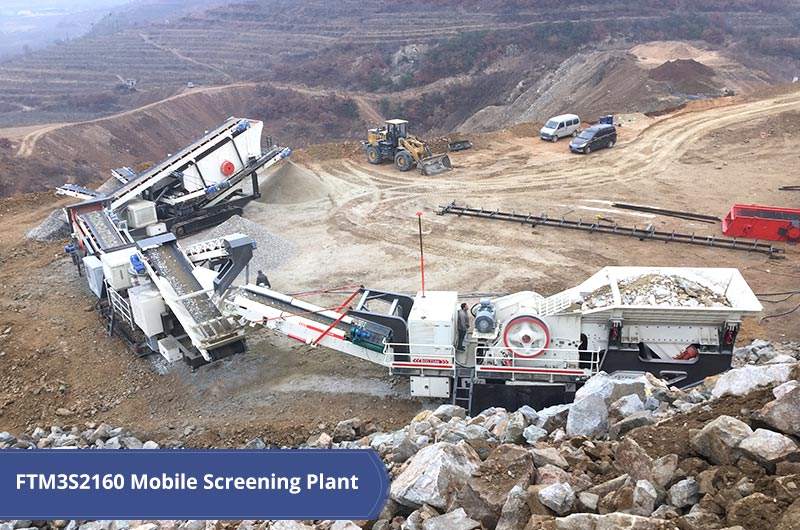 FTM3S2160 mobile screening plant
Transportation Length(mm): 11480
Transportation Width(mm): 3150
Transportation Height(mm): 4350
Maximum Length(mm): 11800
Maximum Width(mm): 3970
Maximum Height(mm): 6500
Weight(t): 19Tire
Configuration: biax fltted
Vibrating Screen: 3YZS2160
Compared with the traditional fixed screening plant, the mobile screening plant has the characteristics of high mobility, strong flexibility, wide adaptation, and cost and time saving. It can be used together with primary jaw crusher, can also be used alone as crushing and screening machine for producing aggregates with three kinds of particle sizes.
At present, the mobile screening plants produced by Fote manufacturer are mostly used in various fields such as cities, mines as well as places that require frequent transfers.
Parameter
| | | | |
| --- | --- | --- | --- |
| Model | FTM3S1848 | FTM3S1860 | FTM3S2160 |
| Transportation Length(mm) | 10280 | 11480 | 11480 |
| Transportation Width(mm) | 2830 | 2830 | 3150 |
| Transportation Height(mm) | 4350 | 4350 | 4350 |
| Maximum Length(mm) | 11100 | 11800 | 11800 |
| Maximum Width(mm) | 3600 | 3600 | 3970 |
| Maximum Height(mm) | 6000 | 6000 | 6500 |
| Weight(t) | 16 | 18 | 19 |
| Tire Configuration | biax fitted | biax fitted | biax fitted |
| Vibrating Screen | 3YZS1848 | 3YZS1860 | 3YZS2160 |
| | | | |
| --- | --- | --- | --- |
| Model | FTM3S1848 | FTM3S1860 | FTM3S2160 |
| Transportation Length(mm) | 10280 | 11480 | 11480 |
| Transportation Width(mm) | 2830 | 2830 | 3150 |
| Transportation Height(mm) | 4350 | 4350 | 4350 |
| Maximum Length(mm) | 11100 | 11800 | 11800 |
| Maximum Width(mm) | 3600 | 3600 | 3970 |
| Maximum Height(mm) | 6000 | 6000 | 6500 |
| Weight(t) | 16 | 18 | 19 |
| Tire Configuration | biax fitted | biax fitted | biax fitted |
| Vibrating Screen | 3YZS1848 | 3YZS1860 | 3YZS2160 |