Why is sand washing and dewatering necessary?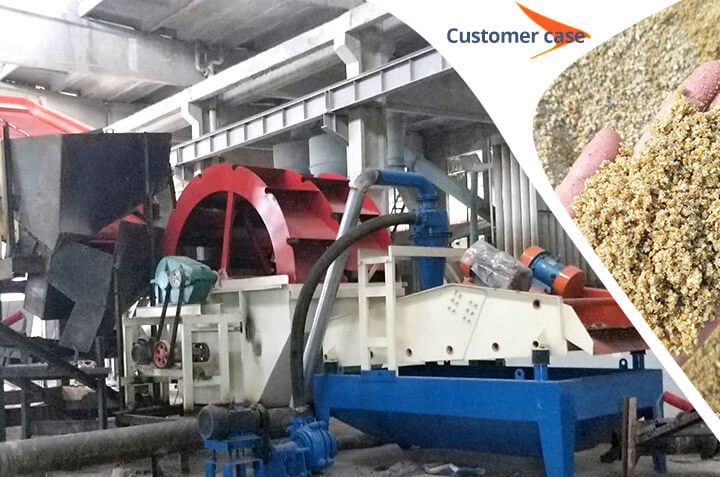 Natural sand always contains a large amount of clay and mud which would cause problems for uses and applications like aggregate for concrete and sandbox play sand. In the construction field, sand quality directly affects the performance of concrete, which has led to more and more concrete manufacturers to choose the safe, quality option of washed sand that is made to exact specification. If unwashed crusher fines put into use, you must add more chemicals and mixtures to compensate for poor quality sand.
How to wash sand with washing machine?
Silica sand washing plant with video
Silica sand is generally used in the manufacture of glass, ceramics, and refractory materials. The raw materials of silica sand contain impurities such as clay, kaolin, and magnetite. Therefore, you must remove impurities before using silica sand, and finally get required high-quality silica sand.
Silica washing plant includes processes like feeding, screening, sand washing, classifying, dewatering, primary water recycling and concentrating. Among those steps, the sand washing process is crucial because it directly determines the quality and price of the silica sand product. The pumped silica sand needs to be screened by linear vibrating screen to remove large-sized particles. Then the required silica sand is washed by wheel-type sand washer or spiral sand washing machine for cleaning and dewatering.
Wheel-type sand washer and spiral sand washer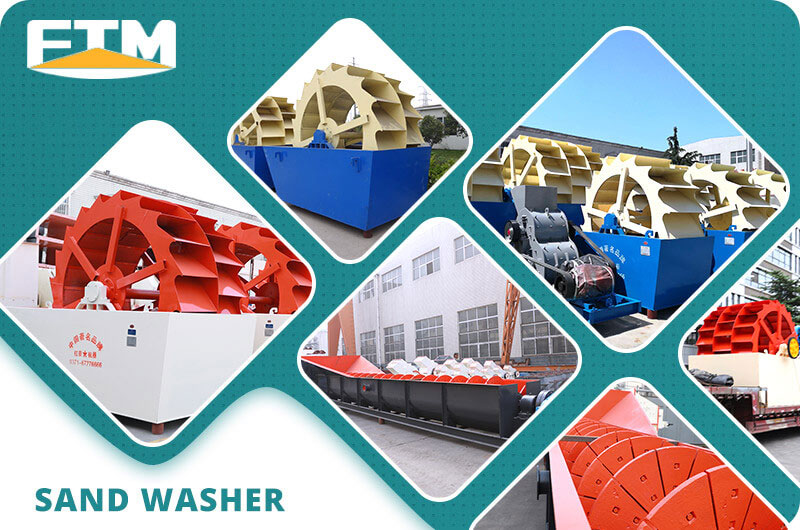 Both bucket-type sand washing machine and screw washing machine can effectively improve the sand quality but with different working principle.
Spiral sand washing machine (XL Series)
It can ideally remove soil and other impurities in sand and gravel. Screw washing machine usually has two types: single screw and double screw washing machine, and all of them follow the principle of different specific gravity of solid particle and the different sedimentation rate in liquid to finish the washing process.
When the machine is working, sufficient water is supplied to flush and submerge the raw sand or gravel aggregate into the cleaning tank. Then the spiral keeps rotating to stir raw sand for grading and removing impurities while the coarse sand particles sink to the bottom by gravity. In the end, the sinking sand is agitated and graded in the water for completely washing.
Unique design of screw sand washer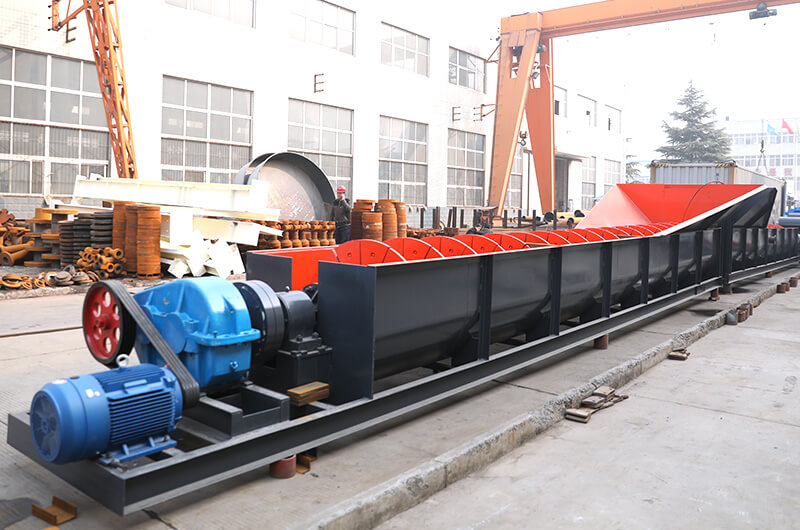 The bearing device driven by the impeller is isolated from water and sand, which greatly reducing the failure rate. There is almost no loss of fine and rock powder during washing.
The final sand product is high-quality and can easily meet the requirements of relevant standards.
The closed structure, adjustable overflow weir plate, and reliable transmission parts ensure the cleaning and dehydration effect.
Bucket/wheel-type sand washing machine(XS series)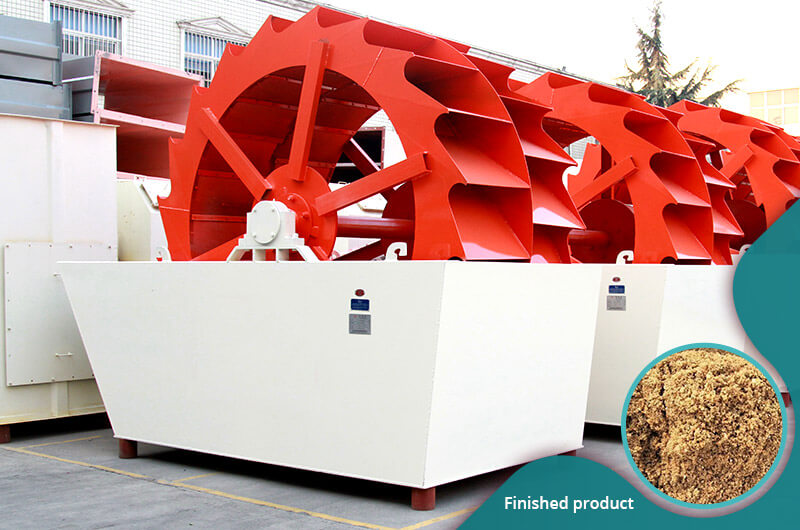 A bucket-type sand washer is also widely used in sand washing plants, and it is mainly used to washing away soil and dust. Its main parts are the feeding part, driving device, impeller, water tank. The raw sand firstly enters the washing tank through the feeding port, then being rolled and ground by the rotating impellers to be purified.
The power of the sand washing machine depends on models and how many impellers you use. The larger the impeller diameter, the higher the efficiency.
Unique design of wheel-type of sand washing machine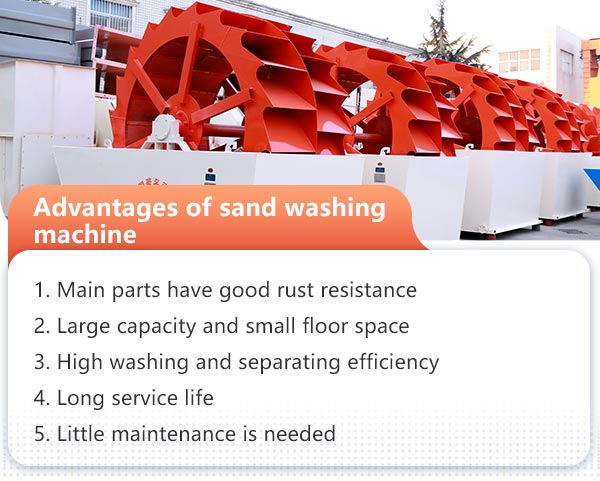 The bearing is also Isolated from the water and materials which can avoid premature damage caused by pollution and rust.
Large processing capacity and less occupied place, which makes the machine adapts all kinds of working site.
There is a small loss for materials and high cleaning efficiency during sand washing, which can fully meet the requirements of high-grade materials.
Long service life and low cost. Installation and maintenance is quite easy and convenient.
Applications of sand washing machine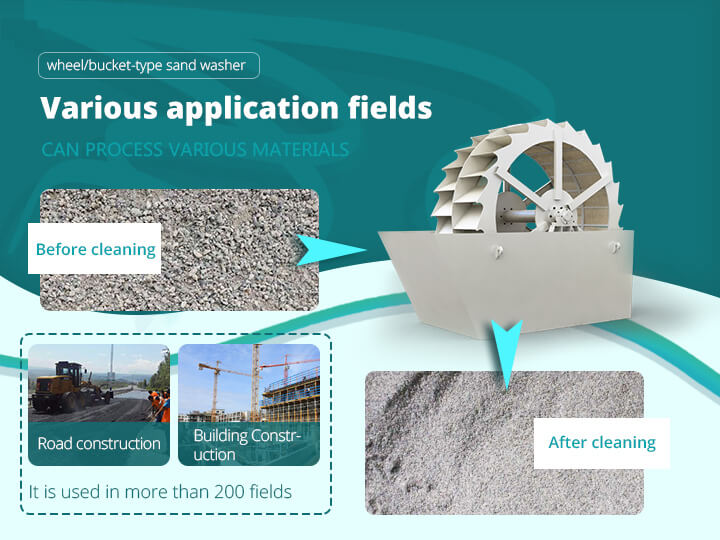 In river sand mining. Sand washing machine not only can remove the impurities, but also can recycle the fine sand.
In the sand production line. During the artificial sand making process, stones would be crushed for several times, which generates some grit powder. So, after man-made sand making process, the product needs to be sieved and washed.
In mineral separation industries. Sand washing machines are used to separating the fine powder of ore for processing next process.
For precast concrete factories' use. Washing and dehydrating the sand materials always need to use a sand washer machine. Precast slab made of these produced materials would have better performance.
In conclusion, whether it is a sandstone production line, a beneficiation production line, or a building material production line, sand washing machine is always a must-have.
Customer case-Fote Wheel type sand washing machine sold to Indonesia
One of our customers in Indonesia is producing and selling river sand aggregates. He wanted to purchase a wheel-type sand washing machine and hoped that we can design the cheapest but high-efficiency production line for him.
Our engineers had made a comprehensive analysis of the customer's raw material and finished product and then gave the corresponding design.
Project name: River pebble sand making and washing production line
Project location: Indonesia
Project output: 30 tons per hour
Raw material: River Pebble Raw material
hardness: Hard Feeding size: ≤50mm
Production line type: Fixed Purchasing equipment: VSI7611 sand making machine, 2YK1545 vibrating screen, 2208 sand washing machine, feed hopper, conveyor
Estimated investment: $40,000
When using machine for a couple of months, he said, "Thanks for your customized solution. Under the guidance of the manual, the river pebble crushing line works well till now. The output sand is very clean, more and more customers begin to choose my sand."
Operation and maintenance manuals
As we all know, all machines need to be maintained at a certain time. Once the machine misses the best time for maintenance, the damage to itself is immeasurable, and the sand washing machine is no exception.
To improve the production efficiency, well maintenance is needed.
Be sure to test the machine before your first use.
Do not overload the machine during the run-in period. Regular maintenance should be carried out according to the manual.
Regular bearing maintenance is required. The bearing is an important part of the washing machine, and easily being damaged, so normal operation and periodic maintenance will prolong the service life. It is suggested that the bearing lubricating oil should be exchanged every three months, and if necessary, cleaning the bearing with clean petrol or kerosene.
Increase anti-freezing measures. Be sure to change the suitable type of engine oil, fuel oil and antifreeze to keep the machine in order.
Stop and inspect immediately to avoid more damages when the machine is in abnormal working conditions.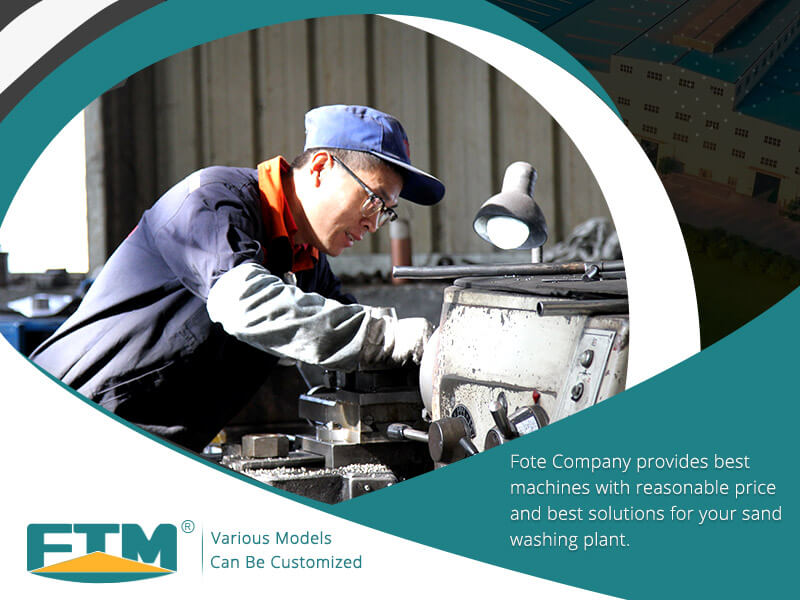 Regular maintenance can make machines work longer, but the maximum service life of the machine is determined by the manufacturer and the quality of the materials. Therefore, when purchasing a machine, be sure to choose a famous-brand manufacturer which could guarantee the machine quality.
Parameter
Specification
Processing Capacity
(t/h)
Motor Power
(kw)
2308
15-40
4
2711
20-65
5.5
3014
50-100
7.5
3220
90-260
11
3227
100-350
15
Note:processing Capacity May Vary With Different Materials And Feeding Sizes.
Specification
Processing Capacity
(t/h)
Motor Power
(kw)
2308
15-40
4
2711
20-65
5.5
3014
50-100
7.5
3220
90-260
11
3227
100-350
15
Note:processing Capacity May Vary With Different Materials And Feeding Sizes.