The cement industry is an industry with high energy consumption and a large amount of pollutant emissions. Faced with mounting coal shortage and increasingly stringent emission standards, cement plants of the future need to embrace digitalization and sustainability trends to gain a competitive advantage and build resilience.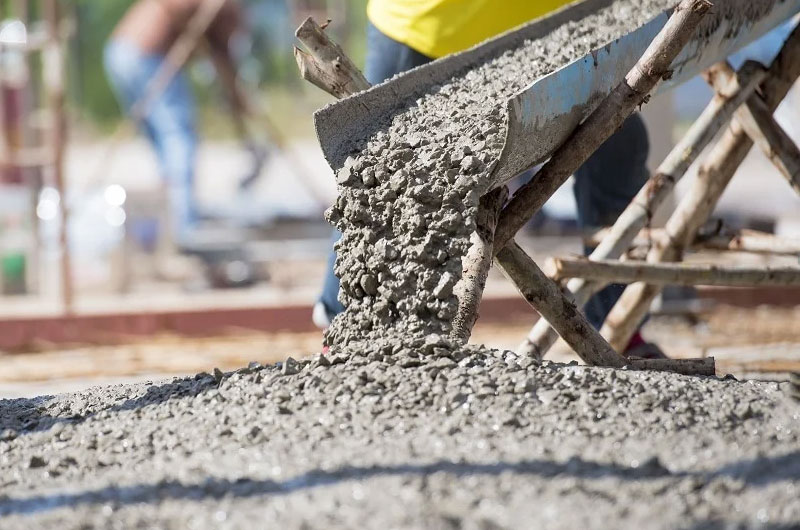 Nigeria's real estate sector has been severely affected by the advent of the global Covid-19 pandemic. That exacerbates the already severe housing shortage. The construction industry will develop rapidly after the lockdown ceased, which will greatly stimulate cement consumption.
Nigeria is blessed with abundant cement raw materials, namely limestone, clay, and gypsum (Also referred to as plaster). The abundant cement raw materials provide a guarantee for the stable mass production of the Nigerian cement industry. But strangely, the price of cement in Nigeria has been on the high side.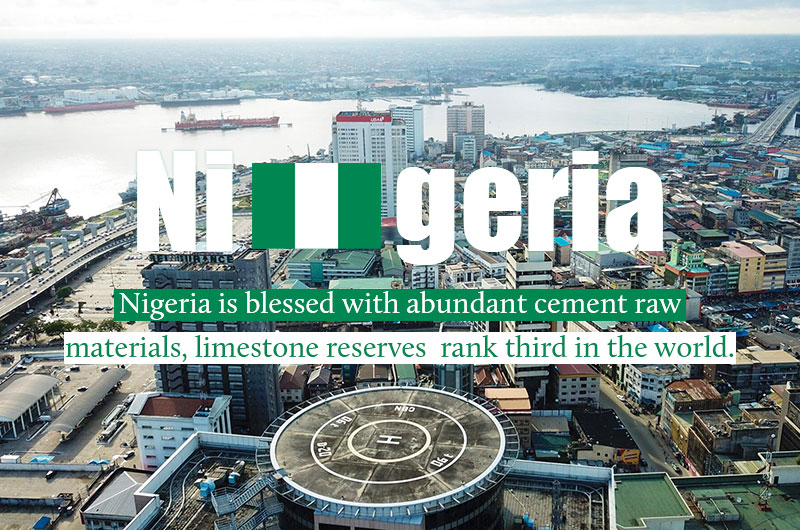 As of now, the retail price of cement in Nigeria is ₦3,600—₦3,900 per bag, depending on brand and location, etc. The wholesale price (600 bags) ranges from ₦2,100,000 to ₦2,350,000, depending on the manufacturer.
One of the reasons for the high price of cement is that the supply exceeds demand. Therefore, the three key cement players in Nigeria, Dangote Cement, Lafarge cement, and BUA Cement, are all working hard to increase cement production capacity to balance cement prices.
Another factor responsible for high cement prices is cement plant machinery. Excessive energy consumption, the high maintenance cost will increase cost, causing the cement price to rise.Then you may wonder what equipment does the cement plant needs? How can we reduce energy consumption and maintenance costs?
Before answering these questions, we need to understand the cement making process.
Cement Manufacturing Process
Cement plants mainly consist of a series of machines like cement crushers, raw material mills, rotary kiln, cement dryer, cement cooler, cement ball mill and other related equipment. With the assistance of these machines, we turn cement raw materials into clinker and then into finished cement.
In cement plants, cement manufacturing needs to go through the following six processes:
Raw Materials Crushing, Proportioning & Blending
Raw Materials Grinding
Preheating
Calcination
Clinker Cooling and Grinding
Cement Packing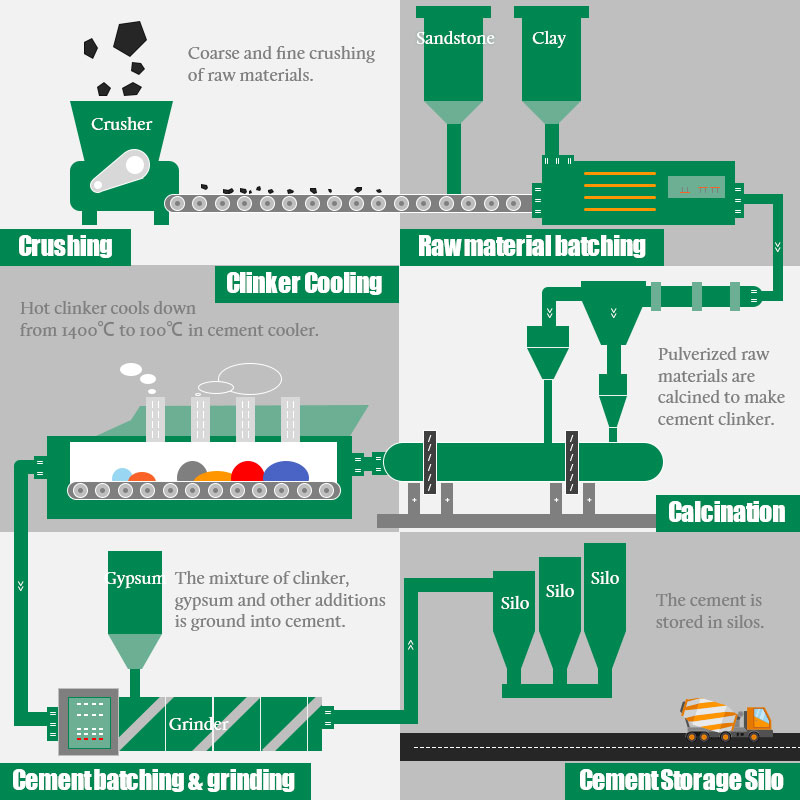 In the process of cement manufacturing, all the raw materials like limestone and clay need to be first pulverized into the proper size and then mixed together in proportion. The mixture (also called raw meals) will be ground into required fineness by a cement ball mill, delivered to the preheater for partial decomposition, then to the kiln for calcination. Since the temperature in the kiln is pretty high, we usually use a cement cooler to cool it down to the normal temperature so that the clinker can be further processed. The cooled clinker is mixed with 3-5% gypsum powder, amd other desired additives, and the mixture is sent to a ball mill for fine grinding to reach a qualified fineness of cement products.
Hot sale cement equipment
R

aw material

preparation of cement
The first step in manufacturing of cement is to crush, and grind limestone, clay, iron ore, gypsum and coal to the required particle size. Then use scientific stacking and reclaiming technology to complete the homogenization of raw materials. It needs crushers and mills to do the crushing and grinding job.
Cement crusher
Raw mill
Clinker production
The prepared raw materials are preheated in the preheater and sent to the cement kiln to be calcined at high temperature (about 1500° C) to get clinker with calcium silicate as the main component. Then the clinker will be cooled down in a cement cooler. In the dry process for manufacturing of cement, materials like limestone, coal, and additives need to be dried. In the wet process, coal and required additives also need to be dried. So a rotary dryer is indispensable.
Cement kiln
There are two types of cement calcination machine (or cement calciner): shaft kiln and rotary kiln. The latter is more favored by cement manufacturers due to its thorough calcination effect, better clinker quality and higher clinker output.
Clinker and gypsum are all fed to the cement mill for fine grinding. To reduce dust and CO2 emissions, dust collection equipment is necessary. Electrostatic precipitators, bag dust collectors and cyclone dust collectors are all widely used in cement plants.
Cement ball mill
Dust collection equipment
Auxiliary cement manufacturing equipment
Hopper
Stacker and reclaimer
Preheater
Storage silo
Cement packing machine
The above is the production process and required equipment of a cement plant. The energy consumption of the cement industry mainly comes from the heat consumption during clinker calcination and the electricity consumption during the whole cement production process. The former is measured by the heat energy required to produce a unit of clinker (kJ/kg); the latter is measured by the electric energy required per unit of cement (kWh/t).
A rotary kiln is the key equipment for calcination. Normal rotary kilns have the problems of excessive energy consumption and excessive carbon emission during operation. Therefore, energy-saving and environmentally-friendly cement kiln is sought after by cement manufacturers.
The cement grinding plant accounts for more than 70% of the total electricity consumption in the cement making process. And it directly affects the output and quality of cement, so the cement grinding plant palys a very important role in saving power.
Calcination and cement grinding are energy-consuming links. It is suggested that you start with rotary kiln and cement grinding station to conserve energy, thereby, lowering cement manufacturing plant cost.
Cement plant manufacturer
Fote company, an established company specializing in cement equipment, obtained ISO international quality certification in 2000, can provide customers with a variety of professional cement machines. Here are what we can do and what we have done for customers all over the world:
Project plants customization: Fote company provides customized cement project plants, related production lines, and single cement machine according to customers' cement raw materials, daily output and other requirements.
Equipment Installation Commissioning: Fote offers cement plant onsite installation and real-time commissioning service.
All-around After-sales Service: Our company provides technical assistance, usual spare parts service, equipment maintenance and equipment operation training service.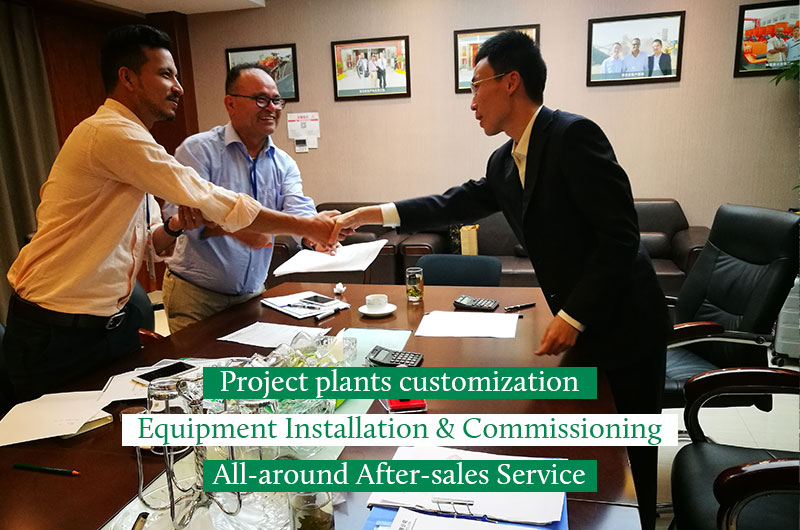 Why us?
1. Fote cement rotary control system has a high degree of automation. Feeding, calcination, clinker conveying, equipment monitoring, regulation, alarm are all centrally controlled by PLC or DCS control system in the central control room. High automation makes the equipment operation simple and convenient, saving time, effort, and investment.
In addition, Fote engineers researched what causes heat consumption in cement kiln, and improved the rotary kiln to reduce the heat loss. Compared with other rotary kilns of the same specification, our rotary kilns have increased by 10% in operation rate, 5%-10% in clinker output, and has reduced 15% in heat loss.
2. Fote grinding plant adopts the pre-crushing technology to reduce the particle size of the material to be milled, thereby greatly increasing the output of the cement mill and reducing the energy consumption. In the case of the same particle size of the finished product, compared with other processes, the output under the same power condition can be increased by 30%, and the energy consumption can be reduced by about 15%.
3. Robust Fote cement machines are designed for long life and minimum maintenance. Taking cement mills as an example, its scientific lubrication system reduces bearing wear, extends bearing life, and reduces maintenance costs.
4. Fote can provide cement equipment at the factory price, reducing equipment investment costs. The following is a comparison of the prices of rotary kilns.
| | | |
| --- | --- | --- |
| Cement equipment manufacturer | Capacity (TPD) | Price($) |
| FTM | 180-10000 | 100,000.00-900,000.00 |
| Manufacturer A | 300-10000 | 9,999.00-999,999.00 |
| Manufacturer B | 300-10000 | 100,000-150,000.00 |
| Manufacturer C | 24-8400 | 70,000.00-1,900,000.00 |
| Manufacturer D | 300-5000 | 300,000.00-800,000.00 |
Source: Alibaba.com
Reference:Nigeria Cement: Infrastructure deficit and growing export market boost outlook