Fly ash is the fine gray powder consisting mostly of spherical, glassy particles that are produced during coal combustion. It is the main solid waste discharged from coal-fired power plants.
Fly ash processing technology has transformed fly ash from waste into a popular construction material. It can be used in cement, concrete, lightweight aggregate, grouting, siding, and soil stabilization. To achieve the above-mentioned uses, fly ash needs to go through processing processes such as drying, separation, grinding, granulation, etc.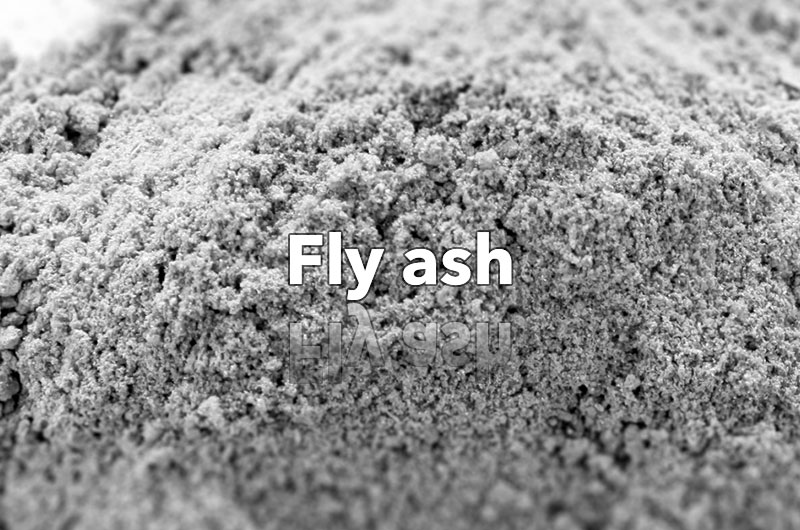 Processing methods of fly ash
1. Fly ash drying system
Depending on the discharge method, there are dry fly ash and wet fly ash. Dry fly ash is sold well as an admixture for cement production. The wet fly ash has to be dried to have economic value.
The wet fly ash is fed into a rotary dryer with burners. After passing through the dryer, the dried material is discharged onto a conveyor belt for further sorting, separation or storage. The dedicated bag dust collector free the system from dust pollution.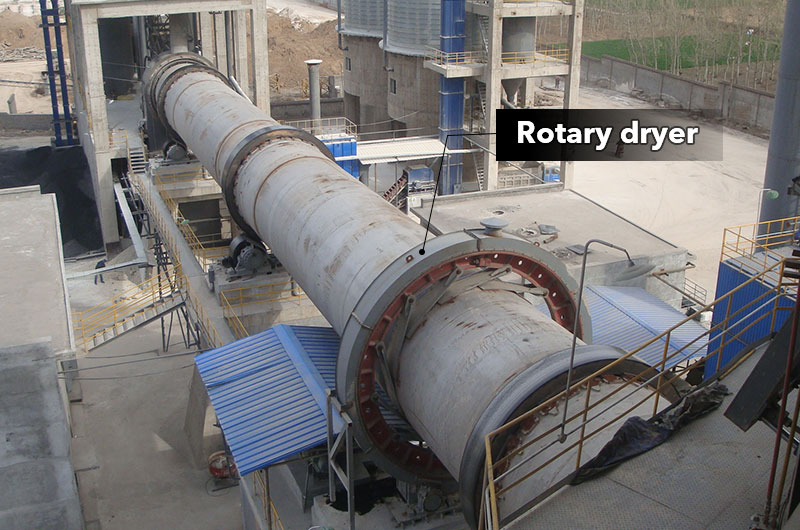 Notes on fly ash drying
1. Control of initial moisture.
The wet fly ash that has just been discharged has a high content of water. This leads to difficulties in conveying and feeding of materials, stacking and blocking in the dryer, and blocking in the dust collection equipment.
Solution: Use the storage method to naturally precipitate part of the water, or use the drum centrifugal dehydration method to remove most of the water before drying.
2.Selection of dust collector.
Fly ash is light, fine, and has strong adsorption, so it is not easy to settle and collect. This results in a high dust concentration in the drying exhaust gas.
Solution: Choose the fly ash bag dust collector developed by ftmmachinery. The structure, filter area, and wind speed of the dust collector are all targeted designs. Besides, special filter bag materials, dust collection methods that can avoid secondary dust, advanced and reasonable automatic control and alarm systems, and efficient heat preservation systems are also used.
2. Fly ash grinding system
Fly ash range in size from 0.0005 mm to 0.3 mm. For use in cement and concrete, its fineness specification requires at least 66% passing through a 0.044 mm (325 mesh) sieve. The fly ash ball mill is commonly used for grinding, and the powder separator (powder concentrator) is used to control the fineness of the finished product. The grinding system is also equipped with a dedicated dust collector.
➢ If the content of fine powder with a particle size of ≤0.044mm is high (40%-60%), select them out by a powder separator first and collect them as finished product by a dust collector. The coarse powder is ground by a mill and sorted by a separator.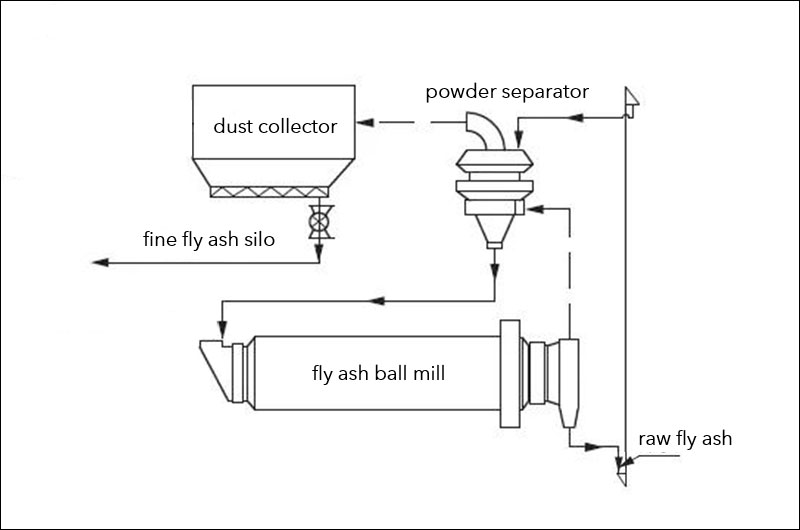 ➢If the content of fine powder with particle size ≤ 0.044mm in the raw material is low, grind the fly ash with a ball mill, and then screen it with a powder separator.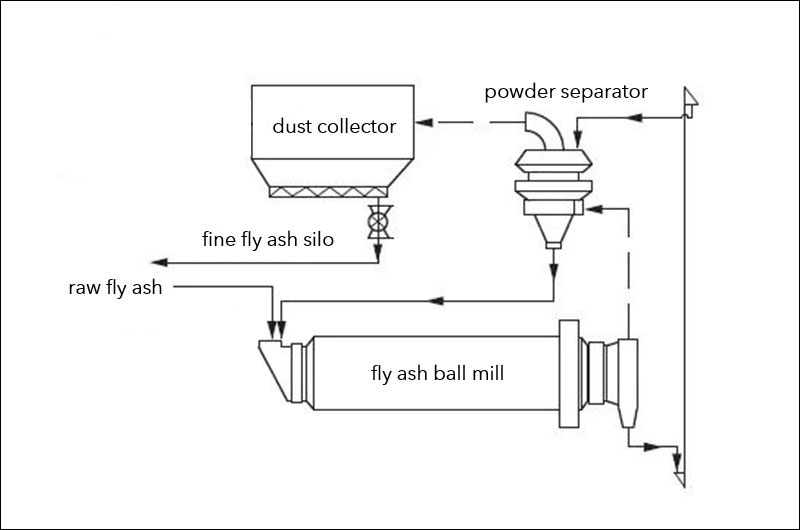 Ftmmachinery can design a reasonable grinding process according to the specific conditions of fly ash and provide corresponding equipment. Contact us
3. Fly ash granulation and roasting
Ground fly ash is the main raw material for the production of fly ash ceramsite, which can be used in lightweight concrete, lightweight aggregate, refractory brick, soil conditioner, waste water treatment materials, etc.
How to produce fly ash ceramsite?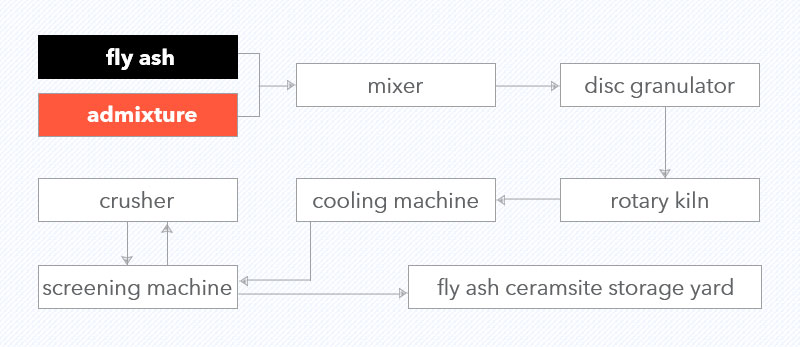 Step 1. Mix the fly ash and admixtures (such as activators, binders, pore formers) according to the proportions with a mixer.
Step 2. Feed the mixture into a disc granulator to get fly ash pellets.
Step 3. The naturally dried fly ash pellets are sent to the rotary kiln for roasting.
Step 4. The fly ash ceramsite is cooled by a cooling machine, classified by a screening machine and sent to the fly ash ceramsite storage yard.
5 uses of fly ash
1. Fly ash in Portland cement concrete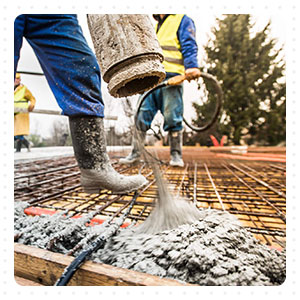 Fly ash is a pozzolan, a substance containing aluminous and siliceous material that forms cement in the presence of water. When mixed with lime and water, fly ash forms a compound similar to Portland cement. Therefore, fly ash is often used to replace part of the cement, reducing the cost of concrete and improving the performance of concrete.
2. Fly ash in cement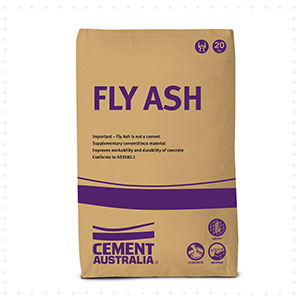 Fly ash can also be used as a cement admixture. Fly ash, Portland cement clinker and gypsum can be mixed in a certain proportion and then ground to make fly ash Portland cement. The addition of fly ash can reduce cement water demand, improve crack resistance, reduce hydration heat, improve hydrochloric acid corrosion resistance and fresh water resistance, and inhibit alkali-aggregate reaction.
3. Fly ash in soil stabilization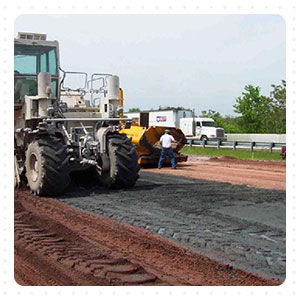 Soil stabilization is the alteration of soil properties to improve the engineering performance of soils. Fly ash can improve soil strength, control shrinkage and expansion, and reduce water content. Therefore, fly ash is often used in road construction.
4.Fly ash bricks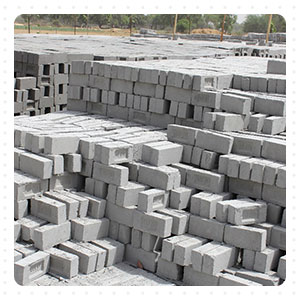 Mix fly ash, lime, gypsum and sand in desired proportions with a mixer. Compress the mixture into bricks. Cured the pressed bricks by high pressure steam to obtain the finished fly ash bricks. Fly ash bricks are favored by builders because of their low price, high compressive strength and good seismic performance.
5. Fly ash in wastewater treatment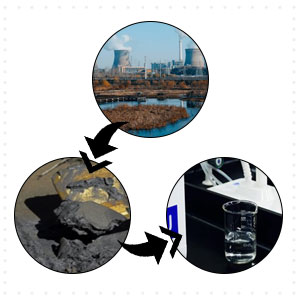 The fly ash ceramsite made of fly ash as the main raw material can be used as a filter medium in wastewater treatment, and has achieved good results in the treatment of wastewater containing heavy metal, humic, phosphorus, fluorin and oil.
Reference: How to make fly ash bricks?