All Items Need to be Known on Limestone Powder Grinding Line
Author : Jordan
|
Last Updated :
Limestone is a member of the sedimentary rock family and is usually gray or black.
Its chemical composition is mainly CaO, generally 45% to 55%, followed by a few of MgO, SiO2 and Al2O3.
The mineral composition of limestone rock is mainly calcite or calcareous bioclasts (such as shells or biological bones, which are also composed of calcium carbonate), followed by dolomite, clay, silt, quartz, feldspar, glauconite, iron oxides, etc.
When the clay mineral content reaches 25%~50%, it is called argillaceous rock.
When the dolomite content reaches 25%~50%, it is called dolomitic limestone.
What are the types of limestone and how are they formed?
Limestone can be divided into grain-bearing limestone, micritic limestone, laminated limestone, biohermal limestone, chalk and so on according to its composition, structure, formation mechanism and impurities.
Grain-bearing limestone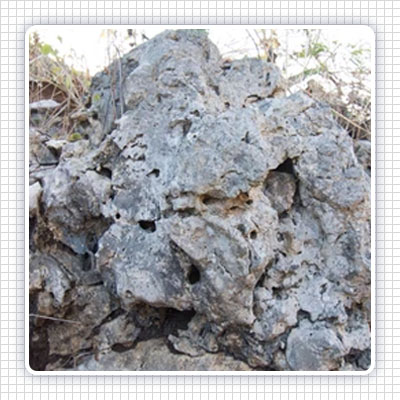 Grain-bearing limestone, usually light gray or gray, is composed of grainy calcite.
Formation reason: It is usually formed in the oxidizing environment of high-energy littoral and shallow littoral facies.
Micrite limestone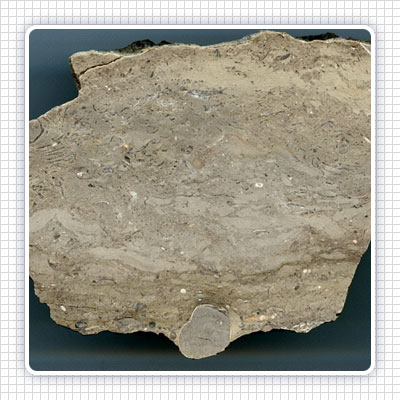 It is composed of extremely fine-grained wackestone without binding effect.
Formation reason: It is produced in still water and low-energy environment.
Laminated limestone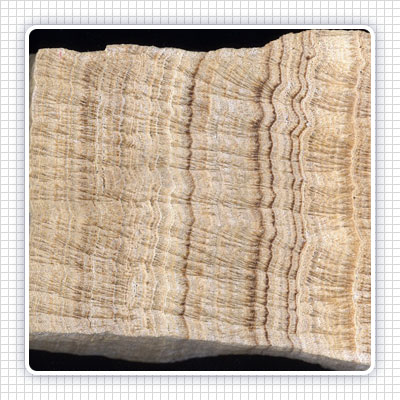 It is a kind of rock that is mainly formed by mucus-secreting algae, which precipitates, traps and binds carbonate grains by secreting calcium carbonate.
Biohermal limestone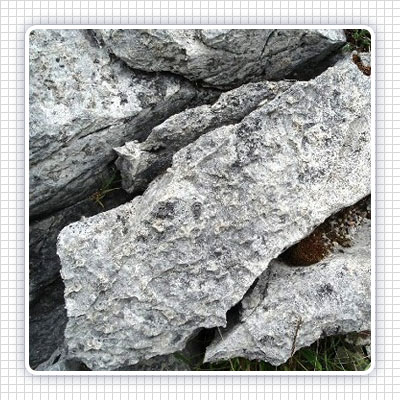 Biohermal limestone is a carbonate reef gradually formed on the basis of carbonate skeleton or shell of organisms, such as corals, algae, stromatoporoids, and rudist, etc.
Chalk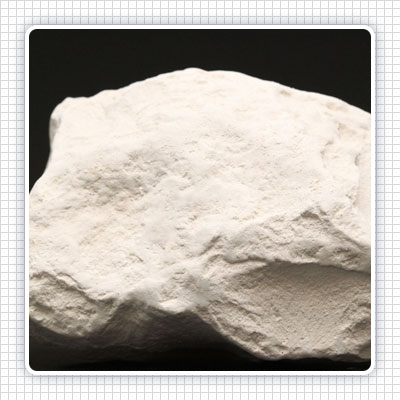 Chalk is a fine-grained white limestone rock with loose, porous and brittle characteristics. Its quality is extremely pure with its CaCO3 content >97%.
Its main mineral composition is low-magnesium calcite, containing a small number of clay minerals and fine-grained quartz debris.
Formation reason: Chalk is formed in a warm marine environment and deposited at depths ranging from tens to hundreds of meters.
What is the limestone milling process?
Limestone powder ground from natural limestone rock is also called Heavy Calcium Carbonate, or Ground Calcium Carbonate (GCC) (Kotaite in the United States).
The grinding process of heavy calcium carbonate can be divided into coarse crushing, medium and fine crushing, powder grinding, grading and powder collection.
Crushing

Limestone rocks are crushed by the jaw crusher and impact crusher.

01
Powder grinding

Sent limestone to the milling machine by the vibrating feeder for grinding.

02
Grading

Classify ground calcium carbonate powder by powder concentrator

03
Powder collection

Collect calcium carbonate powders in the cyclone collector.

04
What are the limestone milling machines?
Raymond mill is an earlier and commonly used milling machine. It can process and grind stones with Mohs hardness ≤9.3 and humidity <6%.
The final calcium carbonate powder fineness of Raymond mill ranges from 80 - 325 mesh, which can meet the fineness requirements of limestone powder in most industries.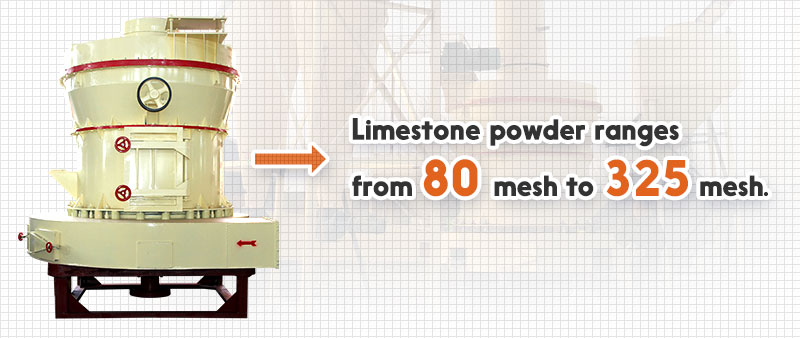 Fote Raymond mill for limestone milling
In addition, with the development of technology, the structure and function of the Raymond mill have also been improved. The specific improvements are as follows:
Its powder separator has been changed from dragging inside the cavity to a suspended transmission outside the cavity, enhancing its stability and durability.
The grinding roller also rotates around the central axis, so the Raymond mill can work with greater grinding force and higher operating speed.
The barrel shape protects the wind box and air ducts from being blocked.
The electrical system adopts centralized control, which reduces labor costs.
HGM ultrafine grinding can overcome the difficulty of ultra-fine powder classification better. The fineness of the limestone powder is between 80-800 mesh.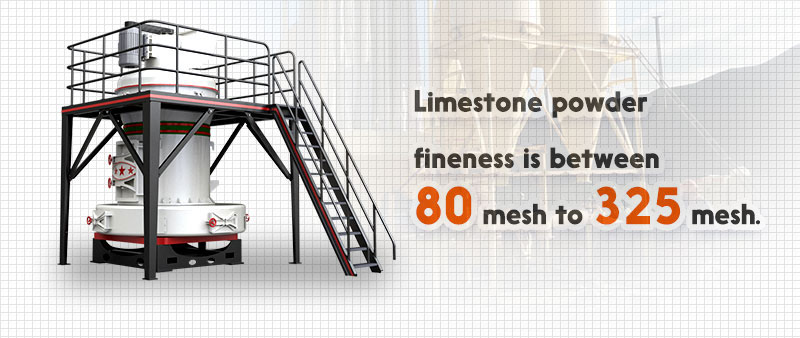 HGM ultrafine mill limestone powder to grind limestone powder to 80-800 mesh
Frequency control of powder concentrator achieves better fine powder separation effect.
The spring pressure device can not only increase the grinding force, but also prolong the service life of the grinding ring and roller, which can effectively save maintenance costs.
The curved air duct makes the air inlet smooth and reduces the resistance, and its direction of the internal outlet is easy to disperse micro limestone powders.
Three-ring medium-speed micro milling Get Latest Price
The three-ring medium-speed micro milling is named because of its design with three grinding rings. It is a kind of fine and ultra-fine powder processing equipment.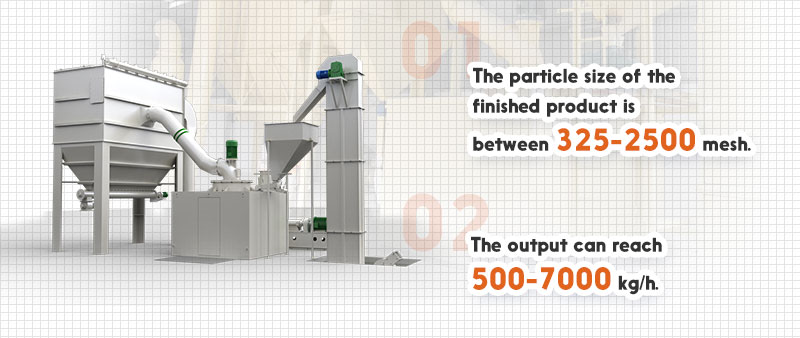 Three-ring medium-speed micro milling
The particle size of fine powder can be adjusted arbitrarily between 325-2500 mesh, and the output can reach 500-7000 kg/h.
High safety and reliability
Because there are no rolling bearings and no screws in the grinding cavity, there are no such problems as damage to the bearings and their seals, as well as damage to the machine due to loose screws.
Long service life of wear parts
The grinding roller and ring are forged with special materials, so that the utilization degree is greatly improved.

The grinding roller and ring of three-ring medium-speed micro milling
When processing limestone, its service life can reach 2-5 years.
Environmentally friendly and clean
The pulse dust collector and the muffler are used to collect dust and reduce noise separately, which is environmentally friendly and clean.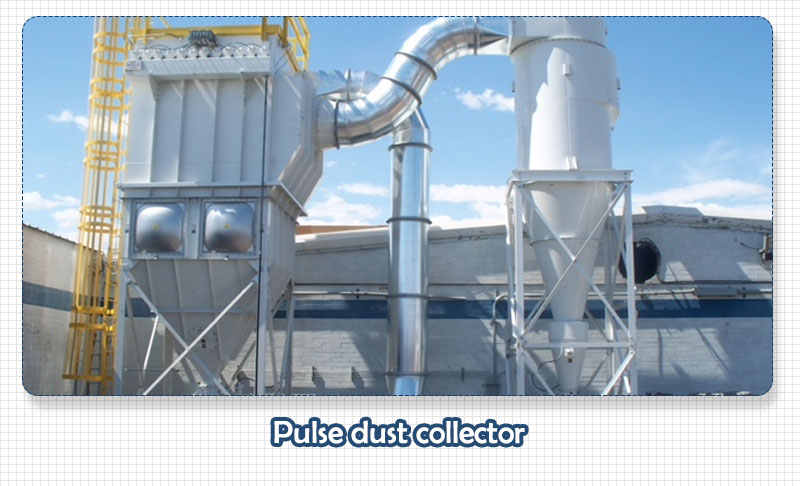 Fote pulse dust collector of limestone powder processing line
What kind of mill is best for limestone?
Different limestone grinders have different application scopes. Customers can choose according to the grinding degree, required fineness of limestone powder, output and so on.
The details are as follows:
Equipment
Raymond mill
HGM ultrafine mill
Three-ring medium-speed micro milling
Grinding degree
Coarse powder
Fine powder
Ultrafine powder
Capacity
8-176 t/d
30-800 kg/h
500-7000 kg/h
Feeding size
≤30 mm
≤20 mm
<10 mm
Discharging size
80-325 mesh
80-1250 mesh
325-2500 mesh
How to configure limestone grinding production lines?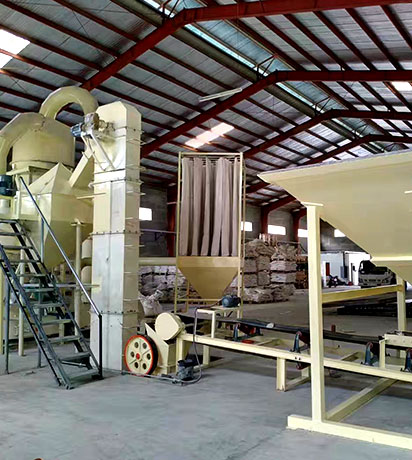 HGM ultrafine mill limestone powder processing plant in Zimbabwe
Limestone rock size : 0-50 mm
Material moisture : <5%
Limestone powder fitness : 200-400 mesh
Daily running time : 11 h
Main equipment : Impact crusher, bucket elevator, HGM ultrafine mill, powder collector, current collector, etc.
High degree of automation

Equipped with PLC intelligent control cabinet and remote central control system.

No dust

Pulse dust removal equipment is equipped.

Good powder effect

Uniform fineness, high purity, high powder yield and sieving rate.

High service quality

Provide solutions within 24 hours and dispatch personnel within 48 hours.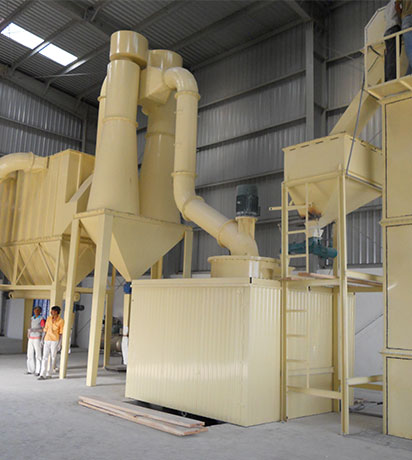 Raymond limestone grinding production line in Brazil
Limestone rock size : 0-200 mm
Material moisture : 1-6%
Capacity : 20 tph
Calcium carbonate powder fitness : 280 mesh
Main equipment : Jaw crusher, impact crusher, trommel screen (2 sets), Raymond mill (2 sets), vibrating feeder, powder concentrator, etc.
Reasonable layout to meet the needs of site planning.
Deliver on time to facilitate rapid production and profitability.
Improve equipment quality to achieve cost reduction and efficiency increase.
What are the uses of limestone powder?
Limestone powder can be used in many fields and has considerable economic benefits. Especially in recent years, limestone grinding industry has been gradually popularized.
Production of Portland cement
Generally, limestone powder can meet the requirements of cement raw materials after crushing and grinding.
Foundry sand
It can be used in the production of foundry sand, which has better performance than quartz sand for machinery manufacturing. It not only has good collapsibility, but can increase the surface finish of casting.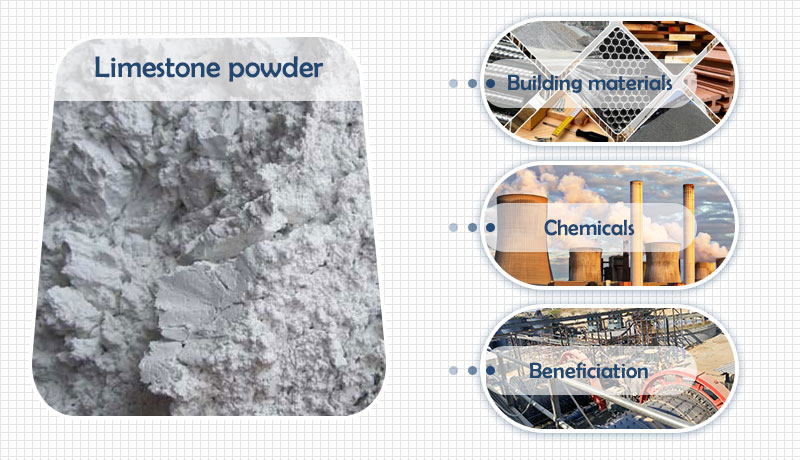 Applications of limestone powder
Industrial building materials
Calcium carbonate powder coating greatly improves the thixotropy, adhesion, scrubbing resistance, stain resistance, strength and surface finish of the coating.
Limestone powder can be directly used to produce calcium-magnesium powder, putty powder and other powders for industrial building materials.
It is also the main raw material in the construction of mixing plants and highways.
Filler
Limestone powder can be used as a filler in the production processes of plastics, rubber, paper, coatings and printing inks.
The following are the uses of heavy calcium carbonate powder with different fineness:
Fineness
Whiteness
Application area
<200 mesh
-
Feed additives with calcium content exceeding 55.6%
250-300 mesh
≥85%
Plastics, rubber, paint, and waterproof materials
350-400 mesh
≥93%
Gusset plates, downpipes, chemicals, etc.
400-600 mesh
≥94%
Toothpaste, soap, etc.
800 mesh
≥94%
Rubber, plastic, cable, PVC
1200 mesh
≥95%
PVC, PE, paint, primer, paper surface
Two things need to be noticed in limestone powder grinding process
Ensuring the grinding efficiency and reducing dust pollution are the two most important aspects of limestone powder grinding.
The former is the principal factor for obtaining expected economic benefits.
The latter is an important measure of protecting the environment and achieving sustainable development.
Ensuring the grinding efficiency
The grinder capacity is a very important factor that affects the profit.
How to ensure the grinding efficiency of the grinder in the grinding process?
Control the spindle speed
When the operating power is lacking or the transmission belt is worn, the spindle speed will decrease, resulting in a decrease in the grinding speed.
Therefore, during the powder processing, it is necessary to pay attention to whether the milling machine has sufficient running power or not and replace the worn transmission belt in time.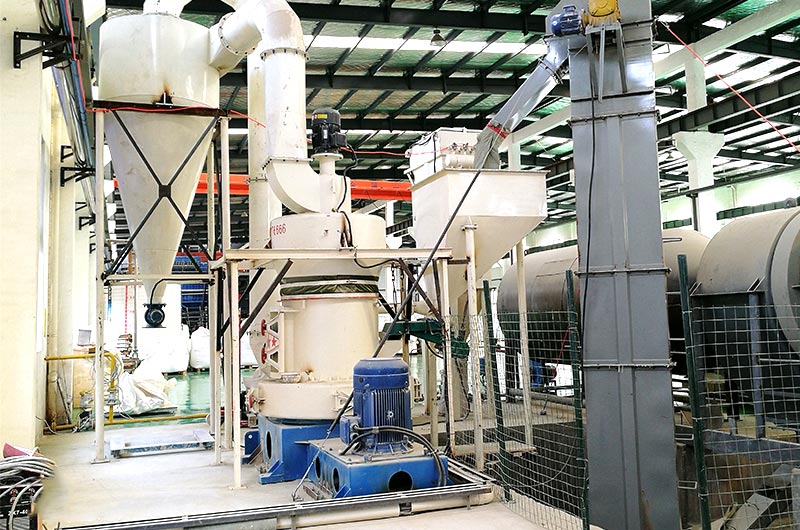 Fote powder grinding equipment
Check the wearing parts
The wear of wearing parts such as the blade, grinding roller, and grinding ring of the grinder will also decrease the powder output rate.
Therefore, checking and replacing the wearing parts is also an important part to ensure grinding efficiency.
Check the pipes
Being not well sealed, the air duct will be blocked, causing the increase of dust.
As a result, the seal of grinder needs to be checked carefully before working.
Once the air duct is blocked, stop the operation and dredge the pipeline in time.
Reducing dust pollution
As one of the most common and difficult problems in powder grinding, dust pollution can be reduced from the following aspects: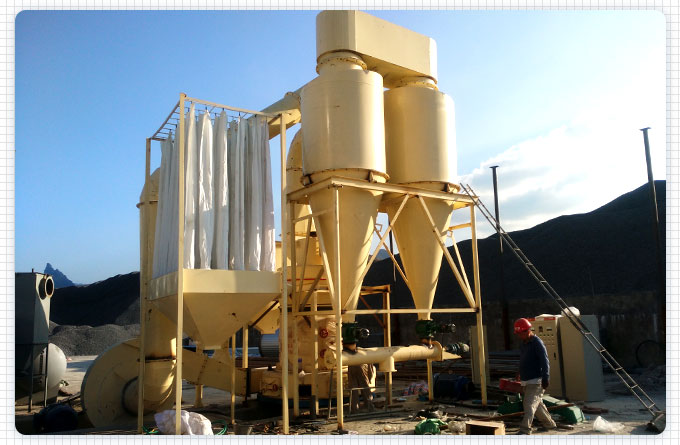 Powder grinding equipment designed by FTM
Adding an aerosol dust removal system at the inlet of the grinder is an important way to reduce dust pollution. While the amount of water needs to be controlled strictly because the grinder would be blocked if the moisture of material is more than 10%.
Pay attention to the sealing between various parts of the grinding line to prevent dust leakage.
Choose a high-quality dust collector. Dust collector affects the discharge of dust directly.
Share: