Growing global market of limestone:
Dr Oral Rainford has always advocated educating the public to learn about limestone and related industries in order to benefit the country. Why would he do this? The report below may answer your questions.
In March of this year, the Research and Markets team released the limestone-global market trajectory and analysis report. From the report, we learned about the market prospects of limestone in the global market.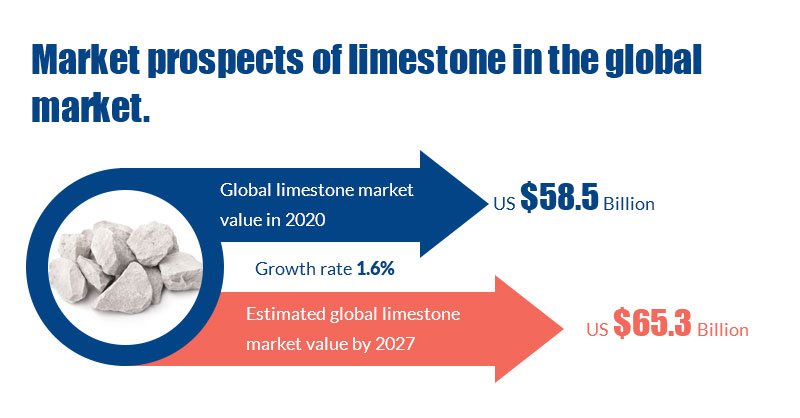 Amid the COVID-19 crisis, the global market for Limestone estimated at US$58.5 Billion in the year 2020, is projected to reach a revised size of US$65.3 Billion by 2027, growing at a CAGR of 1.6% over the period 2020-2027.The compound growth rate of the limestone market in the United States is expected to be 3.0% by 2027. China, the world's second largest economy, accounted for 3.2%. Among the other noteworthy geographic markets are Japan and Canada, each forecast to grow at 0.1% and 1.2% respectively over the 2020-2027 period. Within Europe, Germany is forecast to grow at approximately 0.5% CAGR.
The specific compound growth rate of each country is shown in the following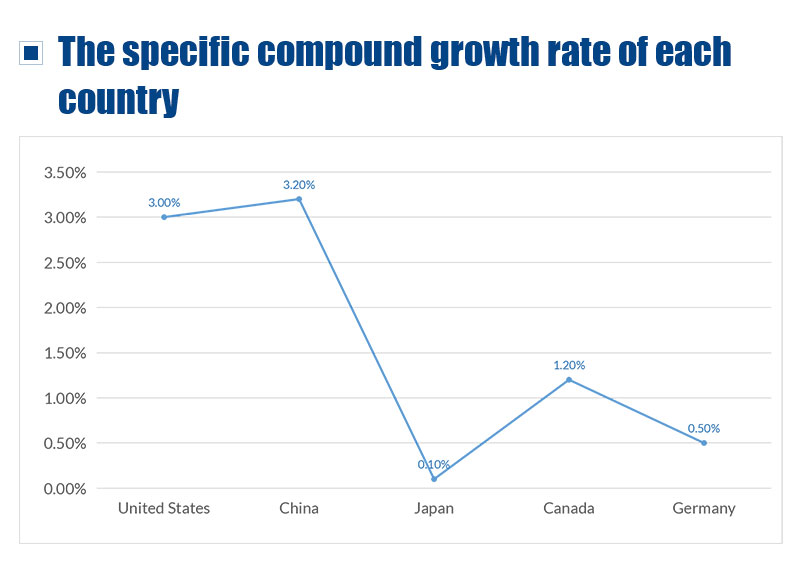 This shows that the global market for limestone is growing.
Limestone uses:
Limestone's good and broad market prospects are inseparable from wide limestone uses. Next, we are going to talk anout what is limestone used for.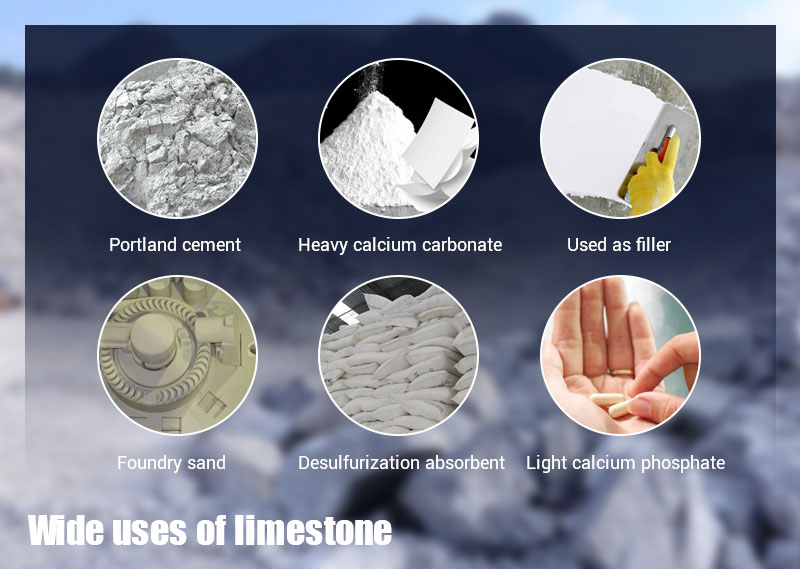 Production of Portland cement. Generally, limestone can meet the requirements of cement raw materials after crushing and grinding.
To produce heavy calcium carbonate products for high-grade papermaking, like coated paper. After crushing and grinding, limestone powder with a particle size of less than 2μm can be used to produce heavy calcium carbonate. This kind of high value-added fine, superfine and active heavy calcium carbonate is widely used in papermaking process.
It can be used as filler in plastics, coatings and other production processes. The average particle size is 10-15 μ M limestone powder is used as filler for coatings. The particle size is less than 10 μ M is used as filler for plastics, rubber and paper. The particle size is less than 5 μ M is used as oil filler after activation treatment.
Production of foundry sand for machinery manufacturing. Limestone casting sand with a particle size of2μm-7μm has better performance than quartz sand, has good collapsibility, is easy to clean by falling sand, improves the surface quality of the casting, and increases the surface finish of the casting.
Production of desulfurization absorbent. Limestone is crushed to 0 ~ 2 mm. Limestone powder can replace the original lime or slaked lime. It is mixed with water and stirred into a slurry in the absorption tower. The absorption slurry contacts and mixes with the flue gas. The sulfur dioxide in the flue gas and the calcium carbonate in the slurry are blown in. The air is removed by chemical reaction, and the final reaction product is gypsum. After desulfurization, the flue gas is heated up and discharged into the chimney. The technology is mature, the desulfurization efficiency is high, the application range is wide, and the economic benefits are good.
The crushed and ground limestone powder can be chemically processed to produce light calcium phosphate, calcium supplements for oral administration (medicinal grade), calcium supplements for food industry, bulking agents and advanced toothpaste friction agents, feed additives, phosphate fertilizers, and calcium lactate , Calcium gluconate, calcium chloride, calcium carbide, etc.
You must have noticed that limestone powders of different fineness were mentioned when introducing the use of limestone. Because the larger pieces of limestone are obtained by blasting in the limestone quarry, it is necessary to crush them into limestones of various specifications during further processing. How to crush limestone? What equipment is needed? Will it pollute the environment when broken? Next, let's get to know it together.
Limestone crushing process:
The crushing process mainly includes: coarse crushing, medium and fine crushing, and screening.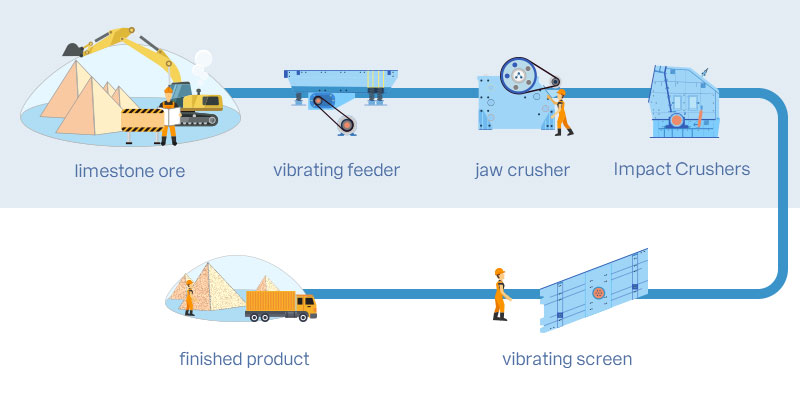 Coarse crushing: The jaw crusher is generally selected for the coarse crushing process. The jaw crusher has a large crushing force and feeding range, which can crush large pieces of limestone into small pieces. In addition, the jaw crusher is also suitable for coarse crushing of many other materials.
Medium and fine crushing: the coarse crushed limestone is then treated with medium fine crushing. For the equipment, we can choose the impact crusher. Some customers also use cone crusher, but the limestone hardness is not high. Considering the investment cost, it is more cost-effective to choose the impact crusher.
Grading: Limestone is processed into finished products with various specifications and good grain shapes according to user requirements. Then a vibrating screen is needed for classification. Qualified products are collected, and unqualified products are broken again. In addition, if the production volume you require is small and the requirements for the size of the stone are not so high, you can also choose a heavy hammer crusher, which can be crushed at one time and has multiple functions of coarse crushing and medium and fine crushing.
According to the above crushing process, the crushing machine in the limestone crushing plant are as follows:
1

Feeder +jaw crusher + fine jaw crusher + vibrating screen

2

Feeder + jaw crusher + impact crusher + vibrating screen

3

Feeder + jaw crusher + cone crusher + vibrating screen

4

Feeder + jaw crusher + hammer crusher + vibrating screen

5

Feeder + heavy hammer crusher + vibrating screen
Crush limestone in a green and eco-friendly way:
In the limestone crushing plant, limestone crusher will produce a lot of pollution, such as dust pollution, noise pollution. Nowadays, the requirements of environmental protection are higher and higher, and it is inevitable for limestone crushing station to properly deal with the pollution.
Dust removal measures:
Water spray device: Install water spray device at the main parts such as the inlet and outlet that are prone to producing dust.

Dust collection device: the use of bag filter can solve dust problem simply and quickly. and is easy to manage.Bag filter is easy to install and maintain.

Frequently clean the pre-screening vibrating screen: the limestone fragments are delivered to a vibrating screen for pre-screening before entering the limestone crusher to screen out small particles and dust. Therefore, the vibrating separator must be cleaned frequently to prevent vibrating aperture blockage.

Sealing of the dust source: adopt sealing measures to strictly seal the dust-producing parts and the dust-producing equipment, so that the dust is enclosed in a certain space. For example, sealed vibrating screen, sealed conveyor belt, sealed workshop, etc.
Noise reduction measures:
Use low-noise equipment: the centrifugal fan adopts low-noise and low-speed, screw-type compressors are preferred for air compressors.

Reasonable layout of noise-producing equipment: The reasonable layout of the noise-producing machines shall be comprehensively considered when designing the limestone crushing plant. For example, high-noise equipment is centrally arranged in the factory and not close to the edge of the factory boundary. For high-noise equipment, add sound insulation covers or screens, and use enclosed workshops for strong noise source workshops and install sound insulation doors and windows.

Set up sound insulation duty rooms at fixed positions. No fixed posts are set in high-noise places, only patrol inspections are carried out, and at the same time, inspection workers are equipped with personal protective equipment such as sound insulation earmuffs to reduce the impact of noise on workers.
Limestone is rich in storage resources all over the world, which brings unlimited business opportunities for limestone upstream and downstream industries. Whether it is upstream industry or downstream industry, limestone needs to be crushed when it is deeply processed into other products. Therefore, it is very crucial to choose suitable crushing machines and crushing plant, which are not only need to meet the production needs of customers, but also help to protect the ecological environment.
If you encounter difficulties with choosing crushing equipment, click here..