Magnesite (MgCO3) is a natural mineral mainly composed of magnesium carbonate and is the main source for the production of magnesium metal and magnesium oxide.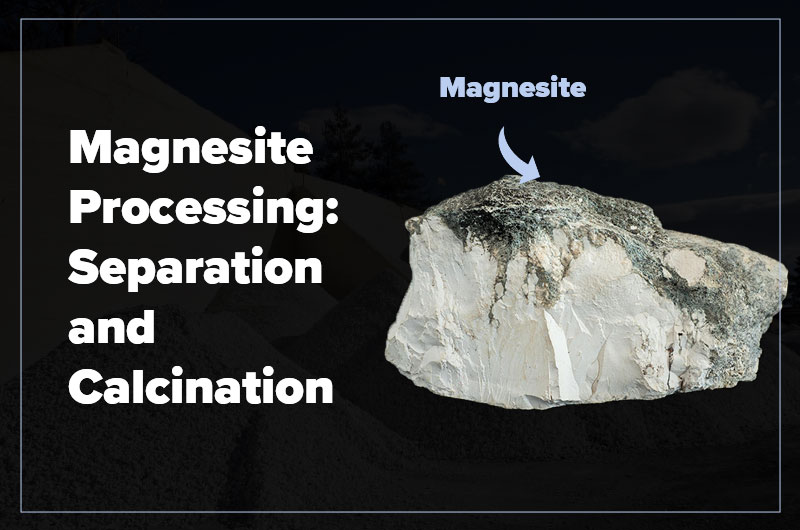 The major gangue minerals of magnesite ore are silicates (mainly talc, quartz, serpentine, etc.) and carbonates (dolomite and calcite). To improve the grade of magnesite, it is necessary to separate magnesite and gangue minerals by beneficiation separation.
Magnesite separation method
At present, the beneficiation methods of magnesite ore mainly include washing, optical sorting, gravity separation, thermal separation, magnetic separation, flotation separation, and chemical separation.
Ore washing
Principle: Remove muddy gangue minerals in magnesite ore by hydraulic or mechanical friction. Usually, arrange it before gravity separation, optical sorting, and flotation.
Equipment recommended by Ftmmachinery: Trommel screen, Spiral classifier
Optical sorting
Principle: In the coarse-grained magnesite raw ore, there is a certain amount of dissociated pure magnesite nuggets. Sorting can be done by utilizing the difference in appearance color between magnesite ore and gangue minerals.
Equipment recommended by Ftmmachinery: Optical separator
Gravity separation
Principle: Use the density difference between magnesite and gangue minerals to separate. However, since the densities of magnesite and gangue minerals are not much different, the effect of gravity separation alone is very poor. It is often used in conjunction with other beneficiation methods.
Equipment recommended by Ftmmachinery: Jig, Shaking table
Thermal separation
Principle: After magnesite is calcined (700-1000°C), caustic calcinated magnesia is produced which is brittle, porous, and low in compressive strength. Gangue minerals such as talc and dolomite are relatively hardened. By using the difference in hardness, selective crushing and screening of the roasted ore can separate the magnesium oxide fine powder from the gangue-containing mineral particles.
Equipment recommended by Ftmmachinery: Rotary kiln
Magnetic separation
Purpose: Remove the iron in the raw ore and the iron impurities mixed in the crushing and grinding processes to prevent the iron impurities from deteriorating the subsequent flotation effect. Magnetic separation is often placed before flotation.
Equipment recommended by Ftmmachinery: Magnetic separator
Flotation separation
Principle: Separation is carried out by utilizing the differences in the physical and chemical properties of the surface of gangue minerals and magnesite.
Applicable ore: fine-grained magnesite ore.
Flotation method:
1) For high-silicon magnesite containing less Ca and Fe, the cationic collector is applied to remove silicate minerals, and the tailing is magnesite concentrates. (Reverse flotation)
2) For low-grade ores, the reverse flotation process is applied to remove silicon-containing minerals, and then the positive flotation process is used to remove calcium and iron-containing minerals. (Reverse-positive flotation)
Equipment recommended by Ftmmachinery: Flotation machine
Chemical separation
Principle: Calcine magnesite ore to improve its surface activity and solubility. Then use hydrochloric acid or nitric acid, ammonium salt, bicarbonate, etc. for leaching. Finally, apply different methods to precipitate and separate the impurities.
Method: According to the different leachate, the chemical separation is divided into the hydrochloric acid method, carbonization method and ammonium salt method.
Applicable ore: This method is suitable for treating magnesite ore whose impurities are finely disseminated or exist in the same phase.
Typical magnesite ore separation process
Typical impurities in magnesite ore are dolomite and quartz. Therefore, dolomite and quartz have always been the focus of magnesite separation.
Dolomite-magnesite separation process
Since magnesite and dolomite have similar physical and chemical properties, it is necessary to change the physical and chemical properties of dolomite and magnesite. The processing flow is as follows:
1

Crushing:

Use a jaw crusher, roll crusher, and vibrating screen to form a two-stage-closed circuit crushing system to crush the raw magnesite ore to 1mm.

2

Calcination:

Send the raw ore into a rotary kiln for calcination at a temperature of 700-800°C for 1 hour.

3

Crushing:

Crush the calcined ore with a roll crusher.

4

Screening:

Use a vibrating screen to separate caustic calcined magnesia particles from impurity-containing particles.

5

Grinding:

Use Raymond mill to grind caustic calcined magnesia powder, and use air separation equipment to select it out.
Quartz-magnesite separation process
Reverse flotation is a commonly used method for separating magnesite and coexisting quartz. The processing flow is as follows.
1

Crushing:

Crush the raw ore to 10-0mm with a jaw crusher and a roll crusher.

2

Washing:

Set a trommel screen to remove the muddy impurities in the ore.

3

Grinding:

Use a ball mill to grind the raw ore to 95%-0.074mm.

4

Magnetic separation:

Use a magnetic separator to remove iron impurities in the pulp.

5

Flotation:

Adopt the amine collector to float the quartz onto the froth and keep the magnesite concentrate in the flotation cell.

6

Concentration:

The magnesite concentrate is preliminarily concentrated in the concentrator to remove a large amount of water.

7

Drying:

Dry the wet concentrate to obtain dry magnesite concentrate.
Calcination of magnesite: magnesia
Magnesite (MgCO3), the natural carbonate of magnesium (Mg), is one of the main natural sources for the production of magnesia (magnesium oxide, MgO). The carbon dioxide in the ore is removed by heating, thereby converting the carbonate to magnesium oxide.
Note that the different heating temperature means different product.
Caustic calcined magnesia: Feed the crushed magnesite ore into the rotary kiln, and set the calcination temperature between 700-1000°C. It is commonly used in agriculture, animal husbandry, chemistry, construction, and manufacturing.
Sintered or dead-burned magnesia: Set the temperature of the rotary kiln above 1800ºC. It is used almost exclusively in alkaline bricks and granular refractories.
Fused magnesia: Fused magnesia is produced in three-phase electric arc furnaces at processing temperatures above 2800°C. It is mainly used in the refractory and electrical insulation markets.
Calcination equipment recommended by Ftmmachinery: Rotary kiln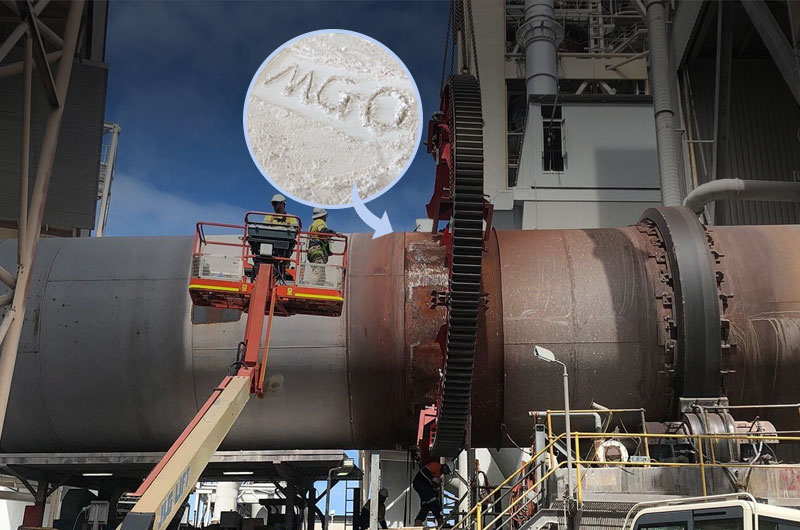 You might want to know
Highly intelligent. The heating temperature can be set according to the finished product.
Low heat consumption. Cool the preheated high-temperature air of magnesite and let it directly participate in combustion. This makes efficient use of thermal energy.
The rotary kiln adopts micro-negative pressure operation, and the airflow in the kiln is evenly distributed, which is beneficial to the calcination of high-purity magnesite.
The lowest price is $10,000/set.
Conclusion
Magnesite is an important source of magnesium oxide. High-grade magnesite ore can be calcined directly. However, for low-grade magnesite ore, it is necessary to use reasonable beneficiation methods and technological processes to obtain high-purity magnesite according to the characteristics of the ore.
As a professional ore equipment manufacturer, Ftmmachinery can design magnesite production lines and provide solid equipment for magnesite processing plants according to the characteristics of magnesite ore.