The Application and Function of High Efficiency Concentrator:
High-efficiency concentrator is suitable for dewatering concentrate and tailing in concentrator plant.
It is widely used in metallurgical, chemical, coal, non-metallic mineral processing, environmental protection, and other industries.
High-efficiency concentrator is not only a simple lamellar but a new type of dewatering equipment which combines with mud layer filtering features.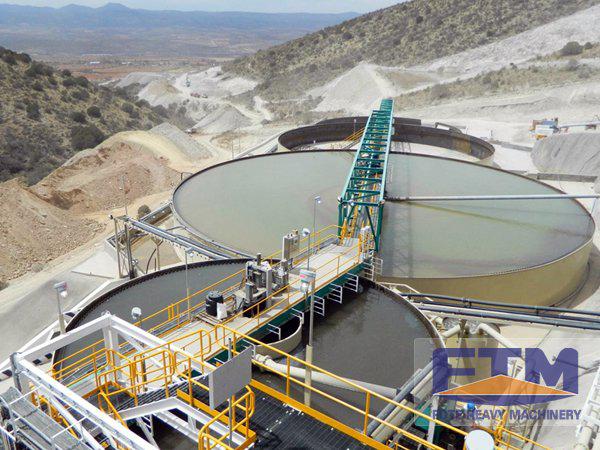 Features:
Adding flocculant to increase the size of the setting solid particles, which accelerates the sedimentation rate;
Installing inclined plate to shorten the distance of the setting mineral particles to increase the subsidence area;
Playing a role of flocculating, filtrating, contracting the mud sedimentation thick layer and increasing the handling capacity.
Equipping with fully automatic control facilities.
Working Process:
Increasing the size of the solid particle in pulp and subsidence area of concentrator can improve the working capacity of high-efficiency concentrator. Adding flocculation to cohere fine materials together can increase the size of solid particles. Installing a hanging plate in a common concentrator can increase its subsidence area.
After that, decreasing the subsidence distance between particles and improving its efficiency. At the same processing capacity, the diameter of the high-efficiency concentrator is two thirds or one second times as long as the common concentrator's.
The floor space that high-efficiency concentrator occupies is one-ninth or one-fourth times as big as the common ones. But the processing capacity can be improved several or dozens of times.
Parameter
Specification
Concentration pond (m)
Deposit square(m2)
Harrow part
Motor
Processing capacity (t/d)
Total weight(t)
Model
Specification
Inner diameter
Depth
Pond degree
Method
Height(m)
Rotation time(min/r)
Driving
Lifting
NZS-1
Φ1.8m
1.8
1.8
2.54
Manual
0.16
2
Y90L-6 1.1KW
----
5.6
1.9
NZS-3
Φ3.6m
3.6
1.8
10.2
Manual
0.35
2.5
Y90L-6 1.1KW
----
22.4
4.3
NZS-6
Φ6m
6
3
28.3
Manual
0.2
3.7
Y90S-4 1.1KW
----
62
10.7
NZSF-6
Φ6m
6
3
28.3
Manual
----
3.7
Y90S-4 1.1KW
----
62
5.1
NZ-9
Φ9m
9
3
63.6
Auto
0.25
4.34
Y132S-6 3KW
XWD0.8-3 0.8KW
140
8.5
NZS-9
Φ9m
9
3
63.6
Manual
0.25
4.34
Y132S-6 3KW
----
140
7.5
NZS-12
Φ12m
12
3.5
113
Manual
0.25
5.28
JTC752A-44 5.2KW
----
250
11.1
NZ-15
Φ15m
15
4.4
176
Auto
0.4
10.4J
JTC752A-44 5.2KW
Y112M-6 2.2KW
350
26.0
NZ-20
Φ20m
20
4.4
314
Auto
0.4
10.4
Y100L1-4 5.2KW
Y112M-6 2.2KW
960
28.9
NZ-30
Φ30m
30
7.165
707
----
0.61
13.7
Y672A-44 5.2KW
YCJ132-S 1.5KW
----
36.6
NZS-45
Φ45m
45
4.633
1590
Manual
----
20
Y672A-44 5.2KW
YCJ160-S 2.2KW
515
54.4
NT-15
Φ15m
15
3.5
177
----
----
8.4
Y132M2-6 5.5KW
----
390
12.6
NQ-18
Φ18m
18
3.5
255
----
----
10
Y132M2-6 5.5KW
----
560
11.6
NQ-24
Φ24m
24
3.4
452
----
----
12.7
Y160M-6 7.5KW
----
1000
26.6
NQ-30
Φ30m
30
3.6
707
----
16
Y160M-6 7.5KW
----
1570
30.9
NJ-38
Φ38m
38
4.9
1134
----
----
10-25
JZT252-4 11KW
Y160M-6 7.5KW
1600
63.3
NT-45
Φ45m
45
5.05
1590
Auto
----
19.3
Y160L-6 11KW
----
2400
66.8
NTJ-53
Φ53m
53
5.07
2202
----
----
23.18
Y180L-6
15kw
----
6250
89.1
NT-100
Φ100m
100
5.65
7846
----
----
43
Y180L-6 15KW
----
3030
214.9
Specification
Deposit square(m2)
Processing capacity (t/d)
Model
Specification
Pond degree
NZS-1
Φ1.8m
2.54
5.6
NZS-3
Φ3.6m
10.2
22.4
NZS-6
Φ6m
28.3
62
NZSF-6
Φ6m
28.3
62
NZ-9
Φ9m
63.6
140
NZS-9
Φ9m
63.6
140
NZS-12
Φ12m
113
250
NZ-15
Φ15m
176
350
NZ-20
Φ20m
314
960
NZ-30
Φ30m
707
----
NZS-45
Φ45m
1590
515
NT-15
Φ15m
177
390
NQ-18
Φ18m
255
560
NQ-24
Φ24m
452
1000
NQ-30
Φ30m
707
1570
NJ-38
Φ38m
1134
1600
NT-45
Φ45m
1590
2400
NTJ-53
Φ53m
2202
6250
NT-100
Φ100m
7846
3030