From the blog Nickel Metal in Battery: Why Is It Called the Devil's Metal, we learn that nickel sulfide ore and nickel oxide ore are important sources of nickel. The characteristics of these two types of nickel ore are quite different, so different nickel ore processing methods and equipment are rrequired.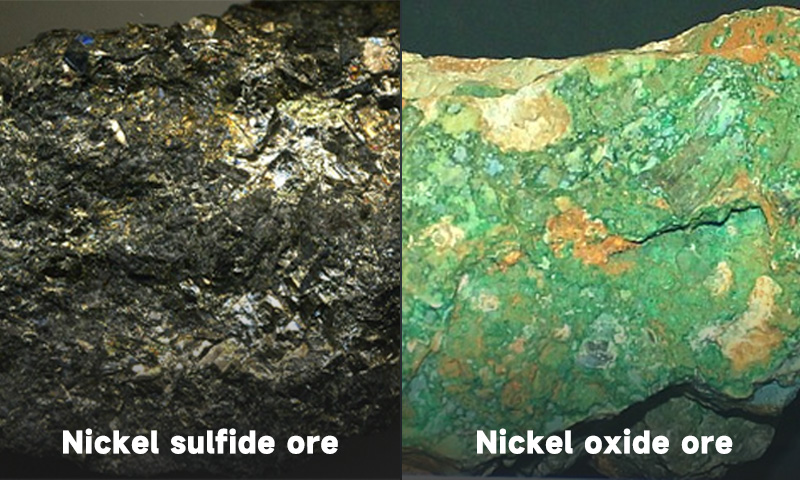 1. Process flow of copper-nickel sulfide ore
A complete copper-nickel sulfide ore processing production line is crushing, grinding, flotation, and tailings treatment.
1.1 Copper-nickel sulfide ore crushing stage
Adopt a two-stage closed-circuit crushing process.
① Use a jaw crusher for primary crushing.
② Use a cone crusher for fine crushing.
③ Use a vibrating feeder to screen out the products whose size meets the grinding requirements, while the oversized ones are returned to the cone crusher. The vibrating screen is often placed after the cone crusher.
1.2 Copper-nickel sulfide ore grinding stage
Adopt a two-stage closed-circuit grinding process.
① Use a grid-type ball mill for rough grinding. And the grinding particle size range is 0.2~0.3mm.
② Use an overflow-type ball mill for fine grinding. And the grinding particle size is less than 5~10μm.
③ Use a spiral classifier for pre-classification. The spiral classifier is placed after the grid ball mill.
④ Use a hydro-cyclone for fine classification to ensure that the particle size of ore in pulp meets the flotation requirements. Hydro-cyclones are often used in conjunction with overflow ball mills.
1.3 Copper-nickel sulfide ore beneficiation stage
Among the beneficiation methods of copper-nickel sulfide ore, flotation is the most vital one, magnetic separation and gravity separation are often used as auxiliary beneficiation methods.
A basic principle in determining the flotation process of copper-nickel ore is to prefer copper into nickel concentrates rather than nickel into copper concentrates. Because nickel in the copper concentrate loses during smelting, copper in the nickel concentrate can be recovered as much as possible.
The four common flotation methods of copper-nickel ore are as follows:
Preferential flotation of copper ore
This process can be used when the copper content of the ore is much higher than that of nickel.
Pump the ore pulp into the agitation tank, add the sulfide inhibitor and copper collector, send the mixture into the flotation machine to get copper concentrate and nickel-bearing tailings.
The nickel-containing tailings go through flotation to obtain nickel concentrate or copper-nickel concentrate.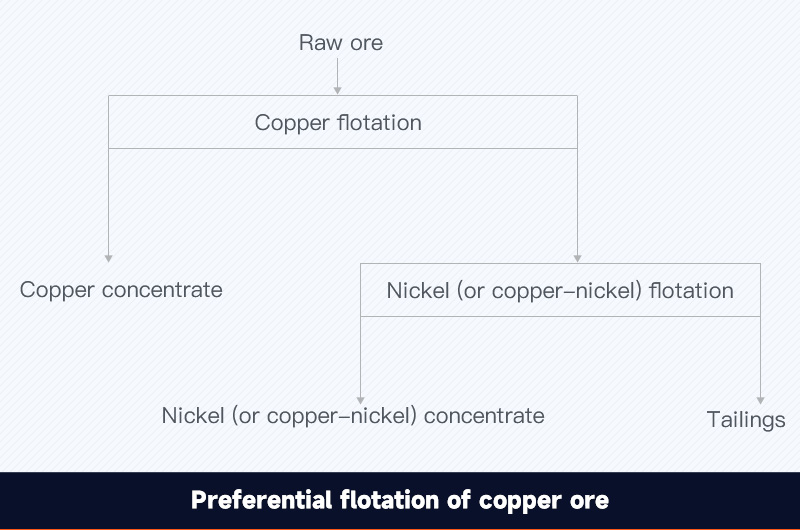 Copper-nickel mixed flotation
This method can be used when the copper content is lower than that of nickel.
Pump the ore pulp into the flotation machine to obtain a copper-nickel concentrate.
Further process copper-nickel concentrate to get copper concentrate with low nickel content and nickel concentrate with copper.
Obtain nickel matte by smelting nickel concentrate. The nickel matte is then separated by flotation.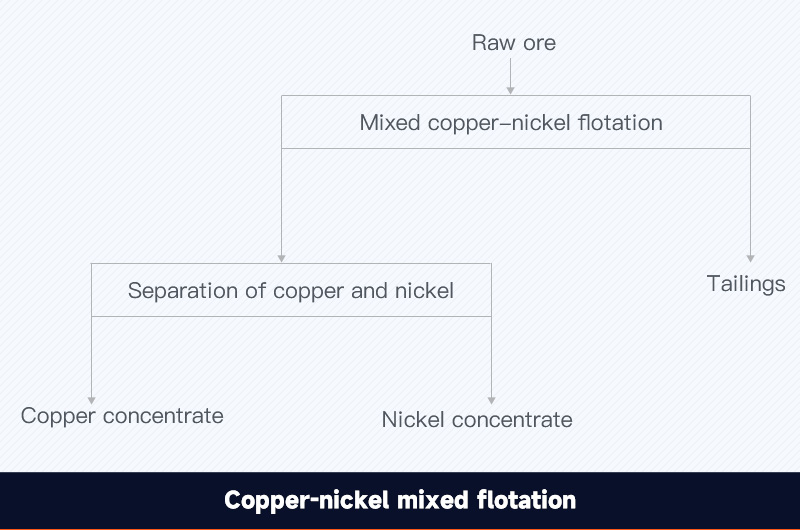 Copper-nickel mixed flotation + tailings recovery
There are many kinds of nickel minerals contained in copper-nickel ore, such as pyrite and acicular pyrite. The floatability of these nickel minerals also varies.
When the floatability varies widely, obtain the copper-nickel concentrate by flotation first. And then the tailings go through another round of flotation to recover nickel-containing minerals with poor floatability.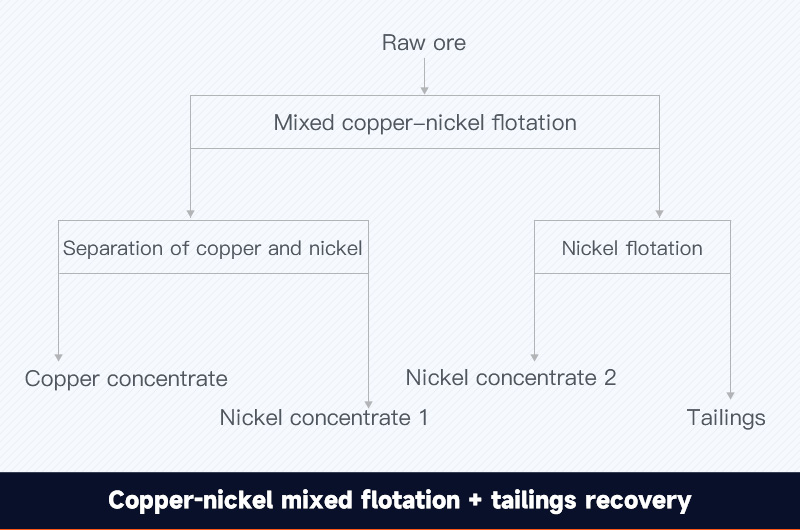 Separation of copper and nickel
➢ For the copper-nickel ore with coarse particle size and not very tightly embedded, the copper-nickel concentrate separation process is mostly used. At present, the commonly used separation methods for this process include the lime-cyanide method and lime-sodium sulfide method, pulp heating method, and bisulfite method.
➢ For the copper-nickel ore with fine particle size and very densely embedded distribution, the separation process of nickel matte is mostly used.
2. Process flow of nickel oxide ore
Nickel oxide deposits are loose clay-like ore composed of iron, aluminum, silicon, and other hydrous oxides. Due to the oxidation of iron, the ore is red, so it is called laterite ore.
The beneficiation process of laterite ore is mainly to prepare qualified ore or pulp for smelting. Given the different properties and smelting requirements of laterite ore, the preparation methods of ore are also quite different.
2.1 Laterite ore processing for pyrometallurgy
The pyrometallurgical process is mainly suitable for humus-type nickel ore and silicon-magnesium-nickel ore.
Pyrometallurgy is characterized by calcining or roasting materials, and the basic requirements for ore are crushing and screening. Coarse grains (25mm-150mm) are used for calcination, fine grains are discarded or calcined after pelletization.
Crushing equipment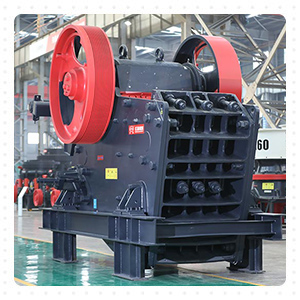 Jaw Crusher
Crush laterite ore with low moisture content and low ore viscosity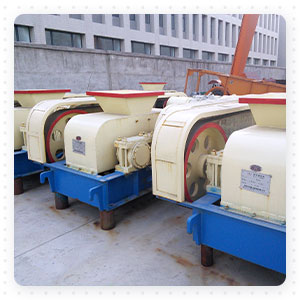 Double toothed roller crusher
Crush laterite ore with high moisture content and high ore viscosity.
Screening equipment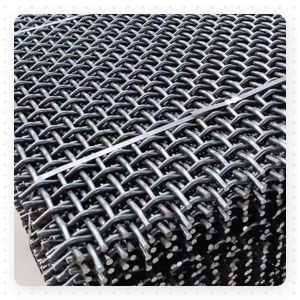 Grid screen
The particle size of nickel laterite varies widely. We usually set up a grid screen above the raw ore silo to screen out qualified ores that can smoothly enter the subsequent equipment.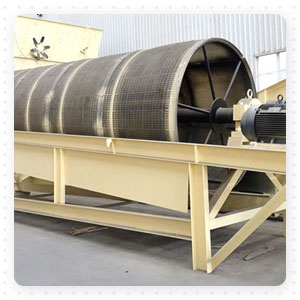 Trommel screen
The trommel screen is used to process ores with high water content and high viscosity and to recover fine-grained ores.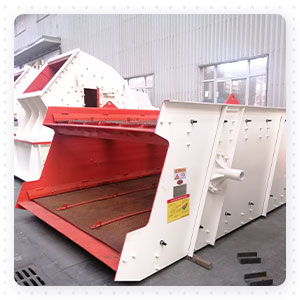 Vibrating screen
The vibrating screen is used to process ores with low water content and low viscosity.
Note that the laterite ore for pyrometallurgy cannot be washed with water and should be dried with a rotary dryer before crushing, if necessary.
Case for reference
The raw nickel laterite ore in PT INCO ferronickel plant in Indonesia contains 15% - 25% water, which belongs to dry laterite ore. The deposit is divided into two parts: east area and west area. The ore preparation flow chart of the deposit in the east area is shown in the figure below.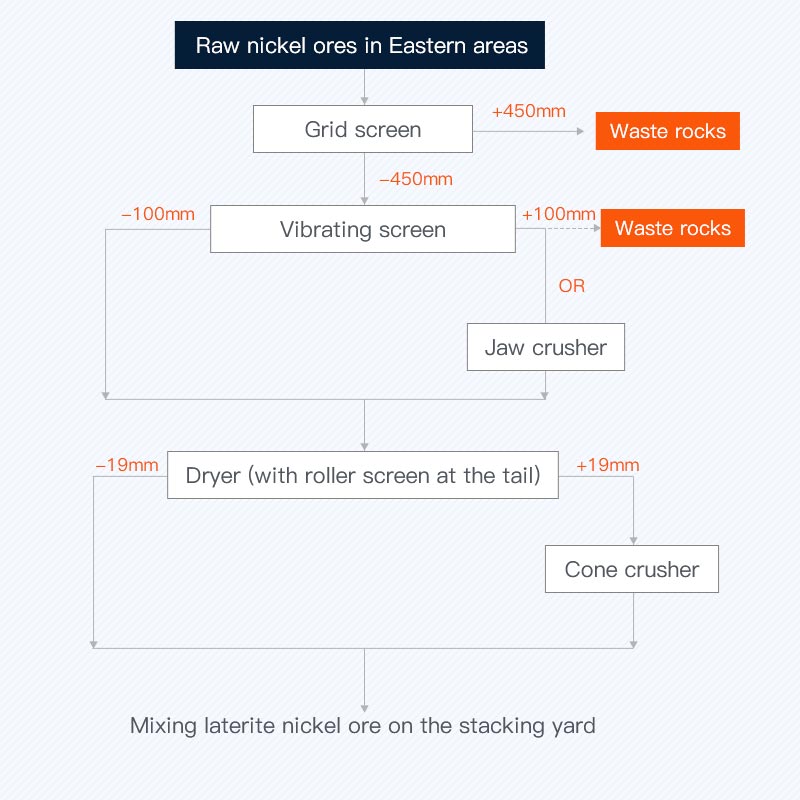 2.2 Laterite ore processing for hydrometallurgy
The hydrometallurgical process is mainly aimed at limonite and magnesium-nickel ore with a lower magnesium content.
Hydrometallurgy requires that the particle size, grade, and concentration of the pulp meet the leaching requirements, so it is necessary to wash the laterite ore (separation of coarse and fine particles), remove impurities (mainly remove the more abrasive chromite), and concentrate the pulp.
Crushing equipment
Double toothed roller crusher: Crush limonite.
Jaw crusher: Crush silicon-magnesium-nickel ore.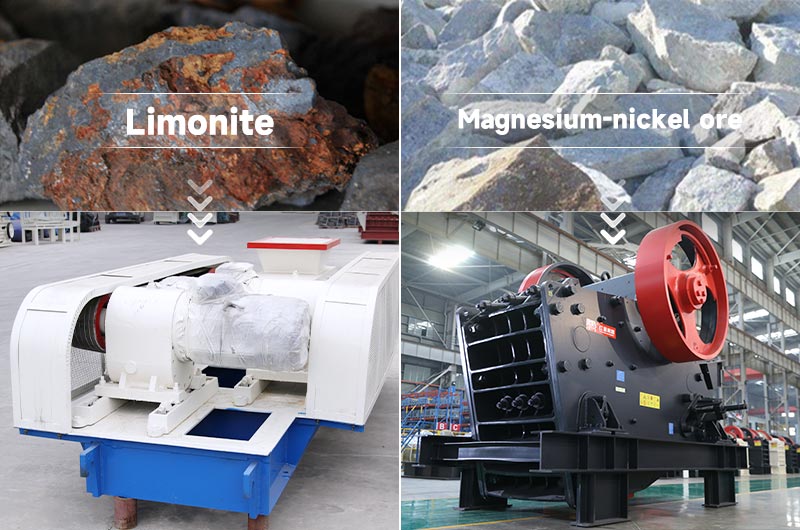 Screening equipment needs to be installed before or after the crusher to throw away the waste rock in time. The screening equipment is the same as above.
Washing equipment
The ore is washed with high-pressure water in a cylinder washing machine and then washed in a spiral washer.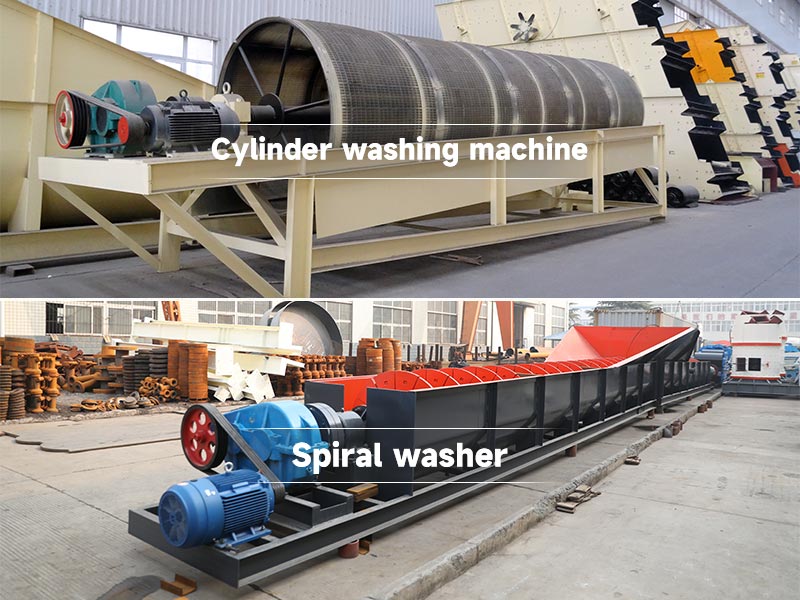 Grinding equipment
The semi-autogenous grinding ball mill can not only reduce the entry of low-nickel and high-magnesium gangue minerals into the pulp but also reduce the consumption of steel balls.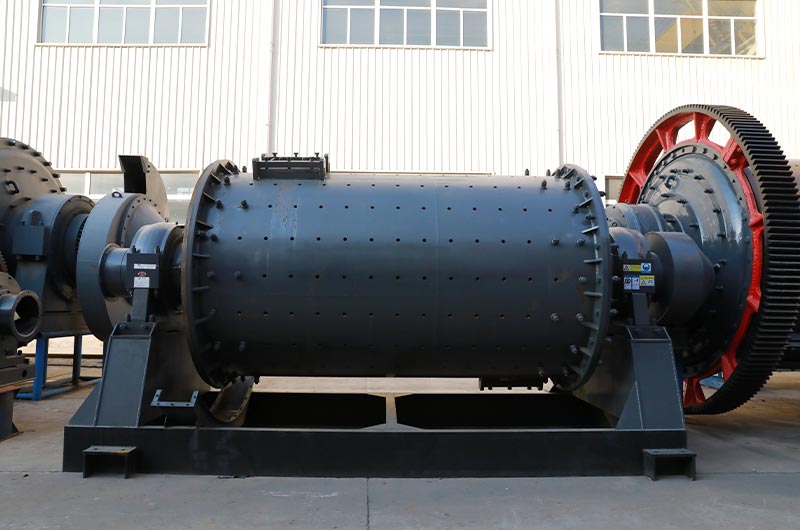 Chromite removal equipment
At present, we often use water cyclones, spiral chutes, and shakers to remove chromite.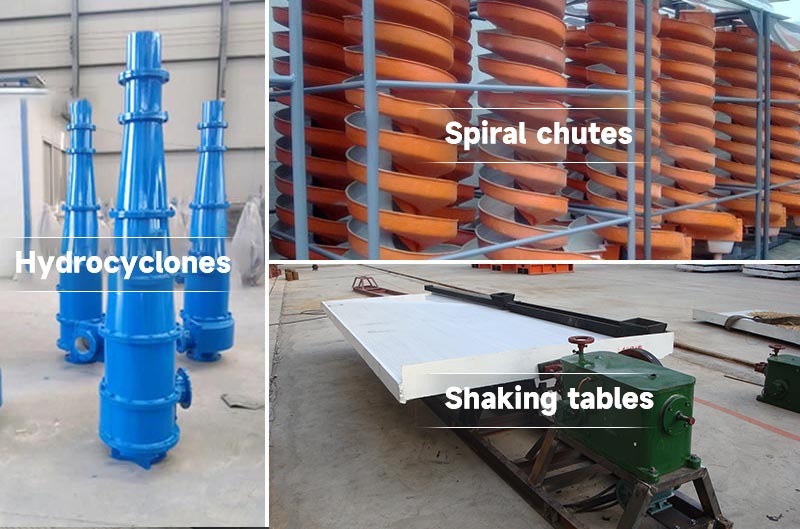 Concentration equipment
Given that the laterite ore is too fine to settle, a high-efficiency thickener is generally used to concentrate the pulp.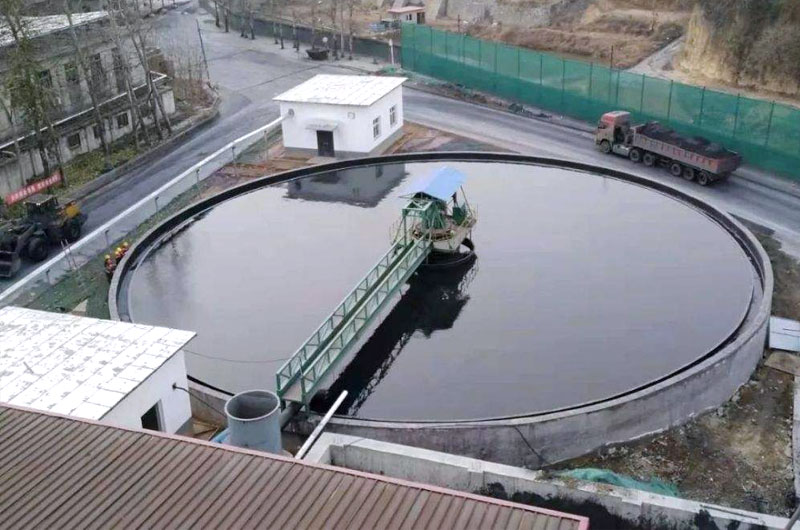 Case for reference
Cuban Maua Nickel Plant adopts pressure acid leaching technology to smelt nickel. Its laterite nickel ore mainly consisted of limonite, with a small amount of residual ore. The flow chart of ore production is as follows: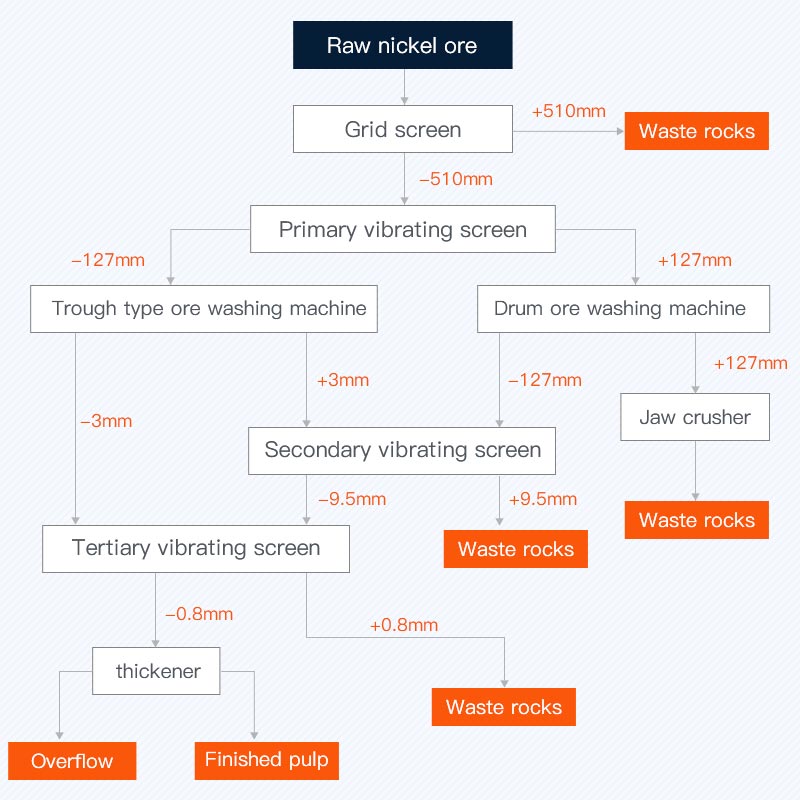 3. Conclusion
In the nickel ore processing plant, different types of nickel ore need mineral processing procedures and mining equipment based on the characteristics and composition of the ore. Therefore, it is necessary to conduct beneficiation tests, design a feasible nickel ore beneficiation process, and then equip corresponding mining machines.
As a proposer and practitioner of the whole mining industry chain service, Ftmmachinery can design the nickel ore beneficiation process and customize a complete set of beneficiation equipment for you. Welcome to consult Ftmmachinery.