Nickel, as a ferromagnetic metal with high corrosion resistance, plasticity, and magnetism, has been intensively used in many applications involving nickel-based alloys, stainless steel, fuel cells, as well as lithium-ion batteries.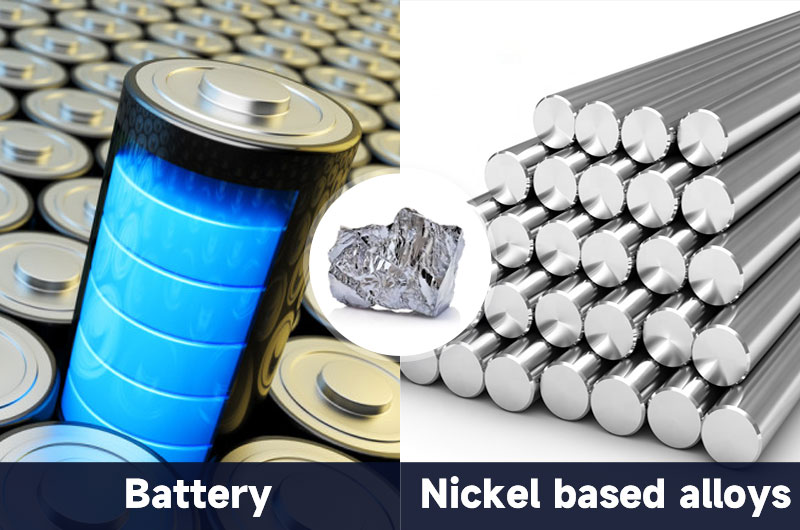 The application of nickel in lithium-ion batteries and its incomparable advantages make countries and industries realize the importance of nickel to the energy transition. Therefore, it is more and more urgent to step up the deployment of nickel resources and increase the added value.
For example, Indonesia is making efforts to dominate the supply of nickel to make batteries, which has also led Indonesia to switch from exporting raw nickel ore to value-added processing.
The steady growth of nickel demand has also drawn people's attention to nickel mining and processing.
Where to mine nickel?
The bulk of the nickel mined comes from two types of ore deposits
weathered nickel oxide deposits (lateritic nickel ore deposits) where the principal ore minerals are nickeliferous limonite [(Fe,Ni)O(OH)] and garnierite (a hydrous nickel silicate), or
magmatic sulfide deposits where the principal ore mineral is pentlandite [(Ni,Fe)9S8].
As the high-grade and easy-to-minable nickel sulfide ore are depleting, lateritic nickel ore has gradually become the focus of the nickel industry due to the following advantages.
The lateritic nickel ore resources are abundant, accounting for about 70% of the continental world nickel resources and the exploration cost is low.
Nickel laterites are generally mined via open-cut mining methods. That means low mining costs.
Lateritic nickel ore processing methods have gradually matured.
Sintered nickel oxide, ferronickel, or versatile nickel for stainless steel production is mainly produced from nickel oxide ore.
Laterite nickel resources are mainly distributed in areas near the equator, most of which are close to the coast for easy transportation.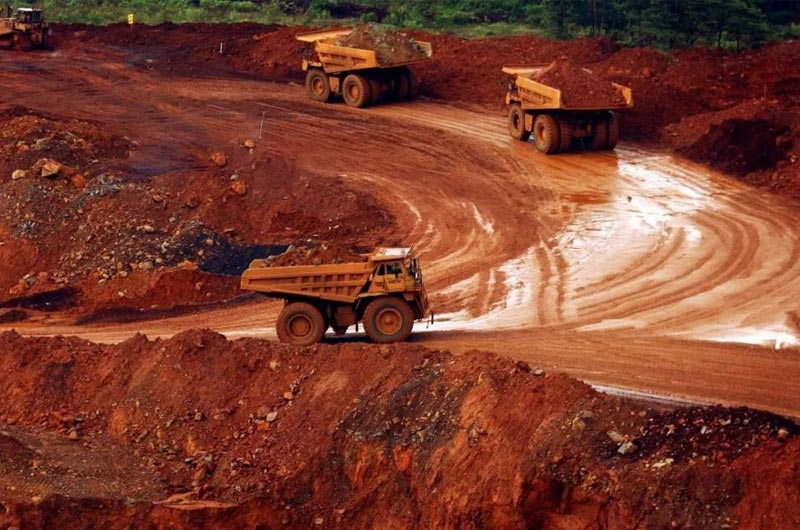 How to process lateritic nickel ore?
The mined laterite nickel ore is further processed to get nickel concentrate. Improving the quality of the concentrate can both make it easier to sell and reduce the transportation and smelting costs.
The beneficiate methods are closely related to its smelting process.
The smelting technology of laterite nickel ore can be divided into pyrometallurgy and hydrometallurgy. We adopt different beneficiation production methods to prepare the nickel laterite ore for these smelting technologies.
Process nickel laterite for pyrometallurgy
Pyrometallurgy is mainly for processing high-grade laterite nickel ore. To prepare the lateritic nickel ore required for pyrometallurgy, we need to crush and sieve the raw ores. Coarse ores (the particle size is within 25mm-150mm) will be calcinated, while fine ores will be discarded or calcinated after pelleting.
Note that the lower the water content of the lateritic nickel ore, the better. Therefore, no water needed to wash the raw ores. If necessary, dry the raw nickel ores before crushing and screening.
Screening equipment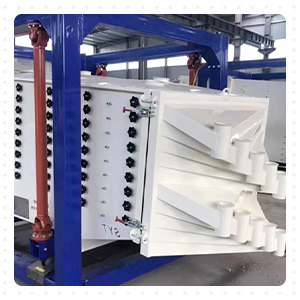 Grid screen: The grain size of laterite nickel ores varies greatly. We usually set a grid screen above the raw ore bin to screen out qualified ores that can smoothly enter the following equipment.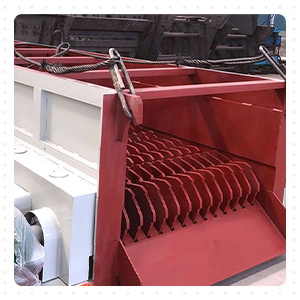 Roller screen: Use a roller screen, as the primary screen, to deal with nickel laterite ores with high water content and high viscosity.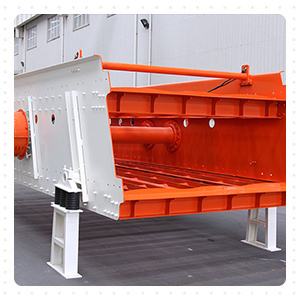 Vibrating screen: Use a vibrating screen to deal with nickel laterite ores with low water content and low viscosity.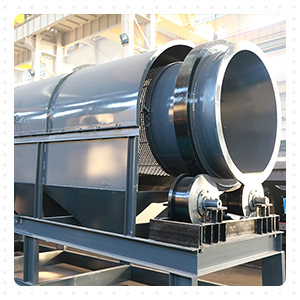 Trommel screen: Use a trommel screen, as the tertiary screen, to recover more fine-grained ore.
Crushing equipment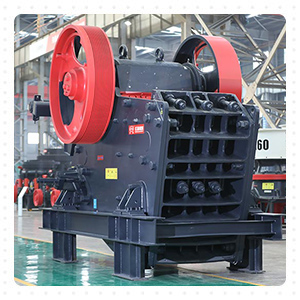 Jaw crusher: Use jaw crushers to break nickel laterite ores with high water content and low viscosity.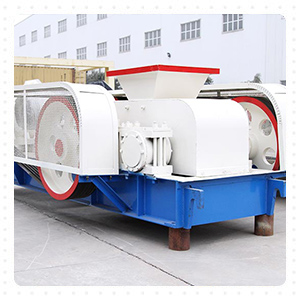 Case for reference
The raw nickel laterite ore in PT INCO ferronickel plant in Indonesia contains 15% - 25% water, which belongs to dry laterite ore. The deposit is divided into two parts: east area and west area. The ore preparation flow chart of the deposit in the east area is shown in the figure below.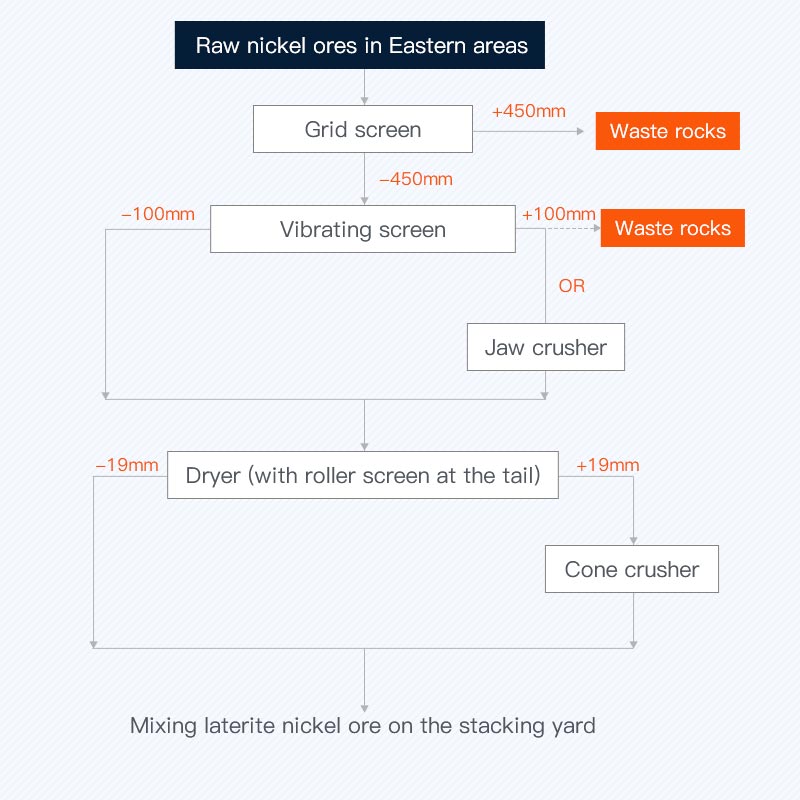 Process nickel laterite for hydrometallurgy
Hydrometallurgy mainly deals with limonite with low grade or mixed ore mixed with residual ore.
To prepare the lateritic nickel ore required for hydrometallurgy, we need to crush, screen, wash, purify and concentrate the raw lateritic nickel ores.
Crushing equipment
It is recommended to use a double tooth roller crusher to crush limonite instead of a jaw crusher, which will easily have blockages in the crushing chamber. We usually use jaw crushers to crush residual ore.
Grinding equipment
It is suggested to adopt a SAG ball mill for grinding, which can not only reduce the entry of gangue with low Ni and high Mg into the pulp but also reduce the consumption of steel balls.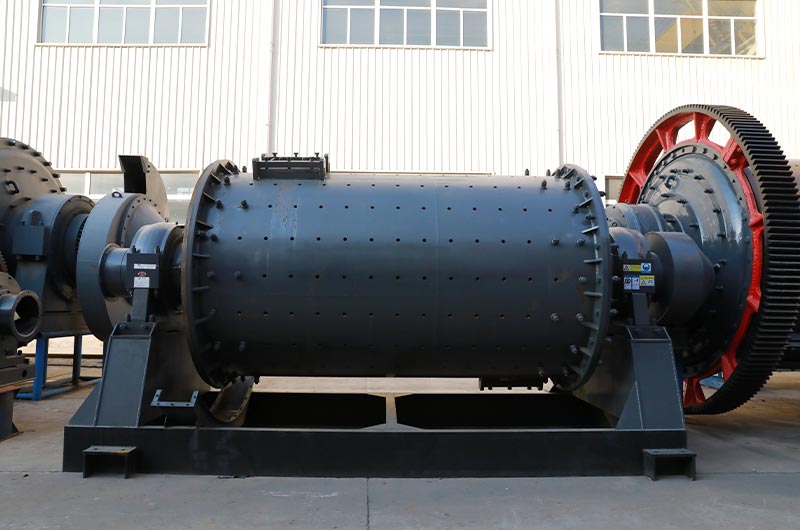 Screening equipment
Normally, we set a grid screen on the top of the raw ore bin in the first screening stage and the roller screen in the second screening stage.
Ore washing equipment
The qualified nickel laterite granules will be fed into a trommel screen and washed with high-pressure flushing water and then scrubbed with a troughed ore washer.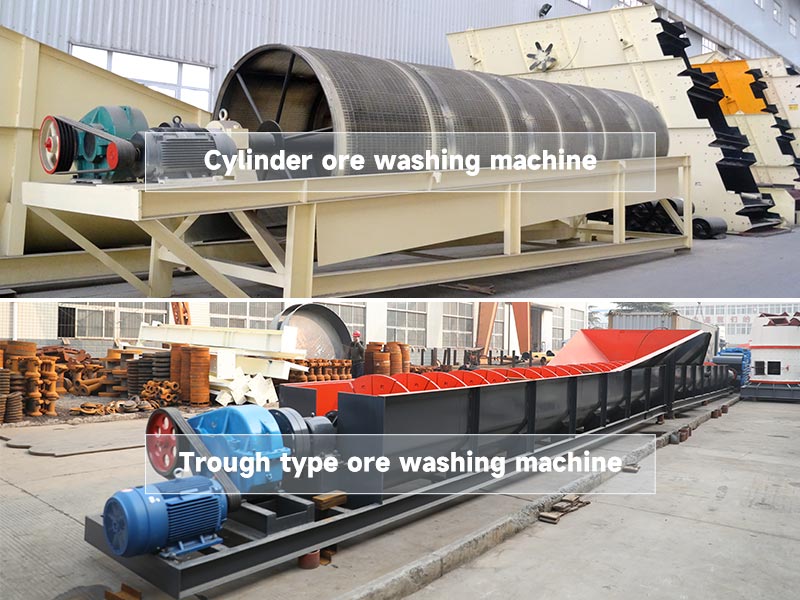 Impurity removal equipment
Usually, we use vibrating screens to remove weeds and sawdust.
Note that if the nickel ore contains chromite, enough attention must be paid to the removal of Cr. Currently, we often use water cyclones, spiral chutes, shaking tables to remove Cr.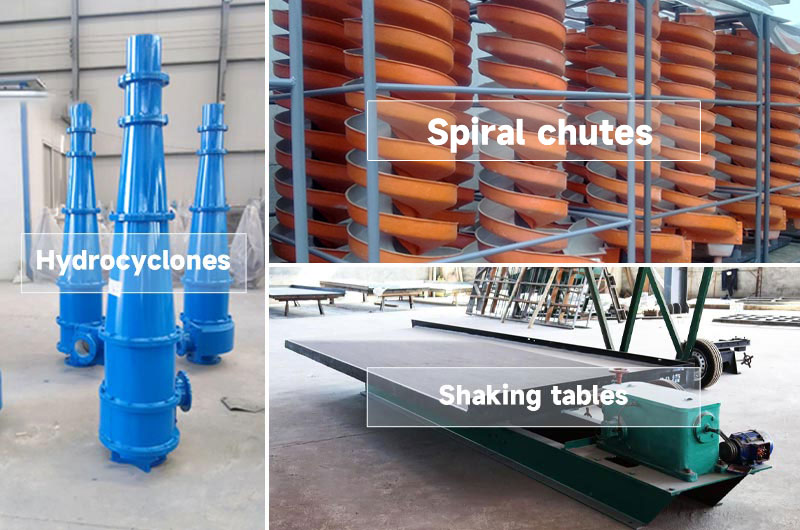 Concentration equipment
We'd better use a high-efficiency concentrator to concentrate nickel laterite ore pulp because the ore particle size is too fine to sediment easily.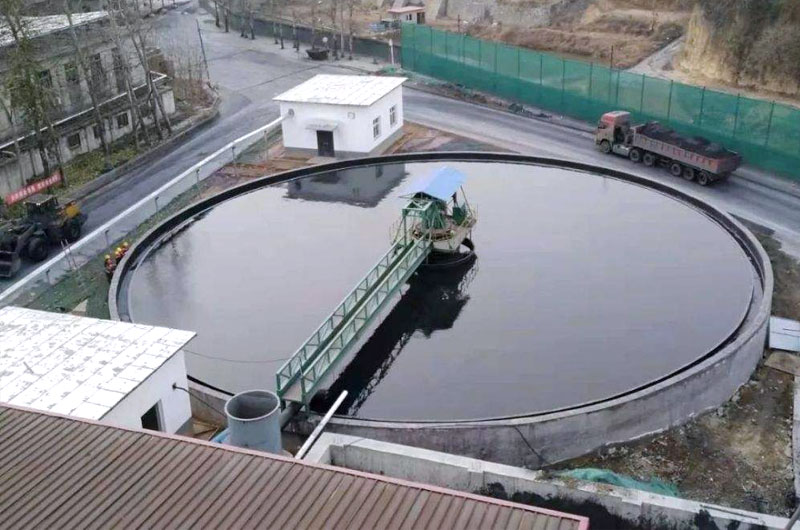 Case for reference
Cuban Maua Nickel Plant adopts pressure acid leaching technology to smelt nickel. Its laterite nickel ore mainly consisted of limonite, with a small amount of residual ore. The flow chart of ore production is as follows: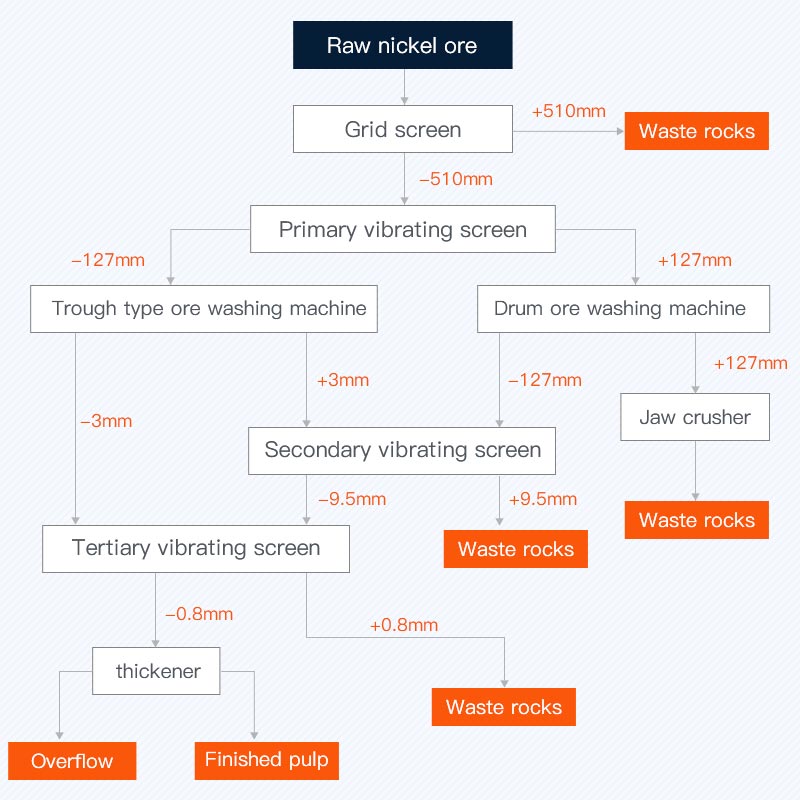 Adopting appropriate nickel mining and processing methods based on the properties and smelting technologies will not only improve the grade of nickel concentrate but also reduce smelting costs. Besides, higher grade nickel concentrate is of great significance for alleviating the shortage of nickel resources caused by the surge in demand for electric vehicles.