5 Gold Extraction Methods to Improve Your Recovery Rate
Author : Jordan
|
Last Updated :
Common types of gold ore mines
Gold ore mines usually have four types: placer gold mine, Carlin-type gold mine, volcanic gold mine, rock gold mine, and iron cap gold mine.

Placer gold mines and rock gold mines are most often mined:
After pretreating, desilting, and ore washing, and then using the gravity separation method, placer gold can be obtained finally.
Rock gold ores are disintegrated into particles through the crushing and grinding process. Extract gold from the particles by some gold beneficiation methods.
4 Stages to process gold ores
Ⅰ. Crushing and screening stage
The crushing and screening stage in the industry is mainly composed of three-stage and a closed-circuit process. Gold ores need to go through coarse, medium, and fine crushing processes to be minimized into smaller pieces. The screening equipment is used to sieving the smaller gold ores into the proper size for the next steps.

The gold ore processing equipment in crushing and screen stage: jaw crusher,impact crusher, cone crusher,vibrating screen.
Ⅱ. Ore Grinding Stage
The grinding operation usually adopts one or two ball mills with types of lattice and overflow. The second stage grinding operation forms a closed circuit with a spiral classifier or a hydro cyclone to ensure the grinding fineness.
Since traditional ball milling equipment appears some shortcomings such as fast wear and large energy consumption, many manufacturers adopt new wear-resisting rubber lining boards, sliding bearing to improve a mill operation efficiency and prolong a machine's service life.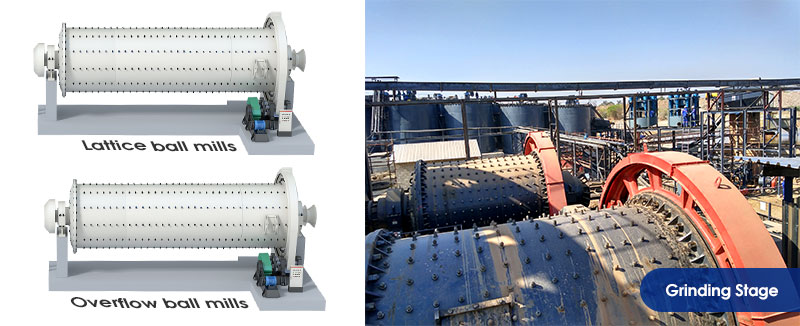 The gold ore grinding equipment in the grinding stage: ball mill,rod mill
Ⅲ. Beneficiation stage
The beneficiation stage is a crucial part of gold extraction during the whole gold ore processing plant. Placer gold mine and rock gold mine are most widely processed to extract gold concentration.
Placer gold ore with high gold content mostly exists in the form of particles. Therefore, the ideal method to process placer gold ore is gravity separation.

Rock gold ores have a more complex composition than placer gold ores', thus whether to choose gravity separation and flotation separation depends on the specific composition.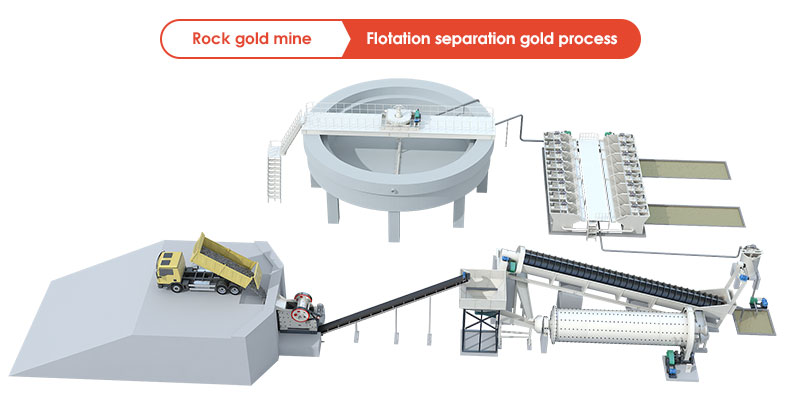 The gold mining equipment in the beneficiation stage: magnetic separator,spiral classifier, flotation machine,shaking table.
5 Gold Extraction Methods
Ⅰ. Cyanide gold process
Cyanidation:
It is one of the main methods of gold extracting process.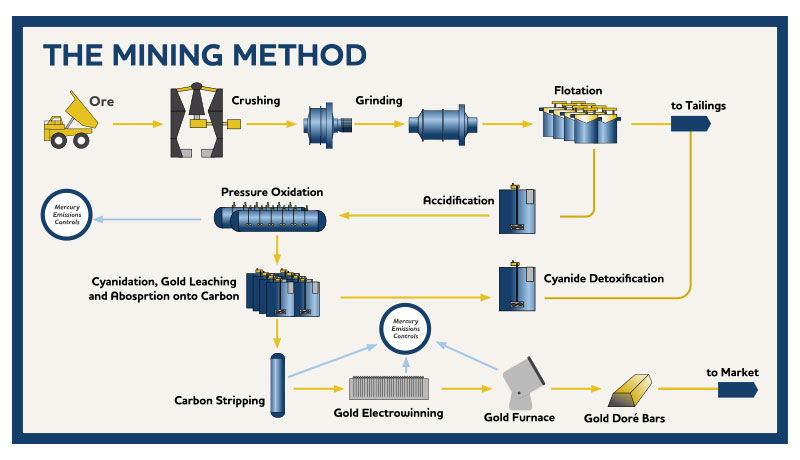 1

Contact finely ground ore with the solution containing cyanide

2

Separate solid from the clear solution

3

Recover gold from the solution with zinc powder by precipitation
Video of cyanide gold process production line
Application:
Ag: Au > 5:1 in ore
Solid-liquid separation
Cyanidation of flotation concentrates
Two different types:
Cyanide gold processes can be divided into stirring cyanide and percolation cyanide.
Stirring cyanide is used to process tailings or complement full mud cyanidation after gravity, mercury mixing and flotation of gold concentrates.
Percolation cyanide is used to treat flotation tailings and heap leaching of low-grade gold ore.
Ⅱ. Carbon pulp gold extraction process
Working process: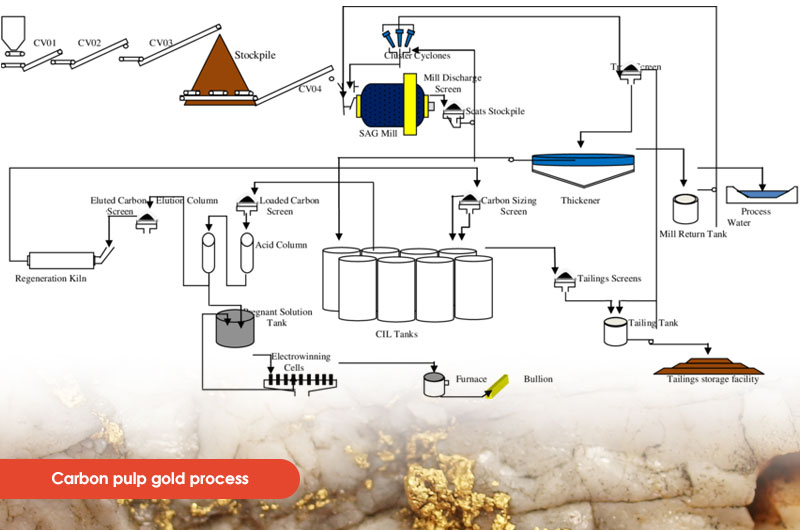 The gold slurry process of the carbon slurry method (CIP and CIL) is to put activated carbon into cyanide ore slurry, adsorb dissolved gold on activated carbon, and finally to extract gold from activated carbon.
CIP: Cyanide leaching first, then adding activated carbon to adsorb gold in the slurry.
CIL: Adding activated carbon to the leaching tank while doing the leaching and adsorption process.
Video of carbon pulp gold process production line
Applications:
Gold concretion process by flotation separation, tails from gravity separation, argillaceous gold oxide ore
Large-scale gold ore beneficiation, raw gold ore with silver and copper content
An oxidized ore with a high content of slime
Benefits:
No need of solid-liquid separation equipment
High gold recovery rate
Activated carbon countercurrent adsorption creates high adsorption rate
Simplifying the leaching and adsorption process saves the cost of infrastructure production
Fast dissolving speed of gold ore with high recovery rate
Equipment required for carbon slurry gold mining process: Leaching mixing tank, activated carbon screen, Two-layer (three-layer) washing and thickening machine, fast desorption electrolysis system with high-efficiency and low-consumption, high-frequency dewatering screen.
Comparison of CIP and CIL:
1

The CIP process is more complex than the CIL, but with large carbon storage and low carbon concentration.

2

Backlog metal is large in an amount in the CIP but distributes differently in the two processes.

3

In the CIP process, the distribution of backlogged metal in activated carbon is the same as that in solution.

4

In the CIL process, gold mainly accumulates on the activated carbon, and with different distributions in activated carbon and solution.

5

CIL process makes immersing and adsorbing at the same time. Newly dissolved gold continuously enters the solution, so the gold content in the solution is getting higher and higher.

6

CIP process is single adsorption, causing the supplement of dissolved gold in the solution less, so the gold content is less than the former process.
Ⅲ. Resin pulp gold extraction process
It means that by ion exchange resin, gold also can be extracted from ore pulp. Like carbon, the process makes gold absorbed onto solid spherical polystyrene resin beads instead of activated carbon grains.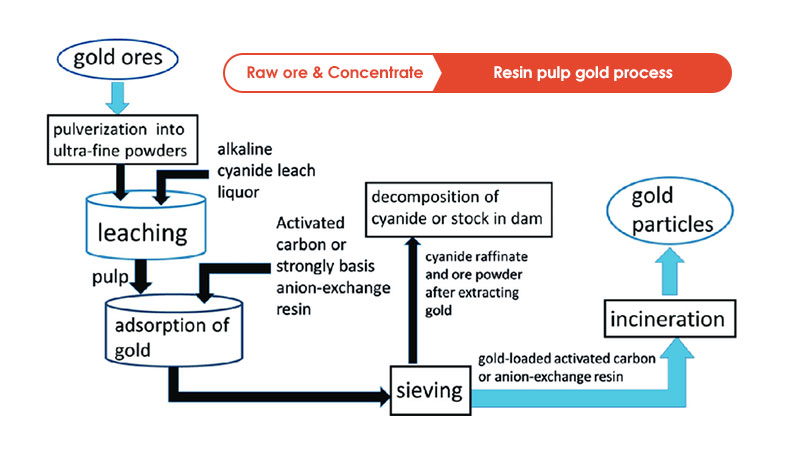 Application
Raw ore and concentrates.
Benefits:
Large adsorption capacity;
Resin has a strong good abrasion resistance
Free from organic pollution
Easy desorption conditions, simple regeneration.
Disadvantage:
Poor adsorption selectivity
According to different physical and chemical properties of different types of gold ores, flotation separation utilizes various reagents to make the gold attached to the bubbles then scraping these gold particles from blades to get the concentrate.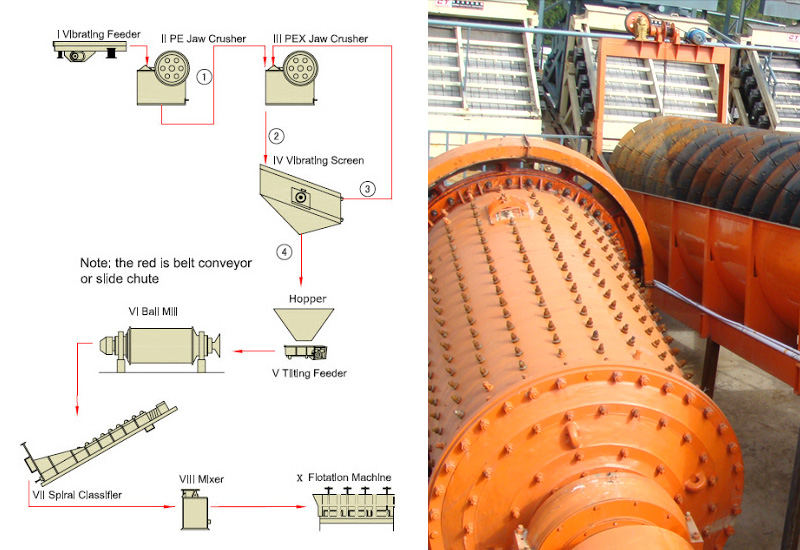 The process includes four parts: dosing, stirring, aeration, and foam scraping.
Application:
The gold ore with fine grain and good flowability.
The polymetallic gold sulfide ore and carbonaceous ore.
Advantages of froth flotation separation
Rapid collection of gold-bearing sulfide concentrates to achieve an efficient and comprehensive operation.
low reagents consumption and high gold recovery rate
Video of flotation separation gold process production line
Ⅵ. Gravity separation to extract gold
It is mainly used to separate materials through different specific gravity and sedimentation speed, or according to the difference in the relative density of minerals.
1. Jigging gold extraction process
Working process:
A jigger is one of the main pieces of equipment in the gravity separation process. The jigging process mixes gold ore particles of different specific gravity together, then stratifying these particles. The minerals with small specific gravity will be on the upper layer while the minerals with large specific gravity will be on the lower layer.
Video of jigging gold process production line
Applications
For placer gold ore with specific gravity ≥1.25, the process can minimize the gold particle size to 0.04mm.
Can process coarse metal minerals with 0.007mm-50mm in size.
For placer gold processing with specific gravity difference ≥1.25 and ore monomer dissociation, the minimum particle size can reach 0.04mm.
Benefits:
Simple operation, and the large processing capacity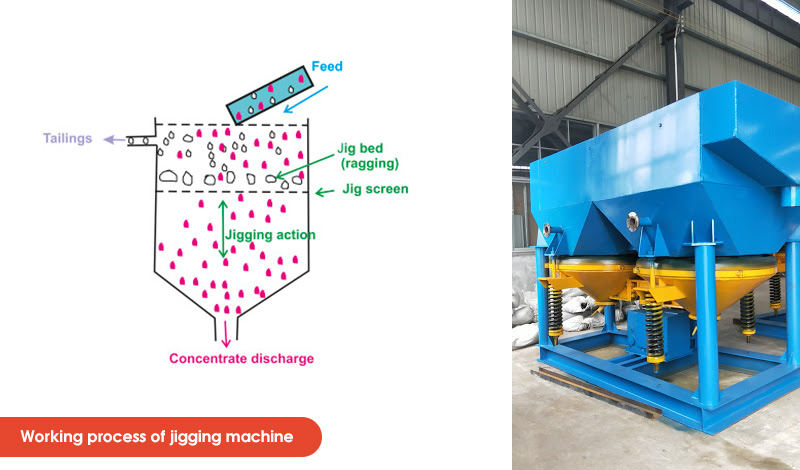 2. Shaking table for gold extraction process
Working process:
A shaking table is used to process gold ores in the horizontal medium flow. The motor drives the surface of the shaker to perform the longitudinal reciprocating motion, as well as the differential motion of the washing stream and the surface of the bed. Gold ore particles are stratified perpendicular to the surface of the bed, then being separated parallel to the surface of the bed in reciprocating motion which allows gold ores with different particle sizes to be discharged from different parts to achieve separation.
Video of shaking table gold process production line
Applications:
The shaking gold process is suitable for processing finer minerals.
Coarse sand bed: material size less than 0.5mm.
Fine sand bed: particle size at the range of 0.5-0.074mm.
Sludge bed: particle size of 0.074-0.037mm.
Benefits:
The range of ore feeding size in the rocker gold process is generally between 3~0.019mm
The whole process is stable and reliable
Easy to operate. With our machine, you can get the required ore concentrate at once.
3. Spiral Chute gold extraction process
It adopts lope water flow to achieve separation. With the effect of the combined force of water flow, mineral gravity, the friction created by the bottom of the tank, and ore particles, the gold ore particles will settle in different areas of the tank. The ore particles with small specific gravity will flow away with the water, while ore particles with larger specific gravity would stay.
The main equipment of the chute gold process is the spiral chute, which is the equipment for using the slope water flow to achieve separation.
Application:
Fine gold material with low mud content and its material size should be at 0.6 ~ 0.03mm.
Benefits:
Simple structure, large processing capacity, and low comprehensive cost.
Gold extraction equipment manufacturers
Metso Company-cyanide and carbon pulp gold process manufacturer
Metso company is a world-leading industrial company offering equipment and services for the sustainable processing and flow of natural resources in the mining, aggregates, recycling, and process industries.
SGS Company-resin pulp gold mining process manufacturer
SGS Company is a multinational company headquartered in Geneva, Switzerland, providing inspection, verification, testing, and certification services. It's ranked by Forbes as one of 2017 Top Multinational Performers.
FTM Machinery-Flotation and gravity gold mining process manufacturer
Henan Fote Heavy Machinery Co., Ltd. (FTM) has more than 40-year experience in the design of gold mining equipment processes. Its beneficiation equipment and plants sales to many countries including Tanzania, India, South Africa, the United Kingdom and other regions. According to the actual needs of customers, all machines can be customized here.
Share: