Copper is one of the earliest metals extracted and used in human history. As it is used so widely and economic value increasing gradually, the copper ore processing industry has become more and more important.
Therefore, this article will analyze from 4 aspects: what is copper used for, where to found it and what the types are, how to judge its value and the ways of processing, to provide how to make your copper ore processing successful.
In this article, we will introduce: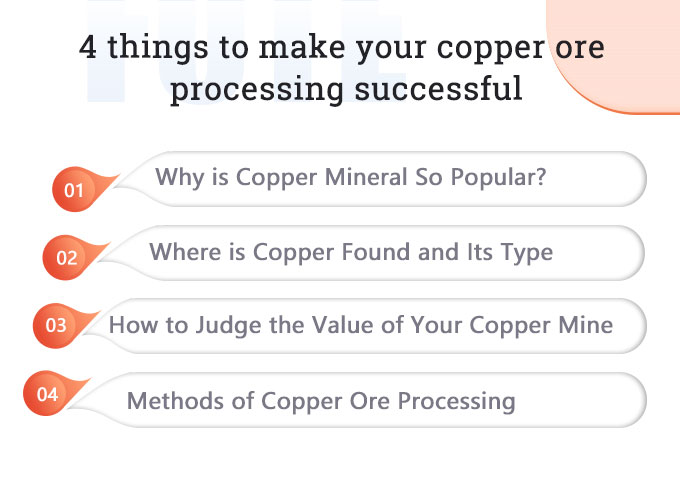 Why is copper mineral so popular?
Before dealing with copper ore processing, we need to have a basic understanding of copper and its applications.
Wide application
As developing of economy and technology, copper becomes more common in our daily lives, such as electrical, light industry, machinery manufacturing, construction industry, national defense industry, etc. Here is a list for the specific use of copper.
| | |
| --- | --- |
| Application field | Specific use |
| Electrical and Electronic Industry | cables, wires, motors and transformers, etc. Industrial valves and fittings, gauges, plain bearings, molds, heat exchangers and pumps, etc. |
| Chemical Industry | the vacuum, distillation pot, brewing pot, etc. |
| National Defense Industry | bullets, shells, gun parts, etc. |
| Construction Industry | various pipes, pipe fittings, decorative devices, etc. |
| Medical Industry | anti-cancer and sterilization |
The wide application of copper and the strong support of the government make the copper ore processing field so prosperous.
Strong supply market
The energy and mines minister of Peru said in September that the total amount of their copper ore will increase to 127% in the next three years.
Besides, in October, its government agreed with the long-delayed project, Tia Maria copper mining, of Southern Copper Corporation (SCCO), approved for their normal copper ore processing after when they meet the standard of local social and environmental conditions.
A Chilean spokesperson said that the copper mine processing was not greatly affected by the domestic strike.
At the same time, Australia, Zambia, and some other countries have discovered new high-quality copper mines.
Here is the copper ore output around the world during 2012-2019.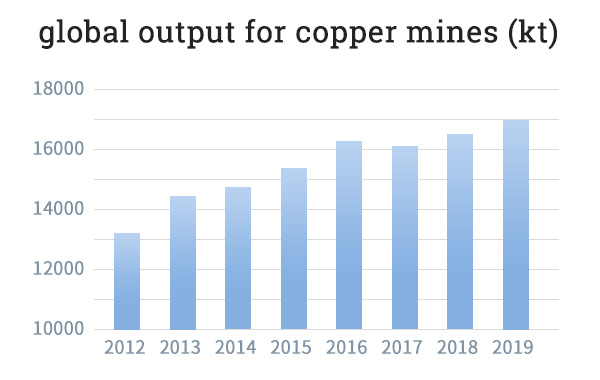 All of these above shows that the copper ore processing industry is booming.
Stable demand market
It is the time when the developed countries are required to upgrade their infrastructure.
In addition, lots of developing countries have to invest their basic economic construction due to rapid economic development. All of these projects need copper products to participate in.
The data of global demand for copper ore from 2012 to 2019 shows that the market for copper mineral products is still in great need.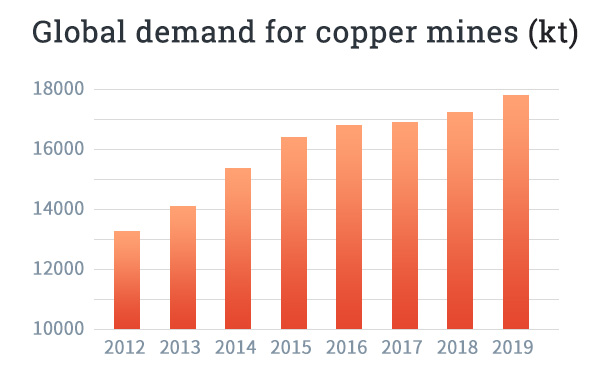 As so popular this industry is, more and more people choose to engage in the copper ore processing. Therefore, the first thing we need to know before handling in the beneficiation industry is where we can find copper ore and what its types are.
Where is copper found and its type?
So far, Chile has the most abundant copper resource around the world, besides its total amount of extraction and processing also ranks the first.
The copper resource which has been discovered and proven around the world is mainly distributed in the areas such as Chile, Peru, the United States, Mexico, Australia, Indonesia, China, Russia, etc. Here is the reserve distribution: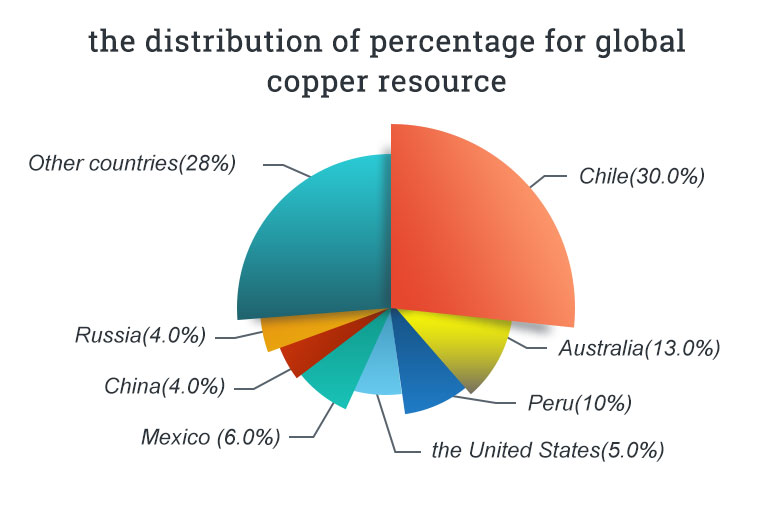 Among them, the copper ore can be divided into two main types: copper sulfide and cupric oxide.
Copper sulfide is the main mineral resource for copper extracting. It accounts for 80% of copper resource, mainly including Chalcocite, chalcopyrite and porphyry copper.
Cupric oxide also includes three major types: azurite, cuprite and malachite.
The specifications of these copper ore rock and their distribution can be seen in the following chart.
Types of Copper Ore
Specifications
Distribution Range
copper sulfide
Bornite (Bn)
indigo, fresh section is deep copper red
France, Chile, Bolivia, South Australia, the United States, etc.
Chalcopyrite (yellow copper ore) (Clp)
golden yellow color with green tinged black streak
Spain, the United States, Mexico, Chile, etc.
Chalcocite (copper(I)sulfide) (Chc)
opaque and dark-gray to black with a metallic luster
United States, United Kingdom, Namibia, Italy, etc.
copper (II) oxide (cupric oxide)
Azurite copper (azure ore)
soft, deep-blue
Russia, Romania, Brazil, etc.
Cuprite copper
dark crystals with red internal reflections, soft but heavy
France, Chile, Bolivia, South Australia, the United States, etc.
Malachite(Mal)
opaque, green-banded mineral crystallizes, forms botryoidal, fibrous, or stalagmitic masses
Zambia, Australia, Namibia, Russia, Congo, the United States, etc.
The specifications of copper ore rock: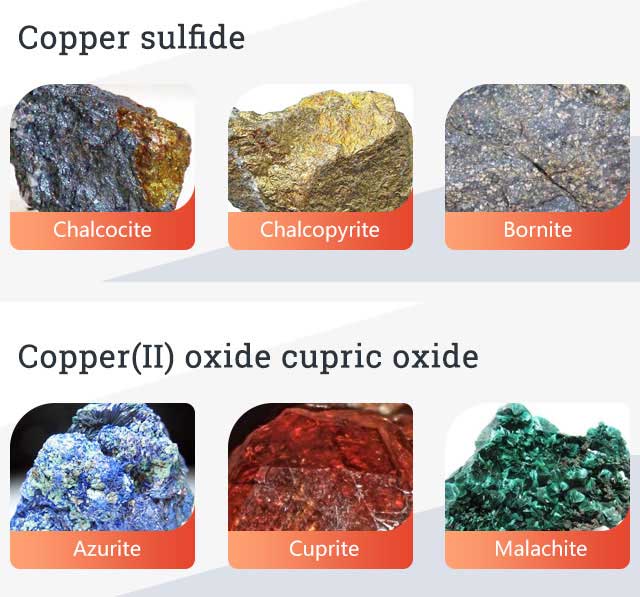 Different kinds of copper ore have their own unique physical and chemical properties. Also due to the different percentages of copper in the ore rock, we need to make sure whether it is valuable or not to be processed at very beginning of the processing.
Morever, the corresponding processing methods need as well as to be selected according to the different types and the different percentages of specific copper ore.
How to judge the value of your copper mine?
Before judging the value of the raw copper ore, we need to know three standards related: the industrial grade, Cut-Off grade of ore and average grade of the ore deposit.
The industrial grade of ore is also called minimum industrial grade and minimum grade of mined ore.
It is an important standard for judging whether the existing technology can meet the demand of mining and processing. We can also know whether it has economic benefits to do ore beneficiation according to it.
Cut-Off grade is the grade that can distinguish between valuable ore and unusable rock. It represents the standard for the minimum percentage of useful ingredients in the ore.
Generally speaking, in the test of ore samples, the standard for the minimum percentage of useful ingredients should be higher than the percentage of tailings after beneficiation.
Average grade of ore deposit is the quality of ore deposit. It is also an important symbol of ore quality.
Based on this, we can be aware of the richness of the whole mine, and draw a conclusion about whether the certain ore deposits (especially those with large changes in ore grade) are worth excavating, and whether it can meet the expected economic benefit after being processed.
The general standards for industrial indicators of copper deposits are in the following:
Project
copper sulfide
copper(II)oxide(cupric oxide)
pit mining
open pit mining
Cut-Off Grade (ωB) %
0.2-0.3
0.2
0.5
Minimum Industrial Grade (ωB) %
0.4-0.5
0.4
0.7
Average Grade of Ore Deposit (ωB) %
0.7-1.0
0.4-0.6
-

Minimum Exploitable Thickness (m)
1-2
2-4
1
Band Rejected Thickness (m)
2-4
4-8
2
The other aspect we need to know is the quality standard of concentrate ore. We may find some occasion in which the grade of some ores can meet the industrial grade need, while it still cannot be used for ore smelting. That's because the ore does not satisfy the quality standard of concentrate ore.
As a result, this type of ore still does not have the value of processing, we need to do some research on its processing technology.
The quality standards for copper concentrates can be divided into four grades:
Grade
Minimum Mass Molecular of Copper (%)
Minimum Mass Molecular of Impurity (%)
As
Pb+Zn
Mg
Bi
Grade 1
30
0.05
2
1
0.05
Grade 2
25
0.20
5
3
0.20
Grade 3
20
0.30
8
4
0.30
Grade 4
13
0.40
12
5
0.50
Therefore, it is necessary to analyze whether the copper mine can meet the requirements of industrial indicators and the quality standards of copper concentrates in all aspects before copper ore processing. For the reason that we can determine whether the copper mine has the value of mining and processing.
Methods of copper ore processing
When deciding to engage in copper ore processing, we need to know how is copper made by ore processing and smelting. Beneficiation is an important step for the mining and processing of ore. Get aware of the different beneficiation methods and choose the most suitable one among them, then we can get better results with lower investment.
Deciding the methods of copper ore beneficiation needs to depend on its physical, chemical properties and the percentage of copper.
Generally, the steps of copper ore dressing process contain 3 parts:
1

Crushing and grinding: making the copper ore rock into smaller size by using crusher and ball mill.

2

Separating: choose the copper material from other substances to obtain a copper concentrate by using one or more different beneficiation ways.

3

Smelting: metal copper can be obtained by kinds of smelting processing.
Common copper ore processing methods include two types: flotation beneficiation and hydrometallurgy. Due to the complex composition of copper sulfide ore, it is much better to be processed by flotation beneficiation; while the composition of copper oxide is relatively simple, it can be processed by both the two ways, and more inclined to the latter.
Flotation beneficiation
The equipment of copper ore processing is as shown in the figure below.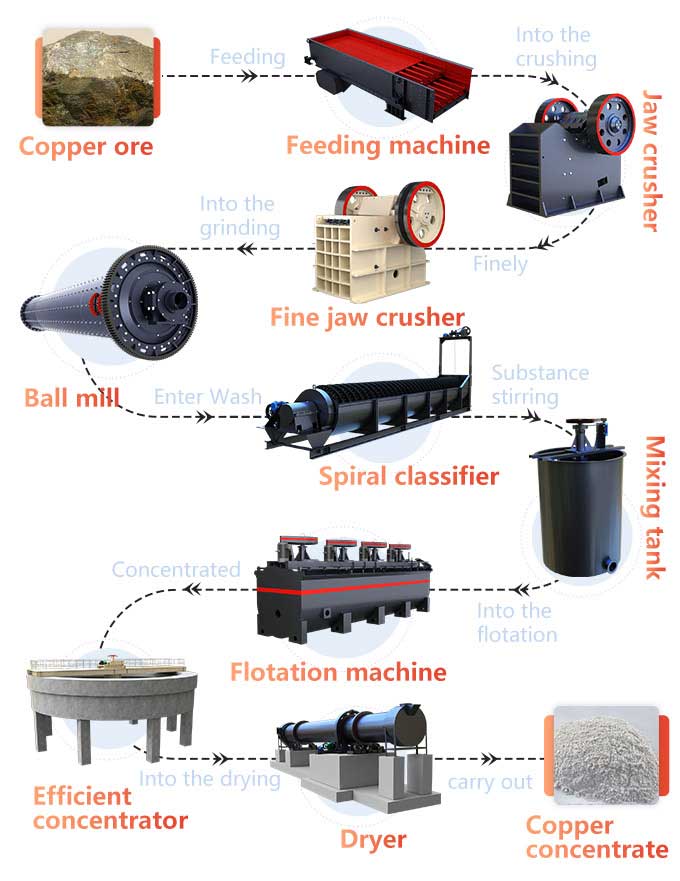 1

The copper ore is crushed and ground to the specific size by crusher and ball mill.

2

Then transferred to a mixing tank with suitable agents added.

3

After being fully stirred, put into a flotation machine for flotation separation.

4

Finally, the concentrate copper slurry is obtained.

5

Being dried by the dryer then we can get the concentrate copper ore.
The ore-dressing method of processing simple copper sulfide and mixed ore usually chooses the flotation beneficiation.
While the way of polymetallic copper sulfide ore processing, according to its different composition, needs to be selected from the methods such as flotation-gravity separation, flotation-magnetic separation, and flotation-hydrometallurgy separation, etc.
Hydrometallurgy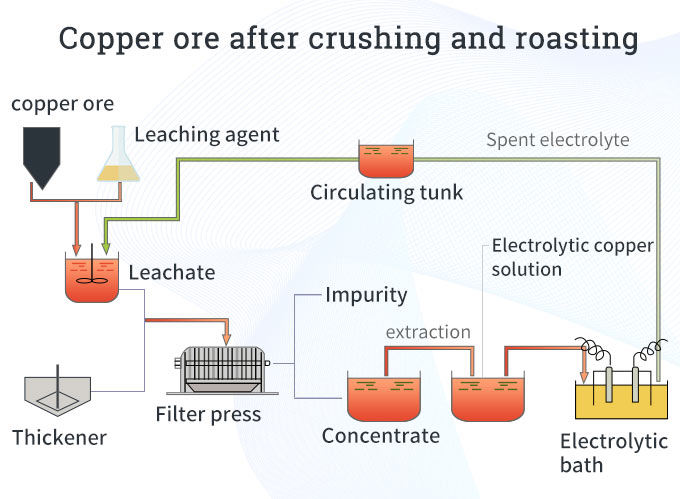 The steps of how is copper made by hydrometallurgy are in the picture above.
1

Crush the copper ore into smaller size then roast.

2

Leach the copper from the ore rock into solution by using specific leaching agents.

3

Add thickener for solid-liquid separation and remove solid impurities.

4

Further extraction and purified to obtain the electrolytic copper solution.

5

Extract the copper by electrolysis and precipitation.
Copper oxide ore is generally processed by flotation-hydrometallurgy separation; while the method of processing the ore in which bound-type oxidized copper ore accounts for a high percentage is hydrometallurgy ordinarily.
From the perspective of resource development trends in the future, the processing of oxidized ore, low-grade refractory ore, and polymetallic complex ore is increasing due to the gradual depletion of ore. Therefore, hydrometallurgy will become an effective way for ore processing later.
Summary
So wide the copper application is, the market of copper ore processing must be in large demand now and in the future. This is why more people choose to engage in this industry.
At the very beginning of the start, it is very necessary to get aware of which area the copper can be used in and where it would be much better to carry out our projects. More important, analyzing whether the copper mine can meet our expected economic benefits is also an essential step before put into processing. The last preparation is to make sure the copper ore dressing process steps and the processing equipment.
The above mentioned are the 4 details for copper ore processing successfully, hope it would work when you plan to engage or have engaged in copper processing.