The handling materials and inner structure of shaking table
Shaking table which is one gravity separation machine can be widely applied in separating minerals, especially for separating gold and coal. It is mainly composed of bed head, electromotor, adjusting gradient device, bed surface, ores chute, water chute, rifle bar, and lubricating system.
The advantages of Fote shaking table
Owing to years of experience in the industry, we offer an exceptional range of Vibrator Table that is manufactured by using quality assured raw components and advanced technologies. They have high tensile strength and ensure 2000 mold of production per shift. Our entire product range is in adherence with set quality standards and policies.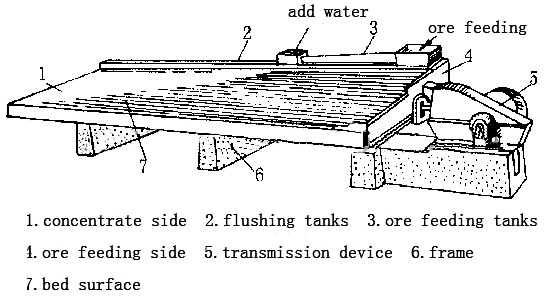 Working requirement on shaking table
Vibrating frequency: 8-20 Hz
Plate size: 10' x 8' heavy channel
Power required: 2 H.P
Material: Iron/Steel
Why choose us?
The proportion of rich ore is big.
The sorting efficiency is high. It is easy to operate and adjust.
The user can get ultimately concentrate and tailing at a time by using the shaking table.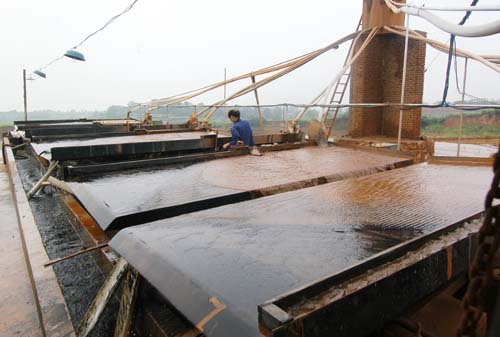 Working process
The crankshaft rocker moves up and down as shaking table's belt rotating is driven by the motor. When the crankshaft rocker moves downward, materials will enter from tilt table through bunker. The water channel of the shaking table supplies water to the materials. While the table is vibrating, and the water is flowing.
Different density materials will flow to concentrate mouth and tails mouth along with the different direction. Mining shaking table has improved much after generations.
Parameter
Name
Grit
concentrator
table
Fine sand
concentrator
table
Sludge
concentrator
table
Bed surface
Dimensions
Length
(mm)
4450
4450
4450
Driving
part Width
(mm)
1855
1855
1855
Concentrate
part Width
(mm)
1546
1546
1546
Max.feeding
size(mm)
2
0.5
0.15
Feeding
amount
(t/d)
30-60
10-20
15-25
Feeding
thickness
(%)
25-30
20-25
15-25
Stroke
(mm)
16-22
11-16
8-16
Frequency
(f)
45-48
48-53
50-57
Bed surface
Water quantity
(t/d)
80-150
30-60
10-17
Bed surface
Horizontal
obliquity(°)
2.5-4.5
1.5-3.5
1-2
Bed surface
Portrait
obliquity(%)
1.4
0.92
----
Table board
corner(°)
32-42
40
42
Concentrating
area(㎡)
7.6
7.6
7.6
Bed surface
Length ratio
2.6
2.6
2.6
Shape of
side-bed
surface
Rectangle
Zigzag
Triangle
Motor
power(kw)
1.1
1.1
1.1
Transmission
device
Eccentricity Linkage
Name
Max.feeding
size(mm)
Bed surface
Water quantity
(t/d)
Grit
concentrator
table
2
80-150
Fine sand
concentrator
table
0.5
30-60
Sludge
concentrator
table
0.15
10-17