Why do most people choose the magnetic separation line?
As one of the ore beneficiation lines, magnetic separation line is used to separate ores by different magnetic components. The important reason why most people choose magnetic separation is that it is one of the few methods that can help people effectively separate ores and tailings.

Magnetic separation line are widely use in ore beneficiation process
One of the biggest challenges facing the mining industry at present is to separate the useless substances with magnetism from valuable substances. No matter it is open-pit mining or underground one, there will always be a lot of produced tailings, from which it is difficult for people to extract valuable materials. Magnetic separation, with its unique advantages, can increase the ore utilization rate to 90%.
When can magnetic separation be used?
FAQ about magnetic separation in mining:
What is magnetic ore, and what is non-magnetic ore?
If natural minerals contain magnetic substances such as iron, cobalt, nickel, etc., they are magnetic ores. Otherwise, they would be non-magnetic ores.
Non-magnetic minerals have a specific magnetic susceptibility of less than 15, and there are so many such minerals can be separated by magnetic separation line as halcopyrite, galena, sphalerite, coal, etc. (more in the following table)
The magnetic separation production line can not only extract valuable content form magnetic minerals, but also remove useless magnetic minerals from non-magnetic ores.
What are the properties of materials that meet the processing requirements?
Minerals may differ in magnetic strengths, material properties, and specific susceptibility, which means that different magnetic ores use different magnetic separation methods.
Fote Machinery Manufacturer will provide the most scientific and lowest cost magnetic separation solution according to the magnetic characteristics of your materials.
Magnetic classification
Specific magnetic susceptibility
Mineral properties
Magnetic characteristics
Representative mineral
Strong magnetic mineral
X>3.8×105m³/kg
Ferrimagnetic substance

High magnetization, low foreign magnetic field can reach magnetic saturation.

Magnetic field strength, specific susceptibility and external magnetic field strength show curvilinear relationship.

Its magnetism is related to the change of magnetic field, appearing hysteresis and residual magnetism.

Magnetite, Maghemite, y-hematite, Titanium, Magnetite, Pyrrhotite, Franklinite
Weak magnetic mineral
X=3.8×105~1.26×107m³/kg
Diamagnetic or Antiferromagnetic mineral

Specific susceptibility is a constant, which has no relation with the magnetization, shape and particle size, but only with the mineral composition.

There is a linear relationship between magnetization and magnetic field strength, without magnetic saturation and hysteresis.

Maghemite, Limonite, Manganese ore, Rutile, Wolframite, Amphiboles, Chlorite, Olivine
Non-magnetic mineral
X<1.26×105m³/kg
A diamagnetic or paramagnetic mineral
Basically not magnetic under the action of foreign magnetic field
Scheherite, Pyrolusite, Galena, Diamond, Gypsum, Fluorite, Corundum, Kaolin, Coal, Quartz, Feldspar, Calcite, Graphite, Natural sulfur
What is magnetic separation process for concentration of ore?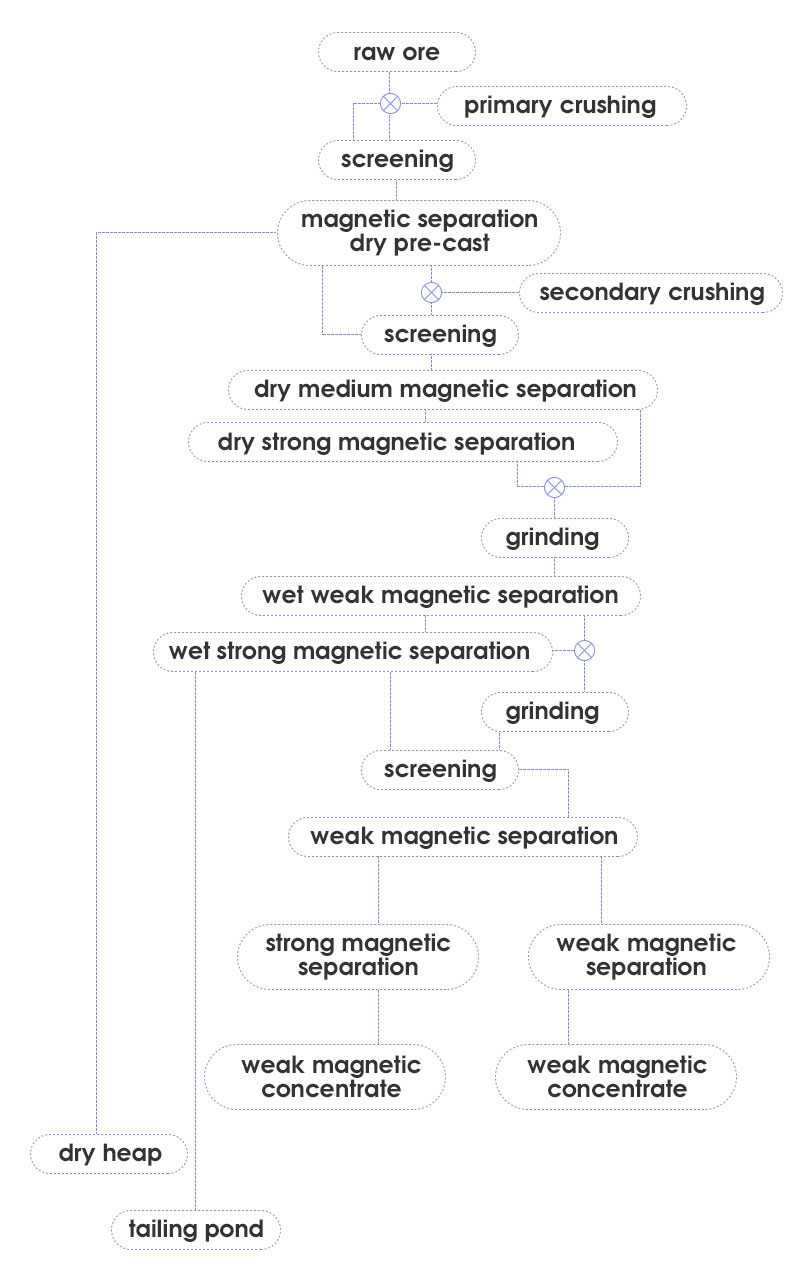 complete process for magnetic sepatation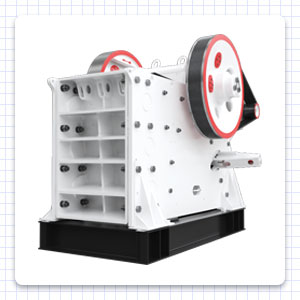 The mined ores are sent to the jaw crusher through a vibrating feeder for primary crushing, then crushed by cone crusher through a belt conveyor for secondary crushing, and last to evenly enter the ball mill.
Ball mill grinding process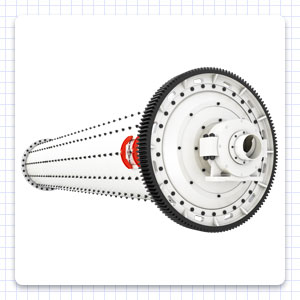 The crushed material needs a further grinding by ball mill machine to continue the next beneficiation process, but those unqualified slurry would get another grinding until it meets requirement.
Magnetic separation process
The process is mainly used to separate the huge-block and coarse material with strong magnetism or fine ore with weak magnetism.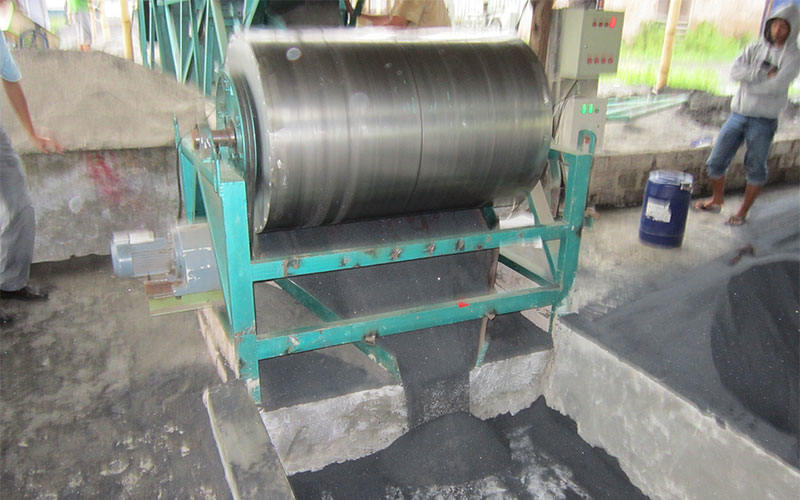 This is a dry magnetic saparator
After being ground by a ball mill, the material would enter the wet magnetic separator then being dehydrated to produce final concentrate powder. In this process, magnetic field strength is 400 ~ 1200GS, the drum speed is 60 ~ 320 rpm.
For example, if you need to separate the raw ore with iron content of 35%, magnetic separation line would help you raise iron concentrate by 68~70%.
Drying process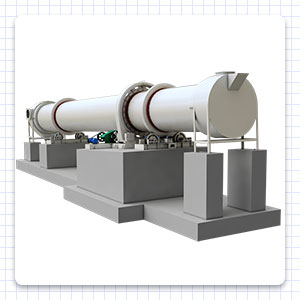 Because the iron concentrate after magnetic separation contains a certain amount of water, it needs to be settled by the concentrator and dried by the dryer.
The concentrated ore pulp after magnetic separation enters the concentrator for preliminary concentration and precipitation, and then is dried and dehydrated by the dryer to get the finished iron concentrate powder.
Unique advantages of magnetic separation production line
High utilization rate-The separation of ore by the magnetic separation line can make the utilization rate of ore reach 90%.
Production efficiency is greatly improved- the whole production line adopts two-stage grinding process, which not only reduces ore sludge caused by mineral over-grinding and inefficiency of the mill, but also increases output.
Environmental protection-Dust created in the magnetic process would be collected by the dust removal device thereby causing no air pollution.
Power system design-The scientific and reasonable power system ensures that the power consumption parts is minimized during operation, and the magnet rotates without excitation current.
Save water resources-The dry magnetic separation operation suitable for arid and water-scarce areas.
Strong processing capacity- the magnet magnetic system is an open structure, which makes high magnetic separation efficiency, strong processing capacity and smooth operation.
Long service life-The roller protects the magnet from direct contact with the material, which avoids unnecessary wear and tear, thus helping to reduce production and maintenance costs.
No sticky phenomenon-the dynamic magnetic system can make magnetic minerals move on the surface of the drum, thus material cannot stick in the cylinder body.
Low investment cost-Simplified process flow and convenient operation save lots of labor and investment costs.
Successful case of the separation of different ores by Fote magnetic separation line
Solutions of magnetic separation with iron in India
| | | | | | | |
| --- | --- | --- | --- | --- | --- | --- |
| City | Types of iron ore | Production | Iron content | Feeding concentration | Iron ore concentrate | Recovery rate |
| Bombay | Hematite | 15t/h | TFe 48-53% | 56% | TFe 67-68% | 95% |
| New Delhi | Limonite tailings | 10t/h | TFe 37.65% | 65% | TFe 55-60% | 90% |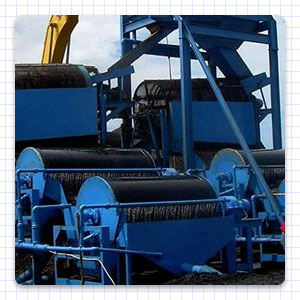 Recommended solution:
First after two-grade grinding classification, the coarse-grained products were sent to the gravity beneficiation process.
Then, the selected fine products need weak magnetic and strong magnetic processes respectively to improve the quality and discard tailings, so as to provide suitable conditions for the flotation operation.
Magnetic separation of manganese ore in Nigeria
| | | | | | |
| --- | --- | --- | --- | --- | --- |
| Raw material | Production | Manganese content | Feeding concentration | Manganese concentrate | Recovery rate |
| Manganese ore | 51t/h | Mn28% | 75% | 41.23% | 93.6% |
Recommended solution:
The process includes washing, jigging and strong magnetic separation.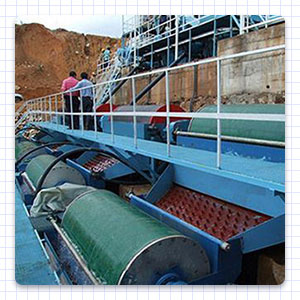 1

The manganese ore was crushed to below 70mm, and then being washed and sieved.

2

Hand selection for material larger than 30mm and heavy separation by jig for material with 4.5-30mm.

3

Separated finest manganese ore less than 4.5mm with strong magnetic field separator.
Magnetic Separation of Tungsten Ore in Indonesia
Raw ore
Production
Tungsten content and Tin Content
Feeding concentration
Concentrate grade
Recovery rate
Wolframite stone
15 t/h
WO30.035%
70%
60.83%
85%
15 t/h
Sn 0.32%
70%
52.69%
80%
Tungsten magnetic separation process
First, grind the ore to a particle size of less than 0.36mm, and use jig separating method to obtain coarse minerals and fine minerals.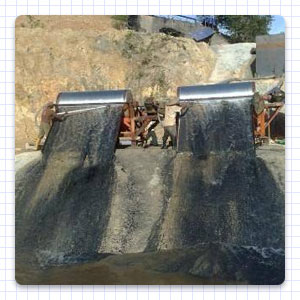 Second, spiral chute and shaker were used to get tungsten-tin mixed coarse concentrate.
Third, make a coarse separation through a wet strong magnetic separator under a magnetic field strength of 12000GS.
Last, under a wet strong magnetic field strength of 9000GS, separated tungsten and tin contents to obtain tungsten concentrate and tin concentrate respectively.
Magnetic separation case of Pakistan coal
| | | | | | |
| --- | --- | --- | --- | --- | --- |
| Raw ore | Production | Carbon content | Feeding concentration | Concentrate grade | Recovery rate |
| Coal slurry | 100 t/h | C 49.8% | 30% | 94.11% | 98.7% |
Recommended solution:
Add the water to make the coal slurry more dilute, and classify it with a high-frequency vibrating screen. Use ball mill to make a further grinding, control slurry concentration to 30% the slurry, and keep slurry fineness less than 0.075mm to account for 90% ;
Use weak magnetic separation to separate the obtained slurry with magnetic induction intensity 0.08T. At the time, you can get iron concentrate and weak magnetic tailings with iron content greater than 60%.
Use strong magnetic separation method for the weak magnetic tailings with the magnetic induction intensity 1.0T to obtain magnetic separation concentrates and magnetic separation tailings;
Finally, the final high-grade reduced coal products are prepared by sweeping and flotation.
After testing, the ash content of this high-grade reduced coal products is 2.86%, the total sulfur content is 0.11%, and the fixed carbon recovery rate is 98.7%.
Why choose Fote magnetic separation production line?
Provide the most scientific solution
According to the environment, geology, climate, we'll design scientific and reasonable production line for customers.
Our recommended solution will strictly comply with local environmental protection standards, and provide you with green magnetic separation machines and related equipment.
Help you get the best income
The configuration of the production line can be customized according to the nature of the ore and different requirements on annal output. So, Fote magnetic separation production line can give full play to its performance, maximize output and optimize efficiency.
The magnetic separation production line is equipped with advanced equipment and reasonable price. It is less-place occupied thus reducing capital investment and creating high profit.