Spiral chute introduction
The spiral chute is a common equipment for mining and beneficiation. It is characterized by a combination of a spiral concentrator, a spiral chute, a shaker and a centrifugal concentrator, which is more ideal for sand mining in the seashore, riverside, sand beach and stream.
This equipment is suitable for the separation of iron ore, ilmenite, chromite, pyrite, zircon, rutile, monazite, phosphonite, tungsten ore, tin ore, strontium as well as antimony ore and other non-ferrous metals, rare metals and non-metallic mineral bodies with different specific gravity with a particle size of 0.3--0.02 mm.
It has advantages of simple installation, reasonable structure less occupied areas and easy operation.
It has a big handling capacity with high efficiency, concentration ratio and recovery rate.
Besides, it has the following advantages: light, moisture-proof, rust-proof, corrosion-resistant, noisy-free, strong adaptation to fluctuations in the amount, high concentration, grain size of the ore.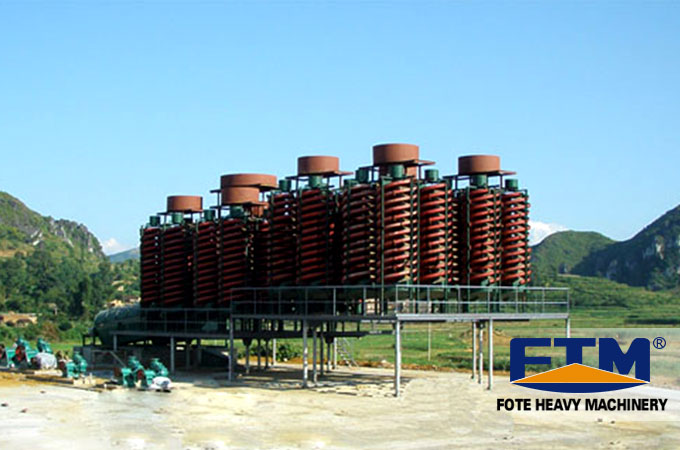 Spiral chute
The basic structure of spiral chute
The main part of the spiral chute device is spiral flight which is made of glass fiber reinforced plastic. The inner surface of the spiral groove is coated with a wear-resistant lining, usually a polyurethane wear-resistant glue or an epoxy resin mixed with artificial gold steel sand.
There are a miner and a feed tank in the upper part of the spiral chute, and a product interceptor and a collecting tank in the lower part. The entire equipment is framed vertically with steel frames.
The working characteristics of the spiral chute are that the fine, medium and tailings are respectively taken at the end of the tank, and no washing water is added during the sorting process.
Spiral chute design principle
The shape of the spiral chute is similar to the thread shape. The movement of the materials inside can be divided into three stages, which are the material introduction stage, material acceleration phase and material uniform velocity warehouse phase. And the third stage lasts the longest, which is the key for materials crushing.
The key to the design of the spiral chute is in the uniform velocity stage. The main parameters are radius R, bottom plate width b, elevation height h, helix angle mouth, and bottom plate radial inclination angle.
The parameter selection of the spiral chute should be calculated according to the condition of the warehouse, the particle size, the moisture, the number of materials, and the like.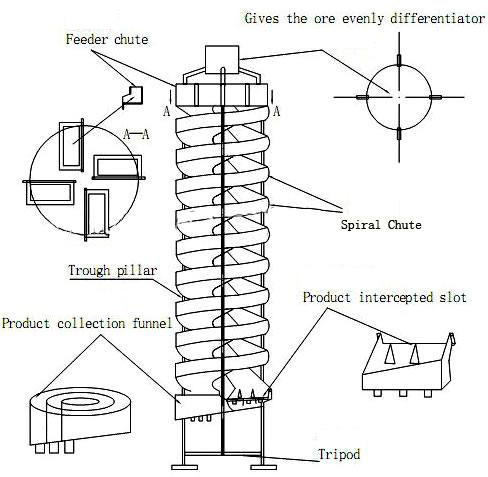 Constructional detail of spiral chute
Outstanding advantages of spiral chute
Spiral chutes are widely used in the selection of hematite, the recovery of heavy minerals in tailings, and the selection of rare and non-ferrous metals. This is because it has the following advantages:
1. Small footprint and large processing capacity
It has characteristics of reasonable structure, simple installation, small floor space, simple operation, stable ore dressing, clear mineralization, large processing capacity, high efficiency, high enrichment ratio, high recovery rate and reliable operation
2. Lightweight without noise
It is lightweight, moisture-proof, rust-proof, corrosion-resistant, and is adaptable to the fluctuation of ore content and concentration, grain size and grade without noise.
3. Easy to operate with high adaptation
The spiral chute is not critical to the operation requirements (such as grain size, mass fraction, etc.). Even if the ore supply, ore concentration, ore size and ore grade change, there is almost no influence on the selection index, which means that it has strong adaptability.
4. Good processing effect
The spiral chute is not only easy to operate, but also achieves a good treatment effect. It is characterized by stable ore dressing, clear ore separation, large processing capacity, high efficiency, and high enrichment ratio.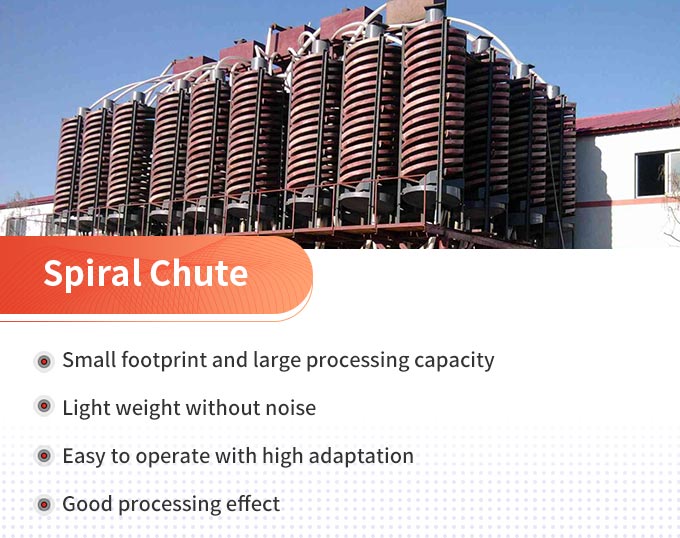 Outstanding advantages of spiral chute
Working Principle of spiral chute
Keep the spiral standing, calibrate vertical line, and fix it on a suitable place by the iron stand and wood. Bring ores to the two feeding ports on the head of spiral chute by a sand pump.
Add water to adjust the destiny of ore pulp which will fall because of gravity.
A type of centrifugal force will be generated during this process. The ore and sand will be divided because of different weights, sizes, and granularities by gravity and centrifugal force.
Concentrate will flow out through the tube. Tailing will flow into the tailing bucket and then be discharged out by a pipe.
Spiral chute factory
The spiral chutes produced by Fote are mainly used in metal mines, coal industry, power environmental protection and other industries. They are sold well at home and abroad, and various types of equipment meet the needs of different industries.
Fote timely follows up product installation and maintenance. In the fierce market competition, relying on leading technical advantages, excellent product quality and perfect after-sales service, Fote's products are exported to more than 200 countries and area.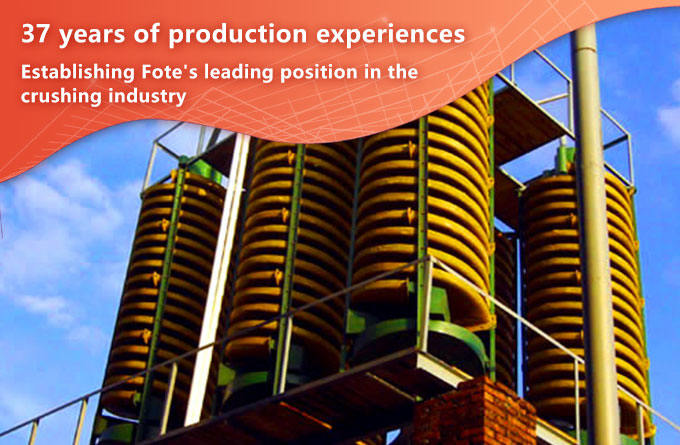 Spiral chute produced by FTM
Customer Case - Gold mine beneficiation in Indonesian
The gold content in the gold deposit is extremely low, and it is usually necessary to use refining by gravity separation, flotation, amalgamation, magnetic separation and electro-selection, and at the same time, high-efficiency and energy-saving gold ore beneficiation equipment are arranged for beneficiation and enrichment.
Spiral chute on working site
In January 2016, a customer with a gold mine in Indonesia wanted to import a set of gold beneficiation equipment from China.
After many investigations and comparisons, the user finally chose FoteHeavy Industry, and our engineers also quickly equipped the user with a complete set of mineral processing equipment.
Crushing equipment: Jaw crusher. It is flexibly used for gold ore crushing according to different gold selection requirements, further improves gold mining efficiency and recovery rate, and reduces gold mine loss rate;
Washing: Some gold mines have a high mud content, and the soil is very sticky. It is easy to wrap the gold grains in the soil and cannot be extracted. Therefore, for such gold mines with more sticky soil, the first thing to do is the washing of the mine.
Screening: Cylinder washing machine. Because the gold in the gold deposit is free, the monomer dissociation degree of gold and sandstone is very high, and the large river pebbles are gold-free, thus it is necessary to screen the waste rock;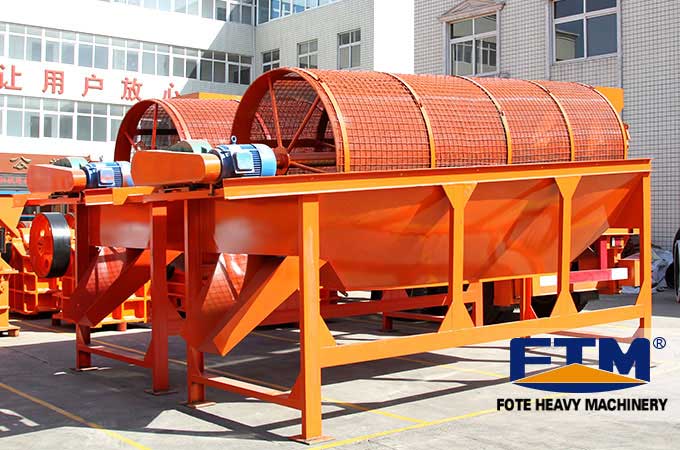 Cylinder washing machine
Rough selection equipment: Spiral chute. Gold mine after washing and sieving enters into rough re-election process. Gold mine with lower gold content generally adopts gold chute to raise gold which has large processing capacity and low ore dressing cost;
Magnetic separation: Magnetic separator. Iron and ferrotitanium contained in gold deposits contain strong magnetism and weak magnetic properties. Different grades of iron concentrate and ferrotitanium powder can be obtained through different magnetic separators.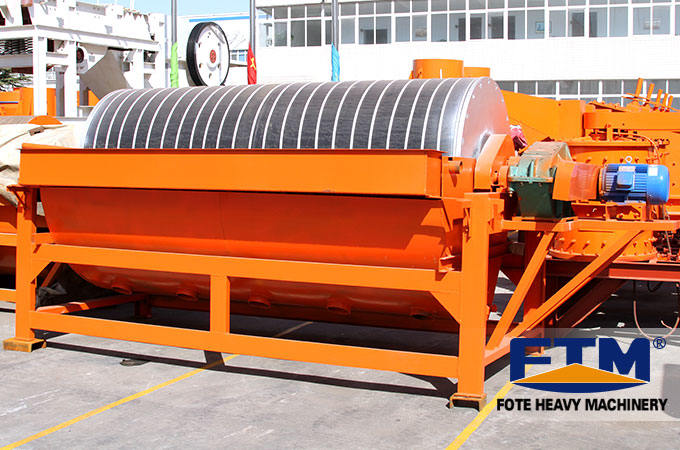 Magnetic separator
So far, the set of equipment has been running stably, which has brought considerable benefits to users. Because of its high quality and low price, reliable after-sales service and simple installation, it has attracted more customers.
Parameter
Model
Processing capacity
(t/h)
DL2000
15-40
DL1500
8-16
LL1200
4-6
LL900
2-3
Model
Processing capacity
(t/h)
DL2000
15-40
DL1500
8-16
LL1200
4-6
LL900
2-3