Magnetite is the main mineral in iron ore beneficiation, which has industrial value and is mined in large quantities.
Here we will introduce the beneficiation method and process of magnetite ore in detail.
What is magnetite?
Magnetite is an iron oxide ore, which belongs to the equiaxed crystal system, and its chemical formula is Fe3O4. The Mohs hardness of magnetite is 5.5~6.5. Like hematite, it has strong magnetism. In ancient times, it was also called a magnet.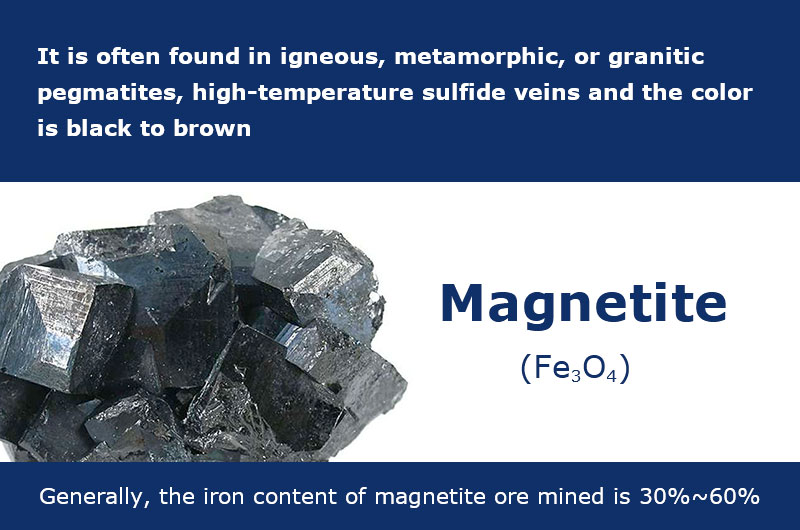 Magnetite is often formed in igneous, metamorphic, or granitic pegmatites, high-temperature sulfide veins and the color is black to brown. Generally, the iron content of magnetite ore mined is 30%~60%, which is mainly used for iron making.
Magnetite must be upgraded through the ore treatment process to produce high-grade concentrates for steelmaking.
Beneficiation methods of magnetite
The most commonly used beneficiation method for magnetite is weak magnetic separation. However, there is very little single magnetite in nature, and most of them are mixed ores associated with other minerals.
Therefore, magnetite is usually beneficiated mainly by magnetic separation, supplemented by flotation, gravity separation, calcination, and so on.
1. Single magnetic separation method
The single magnetic separation process is applicable to single magnetite. This kind of ore has simple mineral composition, strong magnetism, and easy grinding and separating, so weak magnetic separation can achieve a better separation effect.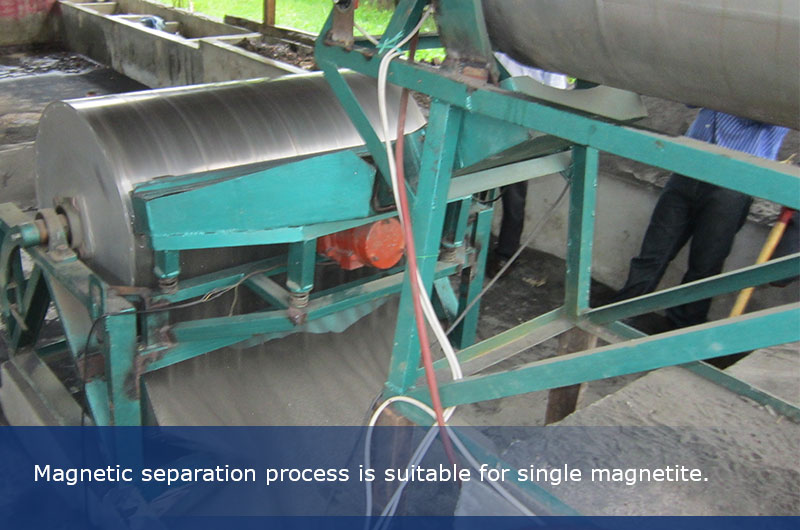 What equipment do I need?
Ftmmachinery recommends a weak magnetic separator for you.
2. Weak magnetic separation - flotation method
When the gangue minerals of magnetite contain impurities such as silicate, sulfide, and apatite, the magnetic separation method cannot remove the impurities well in the iron concentrate, which will lead to the problem of high silicon content.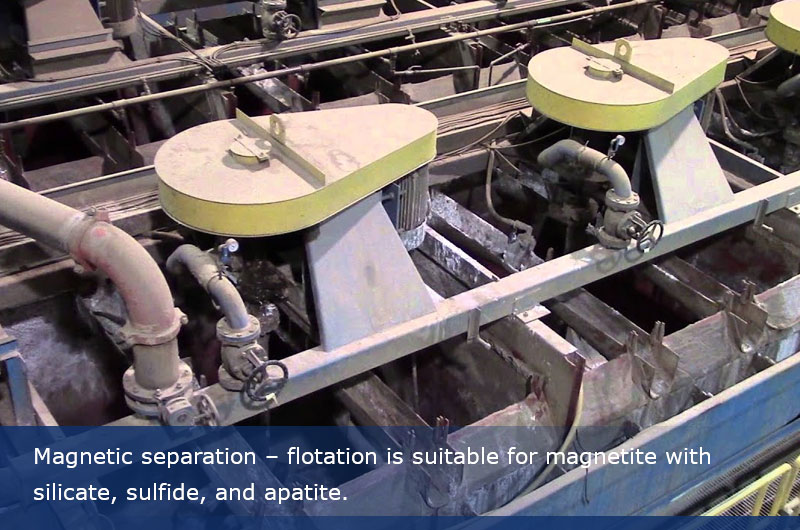 To obtain the concentrates, the weak magnetic separation - reverse flotation method is generally used for such ores. That is to use magnetic separation to recover iron, and flotation to recover sulfide or apatite.
What equipment do I need?
Ftmmachinery recommends a weak magnetic separator and flotation machine for you.
3. Magnetization calcination method
For mixed ore containing weak magnetic iron oxides such as hematite, limonite, siderite, etc., it can be converted into strong magnetic magnetite after calcination pretreatment. It can be effectively separated by the magnetic separator in a weak magnetic field.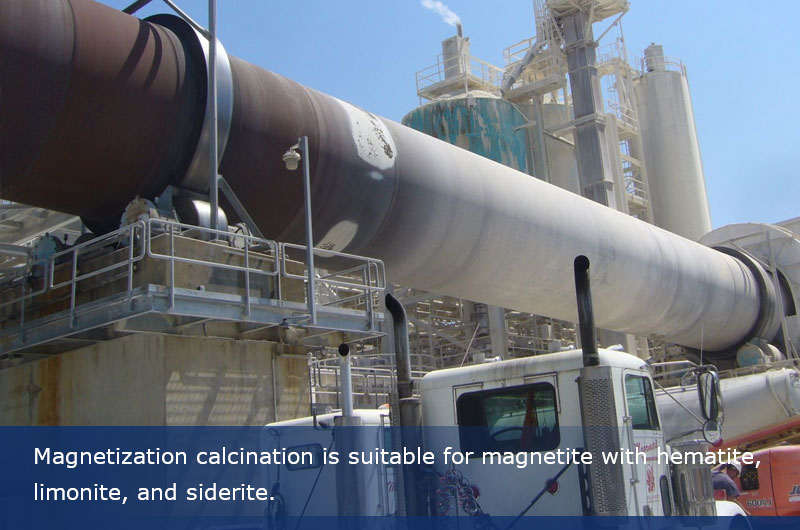 After calcination, the magnetism of iron minerals is enhanced, while that of gangue minerals has little change. This treatment is a method of thermochemically treating iron ore, often referred to as magnetization calcination.
What equipment do I need?
Ftmmachinery recommends a rotary kiln and weak magnetic separator for you.
4. Combined beneficiation method
The combined process of magnetic separation - gravity separation - flotation is suitable for polymetallic magnetite ore. Gangue minerals are mainly quartz, chlorite, biotite, etc., with a small amount of pyrite, chalcopyrite, vanadium-titanium magnetite, and other metal minerals.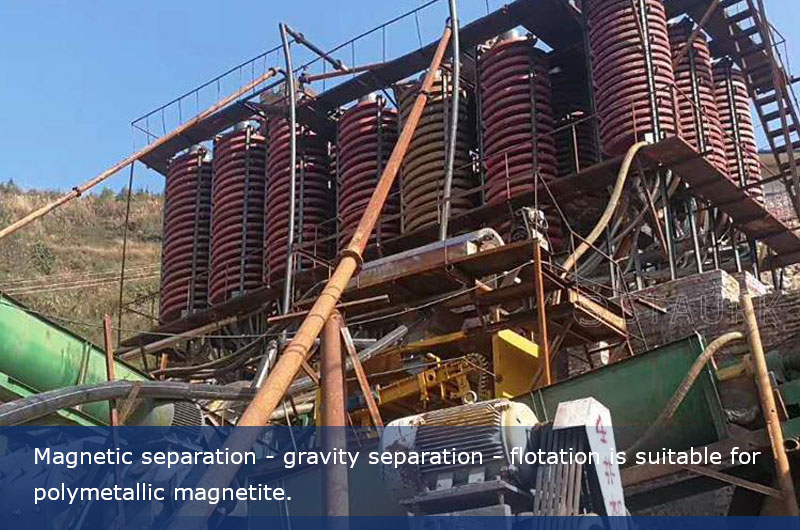 The mineral composition in the ore is complex, and medium and fine particles are embedded. First, gangue minerals are removed by gravity separation, then magnetic iron minerals are recovered by magnetic separation, and finally associated components are recovered by flotation.
What equipment do I need?
Ftmmachinery recommends a spiral chute, magnetic separator, and flotation machine for you.
Complete magnetite production line
Magnetite Ore Processing Plant
The beneficiation process of magnetite mainly includes 4 stages. Once you have discovered or mined magnetite, you can extract iron concentrates through the following process.
➢ Magnetite crushing and screening
➢ Magnetite grinding and classification
➢ Magnetite separation
➢ Magnetite dehydration
Stage 1 | Crushing and screening
The crushing stage is the pretreatment of magnetite. The crushing process of magnetite often adopts a continuous flow of two-stage and one closed-circuit crushing.

1

The raw magnetite ore is sent to the coarse crusher (jaw crusher) by the vibrating feeder, and then sent to the fine crusher (cone crusher or hammer crusher).

2

After fine crushing, the ore is sent to the screening machine. The material under the sieve is qualified and sent to the next stage, while the large particle material is returned to the fine crusher for crushing again.
Stage 2 | Grinding and classification
Grinding is to dissociate magnetite and gangue minerals as much as possible, to create suitable conditions for the next beneficiation separation.

1

The crushed magnetite is sent to the ball mill by the belt conveyor for grinding.

2

After that, the material enters the spiral classifier for classification. If the grinding particle size needs to be less than 0.2 mm, the large particle material can be sent back to the mill for the second grinding.
Stage 3 | Magnetite separation
The beneficiation stage of magnetite is to separate magnetite from other minerals by physical or chemical methods to recover iron ore concentrates. The most common beneficiation method is the two-stage magnetic separation process.

1

The classified material flows into the magnetic separator to separate the magnetic mineral and obtain the coarse concentrate through primary selection.

2

The coarse concentrate is subjected to secondary separating to obtain the qualified iron concentrate, and the tailings can be discharged.
The separation process is the key to magnetite processing. According to the above beneficiation method, the magnetite with complex compositions also needs gravity separation, flotation, calcination, and other methods. For example:
High sulfur magnetite: weak magnetic separation - flotation
Hematite/siderite - magnetite: magnetization calcination
Vanadium - titanium magnetite: gravity separation - magnetic separation - flotation
Stage 4 | Magnetite dehydration
Since the iron concentrate after separation contains some water, dehydration treatment is required.

1

The separated iron concentrate slurry flows into the thickener for sedimentation to remove a large amount of water.

2

After drying and dehydration in a dryer, the dried iron concentrate powder is obtained.
Through the above process, the magnetite processing plant can obtain more than 65% of high-quality iron ore concentrate, and the recovery rate is as high as 80%. Of course, the specific beneficiation process needs to be determined by the magnetite beneficiation test.
Ftmmachinery can customize the process flow and configure reasonable mineral processing equipment for your magnetite plant. Contact us!