Gold is a special currency for reserves and investment, and it is also an important material for jewelry, electronics, modern communications, aerospace and other sectors. The value of gold motivates people to prospect, mine and process more gold ore to extract more gold. You need gold mining equipment to do that.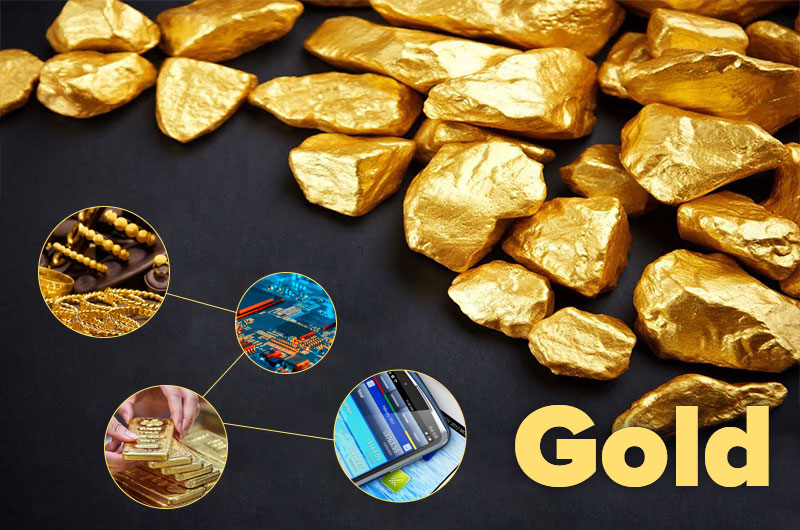 FTM company is committed to providing gold miners with efficient and robust gold mining equipment starting from crushing, grinding, gravity separation, flotation, helping them get a high gold recovery rate.
Whether processing placer gold or gold-containing quartz stone powder, you must use beneficiation equipment to separate gold particles. Commonly used are gravity gold recovery equipment, gold flotation equipment, and gold magnetic separator.
Gravity Gold Recovery Equipment
Shaking table, also called shaker table, is the best gravity separation device for gold, silver, tin, etc.
It can process both gold-containing quartz powder and placer gold.
The feeding particle size range of the shaking table is generally between 3mm-0.019mm.
The gold beneficiation is stable and reliable, and the distribution of the ore belt is clearly visible.
It consumes no drugs and less electricity, lowering the operation costs.
It can also be used for dredging operations in Gold Wash Plants, Gravity Separation Plants.
It utilizes the specific gravity difference between gold and other minerals to separate gold. It works better when processing placer gold.
It is also used to separate the iron, tin, wolframite, tantalum, niobium, chromite, rutile, monazite, etc.
The material size ranges from 0.6-0.03mm.
Compared with the shaker table, it is lighter and occupies a smaller area, reducing the transportation costs.
Gold Flotation Equipment
Gold ores finer than 10 μm are difficult to recover by gravity separation. Froth flotation utilizes the hydrophobicity of gold to separate it from gangue, thereby recovering fine-grained and ultra-fine-grained gold particles.
Flotation can process sulfide-containing gold ore with high floatability and polymetallic gold-bearing ores such as gold-copper ore, gold-silver ore.
It is not recommended to use flotation to process ores with a particle size greater than 0.2mm and quartz gold ores without sulfides.
Gold Magnetic Separator
Gold processing plants use magnetic separators to remove the high concentration of magnetite recovered with the gold before further processing.
Magnetic separators can also recover gold trapped in magnetic black iron sand which can be seen in mining concentrates, tailing piles and on many beaches without fine gold loss.
Gold Grinding Equipment
Grinding liberates more gold from gold-bearing quartz ores, tailings and black sand. Insufficient grinding causes a loss in gold recovery. Over-grinding results in higher unit cost in energy, grinding media, and reagent consumption. Commonly used grinding equipment are ball mills and wet pan mills.
The grinding can be done in two ways as "dry" or "wet". Gold grinding plants often apply wet grinding.
In most cases, the inner surface of the shell is coated with wear-resistant linings for longer service life.
To improve the grinding efficiency, add a classifier to form a closed circuit, ration steel balls reasonably.
Wet pan mill, also called gold grinder mill, is a versatile ore grinding pan mill for processing gold, silver, copper, etc.
As an affordable alternative to ball mills, wet pan mills are ideal and efficient equipment for ore beneficiation in small and medium plants.
Mercury is usually added to the wet pan mill to mix with the gold particles, so the wet pan mill is often referred to as an amalgamation grinding mill.
Gold Rock Crushing Equipment
Gold rock crushing equipment is mainly for crushing the hard gold-bearing quartz rocks into pieces with a particle size of less than one inch to improve the grinding efficiency. Usually, we choose jaw crushers as the primary crushing equipment, hammer crushers as the secondary crushing equipment.
Jaw crushers are divided into large jaw crushers (>600mm), medium jaw crushers (300-600mm) and small jaw crushers (<300mm) according to the width of the feeding port.
Jaw plates are easy to be worn. Fote uses jaw plates made from high manganese steel and other wear-resistant materials to prolong the service life.
It's easy to replace the jaw plates. You just pull out a couple of bolts and replace them.
There are various types of hammer crushers, the most commonly used are single rotor hammer crushers and ring hammer crushers.
Several materials are applied for hammerhead for rocks with different hardness. The high manganese steel hammerheads are used to break hard quartz.
The grate of the small hammer crusher is made of alloy steel material with high hardness and good wear resistance, prolonging the service life.
Before purchasing a complete set of gold processing equipment, it is recommended that you know the type of gold mining. The type of mining relates to lode, placer or alluvial deposits.
This blog mainly introduces a series of equipment for processing gold quartz rock. Some of them achieve high gold recovery when processing placer gold, magnetic black sand due to their good adaptability. For more information about the equipment of placer gold, please wait for our next blog.