Manganese is an important industrial metal, known as "no manganese will not make steel". After manganese ore processing, manganese products are widely used in steel, battery, non-ferrous metallurgy, electric automobile, chemistry, and other industries.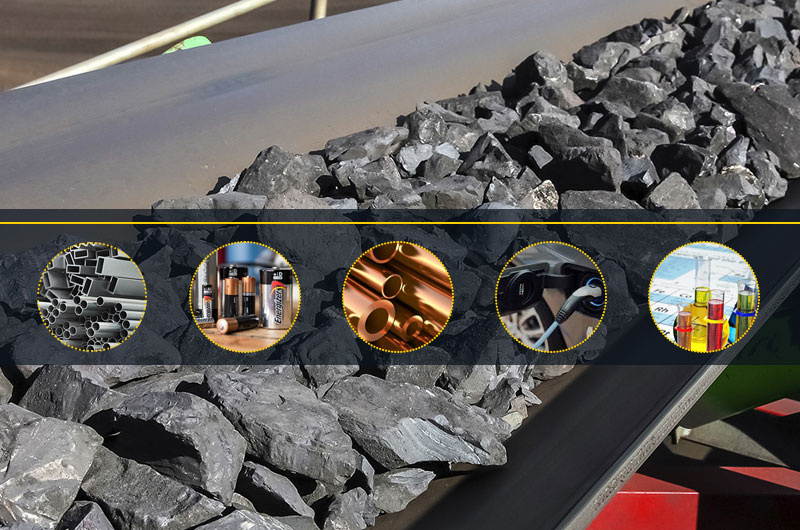 Why pay attention to manganese ore processing?
According to Research and Markets report, the global manganese alloy market will reach USD 21.23 billion by 2027. Its growth will be driven mainly by rising in steel use and increasing demand for new energy vehicles.
Due to the important uses of manganese in modern society, this metal is considered one of the investments with high returns. The increasing demand for manganese ore has greatly stimulated manganese ore beneficiation development and paid more attention to manganese ore processing flows and equipment.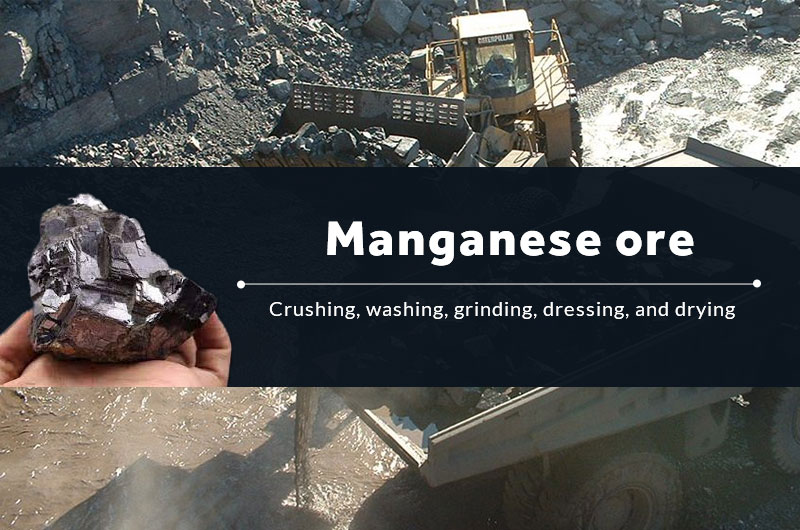 The complete processing flow of manganese ore mainly includes five steps: crushing, washing, grinding, dressing, and drying. Next, I will introduce the detailed manganese ore processing production line to you.
1. Manganese ore crushing process and equipment
Manganese ore crushing is the first step in the process, which involves conventional multi-stage crushing equipment.
Process flow: Vibrating feeder → jaw crusher → hydraulic cone crusher → vibrating screen
① Jaw crusher — primary crushing
② Hydraulic cone crusher — secondary crushing
③ Vibrating screen — sieving particle size
2. Manganese ore washing process and equipment
If the manganese ore contains a lot of sediment, the washing process can be added to improve the process index of manganese beneficiation. The ore can be washed directly on the vibrating screen, or the trommel screen can be used for cleaning.
Trommel screen — washing and screening
3. Manganese ore grinding process and equipment
The crushed manganese ore is ground into finished products of required specifications in various fields by the mill, which lays the foundation for the next dressing process.
Process flow: Ball mill → spiral classifier
① Ball mill — further grinding
② Spiral classifier — classifying
4. Manganese ore dressing process and equipment
According to the manganese ore plant, different types of manganese ore have the different process flows. To choose different beneficiation equipment:
Manganese oxide ore
Such as psilomelane, pyrolusite, manganite, etc.
Applicable to gravity separation method: Jig machine → shaking table
Manganese carbonate ore
Such as rhodochrosite, calcium rhodochrosite, calcite with manganese, etc.
Applicable to flotation or flotation-magnetic separation: Flotation machine → magnetic separator
Iron manganese ore
Applicable to gravity-magnetic separation: Shaking table → magnetic separator
For polymetallic composite manganese ore , the ore composition is more complex. The manganese minerals are not easy to dissociate. To combine mineral components, methods such as washing, gravity separation, flotation, magnetic separation, and roasting shall be comprehensively adopted. You can read about 7 beneficiation methods for manganese ore to learn more.
① Shaking table — manganese ore gravity separation
② Jig machine — manganese ore gravity separation
③ Flotation machine — manganese ore flotation
④ Magnetic separator — manganese ore magnetic separation
5. Manganese ore drying process and equipment
After beneficiation, the manganese ore concentrates and tailings are discharged out of the machine with a large amount of water. To be transported to the concentrate plant or tailing plant, they must be dehydrated.
Process flow: Concentrator → dryer → concentrates/tailings
① Concentrator — dehydrating treatment
② Rotary dryer — drying manganese powder
Manganese ore processing conclusion
This flowchart is a common processing method for manganese ore, and it is very effective to obtain the maximum recovery rate at the lowest cost. What's more, according to your manganese ore project, Ftmmachinery can customize flows and machines, providing you with professional advice at reasonable prices.