What is manganese ore?
Manganese ore is divided into sedimentary, metamorphic, and weathering type according to the formation of the deposit; is classified into manganese ore and ferromanganese ore according to the iron and manganese content in the ore and metallurgical and chemical manganese ore according to industrial use. It is widely used in metallurgy and reagents such as steel making, iron making, non-ferrous smelting, medicine, battery, ceramics and other chemical and fertilizer, printing and dyeing, welding and so on.
There are more than 150 kinds of manganese ores in nature, of which only 5-6 kinds of manganese ore contain high Mn, which can be upgraded to economic value, such as pyrolusite, silicon mica, manganese oxide, brown stone, green stone, rhodochrosite. These manganese ores contain 50-70% Mn.
Manganese ore beneficiation technology
Low grade manganese ore cannot be directly used in industrial production due to high impurity content, thus there is a need for a method of enriching low grade manganese ore. Manganese ore processing plant is used to separate valuable minerals from impurity content by physical or chemical properties.
After continuous practice, the density, magnetic and floatability differences between manganese ore and gangue were found. Based on these differences, the suitable processing plant for manganese ore is mechanical selection (including washing, sieving, re-election, strong magnetic separation and flotation), as well as fire enrichment and chemical beneficiation. Among them, due to the simple operation, easy control and strong adaptability of magnetic separation, it can be used for various manganese ore sorting, and has dominated manganese ore processing in recent years.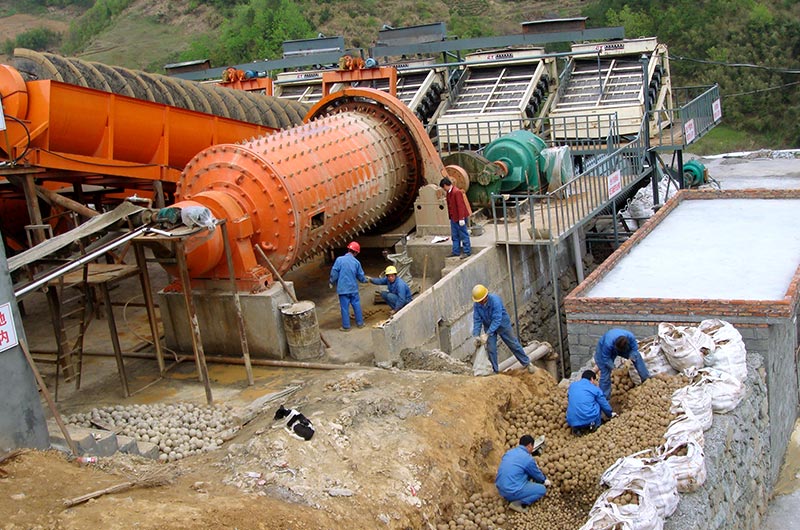 Manganese ore processing plant on site
Main equipment and usage of manganese ore processing plant
Major equipment
There are many types and sizes of equipment in the whole manganese beneficiation process. The major equipment are as follows: vibrating feeder, PE jaw crusher, cone crusher, vibrating screen, pendulum feeder, ball mill, spiral classifier, high frequency sieve, magnetic separator, concentrator, filter, dryer, etc.
The general process of the manganese processing plant is like this: crushing process----grinding process----separation process, ie manganese ore-vibration feeder-jaw crusher-cone crusher-vibrating screen- pendulum feeder - ball mill - spiral separator - magnetic separator and so on.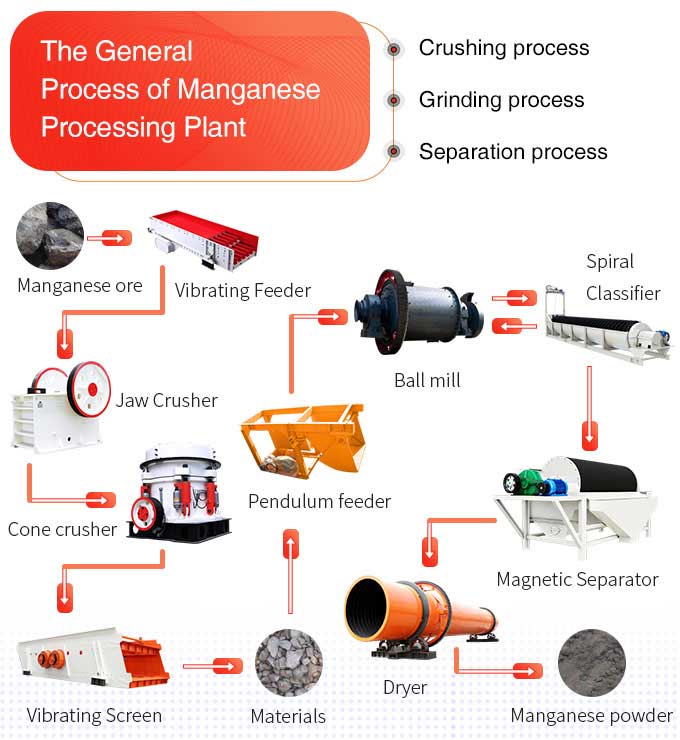 Manganese benecifiation process
Practical applications
| | |
| --- | --- |
| Equipment | Practical applications |
| Jaw crusher | Be used for primary crushing of manganese ore, which will be broken into the middle size ore |
| Cone crusher | Be used for secondary crushing of manganese ore to produce fine grade manganese |
| Ball mill | Grind manganese ore into powder |
| Spiral separator | Granular grading of manganese ore slurry in metal beneficiation process |
| Magnetic separator | Separate the magnetic material in the mixture by magnetic force and mechanical force according to the difference in the specific magnetic coefficient of the mineral |
| Spiral chute | Sort manganese ore fines with a particle size of 0.3--0.02 mm |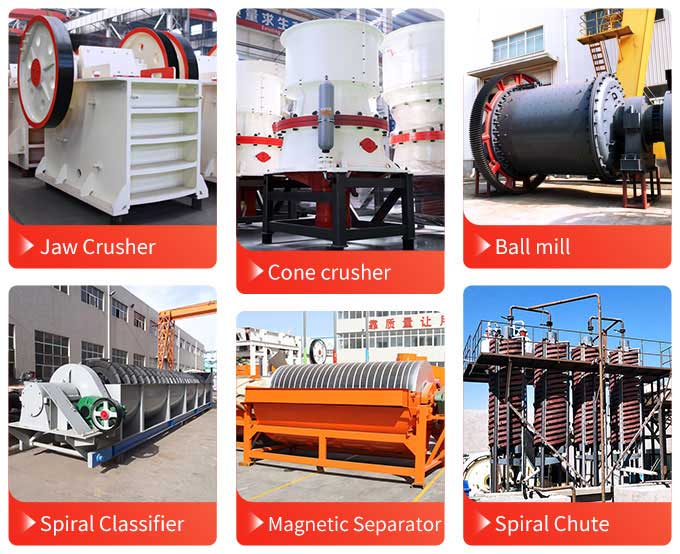 Manganese benecifiation equipment
The purposes of manganese processing plant
1. Improve the poor manganese ore
2. Upgrade the content of Mn
3. Get a good concentration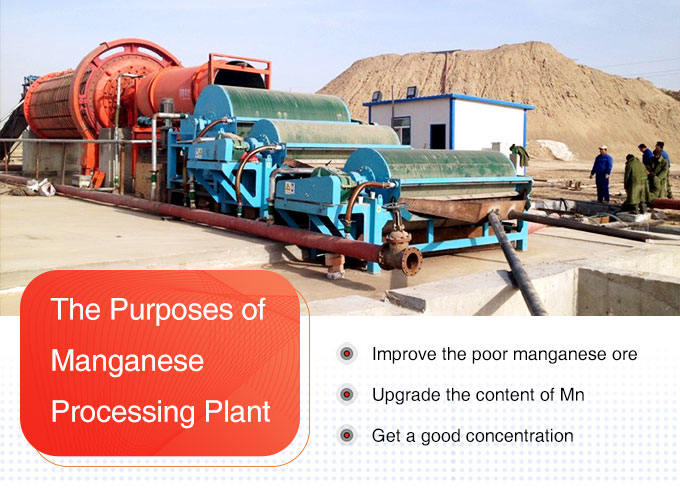 The purposes of manganese processing plant
Manganese ore beneficiation plant manufacturer
For the beneficiation of manganese carbonate ore, manganese oxide ore, mixed manganese ore and polymetallic manganese ore in the production of coarse, medium and fine particles at home and abroad, Fote Heavy Machinery can produce jaw crushers, high pressure roller mills, rod mills, ball mills, graders and other various equipment used for crushing, milling, grading and magnetic separator. We have rich experiences and successful cases in manganese ore beneficiation and purification methods.
Our company can provide customers with complete beneficiation process plan and ore dressing experimental equipment in crushing, screening, drying, grinding, wet weak magnetic separation, wet magnetic separation, etc, and provide feasible suggestions for the construction of the concentrator with reasonable price.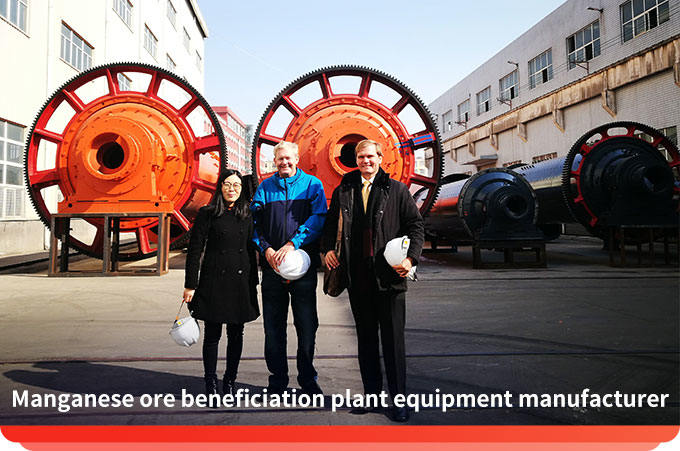 Manganese benecifiation plant for sale