Manganese is widely distributed in nature, but few manganese ores have high manganese content and economic value. This fact clearly shows that manganese ore beneficiation is crucial.
Manganese ore requirements in different industries
Different industrial sectors have different quality requirements for manganese ore processing, so the difference in ore grade poses a challenge in choosing a suitable beneficiation process.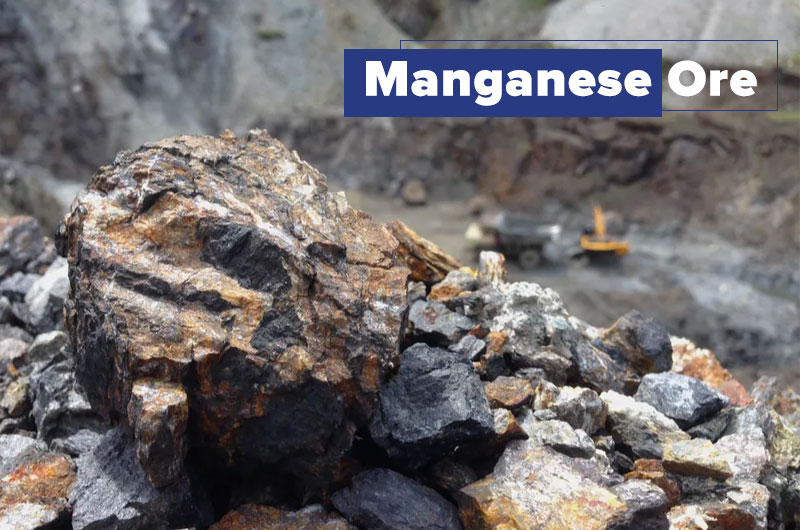 1. Grade requirements of the metallurgical industry
Manganese ore can be directly used as a raw material for steelmaking and ironmaking, and also used to make ferromanganese alloys and metal manganese.
When smelting ferromanganese alloys, the useful elements in manganese minerals are manganese and iron. The manganese content is the main indicator, which requires a certain proportion of iron and manganese. Phosphorus is a harmful element in manganese ore, and phosphorus in steel reduces the effect of toughness.
| | | | |
| --- | --- | --- | --- |
| Applications in metallurgy | Manganese content | Ferromanganese | Phosphorus manganese |
| Low carbon ferromanganese | 36%~40% | 6%~8.5% | 0.002%~0.0036% |
| Carbon ferro manganese | 33%~40% | 3.8%~7.8% | 0.002%~0.005% |
| Manganese silicon alloy | 29%~35% | 3.3%~7.5% | 0.0016%~0.0048% |
| Blast furnace ferromanganese | 30% | 2%~7% | 0.005% |
2. Grade requirements for chemical and light industries
The manganese ore is mainly used to prepare manganese dioxide, manganese sulfate, and potassium permanganate in the chemical industry.
Manganese dioxide powder: MnO2 content over 50%.
Making manganese sulfate: Fe≤3%, Al2O3≤3%, CaO≤0.5%, MgO≤0.1%.
Making potassium permanganate: Fe≤5%, SiO2≤5%, Al2O3≤4%.
3. Grade requirements for electronic manufacturing
Natural manganese dioxide is a raw material for manufacturing dry batteries.
The higher the content of MnO2, the better product is.
The content standards of harmful elements such as Ni, Cu, Co, and Pb are: Cu<0.01%, Ni<0.03%, Co<0.02%, Pb<0.02%.
The particle size of the mineral powder should be less than 0.12mm.
Therefore, for manganese ore with low grade and high impurity content, beneficiation must be carried out to obtain high-quality concentrate that meets the requirements of industrial production.
7 methods for dressing high-grade manganese ore
Common manganese ores are pyrolusite, romanechite, manganite, hausmannite, and rhodochrosite, which are regarded as important industrial manganese minerals.
At present, the commonly used manganese beneficiation methods include physical beneficiation (washing and screening, gravity separation, strong magnetic separation, flotation separation, joint beneficiation), fire enrichment and chemical beneficiation, etc.
1. Washing and screening
Washing is a process of treating clay cemented mud ore, usually accompanied by screening. Wash directly on the vibrating screen or send the clean ore obtained by the ore washer to the vibrating screen for screening.
Manganese ore dressing - washing and screening
Why Producers Like It:
① Washing is the use of hydraulic washing or mechanical scrubbing to separate the ore from the mud, and the washing cost is low.
② Screening can be used as an independent operation to separate products of different sizes for various purposes.
2. Strong magnetic separation
Magnetic separation is a method to separate different minerals by using the magnetic force difference of minerals in the magnetic field. Manganese ore is a kind of weak magnetic mineral. A strong magnetic field magnetic separator is mainly used to separate manganese ore, removing impurities such as iron.
Manganese ore dressing - strong magnetic separation
Why Producers Like It:
① The operation of magnetic separation is simple, easy to control, and has strong adaptability.
② Under the action of the magnetic separator, the grade of manganese concentrate can be increased by about 24% to 25%.
3. Gravity separation
Gravity separation is used to separate manganese ore with a simple structure and coarse particle size. Generally, the manganese ore is crushed to 6~0mm or 10~0mm, and then grouped. The coarse ore is beneficiated by jigging and the fine ore is beneficiated by shaking table.
Manganese ore dressing - gravity separation
Why Producers Like It:
① Gravity separation method is suitable for manganese oxide ore with high density. It is the mainstream method of manganese ore beneficiation.
② The cost of the gravity separation process is much lower than that of the flotation process, and the operation is simple and flexible.
4. Gravity-magnetic separation
Gravity-magnetic separation plant mainly deals with leaching manganese oxide ore. The jig is used to deal with 30 ~ 3mm ore and the high-quality manganese concentrate containing more than 40% manganese can be obtained.
The jig tailings and the washed ore less than 3mm are ground to less than 1mm, and processed with a strong magnetic separator.
Manganese ore dressing - gravity-magnetic separation
Why Producers Like It:
① The grade of manganese concentrate will increase by 24% ~ 25%, and even reach 36% ~ 40%.
② It includes two steps. The manganese concentrate obtained by dressing has a high grade.
5. Flotation separation
Due to the floatability of manganese, froth flotation is also suitable for manganese ore, usually dealing with fine-grained manganese ore. Among them, rhodochrosite has the best floatability, followed by pyrolusite and hard manganese. After the flotation machine, the recovery rate of manganese ore can reach 85.41%.
Manganese ore dressing - flotation separation
Why Producers Like It:
① Flotation extraction of manganese concentrate can not only effectively remove coal slime, but also improve the quality.
② If the ore is agglomerated or calcined again, the grade of manganese ore can be improved more effectively.
6. Fire enrichment
Fire enrichment, generally called the manganese-rich slag method, is a method of processing lean manganese ore with high phosphorus and high iron. It is a high-temperature beneficiation method, which utilizes the different reduction temperatures of manganese, phosphorus, and iron to control the temperature in a blast furnace for separation.
Manganese ore dressing - fire enrichment
Why Producers Like It:
① It can effectively separate iron and phosphorus from ore, and obtain the manganese-rich slag with low iron and low phosphorus.
② The process is simple and stable. The ore through the flotation process can be sintered, which greatly improves the grade of manganese ore.
7. Chemical manganese separation
Manganese ore can be recovered by acid leaching to leach manganese dioxide from low manganese ore. However, only manganese oxide ore can be directly leached. When manganese carbonate ore is processed, it must be calcined into manganese oxide.
Manganese ore dressing - chemical method
Why Producers Like It:
① The recovery rate of the dithionite method is high, which is suitable for the production of high-quality manganese concentrate.
② It is a promising method for manganese mineral processing.
Contact us for a Free Sample Testing!
A wide range of uses of manganese ore
After processing in the manganese ore plant, manganese concentrates of different grades are obtained, which are widely used in our daily life.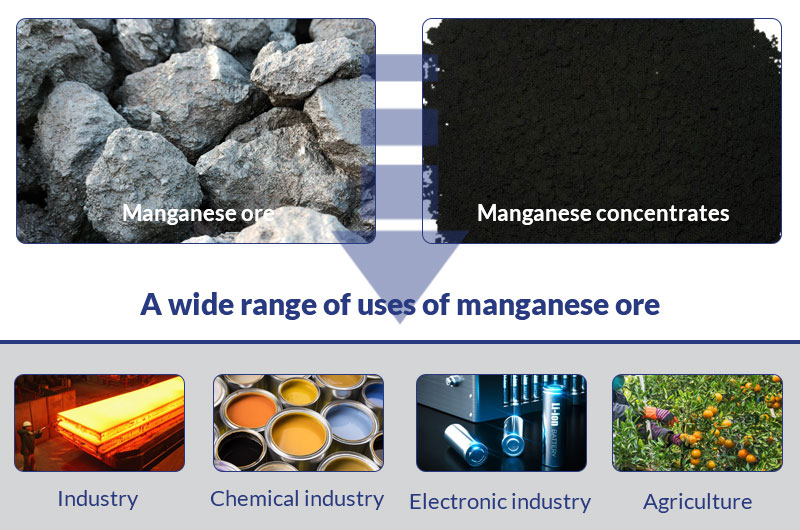 Industry: Manganese ore is carbonized by blast furnaces or electric furnaces to produce ferromanganese, which is mainly used to make steel or alloys.
Chemical industry: Manganese and its compounds are suitable for making paint and varnish dryers. Potassium permanganate (KMnO4) is often used as a disinfectant, water purifier, and antiseptic.
Electronic industry: Lithium manganese battery has a high energy density and is a safe and reliable power source. It is widely used in laptops and electric vehicles.
Agriculture: Manganese sulfate (MnSO4) can be added to the soil to promote plant growth, especially the growth of citrus crops.
In the annual output of manganese ore, 90% is used for steelmaking and 10% is used for non-ferrous metallurgy, chemical industry, battery, agriculture, etc.
Manganese ore beneficiation manufacturer
In practical applications, manganese carbonate ore mostly adopts strong magnetic separation, flotation, and so on. Manganese oxide ore mainly adopts the gravity separation method. For some refractory manganese ore, it is necessary to combine two or more beneficiation methods.
After studying the beneficiation process of manganese ore, Ftmmachinery launched a customized plan for the manganese ore production process according to the ore characteristics, which is well received by users. If you have needs, we will serve you. Yes, I am interested!