If you read this blog on a smartphone, tablet, or laptop, you are benefiting from cobalt.
You may ask why do cell phones contain cobalt? What is cobalt?
Before answering these questions, let's take a look at cobalt.
Cobalt (Co) is a silver-white ferromagnetic metal. With its 27 protons, cobalt is sandwiched between iron and nickel in the middle portion of the periodic table.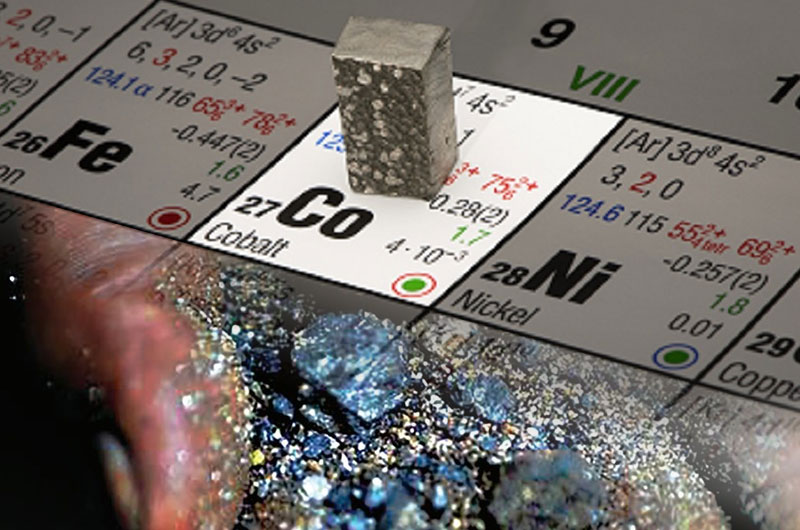 Cobalt metal is hard, brittle, and ferromagnetic. The magnetism disappears when heated to 1150°C. It does not interact with water at room temperature. It is oxidized to produce CoO when heated to 300°C or higher in the air and burns to Co 3 O 4 in white heat. Its melting point is 1,495°C.
Cobalt demand
Why is there cobalt in mobile phones? More specifically, cobalt is found in lithium-ion batteries used in smartphones, tablets, and laptops.
In the mid-20th century, people began to use lithium as the battery negative electrode. However, problems such as lithium dendrites would occur during the charging process, reducing the safety of the battery.
Chemist John B. Goodenough discovered that the use of cobalt makes the battery safer and more stable. Lithium cobalt oxide batteries came into being and were widely used in mobile phones, laptops, and other portable electronic devices.
Tesla then successfully applied it to electric vehicles. The boom in EVs has spurred a surge in cobalt demand. According to the International Energy Agency (IEA), in 2040, the demand may increase by 6-30 times compared with the present.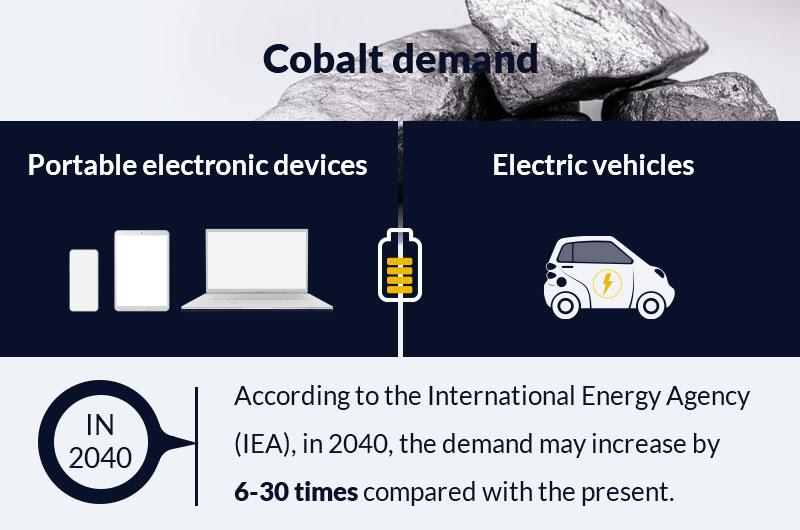 Cobalt mine production and reserves
The surge in cobalt demand has raised concerns: Is our earth rich in cobalt? Can the annual cobalt production meet the demand?
Unfortunately, global cobalt resources are uneven, and world cobalt mine production is scarce. According to preliminary data released by the United States Geological Survey (USGS), global cobalt production in 2021 is about 170,000 tons and is in the hands of a few companies.
The DRC (Congo) is home to more than 50% of the world's cobalt reserves. The rest are in a handful of countries including Australia, Cuba, Zambia, Philippine, Canada, and Russia.
Congo supplies more than 70% of the world's cobalt, ranking first.
China is the largest cobalt refining and consuming country, accounting for 67% and 52%, while the output of cobalt is only about 1%.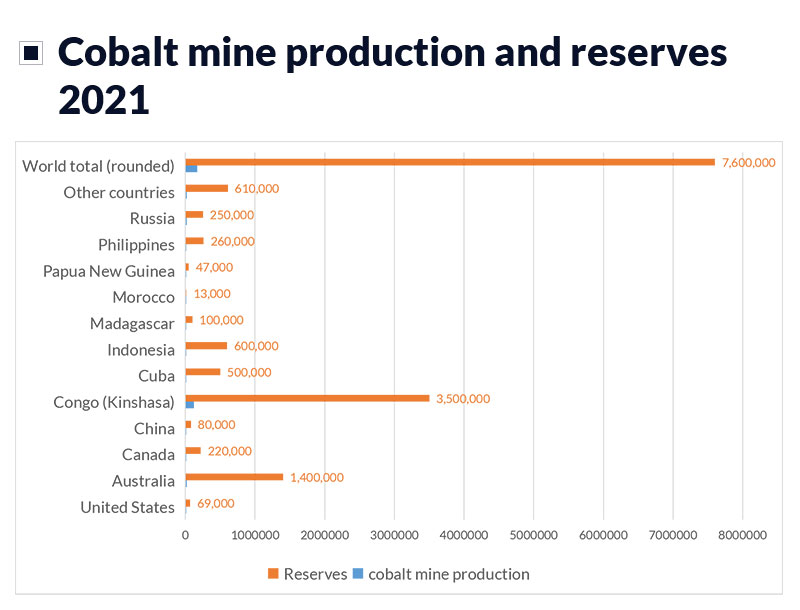 Cobalt mining and processing
In nature, cobalt is mostly associated with minerals such as copper, nickel, and iron. Basically, there is no independent cobalt deposit. As a result, cobalt is primarily a by-product of copper and nickel mining. This makes it harder to get.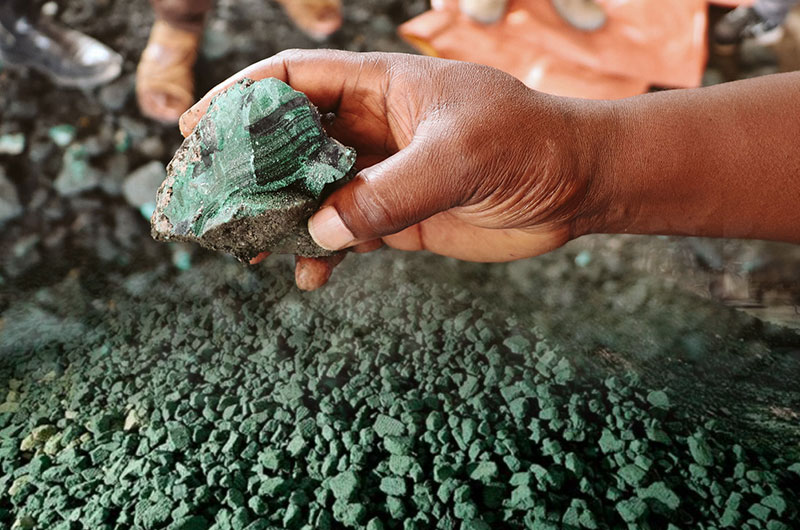 Given that Congo is the biggest cobalt supplier, I will briefly share several efficient cobalt beneficiation methods widely used in the cobalt mines located in the Katanga copper-cobalt ore belt as an example.
Crushing process
Severe sliming is a distinctive feature of copper oxide ore. The local rainy season (November to March) has heavy rainfall. That makes the ore high in water content and more viscous.
Considering factors such as ore properties, natural conditions, and production stability, in recent years, the crushing process of newly built concentrators in Congo (DRC) generally adopts the Semi-Autogenous Ball Mill Crushing Circuit (SABC).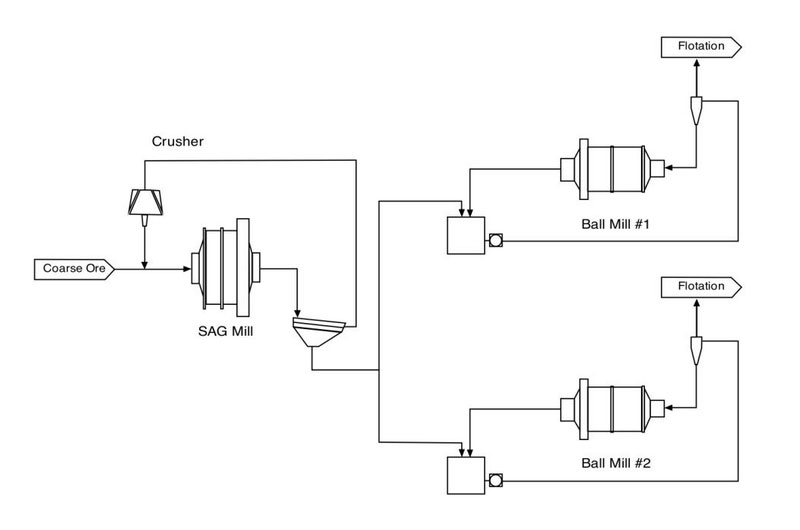 Advantages:
1.

Only one section of coarse crushing is required, minimizing the crushing stages. Shorter flowchart, less equipment. And that means less blockage of equipment.

2.

With less equipment, the cobalt processing plant occupies a smaller area, reducing the cost of land acquisition.

3.

Simple operation requires fewer workers, lowering labor costs.
At present, this crushing process is widely used in the new cobalt beneficiation plants in Congo (DRC).
Cobalt beneficiation process
The Katanga copper-cobalt ore belt in Congo (DRC), with a length of 300km and a width of 100-150km, runs from Kolwezi in the northwest to Lubumbashi in the southeast to the Zambian border.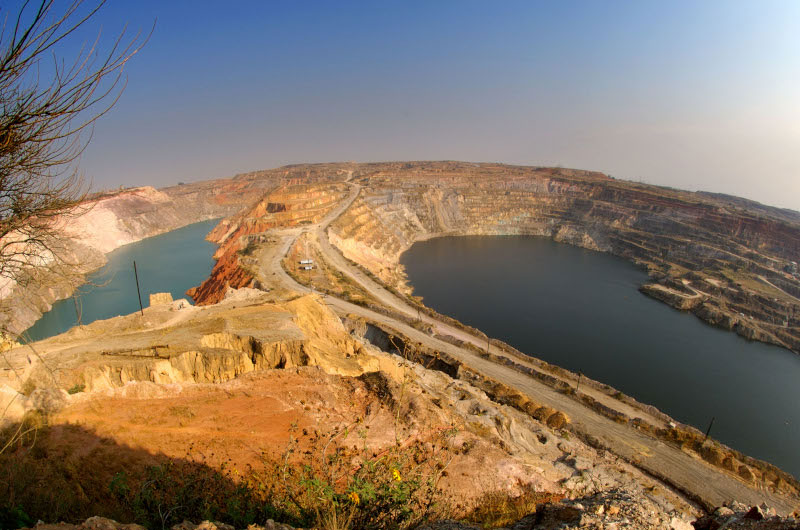 The cobalt mines of this belt are quite different in terms of carbon content, mud content, oxidation rate, copper and cobalt grade, and main gangue composition.
To reasonably develop and utilize copper-cobalt ore resources and improve the metal recovery rate, it is necessary to continuously improve the beneficiation process. The typical sorting processes used in the recent large-scale mining projects mainly include the following.
1. cobalt processing flowchart: single flotation of sulfur before oxygen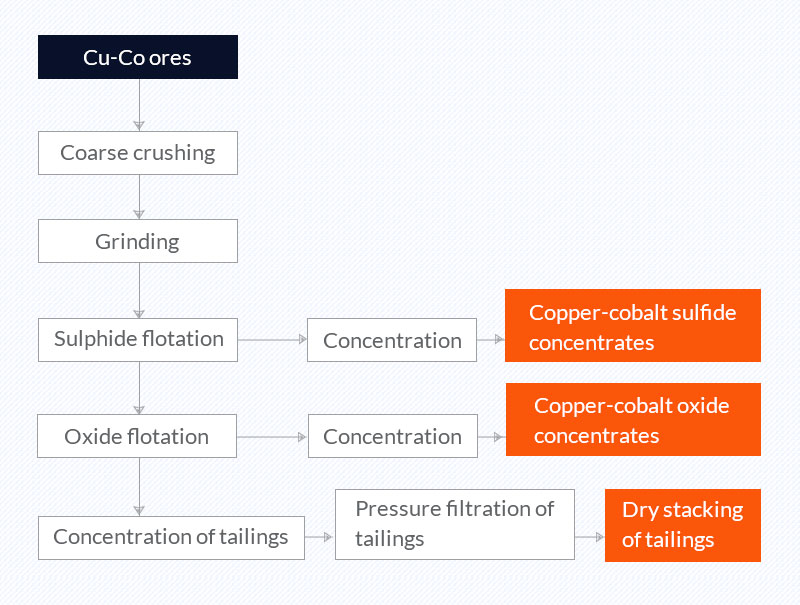 2. cobalt processing flowchart: dicarbon-flotation of sulfur before oxygen-flotation tail magnetic separation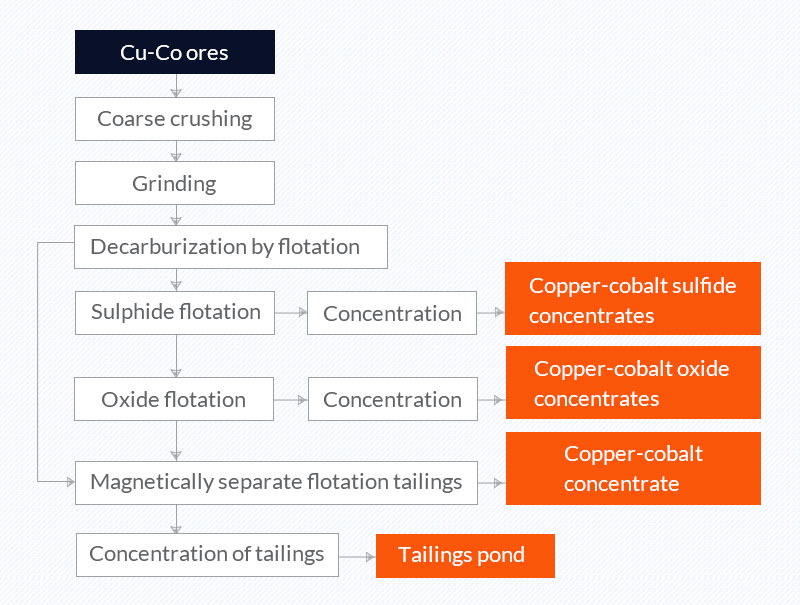 3. cobalt processing flowchart: sulfur before oxygen-floating regrinding and cleaning of copper sulfide coarse concentrate-tail magnetic separation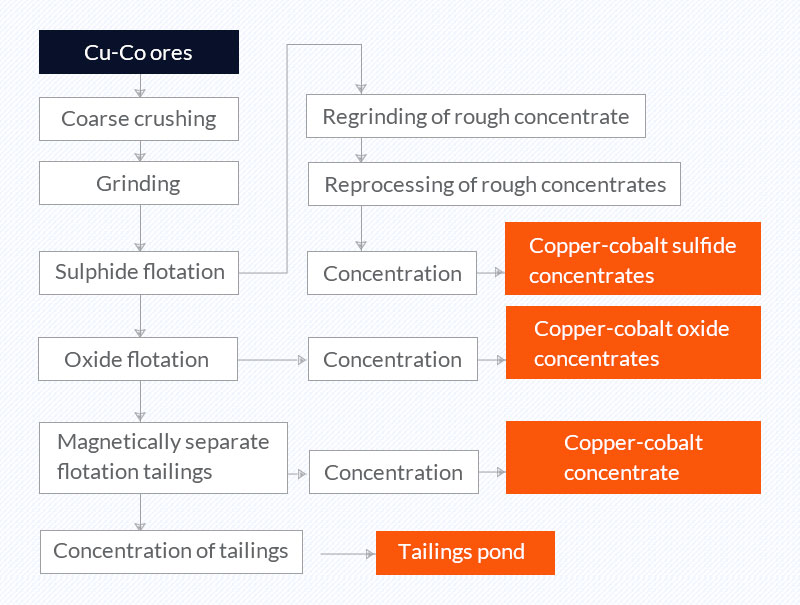 The obtained copper-cobalt sulfide concentrate and copper-cobalt oxide concentrate are further refined by corresponding methods.
Conclusion
The Katanga copper-cobalt ore belt of the Congo has huge reserves of copper and cobalt resources. Continuous optimization of cobalt mining and processing methods can improve resource utilization, reduce investment and production costs, ensure global cobalt supply, which is a scarce and vital strategic mineral resource.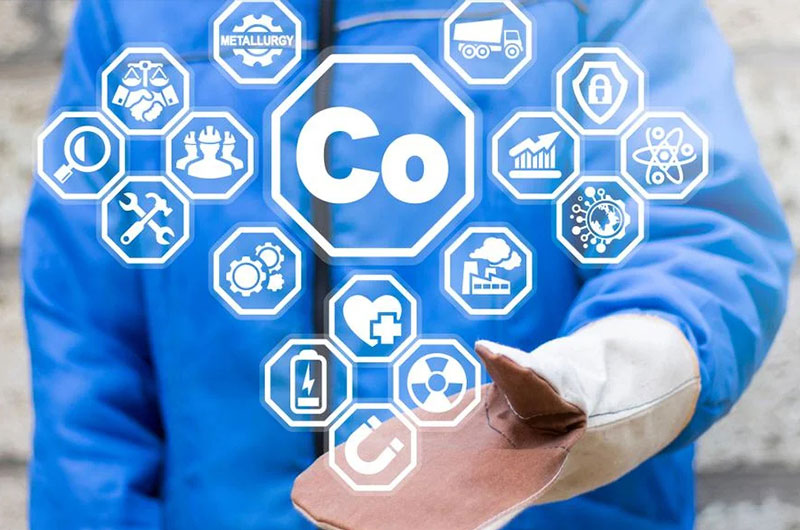 The typical cobalt mining and processing methods described above have been successfully put into operation and achieved good production indicators, which can provide certain conditions for the green and efficient development of other similar copper-cobalt ore resources in Congo of reference.