From the blog Interesting Facts You Should Know about Barite, we learned that barite is an important non-metallic mineral with a wide range of industrial uses. It needs to undergo beneficiation processes to achieve its various uses.
In a barite processing plant, mined barite rocks will be crushed, screened, separated and ground. The following is the detailed processing flow.

Barite Crushing Process
Barite is brittle and fragile, so we often use jaw crushers for primary crushing. A good crushing effect will be obtained by using jaw crushers alone. Sometimes, cone crushers will be added for fine crushing.
To fully dissociate useful barite minerals, ball mills are commonly used to grind barite rocks.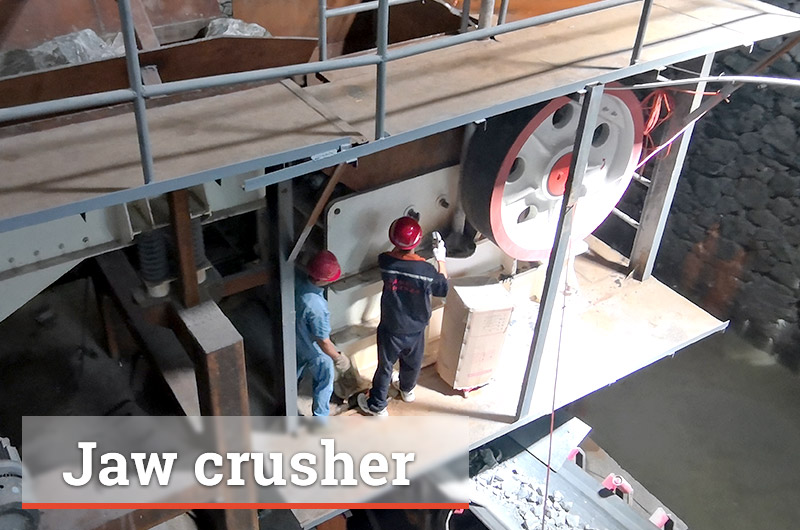 Barite Screening Process
The particle size of crushed barite ores varies, and the barite beneficiation equipment has its own required feed particle size range, so screening equipment plays a vital role in selecting the ores with qualified particle size.
When screening barite ores, use a vibrating screen. It has a low failure rate, large processing capacity, high screening efficiency, and easy operation. It is an ideal machine for screening barite ore.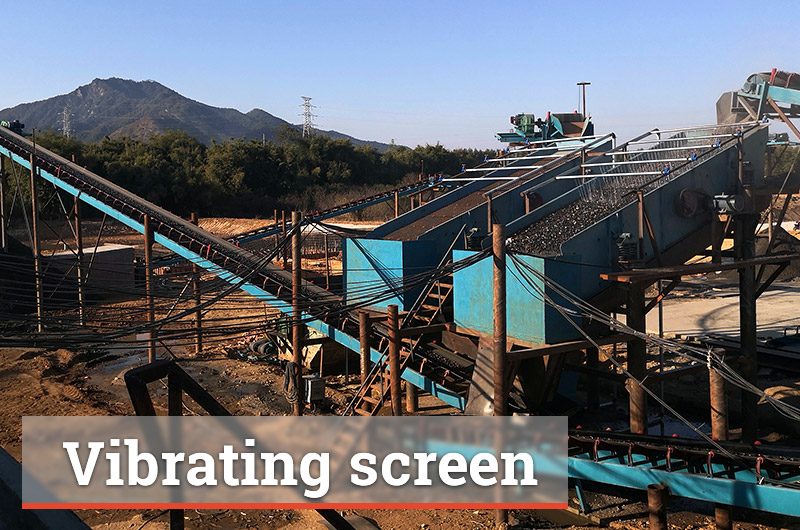 Barite Beneficiation Process
Crushed and ground barite ore undergoes simple beneficiation methods to separate the mineral from the waste rocks. Methods such as gravity separation, magnetic separation, and flotation are used.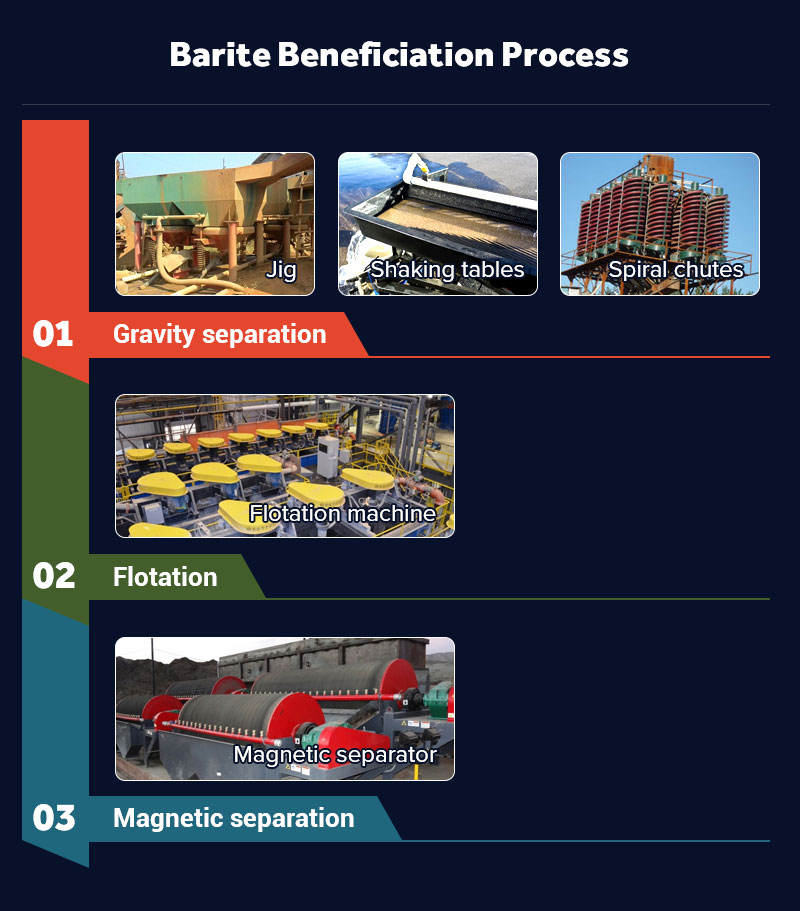 Barite Ore Gravity Separation
Gravity separation is often used to separate barite with high specific gravity from gangue minerals with low specific gravity, such as calcite, dolomite, quartz, or shale. The available machines are jigs, shaking tables, and spiral chutes.
When processing barite ore with a particle size greater than 2mm, use the jigs.
When processing barite ore with a particle size smaller than 2mm, use shaking tables or spiral chutes.
Here is a case of barite gravity beneficiation.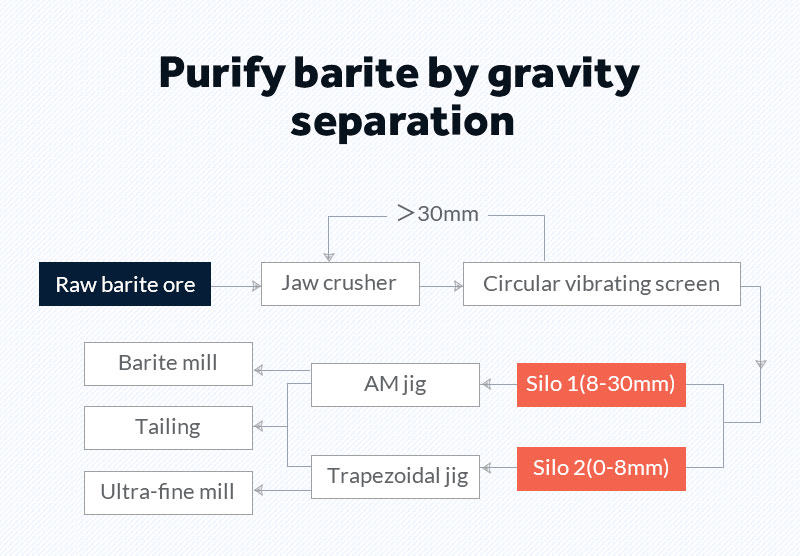 Barite Ore Flotation
Based on the difference in physical and chemical properties of the surface between barite and its associated minerals, sedimentary barite ore and hydrothermal barite ore associated with sulfide ore and fluorite are usually purified by flotation.
The commonly used barite flotation methods include positive flotation and reverse flotation. The purpose of the latter is to remove alkali metal sulfides.
The flotation machine is widely used for barite flotation.
Here is a case of barite flotation beneficiation.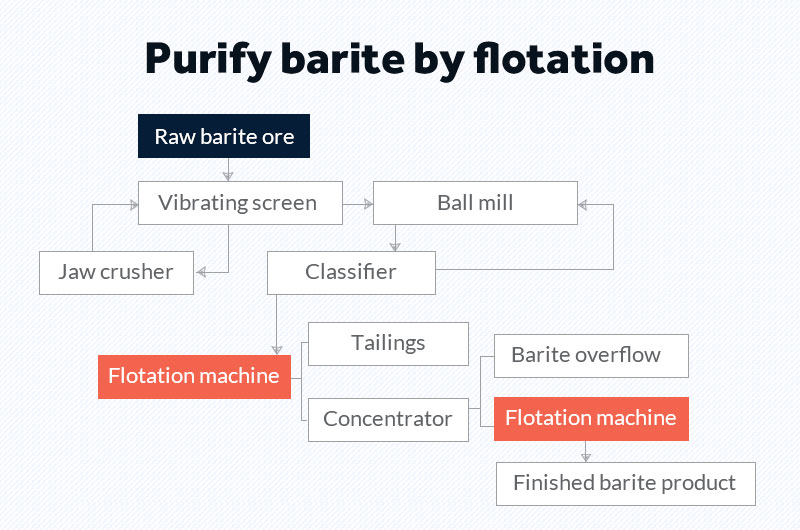 Barite Ore Magnetic Separation
Barite ores often associate with siderite, pyrite and other magnetic iron oxide minerals. Magnetic separation is applied to remove impurities such as magnetic iron-containing minerals in barite ore.
Generally, the magnetism of iron and titanium contained in barite is weak, and the effect of the magnetic separation method is poor, which needs to be combined with other beneficiation methods. The magnetic separation is usually used in combination with the gravity separation to produce barite powder for the production of barium-based medicines with very low iron content.
The magnetic separator is the core machine of the magnetic separation process.
Here is a case of barite magnetic separation.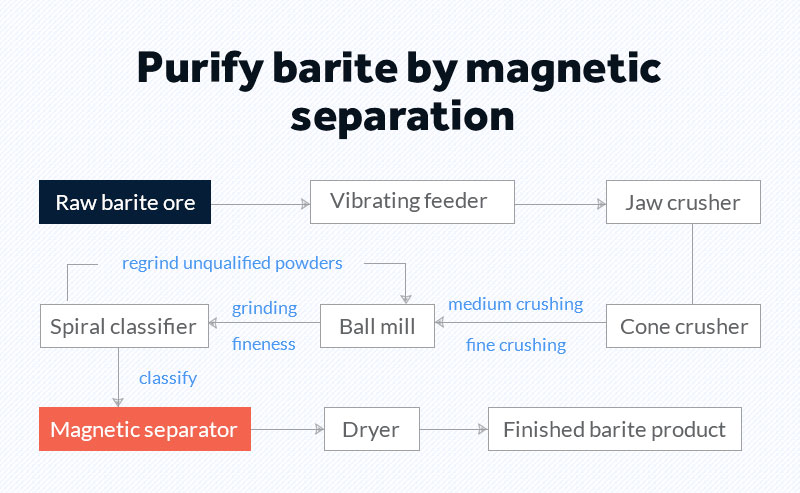 After beneficiation, we get high-grade barite concentrates. We can sell it directly or we can grind it into ultrafine powder and sell it to oil exploration companies, filler companies, etc. In the next blog, I will share with you how to choose the right barite grinding mill.