Barite is the most common barium-containing mineral. It is chemically stable, hardly soluble in water, insoluble in hydrochloric acid, non-magnetic, non-toxic. Therefore, barite is widely used in oil drilling, chemical, paper, plastic, rubber, paint, cement and other industries.
Barite needs to be ground into barite powder of different fineness to realize various uses of barite.
Barite crushing, beneficiation and grinding process
Most barite is mined using open pit mining techniques, and the barite ore then typically undergoes simple beneficiation methods to get barite concentrate, which is ground into barite powder with different fineness for different applications.

Barite crushing process
Barite is brittle and fragile, so jaw crushers are usually used as barite crushers. It is recommended to use PE400*600 jaw crusher for the first stage of barite crushing and PE250*1000 fine jaw crusher for the second stage. However, the choice of barite crusher is subject to change.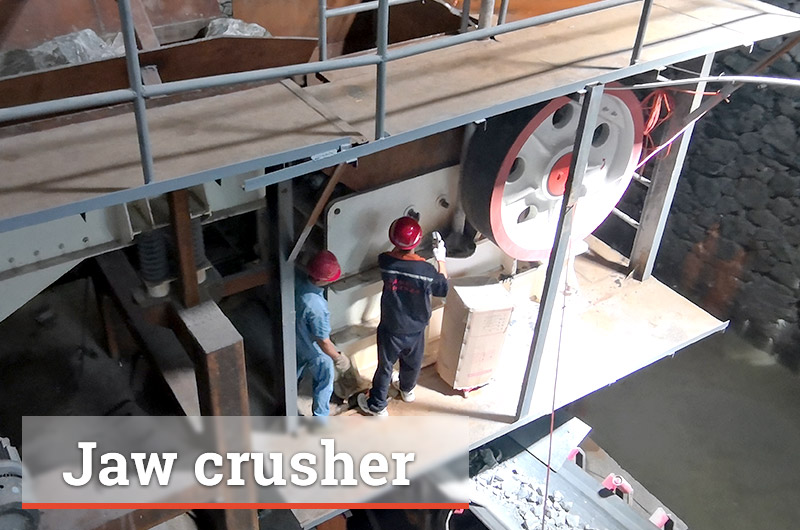 Barite screening process
The particle size of crushed barite fragments varies, and the barite beneficiation equipment generally has its own required feed particle size and feed particle size range, so the broken barite fragments need to be screened. The qualified barite fragments are transported to the next machine, and the unqualified ones will be crushed again.
As regards to barite screener, the circular vibrating screen is a popular choice. It has a low failure rate, large processing capacity, high screening efficiency, and easy operation. It is an ideal machine for screening barite ore.
Since a certain amount of dust will be produced in the screening process, it is recommended to set up water spraying devices to reduce dust pollution.
Before barite beneficiation, a hydro cyclone must be used to remove the mud to improve the sorting effect.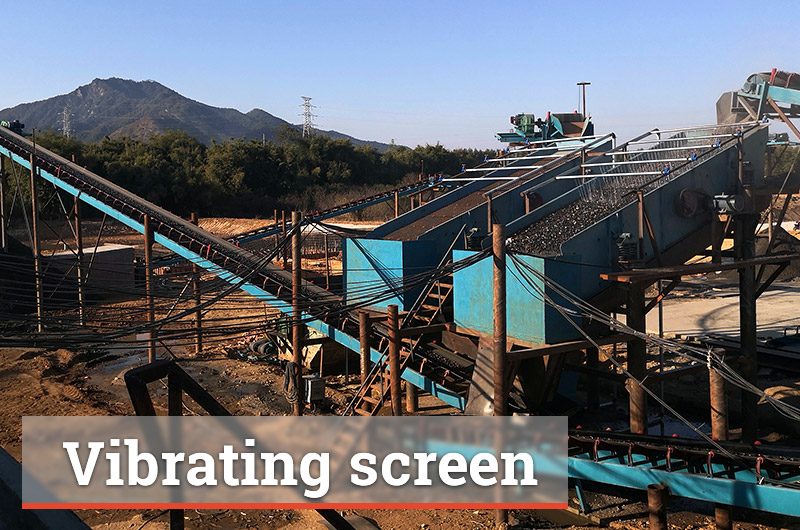 Barite purification process
Barite has high density and low hardness, so gravity separation is the preferred beneficiation method. If gravity beneficiation is used only, the barite recovery rate is low due to complex barite mineral group. So it is appropriate to adopt flotation, the combined process of gravity separation plus flotation, magnetic separation, etc.
Gravity separation for barite ore
Gravity separation is often used to separate barite with high specific gravity from gangue minerals with low specific gravity, such as calcite, dolomite, quartz, or shale. The available machines are jigs, shaking tables, and spiral classifiers.
If the particle size of barite powder is greater than 2mm, then heavy-media separation (also called sink-and-float separation) and jigging separation are popular options. The maximum particle size for heavy medium separation is about 50mm, and the maximum particle size for jigging separation is 12mm. If the particle size is less than 2mm, it can be sorted with a shaking table or a spiral classifier.
Core machine: When adopting gravity separation, the jig is the core machine.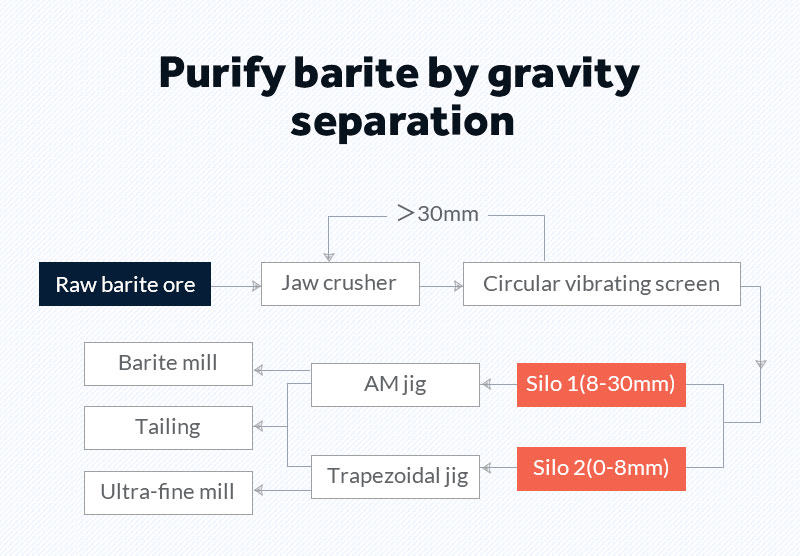 Flotation for barite ore
Based on the difference in physical and chemical properties of the surface between barite and its associated minerals, sedimentary barite ore and hydrothermal barite ore associated with sulfide ore and fluorite are usually purified by flotation.
The commonly used barite flotation methods include positive flotation and reverse flotation. The purpose of the latter is to remove alkali metal sulfides.
The flotation machine is widely used for barite flotation.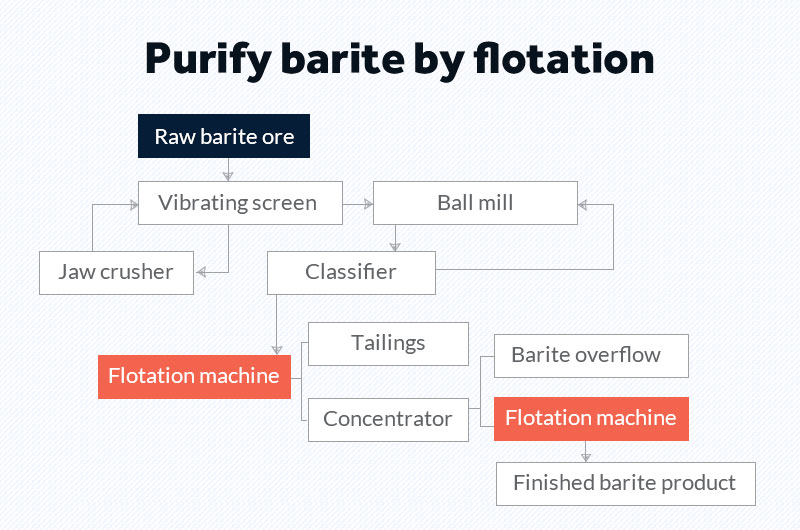 Magnetic separation for barite ore
Barite ore is often associated with siderite, pyrite and other magnetic iron oxide minerals. Magnetic separation is applied to remove impurities such as magnetic iron-containing minerals.
Generally, the magnetism of iron and titanium contained in barite is weak, and the effect of the magnetic separation method is poor, which needs to be combined with other beneficiation methods. The magnetic separation is usually used in combination with the gravity separation to produce barite powder for the production of barium-based medicines with very low iron content.
The magnetic separator is the core machine of the magnetic separation process.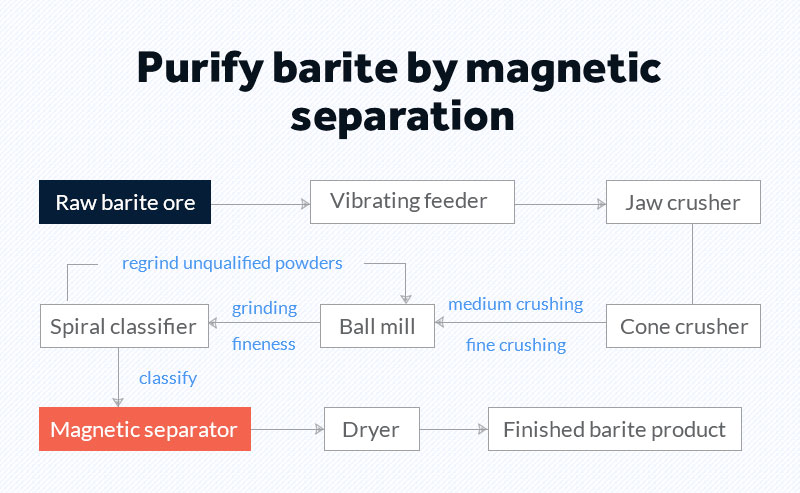 Combined beneficiation for barite ore
Barite ore associated with sulfide ore often adopts flotation-gravity separation technology.
Taking the separation of barite-quartz-calcite ore as an example, in the combined flotation gravity separation process, sodium silicate and collector are added to the flotation cell to remove quartz to obtain the mixed ore of barite and calcite, which are separated by a jig and a shaking table due to density difference between calcite and barite to obtain barite concentrate.
Calcination for barite ore
In the process of forming barite deposits, some colored organic matter will inevitably mix into it. These impurities make the barite gray, green, blue and black, thereby reducing the whiteness of the barite, lowering the use effect of barite in white pigment.
Calcination can remove the moisture and the colored organic matter that can be directly oxidized and decomposed at high temperatures, but it is only suitable to remove impurities that decompose or volatilize at high temperatures.
The rotary kiln is the key machine for barite calcination.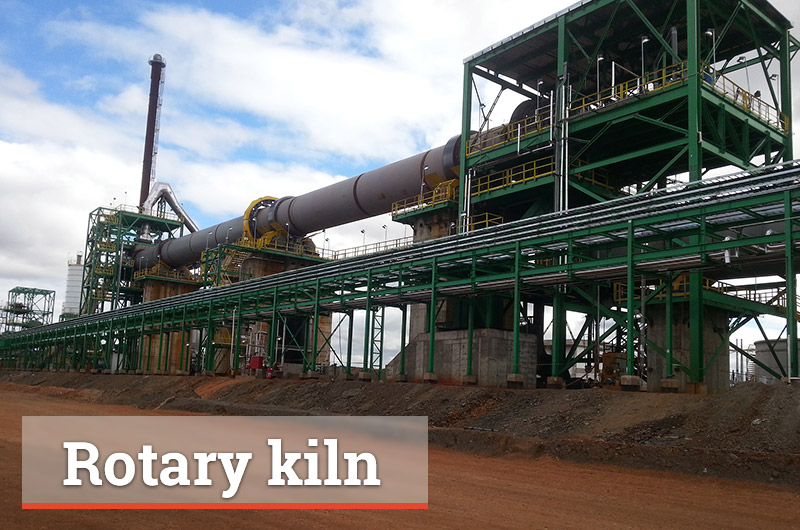 Barite grinding process
After being dehydrated, the barite concentrate will be sent to the barite grinder. Barite powder for different purposes has different fineness requirements, so choose the corresponding barite mill.
Commonly used barite mills include Raymond mills and German ultra-fine mills.
Then barite powder is delivered to the classifier, and the unqualified fine powder is sent to the Raymond mill for regrinding; the qualified barite powder is stored in the silo for packaging.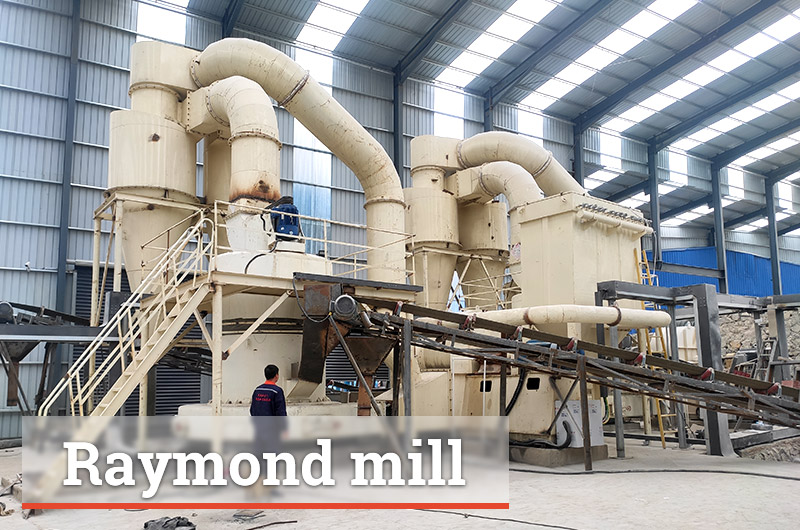 Barite processing factories
The above gives a general introduction to the barite processing flow. The specific processing flow depends on barite minerals and barite uses. Next, I will show you three barite processing factories and their baryte processing flow.
Dabert factory of Nystone Chemical Company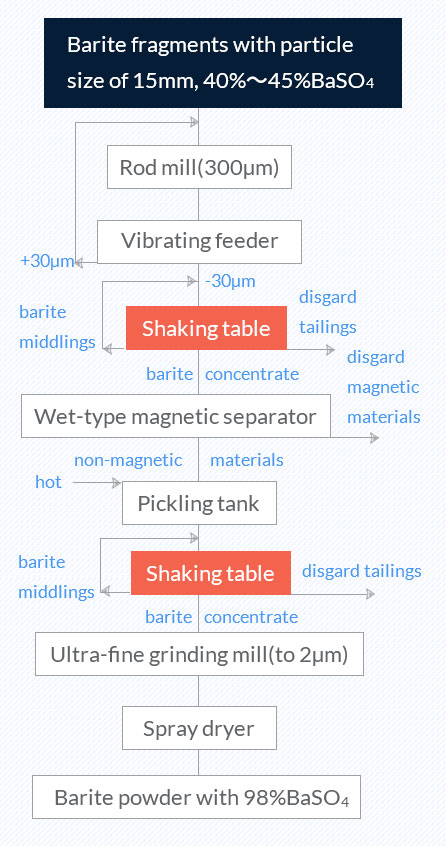 The barite ore from the barite deposit near Brookfield contains 40%-50% BaSO4. After being mined in the open pit, barite ore is crushed to 1.3cm on-site by a mobile crushing plant, then further processed into barite products for the pharmaceutical industry and oil drilling industry.
Barite powder for drilling is produced in the mining area, while pharmaceutical-grade barite products are produced in the barite beneficiation plant in Debert.
The barite concentrate containing 90% BaSO4 purified by the wet jig is also sold to drilling mud companies.
The Debert factory uses barite mills to grind the barite to 300 microns, then a wet-type shaking table to get barite concentrate. Subsequently, the main impurity siderite in the barite concentrate is removed by a wet-type strong magnetic separator, the residual iron and impurities soulble in acid are removed by acid leaching.
The neutralized barite slag is also purified to obtain a barite concentrate containing 98% BaSO4.
After dehydration, the barite concentrate is ground to 2 microns with an ultra-fine mill.
Matacgewan Plant of Extender Mineral Company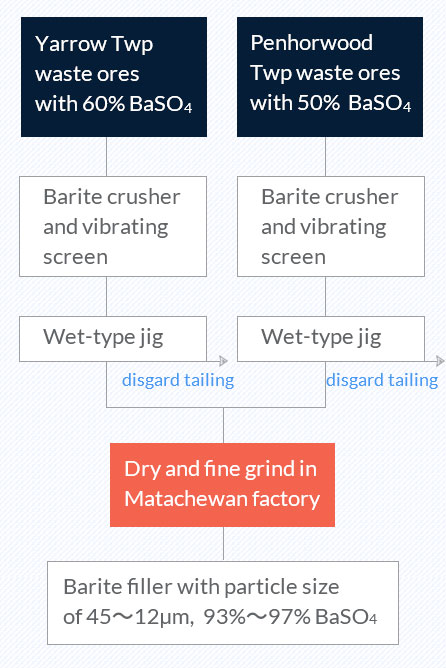 Canada's Extender Minerals mines about 2.5 tons of barite a year from two underground mines near Matachewan in northern Ontario.
The barite ore is crushed, screened, and purified by wet jig on-site in the mining area to get barite concentrate. The barite concentrate is then transported to the barite milling plant, where the barite is dried and ground to various required particle sizes. The particle size of barite powder ranges from 80%-45 microns to 99%-12 microns, and the content of BaSO4 is 93%-97%. Such high-quality barite product is mainly used as paint filler and plastic filler.
The Magcobar Concentrator that recycles waste barite rocks at Walton Mine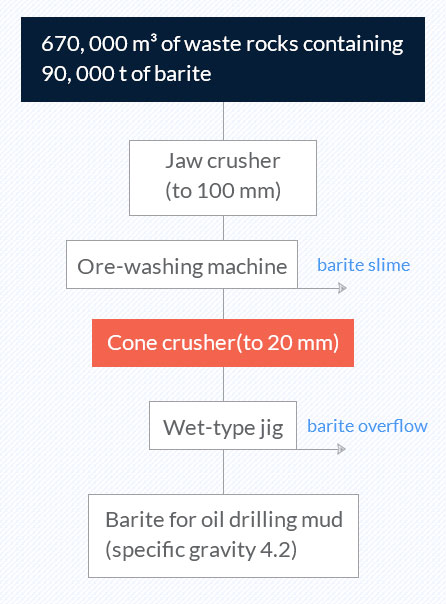 To obtain barite for drilling mud, the barite deposit near Walton was mined, producing 670,000 m³ waste rocks composed of clay, rocks, limestone and barite. Waste barite rocks are about 70000 tons.
Magcobar Concentrator (a drilling mud company) crushes the waste barite rocks to 100mm and washes them to get rid of the attached mud and clay. After washing, the waste barite rocks are further pulverized to 20mm and then purified by a wet-type jig. The finished barite powder will be used for barite drilling mud.
Barite uses and barite product specifications
1 API specification for barite drilling fluids:
| | |
| --- | --- |
| Density (Clause 7) | 4.20 g/ml, minimum |
| Density (Clause 20) | 4.10 g/ml, minimum |
| Water-soluble alkaline earth metals, as calcium | 250 mg/kg, maximum |
| Residue greater than 75 µm | Maximum mass fraction 3,0 % |
| Particles less than 6 m in equivalent spherical diameter | Maximum mass fraction 30% |
Source: API Specification 13A, August 2014
2 Specification for barite fillers
| | |
| --- | --- |
| BaSO4 | >=95% |
| Granularity | 95%-45μm |
| Color | The color is usually nearly white, but it will change based on barite uses. |
3 Specification for barite pharmaceuticals
| | |
| --- | --- |
| BaSO4 | >=97.5% |
| LOI (loss on ignition) | <2%(600℃) |
| Lead (Pb) | <=0.001% |
| Sulfide | <0.1ppm |
| Arsenic (As) | <0.1ppm |
| Granularity | 90%-20μm |
| Color | White or near white |
| Odor | Odorless |
4 Specification for barite glass
| | |
| --- | --- |
| BaSO4 | >=95% |
| SiO2 | <=1.5% |
| Fe2O3 | <=0.15% |
| Al2O3 | <=0.15% |
| Granularity | 100%-850μm |
5 Specification for barite concrete aggregate
| | |
| --- | --- |
| BaSO4 | >=95% |
| Granularity | The same size as gravel |
6 Specification for barite used in the production of barium chemicals
| | |
| --- | --- |
| BaSO4 (barite concentrate) | >=96%-98% |
| Fe2O3 | <=1.0% |
| SrO4 | <=1.0% |
| CaF2 | <=0.5% |
| Granularity | -5.0+0.5mm |
7 Specification for barite paint
| | |
| --- | --- |
| Granularity | 99.98%-37μm |
| Hegman number | 6.5 |
| Brightness (green filter) | 81% |
| Oil absorption | 5kg/45kg |
| BaSO4 | >=95% |
| Fe | <=0.05% |
| Water soluble matter | <=0.2% |
| Inclusion | <=2.0% |
| Water content | 0.5% |
| pH value | 6.4 |
Barite Market
According to the report BARITE MARKET - GROWTH, TRENDS, COVID-19 IMPACT, AND FORECASTS (2021 - 2026), the Barite market is projected to register a CAGR of over 4% during the forecast period (2021-2026).
Over the long term, the major factors driving the barite market are the growing demand from the oil and gas drilling activities and its growing usage in the plastics industry.
The presence of close substitutes, such as celestite and iron ore, could act as an obstacle to the growth of the barite market.
Studies revealing the combination of barite with iodine to help block radiation in diagnostic tests may act as an opportunity for the barite market in the medical sector.
The Middle East & Africa is forecast to be the largest market for barite, owing to the growing oil and gas industry where barite plays a very crucial role.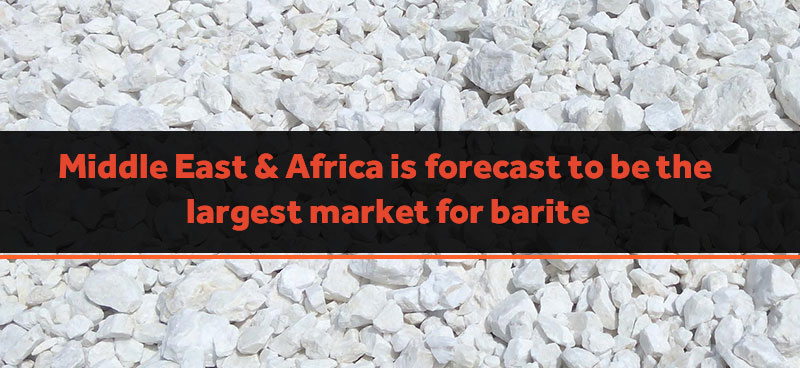 Barite price
Check U.S. barite import and export prices,please click here.
Check the barite price in China,please click here.
Check the barite export price from India,please click here.