How to Make Recycled Glass Sand and Bottles by Glass Recycling?
Author : Jordan
|
Last Updated :
Which kind of waste glass products can be recycled?
Do you know that a modern glass bottle would take 4000 years or even longer to decompose if it is in landfill? Have you ever heard that glass bottles can be 100 % recycled and reused endlessly?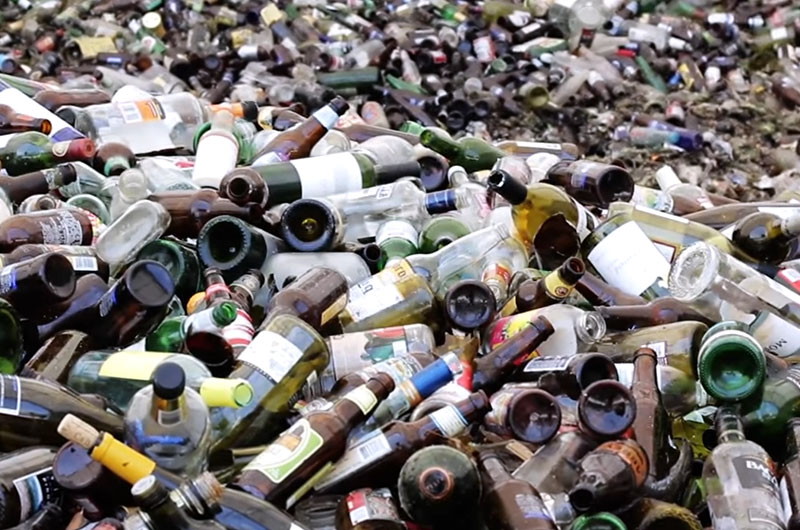 Yes, it is true. That is why more and more glass recycling companies emerge nowadays.We all know that there are different types of glass products like glass bottles, window glass, tempered glass, glass jars, etc., but they cannot be put together to recycle. Because window glass and tempered glass cannot be melted normally in most ordinary glass melting furnaces and may cause quality problems to new glass products.
Glass bottles and jars can be 100% recycled and reutilized endlessly without any loss in purity or quality. However, if you want to make recycled glass sand only, there is no limit on bottle colors, and it's ok if you mix and crush them together.
How to recycle glass bottles to earn more money?
There are two ways to make money from glass recycling. One is crushing glass to sand by glass crusher to produce cheaper aggregate substitution, and the other is selling your glass bottles and jars to the recycling plants for making new glass products. If you only have bottles and do not operate a complete glass recycling plant, the first choice is more profitable than the second, and it is easy to get recycled sand.
Price comparison between waste glass bottle and recycled glass sand
| | | |
| --- | --- | --- |
| Country | Glass bottle (USD$ per ton) (price varies in different color) | Recycled glass sand(USD$ per ton) |
| USA | 10-40 | 50-100 |
| UK | 4.9-31.6 | 55-150 |
| India | 0.21-0.3 | 13.597 |
| South Africa | 0.5-1 | 15 |
Process for making recycled glass sand
Compared with the new bottle producing by used glass recycling, making recycled glass sand is much easier and anyone can make it. Although there are many different types of crushers that can process glass bottles like jaw crushers, roll crushers, impact crushers, etc., only hammer crushers can ideally turn glass bottles into recycled glass sand.
Why hammer crusher is the best machine to make recycled glass sand?
The difference between hammer crusher and other glass crushing equipment is that breaker pate of hammer mill is a continuously moving belt of manganese steel links. Used glass product is fed to the hammer-points and then discharge from the grates. Enormous crushing power can produce uniform high quality of the product without the necessity of using several units to obtain the necessary production.
Hammer glass crusher is in a small footprint and inexpensive, and especially suits for crushing your used glass bottle and jars at home. Besides, its simple structure and installation make an easy operation. Recycled glass sand is often used as an aggregate or gravel substitution, which is cheaper, thus needs no higher standards. That means you can crush all your bottles together no matter what colors they are.
Common sizes of recycled glass sand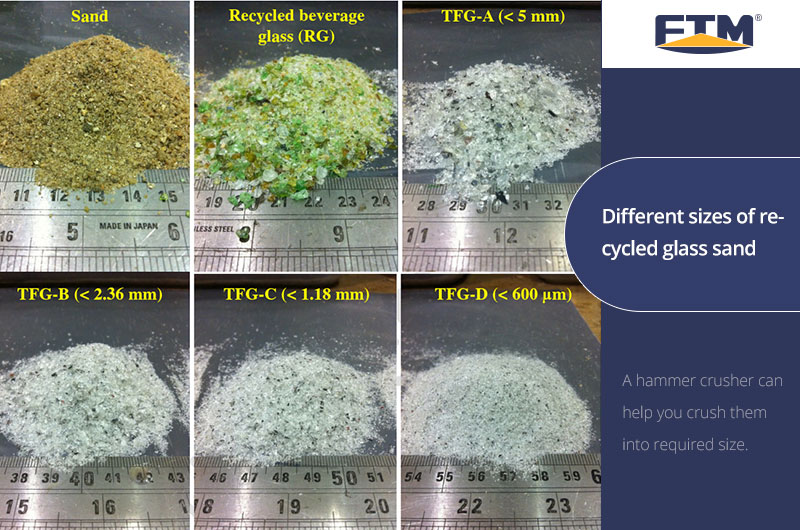 https://www.researchgate.net/figure/Particle-size-distribution-of-fine-aggregates_fig1_257896091
Waste glass comes in a variety of sizes, from a fine powder and sand grain pieces to small and larger aggregates. Due to different requirements on particle sizes, you can adjust this equipment from minimum size to maximum size.
| | |
| --- | --- |
| Glass sand types | Particle size |
| Glass Sand | 0.1-0.3mm |
| Recycled beverage glass (RG) | 0.5-1.5mm |
| TFG-A | <5mm |
| TFG-B | <2.36mm |
| TFG-C | <1.18mm |
| TFG-D | <600μm |
Why is recycled glass sand one of the best aggregates?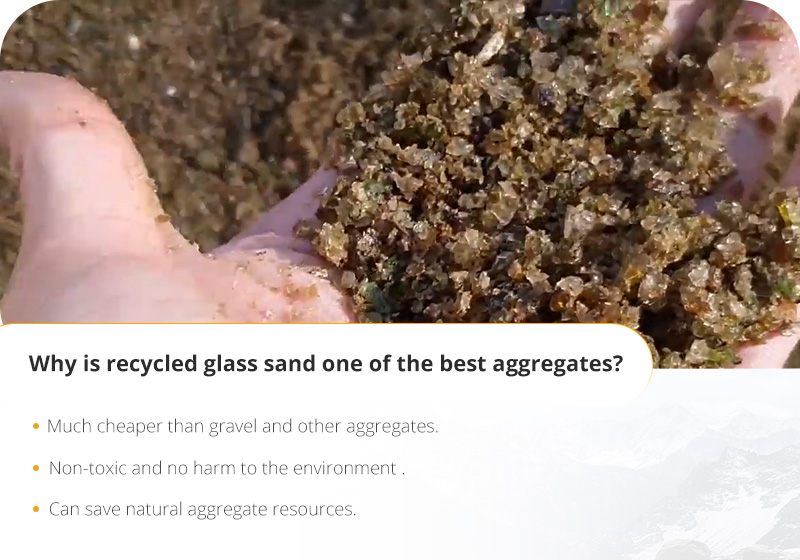 1

It is cheaper than aggregates made of stone but also performs well in same applications.

2

Using glass sand can save natural aggregate resources like natural sand.

3

It is non-toxic and inert thus no harm to the environment.

4

Gives greater coverage per tonne as it has lower bulk density than sharp sand

5

Can be used in poor weather conditions


Wide applications of Recycled glass sand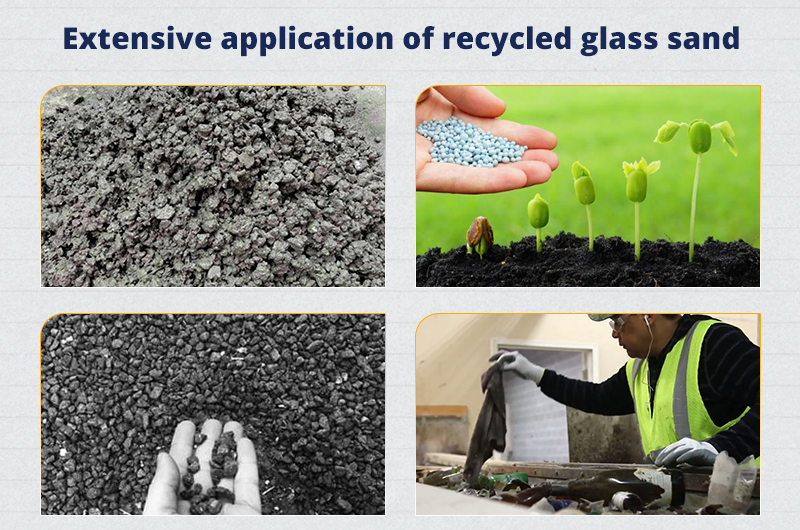 https://www.iqrenew.com/applications-for-glass-sand/
Civil Construction: 3-5mm Coarse Sand
Concrete and Asphalt (<2mm)
Asphalt
Concrete
Sand Blasting Media
Soil Enhancement
Glass Innovation
How to make new bottles from used glass bottles?
Compared with recycled glass sand making process, turning waste glass into new glass product is more complicated because it needs at least five steps.
1

Color sorting. Generally, there are three colors needed by recycled plant, flint(clear), amber(dark), and green. Amber glass is used to make new bottles, so automatically selecting machine looks for browns or amber glass, and when it sees amber glass it fires a strong puff of air to separate it from the rest of the glass.

2

Cleaning process Contaminants for instance metals, bags, cans and non-ferrous aluminum ceramic need to be taken out manually.

3

Crushing processThe glass then is fed into a crusher to break into small pieces.

4

label removing Then the glass passes through a dryer to remove moisture from labels and a D labeling machine that uses paddles to gently removes the labels and items that are not glass.

5

Manually remove non glass items like bags, boxes and cans.

6

Calcining the crushed glass at 2700 degrees.

7

Reshaping the liquid glass to make new bottle.
Which way and which kind of glass crusher suits my project?
No matter which way you choose to recycle your glass, they are all profitable and only different in how much profit you can get. If you are running glass recycling plant, the optimal choice for you is produce new glass bottles because you have a wealth of raw glass materials and complete facilities.
If you are aggregate supplier or want to crush your glass bottles at home, only a hammer glass crusher would be your best choice because it can not only reduce your cost but produce profitable glass sand.
Share: