Antimony is as ubiquitous as water in our everyday life. Look at the carpet under your feet, the water glass in your hand, and the cell phone you are reading this blog on! Follow us to learn about antimony and its ores.
Antimony meaning
Antimony is an element and metalloid with atomic number 51 and the symbol Sb on the periodic table. It belongs to the nitrogen group.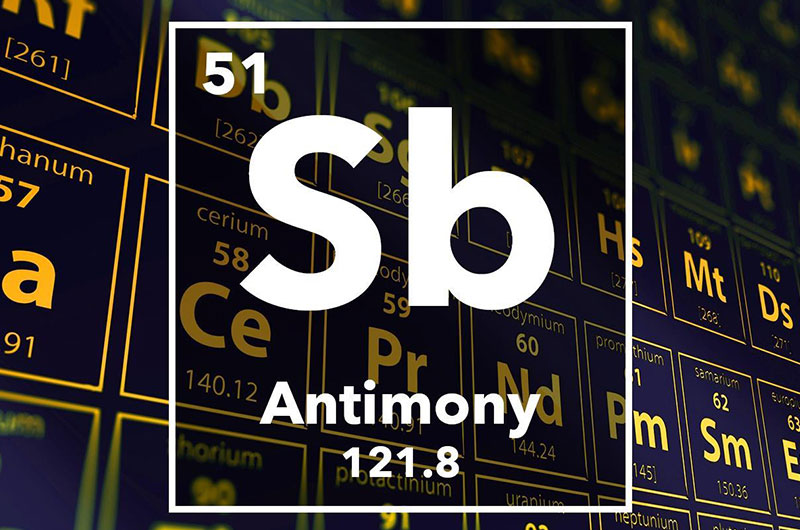 The name antimony is derived from two Greek words: "anti" (not) and "monos" (alone), because of its ability to form compounds with any other element. Therefore, pure antimony is rarely found.
The symbol Sb comes from the Greek word stibium or stibnite, meaning "to mark", as it was used to blacken eyebrows and eyelashes.
Antimony is an unusual element
Antimony element is the 63rd most abundant element in the Earth's crust. Its content is lower than tin, arsenic, and rare earth, but higher than bismuth, mercury, and silver. It is not abundant, as it is found in small quantities in over 100 minerals.
Antimony was originally used as black eyeliner in ancient times. It was not identified as a unique element until the 17th century. Today, antimony is an important element in many industries and plays a vital role in modern technology.
Antimony is a metalloid
Antimony is a metalloid with both metallic and non-metallic properties.
From a chemical standpoint, antimony is a bright, silvery metal that is easily confused with bismuth. It is classified as a heavy metal with a melting point of 631 °C and a Mohs hardness of 3, too soft to mark hard objects. It is not malleable, easily oxidized, and can be crushed into powder.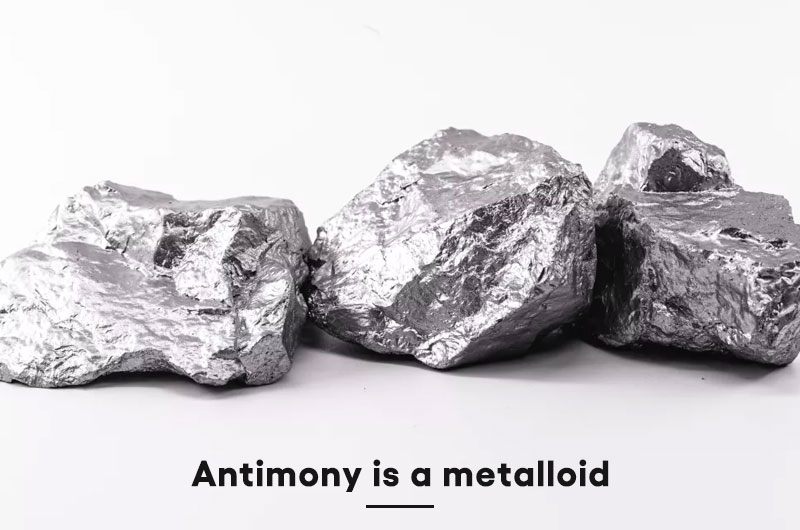 Compared with metals, antimony metal is a poor conductor of electricity and heat and thus it is added to non-metals. The non-metallic form is a gray powder that is stable in dry air and is not attacked by dilute acids or alkalis but may swell when cooled.
Many people mistakenly believe that antimony metal is a rare earth metal. The United States considers it to be of great strategic importance because of its military applications.
Antimony ore
Antimony rarely occurs in nature in its native metallic form and readily combines with other elements, often including sulfur, to form more than 100 different minerals.
Of these minerals, only stibnite is commercially mined as a source of antimony. Stibnite is a sulfide mineral (antimony trisulfide, Sb2S3), containing 72% antimony and 28% sulfur. It has a shiny metallic appearance and looks like silver.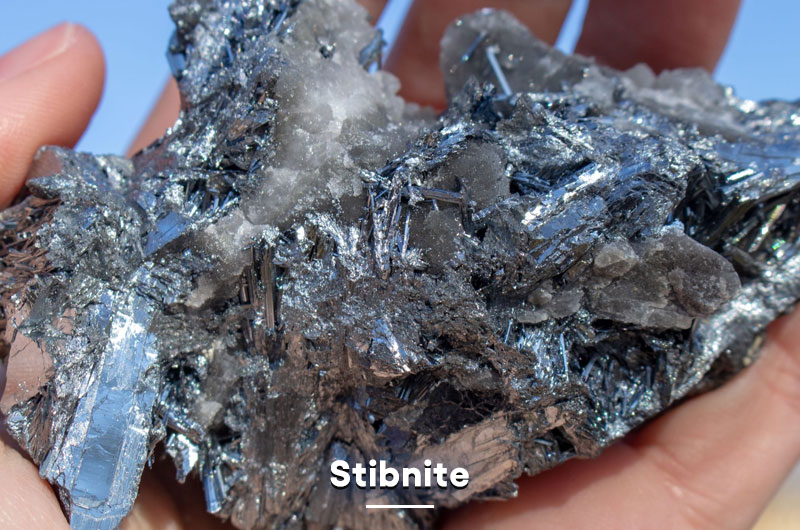 However, antimony may also be found in gold, silver, copper, and lead-zinc ore. In countries such as the United States, Canada, and Australia, antimony is a by-product of smelting gold, copper, and silver mines.
Antimony production and market prospect
Antimony mine production
Antimony mine resources are unevenly distributed around the world. Antimony ore (Stibnite) is mined in only a few countries. China is the largest producer of antimony, followed by Russia and Tajikistan.
A minor amount of antimony mine is extracted in Bolivia, Kyrgyzstan, Myanmar, Australia, Turkey, Canada, the United States, Vietnam, Mexico, and South Africa. The recycling of lead-acid batteries also contributes to antimony production in the U.S.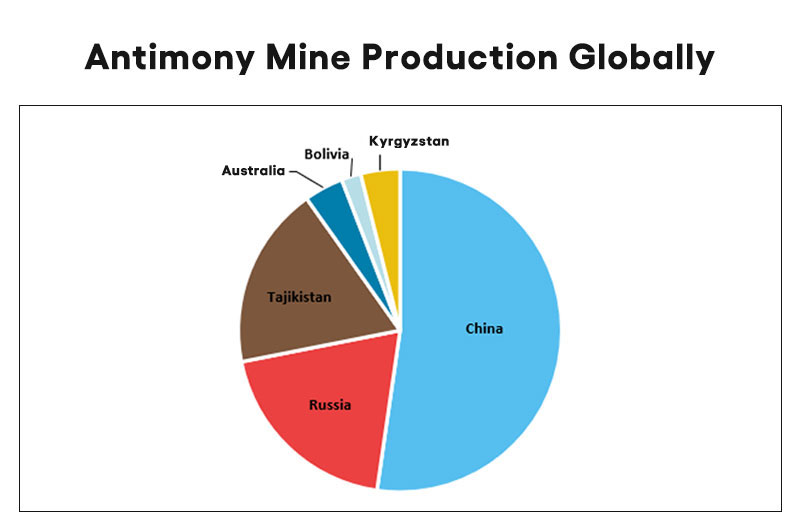 A minor amount of antimony mine is extracted in Bolivia, Kyrgyzstan, Myanmar, Australia, Turkey, Canada, the United States, Vietnam, Mexico, and South Africa. The recycling of lead-acid batteries also contributes to antimony production in the U.S.
Consumption
The country with the largest consumption of antimony ore and concentrate is China (345,000 tons), accounting for 60% of the total. It was followed by Russia (108,000 tons) and Tajikistan (43,000 tons).
Market demand and antimony price
At present, the global antimony ore market demand is strong. The global antimony market is expected to grow at a considerable rate during 2022-2030.
The price of antimony ore is on an upward trend, at US$3,582 per tonne in 2021, up 44% from the previous year. Prices vary by country of origin, ranging from the highest in Australia ($6,750 per tonne) to the lowest in Tajikistan ($1,910 per tonne).
Antimony ore mining and processing
Although antimony ore is rich in resources, its mining and processing will pollute the environment. Therefore, advanced technology and equipment help realize green industrial production.
Most antimony or antimony trioxide is extracted from the stibnite mineral. It is also extracted as a by-product of copper, gold, and silver production.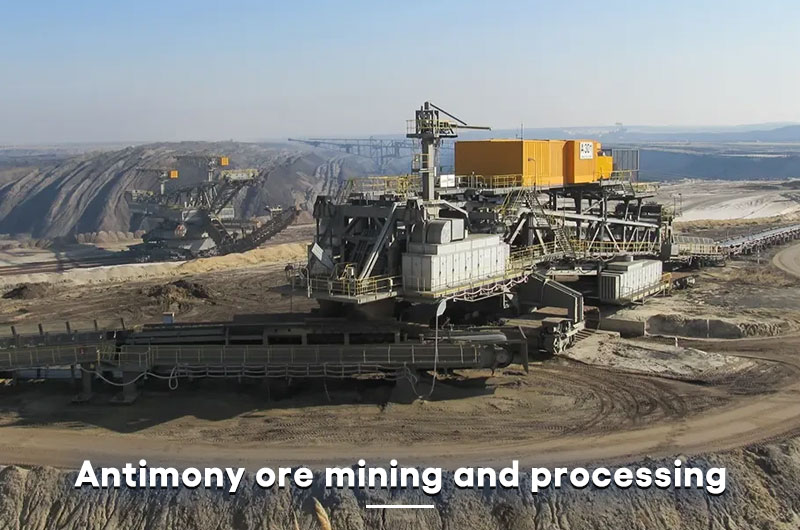 High-grade antimony ore uses the jigging separation (or shaking table) as it is dense and coarse-grained and can be easily separated from the gangue by gravity separation.
Stibnite (antimony sulfide ore) is an easy-to-process ore. Yellow antimony, red antimony, and antimony are easily separated according to density, but only antimony calcium is difficult to be separated according to density.
Antimony oxide ore is a difficult-to-float ore, so it is recommended to use gravity separation.
For low-grade antimony ore like stibnite, the froth flotation method is used to improve the grade of antimony ore.
Antimony is a life-saving toxin
Antimony has been used by humans for at least six thousand years. Powdered stibnite is used in medicine as a laxative. The ancient Egyptians used it with lead sulfide as black eye make-up, that is, Khol. Because it is toxic to humans, it is rarely used now.
Antimony (Sb) harms ecosystems, such as polluting soils and animals. Exposure to concentrations of antimony (9 mg/m3 of air) can irritate eyes and skin, and cause lung disease, heart disease, diarrhea, and vomiting.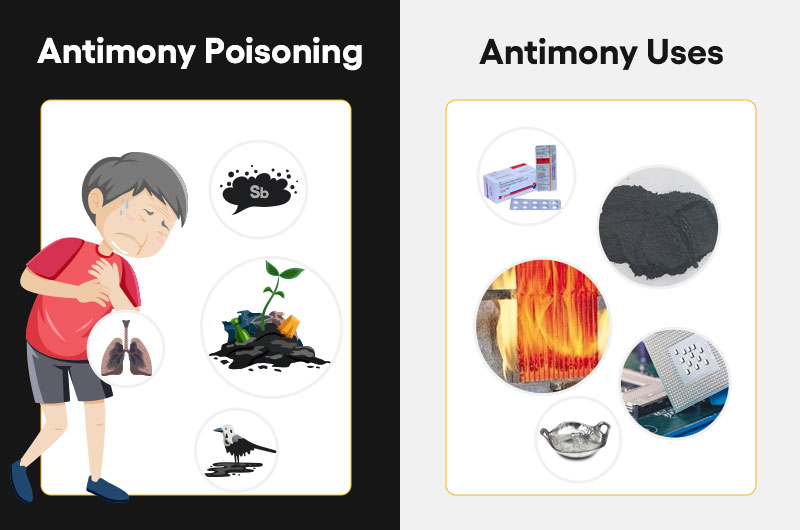 However, antimony might save your life. It is used in biomedicine as emetics, a medicine for parasital infections, and more. Besides, what is antimony used for?
Antimony's most valuable metallurgical use is as an alloying agent for lead, which makes lead harder and stronger. It is widely used in lead-acid batteries in electric vehicles, bullets (tracer rounds), and electrical-cable sheathing.
In the U.S., antimony is mainly produced as antimony trioxide for use in flame retardants. This is a form of fireproofing that is used in plastics, textiles, rubber, and household items such as mattresses.
Some alloys such as Babbitt Metal (an alloy of antimony, tin, and copper) are used in machine bearings due to their hard but smooth lubricating properties.
Highly pure (99.999% or higher) antimony is used by doping silicon to make semiconductors in electronics, such as diodes, infrared detectors, and Hall-effect devices.
Antimony oxide is used in the glass industry. It is used to remove bubbles in optical glass, to decolorize special glass, and as a stabilizer in emerald green glass production.
Antimony replaces lead to make lead-free pewter (also known as British metal). Its items include plates, mugs, figurines, and costume jewelry.
Antimony compounds (Oxides, sulfides, sodium antimonate, and antimony trichloride) are also used as pigments in ceramics, plastics, paints, and rubber. Antimony oxide is a bright yellow color, accounting for the majority of pigment use.
Small amounts of antimony compounds are added to fireworks to create glitter effects.
References