The Importance of Coal Mill in Cement Production Line:
Coal Mill is the main equipment of the rotary kiln cement clinker production system and at the same time, it is also suitable for powder grinding equipment system in such industries as thermal power plant, metallurgy, chemical industry and sugar industry.

Coal Mill Made by Our Company Has the Following Features:
Continuous production and high production capacity.
Easy adjustment of fineness.
Compact structure, stable operation, convenient installation and maintenance, and long service life.
Strong adaptability to materials and ability to grinding coal with different hardness.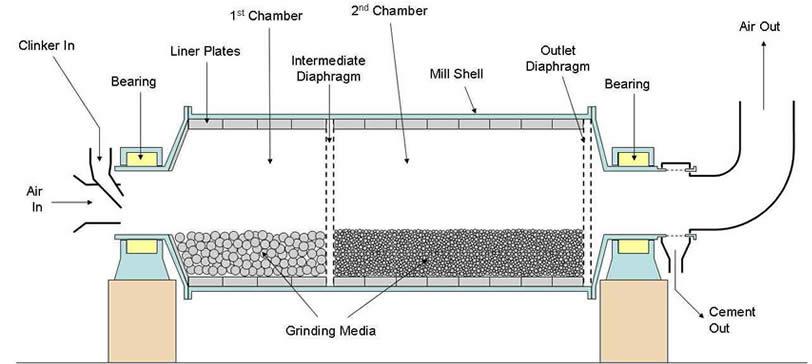 Parameter
Spec. (m)Item
Φ1.7×2.5
Φ2.2×4.4
Φ2.4×4.75
Φ2.4×4.5+2
Φ2.6×5.25+2.25
Φ2.8×5+3
Φ3.0×6.5+2.5
Φ3.2×6.75+2
Φ3.4×6+3
Φ3.8×7+2.5
Speed(r/min)
24.5
22.4
20.4
20.4
19.7
18.3
18.3
16.9
17.5
16.4
Capacity(t/h)
3-5
8-9
12-14
11-12
13-14
16-17
19-20
25-30
28-30
38-40
Feeding Size(mm)
<25
<25
<25
<25
<25
<25
<25
<25
<25
<25
Grinding Media Loading(t)
7.5
20
22
22.5
28
32
43
50
55
80
Main Reducer
ZD40
ZD60
ZD60
ZD60
ZD70
MBY450
ZD70
MBY500
ZD80
MBY560
JDX560
JDX710
MBY800
Main Motor(kw)
95
250
280
315
400
500
630
710
800
1250
Weight(t)
29
46
54
76
98
107
124
148
162
215
Spec.(m) Item
Capacity
(t/h)
Feeding Size
(mm)
Φ1.7×2.5
3-5
<25
Φ2.2×4.4
8-9
<25
Φ2.4×4.75
12-14
<25
Φ2.4×4.5+2
11-12
<25
Φ2.6×5.25+2.25
13-14
<25
Φ2.8×5+3
16-17
<25
Φ3.0×6.5+2.5
19-20
<25
Φ3.2×6.75+2
27-29
<25
Φ3.4×6+3
28-30
<25
Φ3.8×7+2.5
38-40
<25